"The Worldwide Asset eXchange™ (WAX) is the world's most proven and eco-friendly blockchain for NFTs, video games and collectibles." Users have multiple options to launch NFT's, play games, participate in groundbreaking cross-chain tokenomic and DeFi markets, and more. One such project combining multiple elements inherent within the brilliant possibilities of the WAX blockchain is of course The Uplift World.
The Uplift World is a multiplayer metaverse built on Minecraft consisting of 9 differing creative and survival worlds powered by blockchain based NFT's.  Community members of The Uplift World have the ability to explore, build, and shape various creative and survival sectors and be rewarded through the process through a variety of means.  In order to get started you will need to have access to a land or rail based NFT or be whitelisted to an already members plot.  At present Old World, Genesis, Gratitude, Londom, Upluft, Chik'in Ka'ah, Swineland, Boarvallis, and Thoon all use WAX as their NFT world base, meaning in order to purchase an NFT or collect rewards you will need a WAX account.  We know sometimes moving from one blockchain you are familiar with to another can be daunting, but honestly, WAX is one of the easiest and cheapest blockchains out there to get started with.  In this series we will guide will go through a variety of ways to do just that.  First up, the WAX Cloud Wallet!

The WAX Cloud Wallet (https://all-access.wax.io/) is a free blockchain based crypto wallet tailored to tokens on the WAX blockchain.  The wallet offers a variety of social account creation and login capabilities such as Google, Facebook, Twitter, Reddit, Discord, Github, and Line and resembles more of a familiar approach to interacting with various websites than many other crypto wallets.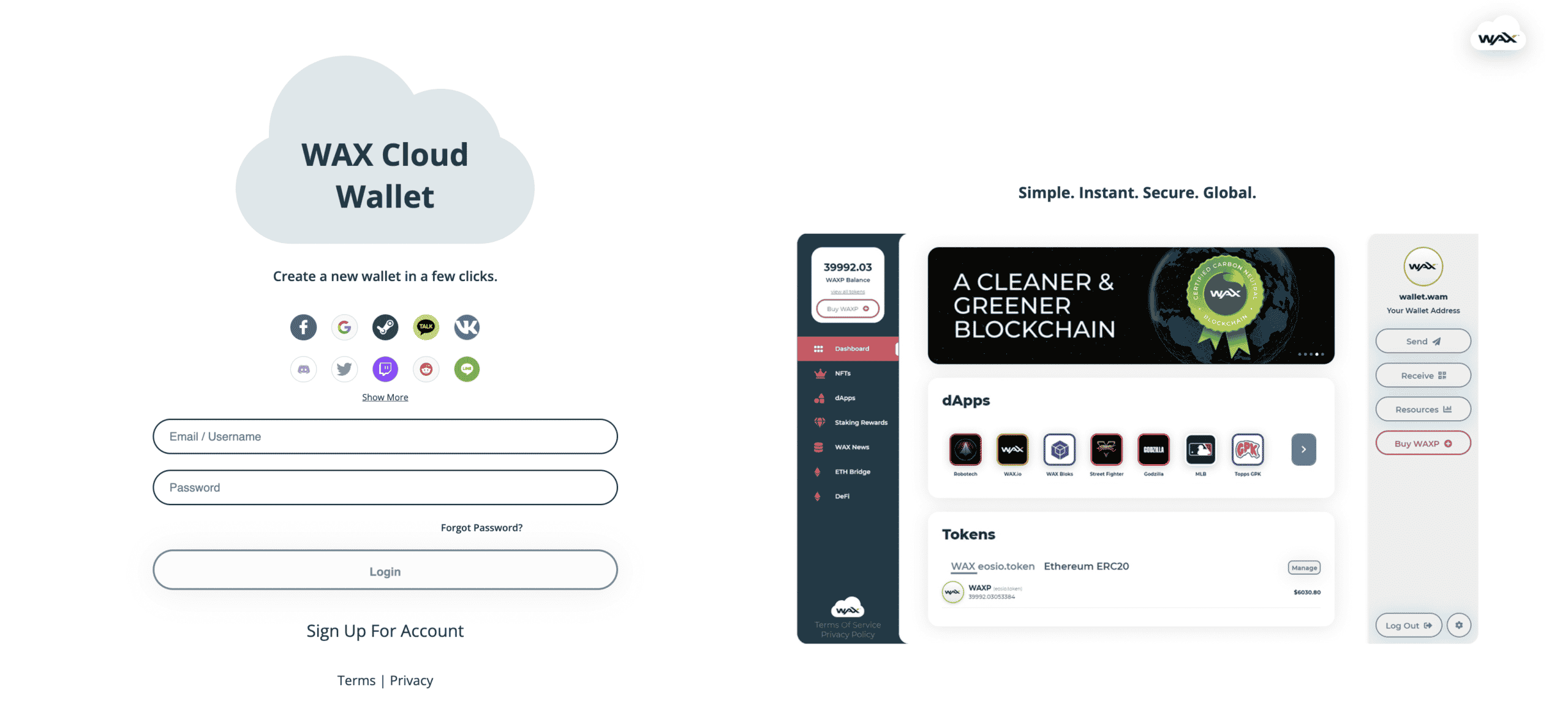 Simply head on over to all-access.wax.io, choose your preferred login, and follow the simple instructions and guidelines. Not only is the account creation process as integrated and simple as it gets, but unlike some other wallets, the WAX Cloud Wallet accounts provide free transactions so users do not have to worry about how to get the wallet ready for use within the system after it is created.
It really is as simple a 'plug and play' as blockchain can get. Really the only real difference from creating a WAX Cloud Wallet account than any other mainstream non-blockchain Internet based registration or application is being sure that you save important details like the password, recovery phrase, and 2FA (optional), because if the worst should happen and you get locked out, WAX will not be able to help you reset it. In other words, make sure all information that is included in the registration is carefully copied down and/or stored off of your computer somewhere safe even if on a portable USB so you never lose access to your account. Also, as with any blockchain and crypto wallet, make sure that you keep your all passwords and backups safe, cause anyone with access can easily transfer all of your funds or asset out of the wallet if these get compromised.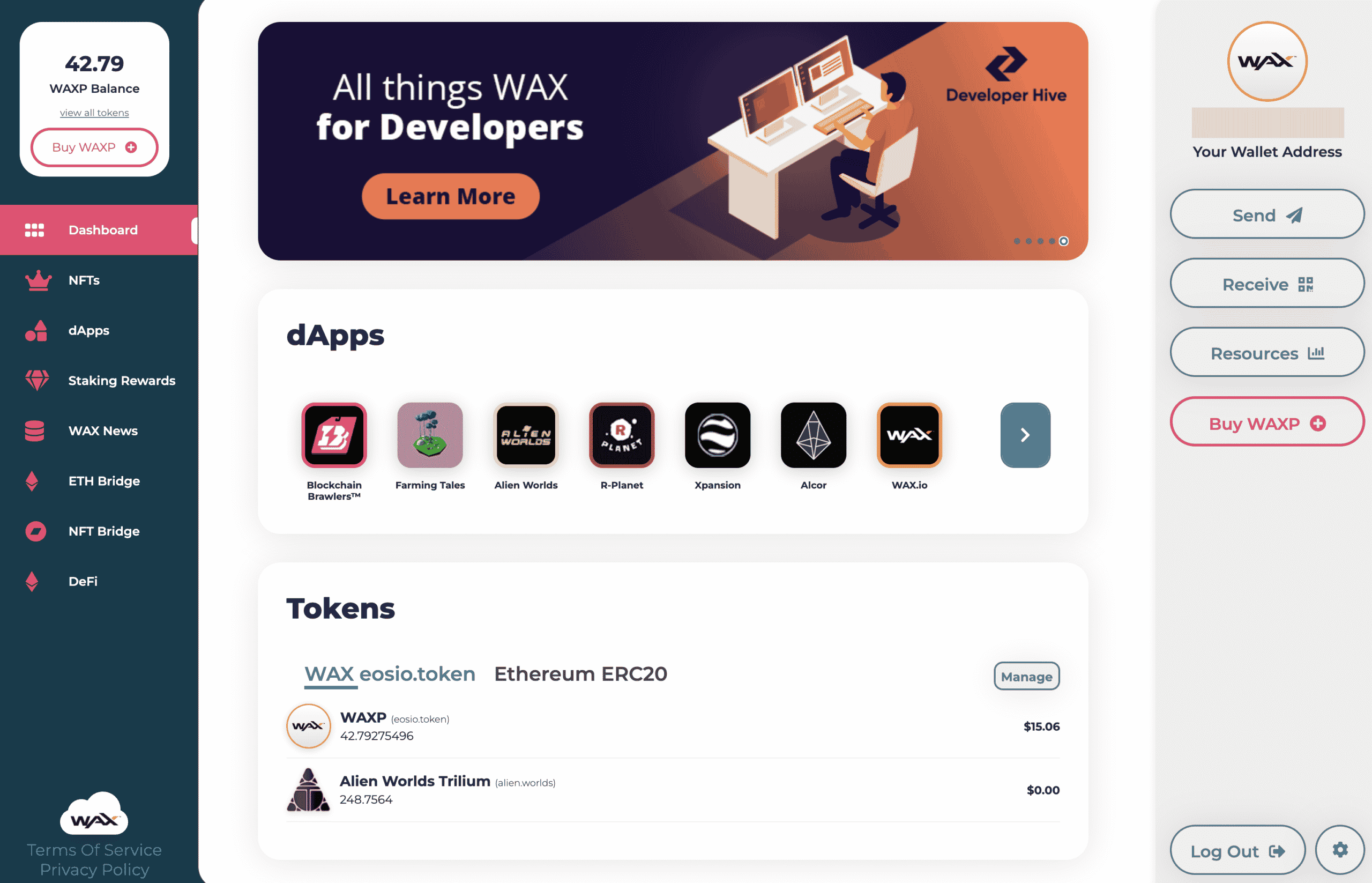 One nice thing about the WAX Cloud Wallet is there are multiple ways to both fund your account with WAX and interact with the WAX NFT ecosystem.
Account Funding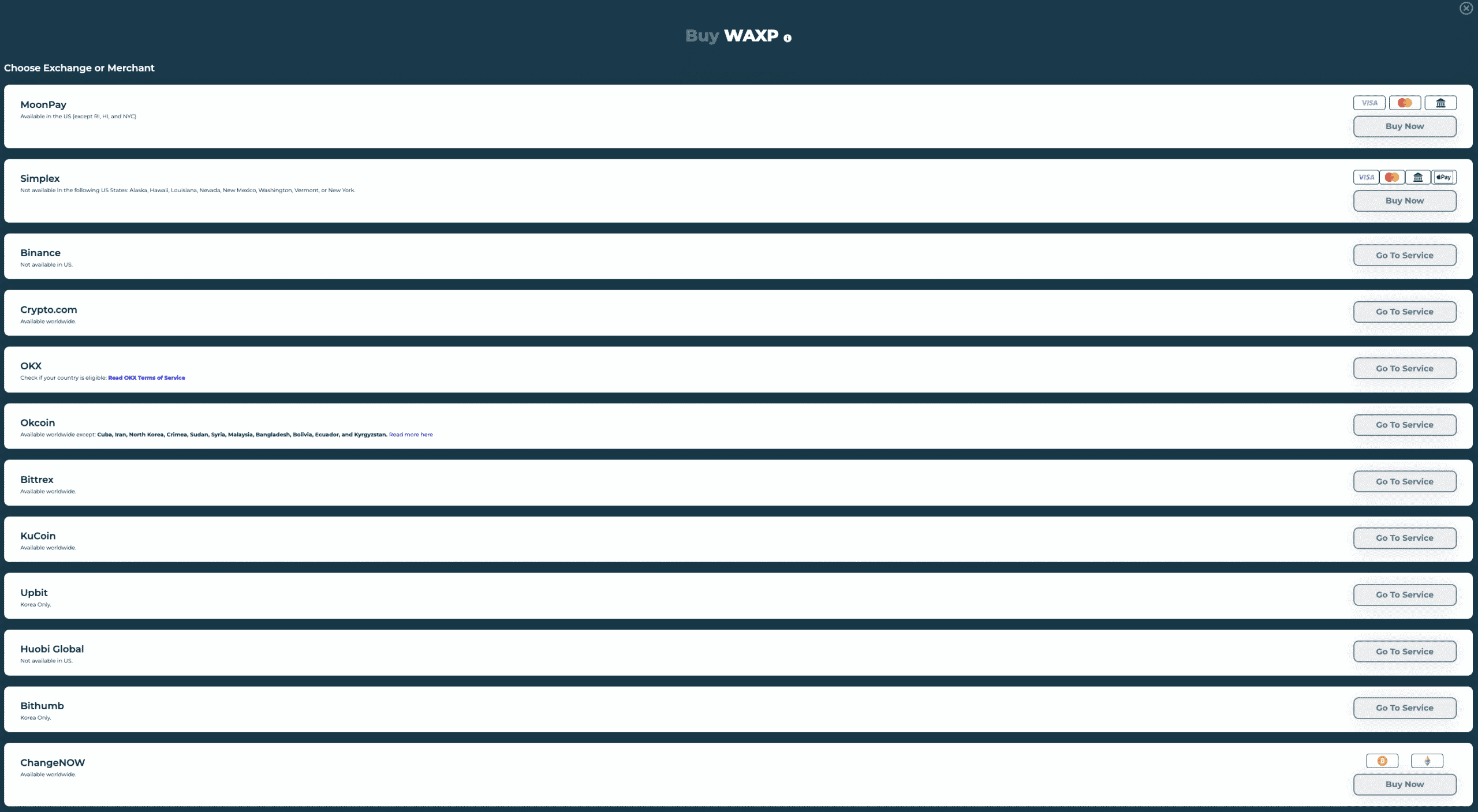 Fiat to WAX
MoonPay and Simplex are third party services allowing for credit card and even apple pay fiat to WAX funding.  You may need to prove your identity the first time and the exchange rate is higher, but the process over all is pretty simple and nice especially if this is your first time using crypto.

Simply choose your currency and the amount you want to spend, enter your WAX wallet address, place in a memo, and input the personal details provided on the next page.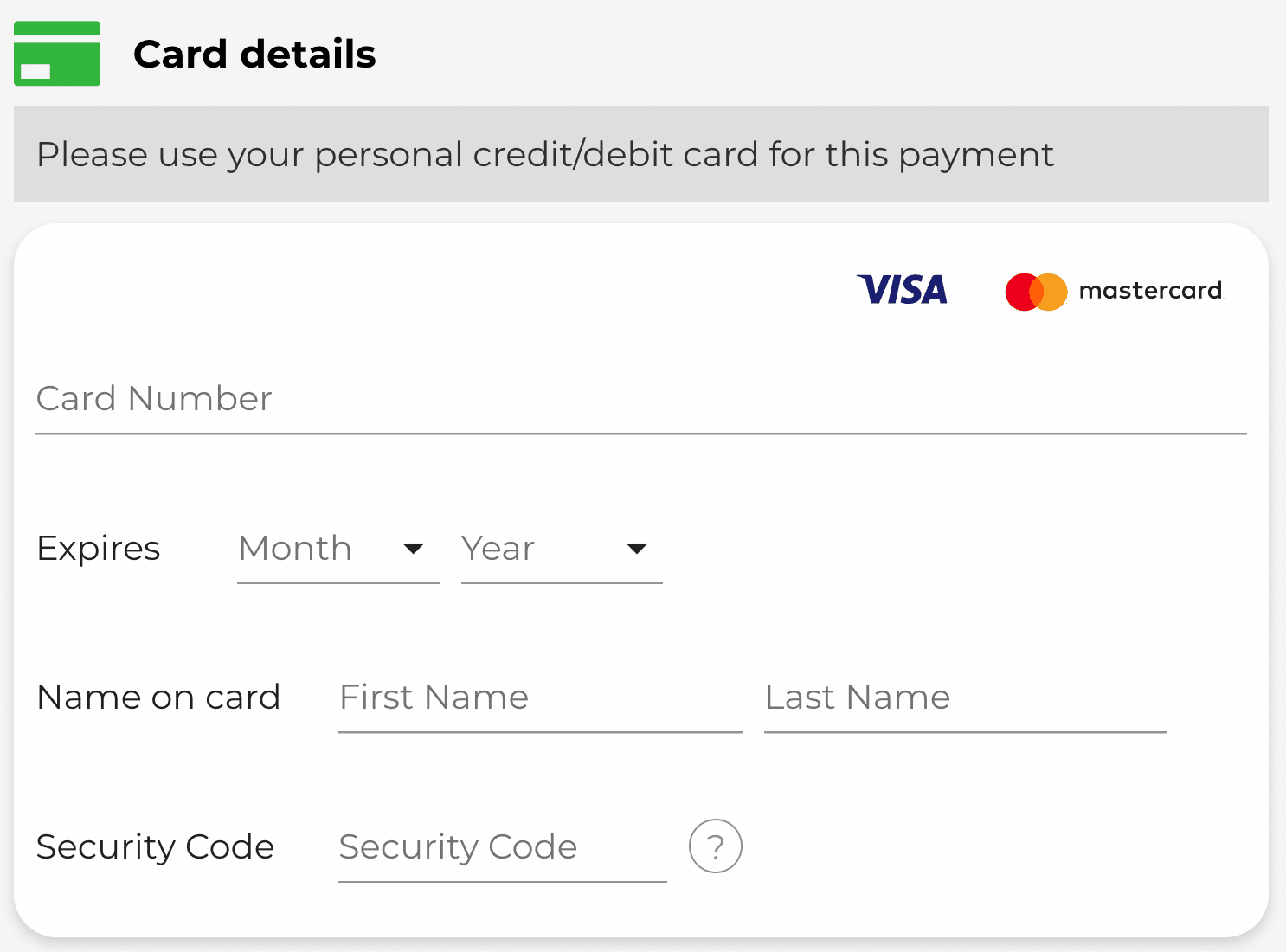 Provided everything checks out, you should receive your WAX direct to your account after a brief waiting period
Crypto to WAX
There are also a variety of exchange options listed for converting other forms of crypto to WAX.  Probably more convenient if you already have some crypto in a wallet or on an exchange somewhere, but worth thinking about even if you are new and see the benefits of becoming more engaged with the crypto ecosystem as a whole.  If you do not already have one, you will first have to create and fund your exchange account with fiat or crypto.  For those with accounts already or other forms of crypto such as Bitcoin, Ethereum, or stablecoins that my may want to covert into WAX, the process is like pretty much any other exchange.  Login to your preferred exchange, choose which token you want to exchange to WAX, and then withdraw to your WAX cloud wallet or other WAX based account.
WAXE to WAXP
A third option involves using the ETH Bridge built directly into the WAX Cloud Wallet.  For that you will need to acquire some WAXE tokens to swap to WAXP in the wallet interface.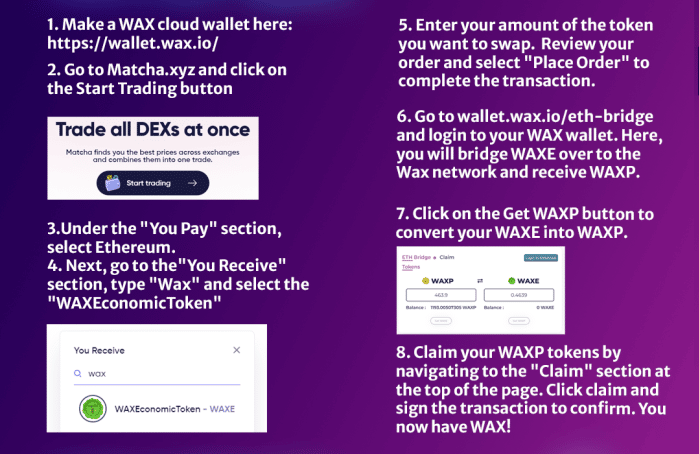 Interacting with NFT's
The WAX Cloud Wallet allows you to easily view your NFT's and connect with various WAX based dApps.  Both NFT's and dApps can be viewed from within the relevant wallet tab.
In regards to marketplaces, NeftyBlocks.com and Atomichub.io are where you can find the majority of collections in the WAX space.  You can find The Uplift World collections by following the Nefty Blocks and Atomic Hub dApp links and then searching running a search for our verified accounts or simply head to our Nefty Blocks and Atomic Hub pages and login with your WAX Cloud or other WAX based wallet.
Accessing The Uplift World
In order to access The Uplift World metaverse you must either possess a land (or rail) development NFT or be whitelisted to someones account that has one of these.  Access NFT's can be obtained directly through sales at specified times or through the secondary marketplaces such as noted above.  Of course you will also have to have a Minecraft Java account and set up the specified parameters to get connected to our metaverse, all of which can be found over on our Uplift World Starter Quick Start Guide.
Precaution and Safety
Please remember that the power of blockchain lies in the ownership of your assets.  Whether tokens or NFT's, these assets are always at risk from bad actors in the space.  It is important that you take all precautions possible to maintain the security of your account and the assets in them.  Should something bad happen those assets are unlikely to be replaced either by the WAX Cloud Wallet team or the project team.  It is important that you back up all passwords, keys, and other relevant data for each and every wallet you own.  Make sure that you enable 2FA (2 Factor Authentication) from a trusted source and never interact with links sent to you by individuals in direct messages, as these could be phishing scams targeting your account. Ask and take advice in public channels only and be sure that if you are interacting with members of various teams that you verify ruthlessly that they are who they say they are.  That said, a little precaution goes a long way in the crypto space and is well worth the trade off to be able to own your own assets in your very own blockchain wallet.

The Uplift World Official Links