As many of you are aware, The Uplift World has been going through quite a few very impactful changes as of recent.  There are multiple things happening behind the scenes and varying directions upon which these changes are premised.  For the most part the DAO has been on fire with the crafting, voting, and implementing of proposals over the past couple weeks.  With the recent shift in policy from Mojang it was quite impressive to see the DAO spring into action and tackle some of the most pertinent issues.  Although far from a complete list of everything that is happening with the present and future direction of The Uplift World metaverse, here is a brief recap of what has been happening with the DAO behind the scenes.
The DAO Responds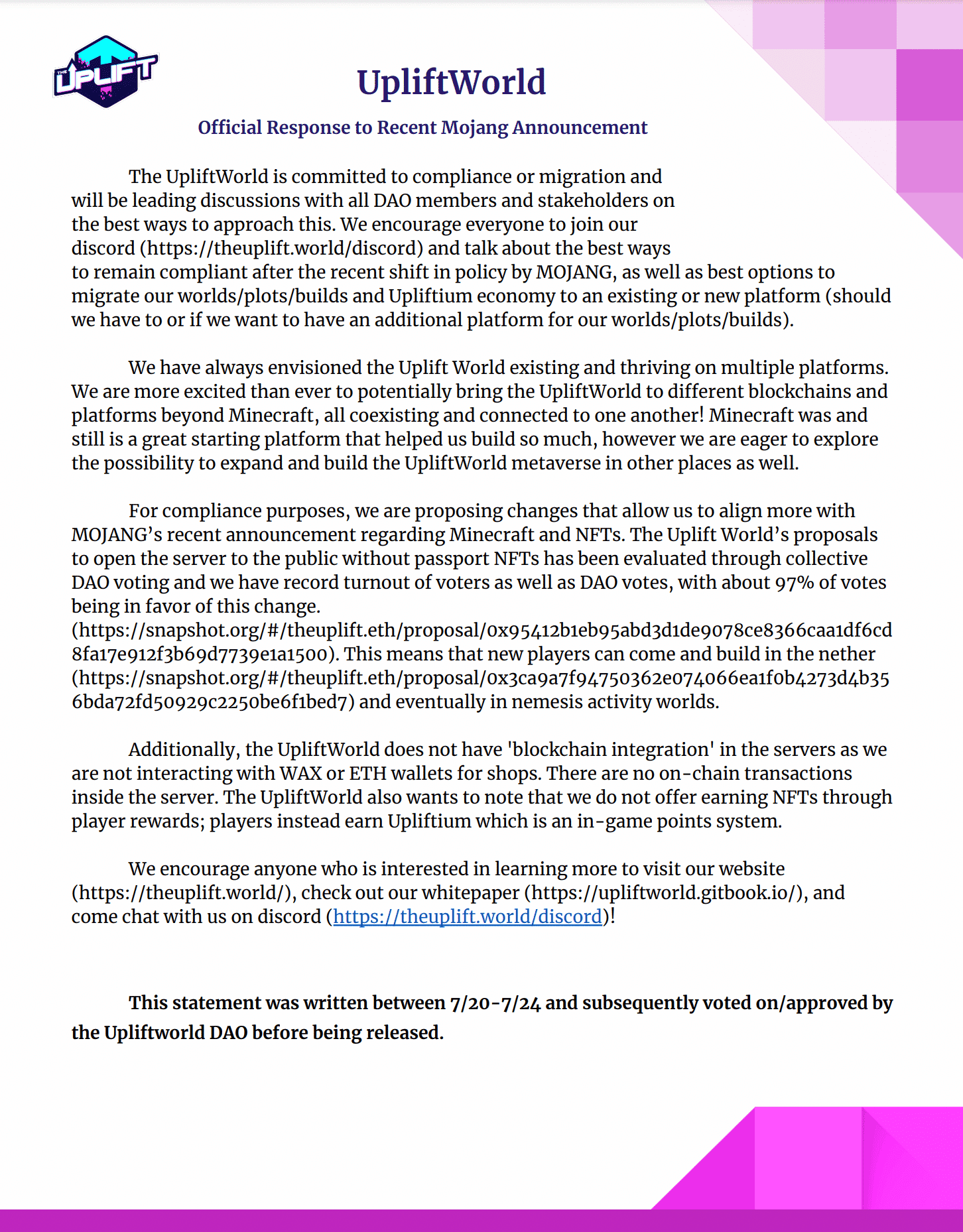 Actions In Motion
The Uplift DAO has recently passed many proposals that together sketch out the present direction and trajectory of the the project.
Move MC Servers Off AWS to a Lower Cost Alternative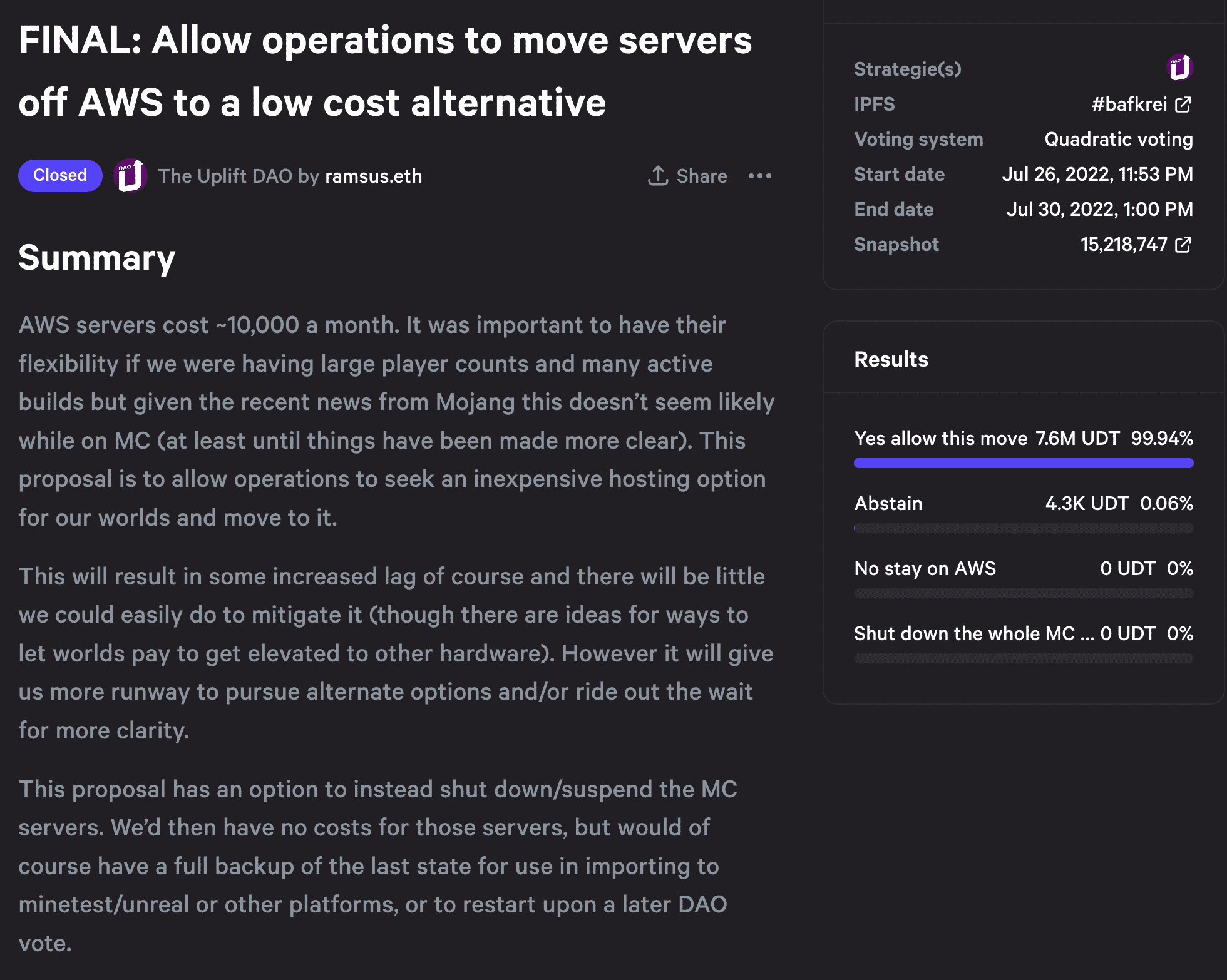 Halt Further MC Development at Present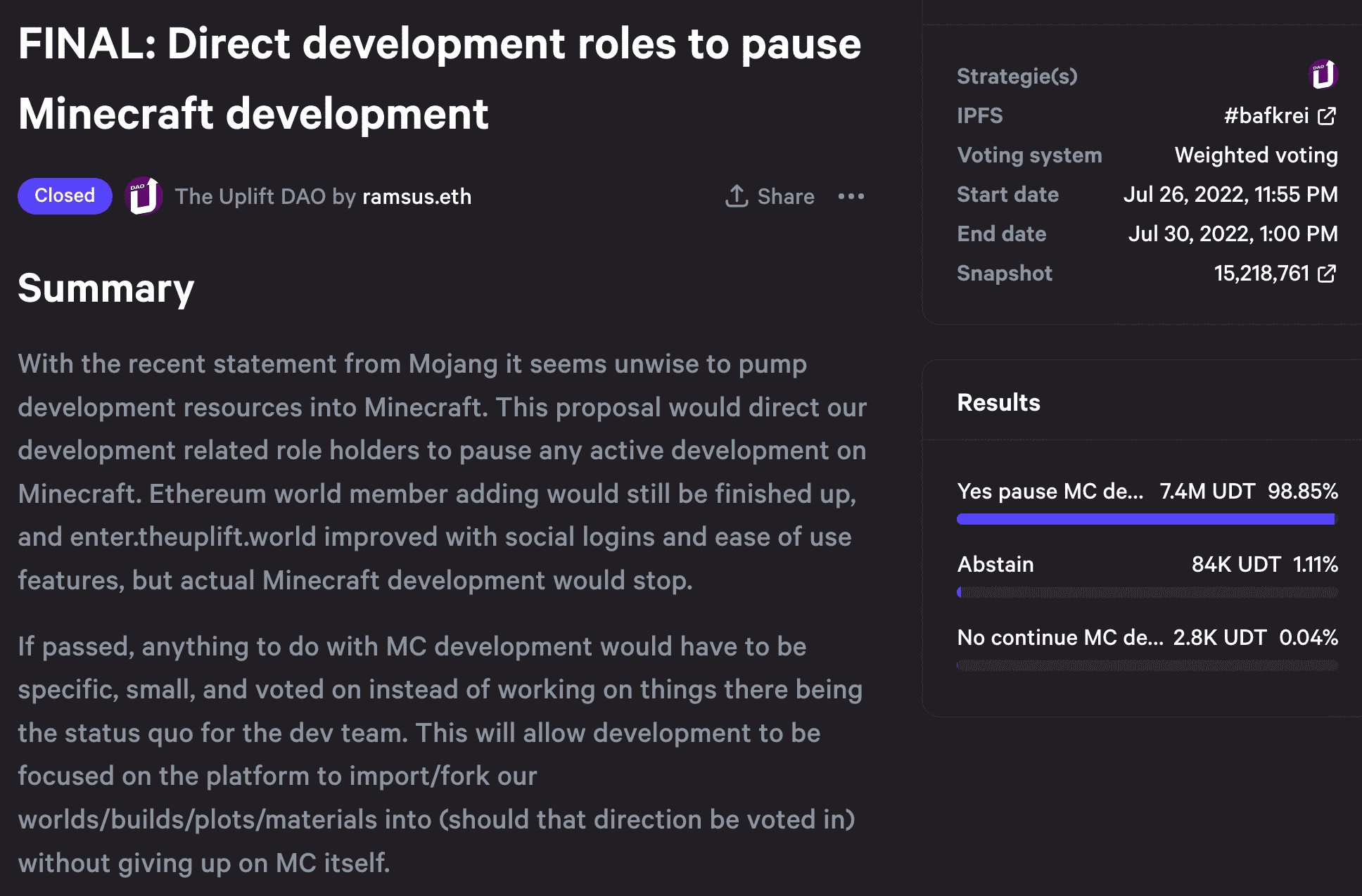 Redirect Internal MC Development Towards Other Avenues
Begin testing platforms we can fork our worlds too in whole cloth (while they stay running on MC!!). The first candidate we will be testing is Minetest.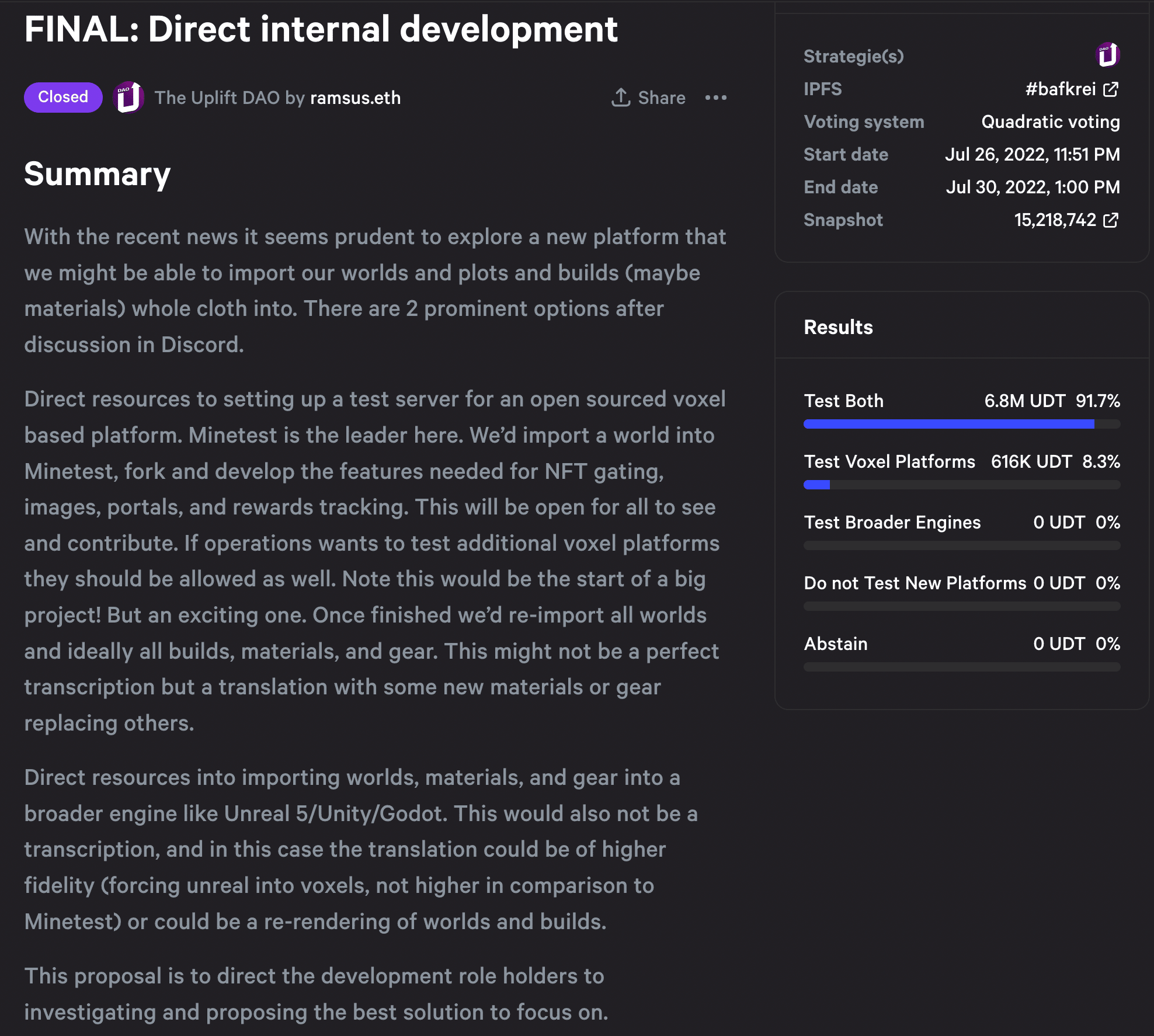 You can participate by checking out https://discord.com/channels/805449582124466206/1000477858503860254 . We will get a test server(s) running soon so that we can all work together on deciding which mods to include and what to develop from scratch. If Minetest looks great we will make a proposal to move ahead with it and not test other platforms, if there are issues we will branch out our testing.
Community Development Incentives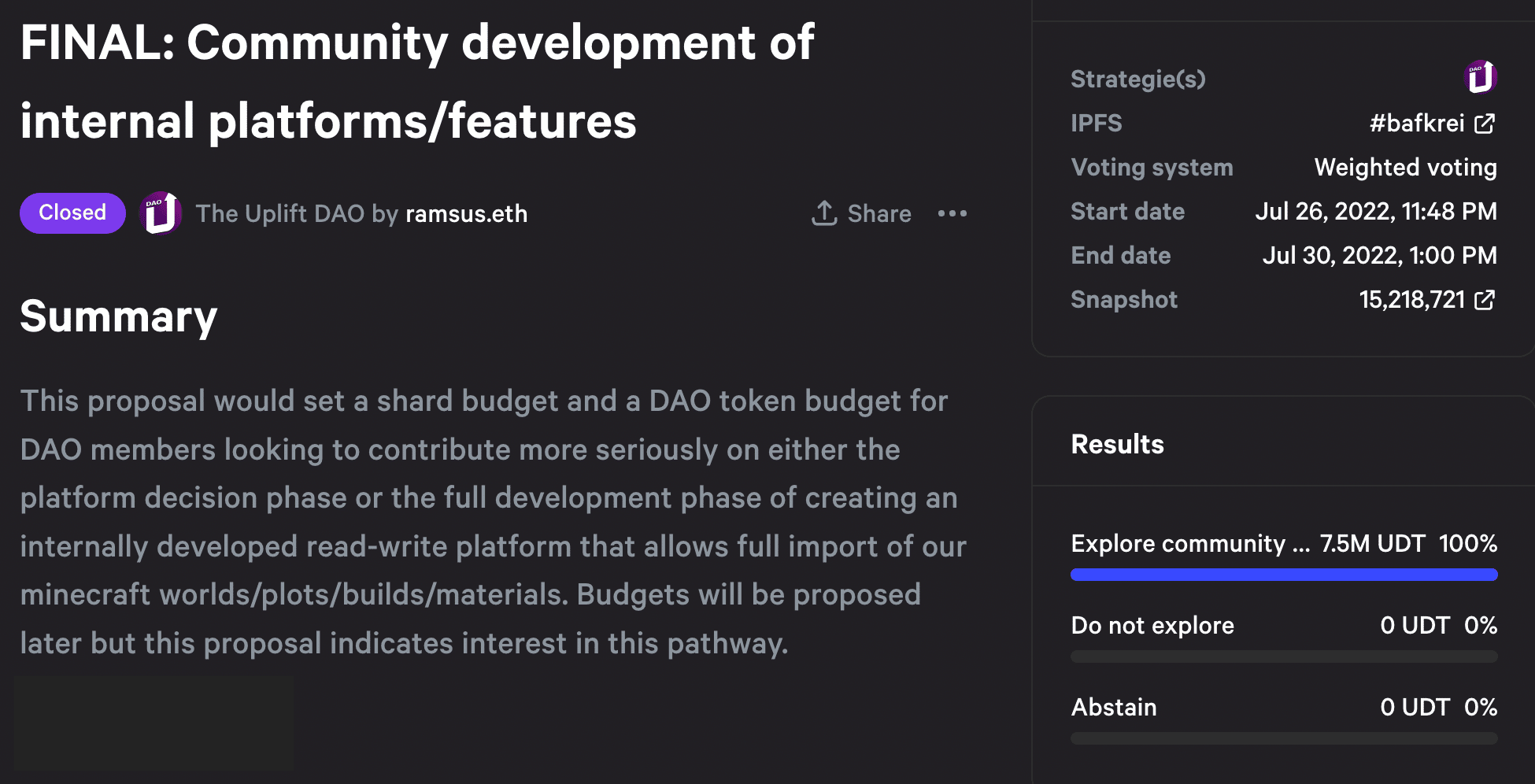 The Uplift World Metaverse Platform Expansion Options
We officially are welcoming suggestions from any other projects on collaborations where they host a version of The Uplift on their platform. This doesn't have to involve whole cloth import of our worlds but ideally maintains the world/plot 'grid' of ownership so our land NFTs can have bonus uses. We will work with interesting projects to figure out what the DAO would offer in terms of bursaries or other ways we can make our part of the collaboration work well for a partner.

Metaverse Updates
Beyond macro scale developments happening within the metaverse proposals outlined above, there have also been a few recent shifts to some smaller aspects of the project workings.
The Land Key Recycling Program Now Live!!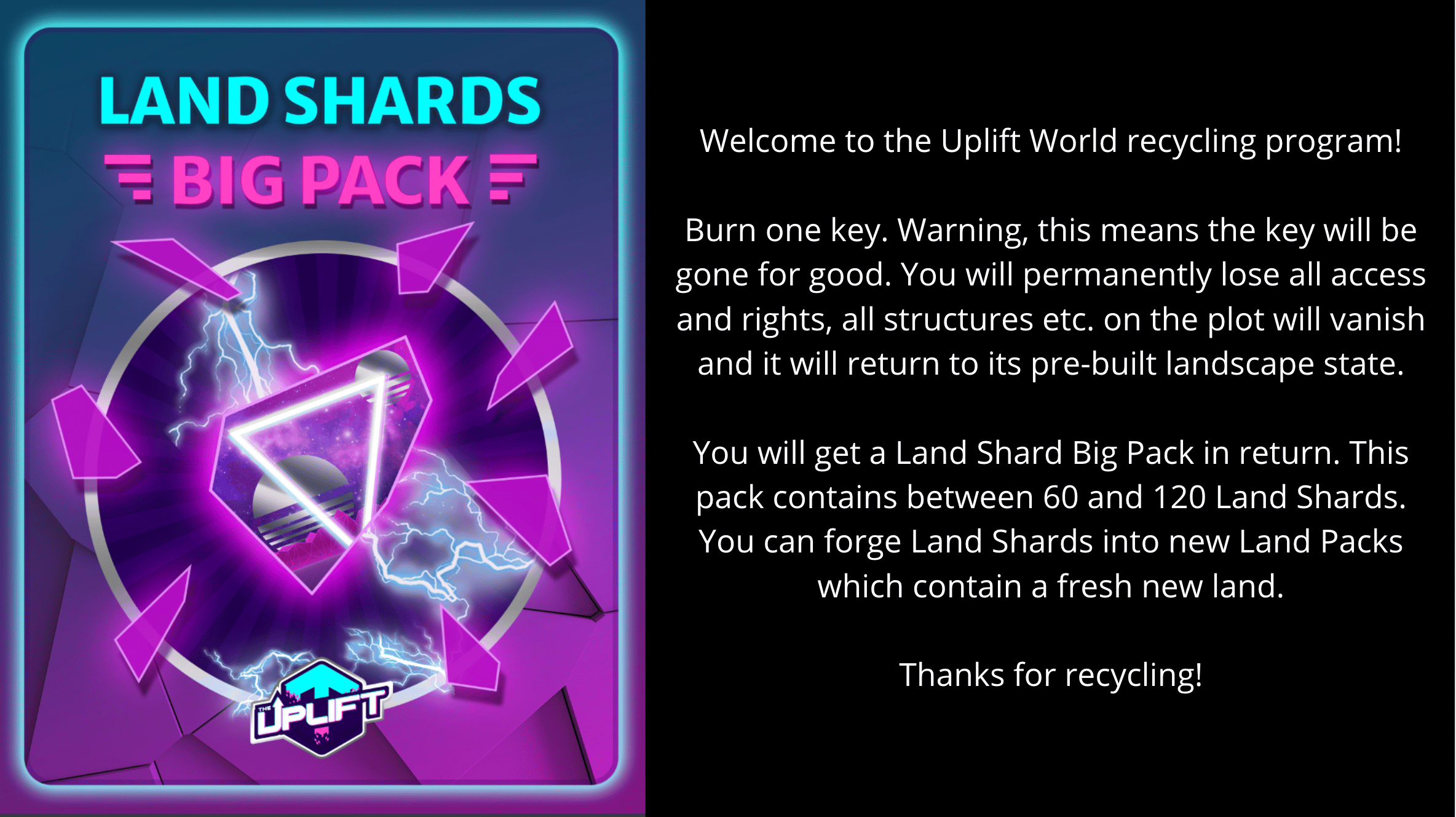 Participate over on Neftyblocks at https://neftyblocks.com/c/upliftworld/blends.
Upliftium Miner Distribution Restructuring
As set out in the proposal here, Yoshi NFTs have stopped mining Upliftium.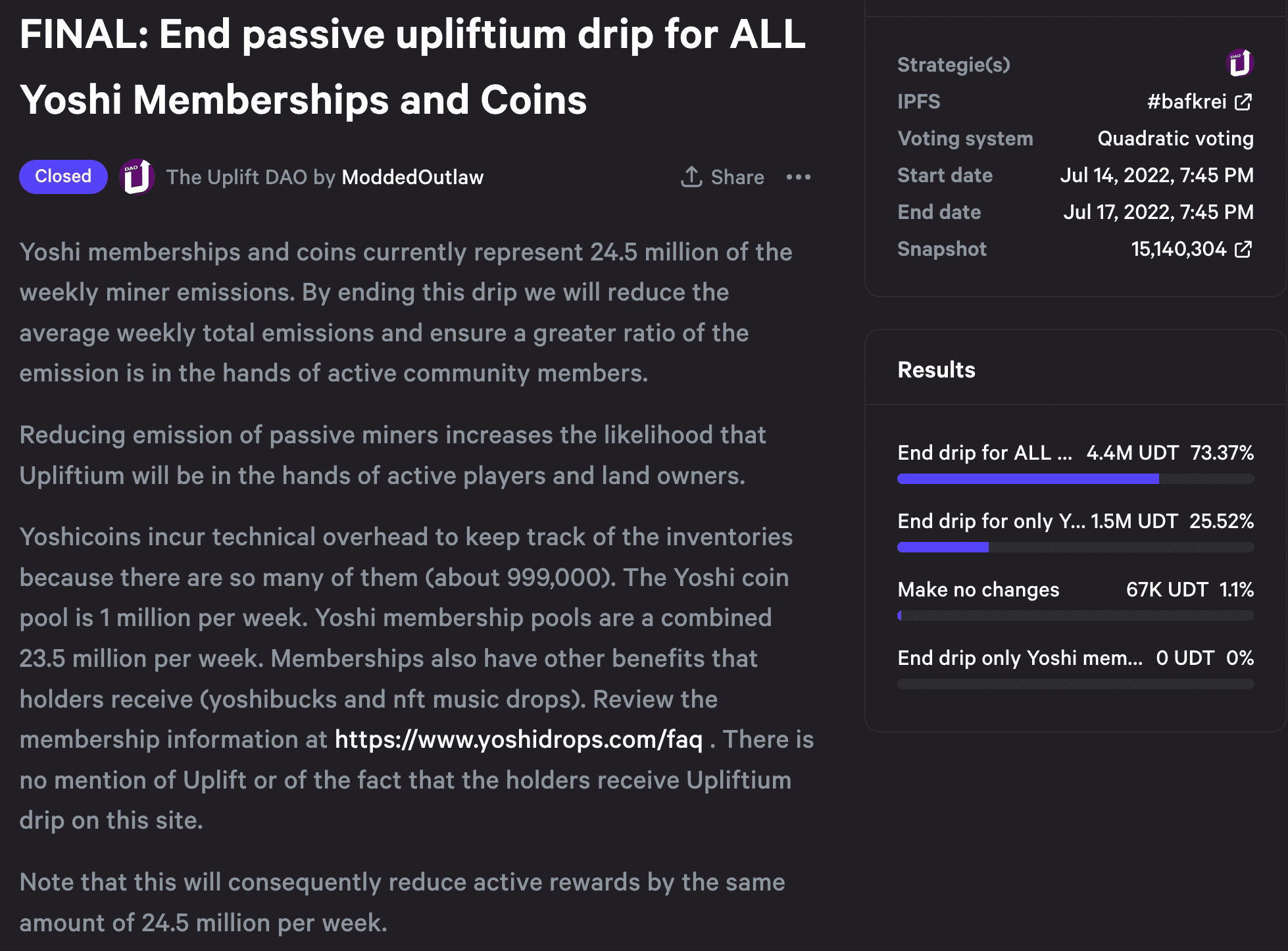 The Uplift World DAO
As can be seen above, the DAO has been instrumental in shaping both the larger scale direction and vision of the metaverse we call home.  By no means is the above a complete list of everything that has been happening, and in fact, just a small fraction of everything that has been happening over the last few weeks.  For a complete overview of everything that has been happening be sure to check out the many other pre and final proposals now live on The Uplift DAO Snapshot.org site and plug yourself into the community discussions happening primarily in the Pre DAO discussion channel of The Uplift World official Discord server.
And to all of those who have taken the time to draft proposals and help in workshopping those that have made their way into the system, we truly do appreciate all the effort and care shown through your time and action.  It is exciting to witness the DAO in full effect primarily because of all those who put their heart and soul in all that is being built as we forge forth into this new frontier of decentralization at one with each other.