It is actually quite uncanny the amount of amazing buildz, projects, and people involved across this little metaverse we call home has become.  The Uplift World BLDRZ blog is intended to be one avenue where we can feature projects, individuals, and teams doing amazing builds within multiple sectors of the Uplift World.  Brace yourself, cause this week we got perhapse the most mind blowing builds you could ever dream up, and at least in the Uplift World, these are many and all collaged into one plot on Genesis.
If you have been flying around the Uplift World Genesis sector for long enough, maybe you have come across a plot of land out there just jam packed with pretty much every mainstream gaming character you could ever imagine.  Well, welcome to the plot of one of the best building teams in all of Genesis.
inostupid was first introduced to blockchain through mining some BTC in the early days of cryptocurrency.  They were drawn down the rabbit hole through the ideals of decentralization and its ability to give economic power back to the people.  Since that time they have continued to be advocates of blockchain and cryptocurrency and eventually ended up landing over here in the WAX space.  
For the first series inostupid has created a number of NFTs based on characters they have built in Minecraft.  They describe themselves as 'fan artists' utilizing Minecraft to memorialize every character imaginable and their NFT's to showcase these all.  The NFT's themselves are pretty slick and show the 3D build as it rotates upon a really cool Minecraft enhanced backdrop.  Find series 1 and series 2 of inostupidNFT and check out all their amazing creations on Atomic Hub here.
Which brings us then to Genesis 900, 3800, which in a sense was the canvas for some of the most popular and favorite Minecraft builds done by inostupid over the course of the past 5 years.  Here is the full spectrum of the 3D round about of this jam packed 50×50 plot.  And for scale, pay very close attention to the rails and natural landscape sizes, cause honestly, the size is phenomenal.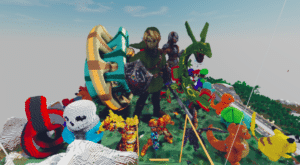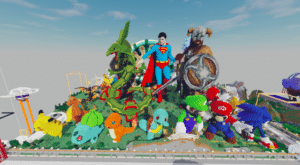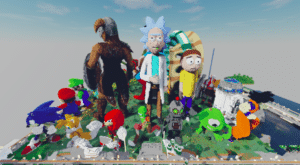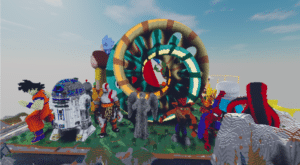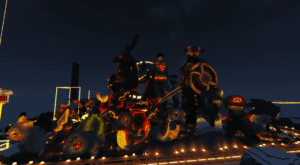 In terms of what is next for inostupid in the Uplift World metaverse, well the thing that they are looking forward to most like many is when the rewards go live.  Of course being incredible builders as they are, inostupid is also expanding their reach to accept commissioned builds and all the creative impulse that comes with them.
Back on the NFT side of things, for their second collection inostupid decided to change it up a little and utilize some artificial intelligence in what they have titled VirtualDream.  The first pre-minted pack drop will be coming on August 5th, so do be sure to check out the collection out on Atomic Hub here.
Pre minted DeepThought Packs are coming!

Sale will start 8/5 12:00PM EST
Start saving some extra wax!

Join the VirtualDream Discord for more info.https://t.co/WHx4zsYI0I

We will be giving away 100 Packs!
Retweet and comment your wax address to enter.#freenfts #NFTGiveaway pic.twitter.com/8dPRAlOKya

— Virtual Dream (@VirtualDreamNFT) July 27, 2021
This is a really unique collection that has some really interesting conceptualization and rendering that gets the wheels or imagination turning.
You can connect with inostupid through their various socials for more on all that has been and all that is coming up via the following links:
And with that good ladies and gentlemen of the the Uplift World, we wrap up yet another fantastic deep dive into what is bing created by some of the best of the best Uplift World BLDRZ.  As for the rest of you out there that may also be builders, we would absolutely love to hear your story and help others to connect with your build.  All you need to do to be considered is to follow these instructions and dm Jimmy D a copy alongside a main channel alert tag when complete.  We look forward to hearing from you all, and of course, continuing to show off as many of the amazing Uplift BLDRZ we can.
The Uplift World Official Links