Despite what our jaded time soaked crypto memories tell us, it really has not been all that long since this mission to open and bring people into theUplift.World Metaverse began.  In that short time however, so much has transpired that we thought it pertinent to throw out an update showcasing the basics of all these various worlds for both  UpliftWorld guppies and long time hodl info followers alike.
Survival of the Fittest vs Creativity of the Brightest
A number of servers make up The Uplift World Metaverse.  At present, all these servers plug into one of two realms: creative and survival.
The biggest distinctions between creative and survival are the gameplay and the ability to procure resources.
Creative Worlds were designed with the idea that people just like to build cool things without having to worry about dying, procuring resources, or any of that other stuff that might hinder just getting in there throwing blocks down with the brightest visionaries out there.  Some general points about the creative worlds are as follows:
pretty much any kind of block can be procured and is unlimited
in creative worlds, all players can fly, swim without fear of drowning, and will find it almost impossible to die
eating is not necessary so the focus seems to be on building really cool things as opposed to surviving harsh conditions
mobs are not enabled
the resources that are used in the builds cannot be taken outside other creative realms
Present Creative Uplift World Metaverse servers include The Old World, Genesis, and Thoon.
The Old World consists of the Cathedral and some of the earliest builds in The Uplift World.  You can read a little more on what is and will remain here at Center City: Where the Uplift World Metaverse All Began.
The Genesis sector server could be considered the first of the many that have migrated or followed.  This was the home of a number of blockchain based crypto projects and communities that were gifted land to engage with and entice their community members within The Uplift World Metaverse.  Since the early days, Genesis has become a hotbed for some of the best builds both by these community leaders themselves and those who have purchased land and rail development NFT's in previous sales or from the secondary markets.
Thoon is the newest of the Creative World sector servers and is dedicated primarily to our Discord community members.  It has been organized along the same lines as the Genesis with some communities of note receiving land grants in order to develop an Uplift World metaverse home for their communities.  In the future both rail and land plots will be on the market for individuals who wish to become a part of this extension of personalized self orientating groups who have made Thoon their home.
Survival Worlds are those worlds that have kept the basic attributes of the Minecraft survival gameplay.  Although there are some minor differences between survival sectors at present, for the most part survival servers have the following attributes:
both passive and aggressive mobs are enabled
flying is not possible, so you must walk or take rails
food is necessary for life, as is protection from aggressive mobs
staying underwater for too long, falling from a high place, and encountering lava as just some of the ways you will die
resources gathered and stored in survival lands can be ported to other survival servers to aid in distribution across peoples and land
whatever is built must actually be procured from the land, as this is the only way to get building blocks in these sectors
Present Survival Uplift World servers include Gratitude, Londom, Chik'in Ka'ah, Swineland, UpLuft, Boarvallis, and yes, Nemesis.
Gratitude was survivals answer to Genesis. The map size and orientation was pretty much a carbon copy, except it was made up of different communities and could just be decked out on a whim with free abundant resources.  That said, many communities embraced the challenge and the builds are epic in their own right. Although at present only communities have received access to land, private rail and land sales will be following soon allowing for plots adjacent to all your favorite survival communities to be picked up for phase 2 of this exciting sector.
The Londom sector was at the time of creation unique in that it was the first server to open direct to the public for land and rail development rights.  In other words, what made Londom so special was that it allowed for any individual with an NFT for a 50×50 land or rail plot entry into the Uplift World to begin procuring resources and developing their plot irrespective of being attached to a larger community.
From the spirit and vision of the CK7 comes Chik'in Ka'ah, a server like no other in theUplift world.  As some of the early pioneers of the Old World builds and Gratitude Ceremonies long before the Uplift World was even a thing, the CK7 were granted this sector to bring about the world that they wanted to live in.  At present 4 main sectors of this world and some rail plots have been picked up by individuals to develop and explore.  Don't forget however, there is a whole host of extremely interesting builds by the CK7 in central regions and on their personalized gifted development 1000×1000 plots that show all that can be done when communities come together and form as one.
Swineland and Boarvallis are the first two collaborative complete partner project worlds released.  Each parcel of land in these worlds represents an equivalent piece of R-Planet land.  Only the owner of this R-Planet land has the rights to this in theUplift.World Metaverse and it needs to be obtained through the process of unlocking it via a one time fee of 5.000.000 AETHER.  For more on the specifics do check out these R-Planet articles below:
UpLuft was the second complete community sector released for the public to come and play in at the end of June 2021.  It was also the first sale to utilize the UpList and the first server whereby each Rail Key that was purchased was met with two free parcels of land in the server, meaning essentially a 3 for one deal when all was said and done.  With all Rail and Land randomly distributed, the entire sector is quite spread out and starting to take shape as people get used to how things are done specific to UpLuft.
Although technically in the realm of survival, Nemesis is like no other.  Being the only world in existence so far without a map might be the least of least of Nemesis' differences from others on this list.  Nemesis is the PVP die hard survival land people go for resources they cannot procure from their own plots in other survival worlds.  Unlike other worlds where one is only able to mine on their own plots, there are no plots in Nemesis to be claimed for the taking.  Everything in Nemesis is free for the taking by force or otherwise.  It's a dangerous place that many will lose all they bring in, but for those who are triumphant in getting all that you have survived with to the extraction points, the spoils will be yours to enjoy and do as you please with in all those other survival worlds you call home.
Of course there are other finer distinctions such as types of biomes, rail and spawn designs, and most importantly the kinds of people who are in world building and the communities they have formed, but as far as a basic crash course of current creative and survival worlds presently available to Uplift World mataverse goers, cue the credits, get in there to those that seem to speak to you most, and let the good times roll.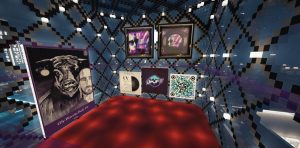 Official Links & Places to Learn More About The Uplift World
*Article and associated images compiled and written by Jimmy D (aka kansaikrypto). Image credits to Gary, Jimmy D, & Michael EOS USA, & Smitty.