Over in the Northeast corner of Upluft at 3700, 300 it was the big blue eyes below this very unique tree that caught the attention of Gkid as he was bombing through the lands.  Seeing this from the sky, how could he resist not jumping down and taking in the view alongside some more iconic Megaverse photos.
The tree is absolutely monstrous, I saw that it was quite a mission to try and frame the whole thing in.  All in all, it's a really cool build both inside and out. The call places all themed out, and they even have a giant spiral staircase right down to the bottom well worth of wander.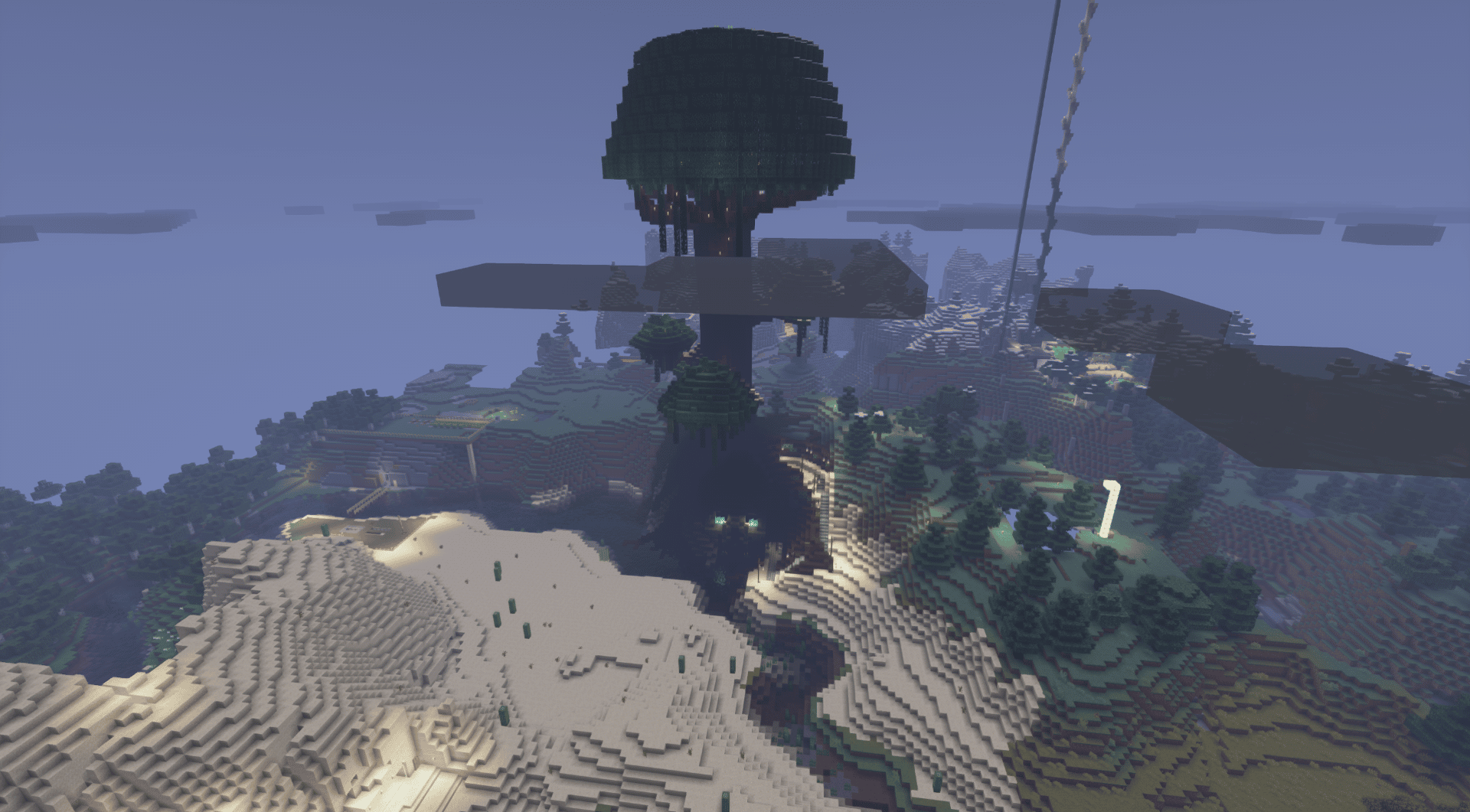 It'll be super interesting to see when and where the story for this build surfaces. Regardless of knowing not from which imaginative builders mind it came about, nor the story behind the theme, dispel the sure to captivate all that happened by.  Maybe not knowing simply add more to the allure.  As for the photos above, special thanks once again to Gkid for this most unique build on our radar.  If you haven't already, check out some of the other amazing flybys and ongoings displayed by Gkid showcased right here on WhereWeHideAllTheAlpha.com.

One of the best things about The Uplift World just has to be the plethora of perspectives of everything involved.  Always so much to see and do in the metaverse it is actually quite unbelievable.  And even if one could keep with all the amazing new creations that are infinitely popping up, the beauty of the human race has to be how we all see the same thing but in different ways.  Each and every one of us has a bias in the way we view the world, and by default the metaverse in which we reside.  Sharing these is in a way like sharing part of ourselves.  What is it that resonates with you when you fly or rail through The Uplift World?!? Simply fill out The Uplift Tour Bus submission form and hit up Jimmy D on Twitter or Discord when complete so we can get that oh so special one of a kind perspective of your camera lenz up here on WhereWeHideAllTheAlpha.com for each and every one of our community and beyond to learn from and experience.
The Uplift World Official Links
*Article published by Jimmy D with images by Gkid