Standing on the shoreline with eyes on the horizon and envisioning the warmth and heat of the soon to rise morning sun is a tough lead to follow.  The reality is though, when things work out, no notion of pre-conceived grandness could possibly compare to just how magical and comforting the stars when all aligned can actually be.  This is Chik'In Ka'ah good ladies and gentlemen of The Uplift – this is Chik'In Ka'ah!!
A lot of thought has went into the mechanics of this auction, and sitting here peering out in anticipation of what could go wrong, well my apologies to any might be nay sayers, 'cause I just don't see it.  Although I have for a while now been in the know, I'm completely and utterly blown away at this new mechanism for how this auction software, or plug in, or whatever people wanna call it, is.  The name is not important – it works – and in an absolutely brilliant essence for usability giving itself a simplistic charm in it's 'raison d'etre' that I must personally admit, isn't always easy to find in this blockchain space in which we reside.  So ya, one point and many more to all on The Uplift World team that made this happen.
Personally, I'm not even sure if we need such an article to outline all that turning point in how Land & Rail auctions can be conducted, as with this new model, it really is that simple.  But as they say, it's always good to have clarity for the masses that might not view the blockchain or Minecraft realms at play as intuitive as others.  So, without further ado, here is as simplistic of a tutorial as we can possibly ever hope to need to understand.
Fist off, Chik'In Ka'ah is a singular sector in The Uplift World.  Land & Rail have been set to sale from 75% the lowest market cost of other Uplift World sectors Land & Rail open market valuations.  Starting bids for all Land has been set at 1300 WAX, and those for Rail at 2900 WAX.  Ending time periods for when the auction wraps up are staggered depending upon area into 24, 48, and 72 hour windows.  You can see all the plots up for grabs over on the interactive 2D Auction map (https://enter.theuplift.world/auction)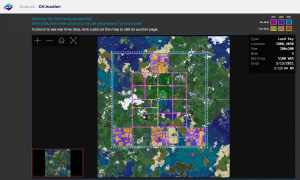 Notice the color coding index at the top right of the map.  Of course, you can interact with the map itself to zoom in and see a 2D overview of what each rail or land plot looks like before making a final decision on which plot you might like to place a bid on.   You'll also notice by hovering over any of the colored plots that a series of information is displayed below the color coded legend which further spells out specifics on any given piece for you (Type, Location, Size, Bid, Bid Price, Ends)
Now honestly what is brilliant about all this is the next step.  So again, thank you to all of the team that the majority of you may never see or interact with on the back end, because the next step is truly the game changer.  Simply click on the piece of land or rail that you wish to make a bid on, and voila – you will be instantly transferred to the exact Atomic Hub asset page where you can then place your bid.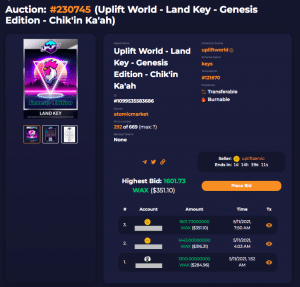 From here of course you will be asked to login and confirm your bid, but other than that, that literally is it in regards to the bidding process.
Should you get the bid then you will be a proud citizen of Chik'In Ka'ah and have access to those development rights that come with the Land & Rail keys pretty much instantly upon conclusion of the auction window.  You'll simply have to come in and claim the NFT back to your wallet to begin all that you yearn to do as a new citizen of Chik'In Ka'ah.
For those that may get outbid at any point through out the process, remember that it will be necessary to come back to Atomic Hub and pull back the WAX that you had previously locked away for your previous bid for it to show in your wallet balance and once again be usable.
And pretty much, that is the tutorial on how to place your first bids in the new and improved Uplift World Land & Rail development key NFT bidding system.
For those of you that prefer the video walk throughs, please do check out the two videos below for two other variations of step by step guidance.
And until that time when next we have the pleasure to meet again or even for the first time over in Chik'In Ka'ah, do take care and happy good bid hunting everyone.
Chik'In Ka'ah Land & Rail Auction Event Overview
When: May 10, 2021 – auctions will go live sometime after noon EST
How Long: Auctions will last 24, 48, or 72 hours depending upon the location, although there is no rush.  It will be at least noon EST 5.11.2021 before the first round ends.
Where: Atomic Hub.  A link will  be pinned to the new map-based auction system  in the telegram channel linked below after we announce the start of the auctions.
What: Chik'In Ka'ah Land & Rail various sized plots
Why: To own a place of Uplift World history like no other
Check the Chik'In Kaah 2d map out at 

https://try.theuplift.world/

.  This is also the address to a server that is currently open to all.

  

Anyone with a Minecraft account can visit a copy of Chik'In Ka'ah RIGHT NOW!
Official Links & Places to Learn More
The Uplift World
UpliftArt
Homepage: https://uplift.art/​
Telegram: https://t.me/upliftart​
Twitter: https://twitter.com/upliftart
YoshiDrops: https://www.yoshidrops.com/
*Article compiled and written by Jimmy D (aka kansaikrypto).  Cover Image snapped from the Rail Plot Market in Chik'In Ka'ah short featured below.