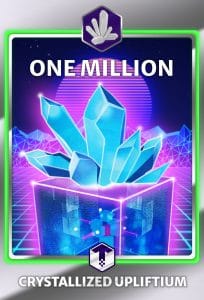 **UPDATE**

-Upliftium VERIFICATION update!
The process for verification has now been automated within the metaverse! While InWorld (inside the Uplift) Press T to open up the chat bar in any world, type "/uplift verify yourwaxaddress" to verify your wax address for Upliftium withdrawal. If you have already verified your address, there is no need to reverify using this method. After you are verified, all you need to do is fill out this form: tinyurl.com/upliftiumservices to crystalize and withdraw your Upliftium! Please allow 24-48 hours to receive your NFT and if there's an issue after that please put in a support ticket at theuplift.world. 
For updates on what's coming next in the Uplift GO TO HERE 😉 
The Uplift is a Play To Earn constellation of worlds in the MetaVerse.   Owning land, rail, or mining NFTs from The Uplift auto-magically earns you our In-World token called Upliftium. You can currently have high-def pictures put up In-World. Very soon there will be MANY ways to use Upliftium in The Uplift Worlds. But one feature we get requested constantly, and one we believe in wholeheartedly, is a player's ability to withdraw Upliftium.
So, we're fast-tracking the heck out of this feature!! 
The fastest, safest way for us to enable Upliftium withdrawal is by minting Crystalized Upliftium NFTs!! This will burn the Upliftium In-World and create an NFT that you can buy/sell/trade on any wax marketplace. 
The only way to buy Upliftium will be from other players who are selling Crystalized Upliftium NFTs on the WAX blockchain.  Withdrawing Crystalized Upliftium NFTs to other blockchains is on our road map!! *Wink*
THE UPLIFT WILL NEVER SELL UPLIFTIUM. 
Once our NFT "melting" system is on-line (sometime this quarter), players will buy Upliftium NFTs from other players and be able to "melt" those NFTs to deposit Upliftium In-World, where it will then show up on their balance. Manual melting (depositing Upliftium back into The Uplift) could be available in a week or two.
We have created a new collection on atomichub.io and have lowered our secondary market % on this collection to 1%  to keep friction in this new NFT-based economy as low as possible.  
Very Important Note!!  This collection will be minted from the "upliftium.hi" wax account.  IT IS VERIFIED!!  Make sure your friends all know to make CERTAIN that any NFT they buy is from the collection it's supposed to be from! 
We are manually minting the first Crystalized Upliftium NFTs starting over the next few days!! The only denomination right now is 1 Million Upliftium. This process will withdraw 1 million Upliftium to the wax blockchain in the form of an NFT.  1 million Upliftium will be burned in our system, and a "1 Million Crystalized Upliftium" NFT will be sent to the wax wallet you provide on the form we have set up below. In order to make sure that you own the Minecraft Username that owns the Upliftium, I'll meet you @ theUplifters Tower in the Uplift @ Genesis 2800,2800. I'll need your twitter @name to coordinate when I'll be there to get these selfies done. Ps, this is Corey. I'm taking point on the manual Crystalized Upliftium personally. 
CLICK HERE FOR THE SIGNUP FORM TO WITHDRAW 1 MILLION UPLIFTIUM AS A CRYSTALIZED NFT
AND!!! Everyone who manages to get one of these Proof of Concept NFTs before Sunday, July 25th, will be entered into a draw we do live on theUplifters show the following Monday morning to win MINT#1 of the "1 Million Crystalized Upliftium" NFT! I am personally donating the 1 million Upliftium for this 1st NFT.
OH SNAP! UPDATE: Bullshipples is donating 1 million Upliftium so we can give away MINT #2 AS WELL!!
DOUBLE SNAP!!  UPDATE:  Medusa7 is donating ANOTHER 1 million Upliftium so we can give away MINT#3!!   This community is amaze-ballz.
*cough cough*  Ok…   this is getting awkward now.   😉  The great one, T C, is donating 1 million Upliftium so we can give away MINT#4!?!?!?  lol.   I mean…
Can you say WIN WIN WIN???
I am unspeakably grateful for this community.  Just… wow.
– Corey
Subscribe to catch theUplifters shows @ https://www.youtube.com/c/theuplifters