In this brief tutorial we will walk you through the very basics on how to register and what can be done with the extension site enter.theuplift.world which you will need to do anything Uplift World metaverse or Upliftium mining related.
Creating a WAX Wallet
First of all you will need a WAX account.  If you do not have one, you can easily register for one for FREE with the WAX Cloud Wallet.  This account offers a super simple social login method that is akin to the easiest sign ups and registrations beyond the blockchain space.
Step 1: Go to https://all-access.wax.io
Step 2: Choose your preferred social login method
Step 3: Log in to your social account, read and verify the terms of service, and follow along with the registration process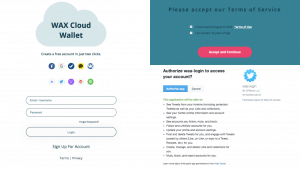 Of course there are some precautions that should be observed as by using the WAX Cloud Wallet you do not technically own your own keys, however, in terms of ease, the WAX Cloud Wallet is by far the simplest on-boarding tool to get you up and running as many other options require you to jump through a payment and various other hoops.
Do be aware however, the WAX Cloud Wallet is a non custodial wallet and should you accumulate a lot of value within, transferring to a more secure wallet where you actually do own your own private keys is advisable.  Also please note, at time of publishing for those who do transfer to a new wallet for use with Enter.theUplift.World, the liquid balance of Upliftium, our in metaverse currency, will be forfeit.  For those worried about this in the future, we recommend looking into another option giving you access to your own private keys from the start such as the Greymass Anchor wallet.  Check out the tutorial below for a rough guide on how to do this.
Linking Your Uplift World to Your WAX Account
All building rights and rewards in the Uplift World metaverse are attached to specialized NFT's held within ones personalize WAX account.  This means that in order to do anything in regards to building on your plots or collecting the Upliftium that various battery powered Uplift World NFT's generate passively, you will need to go through the process of connecting your Minecraft Java account to your WAX account.
Please check out The Uplift World Quick Start Guide to learn more on the following topics:
Get an Uplift World access NFT
Get a Minecraft Java account
Linking your WAX and Minecraft Java accounts
Connecting to the Uplift Minecraft Server
Entering the Uplift World
Finding your land and some useful beginner Minecraft commands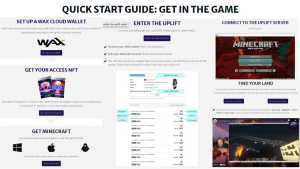 Enter the Uplift World
The enter.theuplift.world site represents a basic window or portal into everything you will need to keep track of in terms of your account, keys, upliftium, and tools.
Account: After linking your Minecraft and WAX accounts via the process above, the account tab will show you all of the necessary information regarding your Uplift World Metaverse Minecraft Java account.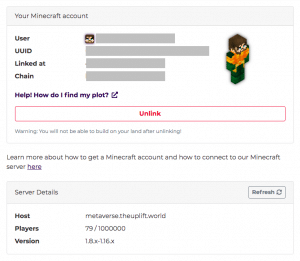 Keys: On the Keys tab members will see and be able to keep track of the plot name, sector or server (Old World, Genesis, Gratitude, Chik'in Ka'ah, Londom, Upluft, Swineland, Thoon, etc), the type of key (land or rail), the coordinates, and the plot size.  You can also see your passports to what servers you own land and rail keys in at the bottom.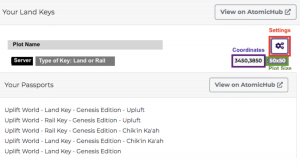 Clicking the settings icon will also show you an overview of the main information for this plot, change the label or plot name on the main menu screen, and whitelist or see who is whitelisted to build on the plot.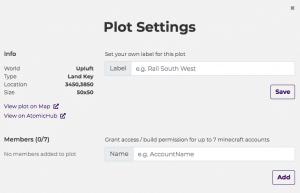 Upliftium: This page shows all of the specific and general information about Upliftium drips and staking rewards.  From this page you can see the active battery powered NFT's in your WAX account as well as access the staking pool and leaderboard information.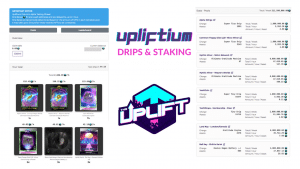 Tools: Under the Tools tab you will be able to find things to help make your life and experience in the Uplift World metaverse more efficient and enjoyable.  At present for example, you can run a query for land or rail development keys which might be of interest to you for no small number of reasons.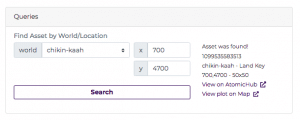 And there you pretty much have it good ladies and gentlemen of the Uplift World. Of course things are always subject to change around these parts, but generally speaking beyond some random updates here and there, the features of enter.theuplift.world should remain fairly standard in their composed existence.  And should you have any ideas for data or inclusions please do let us know in one of our official channels below.
Official Links & Places to Learn More 
The Uplift World
*Cover image art pulled from the I'm Not the Bubble My Bitcoin Bull remix and credited to mBlu