With the transition to DAO The Uplift World is currently going through, the project needed an easy way for people to become a part of this groundbreaking moment.  As noted in the Uplift Whitepaper, the backbone of the DAO will be operating on the Ethereum blockchain.
"The Uplift uses the WAX blockchain as its backbone since it offers high performance, ease of use for non-crypto users, has no fees, and is carbon neural to only name a few WAX benefits. Although we are so deeply rooted within the WAX community, we do firmly believe in a chain agnostic approach. Which means to use the blockchain that is best to fit a given purpose. The final standard-user experience we are aiming for in the long run is supposed to allow users to don't even notice they are using the blockchain.
Why do we choose Ethereum as the best chain for the job to host the Uplift DAO-Token then? And what is about outrageous fees or clunky transactions?
.
Having the DAO on snapshot.org gets us recognition and voting without outrageous ETH fees, especially if run well. This is great advertising in exchange for governing better instead of paying out cash. The tools provided by snapshot.org are excellent and have already been tested.
.
Having the token and main LP on Ethereum allows for not just speculators to drive up the price but also whales to provide liquidity and volume, which again is free advertising (or even advertising that pays the community).
.
There is obviously interest in Minecraft metaverses on Ethereum with projects like NFT Worlds. This means more necessary capital and visibility to run and grow The Uplift World into one of the top-metaverses. Popping onto the scene through a DAO token that you can get by buying land and getting Upliftium to burn on WAX will likely coax the more enterprising of them to try out this chain, which is a win for everyone. Having connections to Ethereum would also allow us to tap into open-source tools provided by projects over there." [Why ETH?]
.
Interacting with the Ethereum Blockchain
If you are new to ETH it might be a bit of a scary experience to think about trying to learn all there is to know.  Being aware of this, we have tried our very best to make this experience as easy to understand and initiate as possible.  Here is a quick guide to get you started so when the time comes, you are sure not to miss out on all those wonderful benefits of being an Uplift DAO token hodler.
Creating an Ethereum Wallet
As is the case with almost all blockchains, in order to interact with assets on the blockchain a wallet compatible with that blockchain must be used.  In the specific case of Ethereum one of the most used and highly regarded wallet is MetaMask.
"MetaMask is a web browser extension and mobile app that allows you to manage your Ethereum private keys. By doing so, it serves as a wallet for Ether and other tokens, and allows you to interact with decentralized applications, or dapps. Unlike some wallets, MetaMask keeps no information on you: not your email address, not your password, and not your Secret Recovery Phrase or other private keys. You retain all power over your crypto-identity."
Getting Setup with MetaMask
MetaMask operates as both a browser extension and a mobile app on both iOS and Android.  You can choose to download extensions on Chrome, Firefox, Edge, and Brave browsers at present.  Although slightly different, the process across all these is pretty similar and can be foundM on the official MetaMask Zendesk page under the How to Install MetaMask section. Guides for iOS and Android MetaMask apps can also be found here.
Adding the MetaMask Extension
1) Go to the official homepage of MetaMask, metamask.io.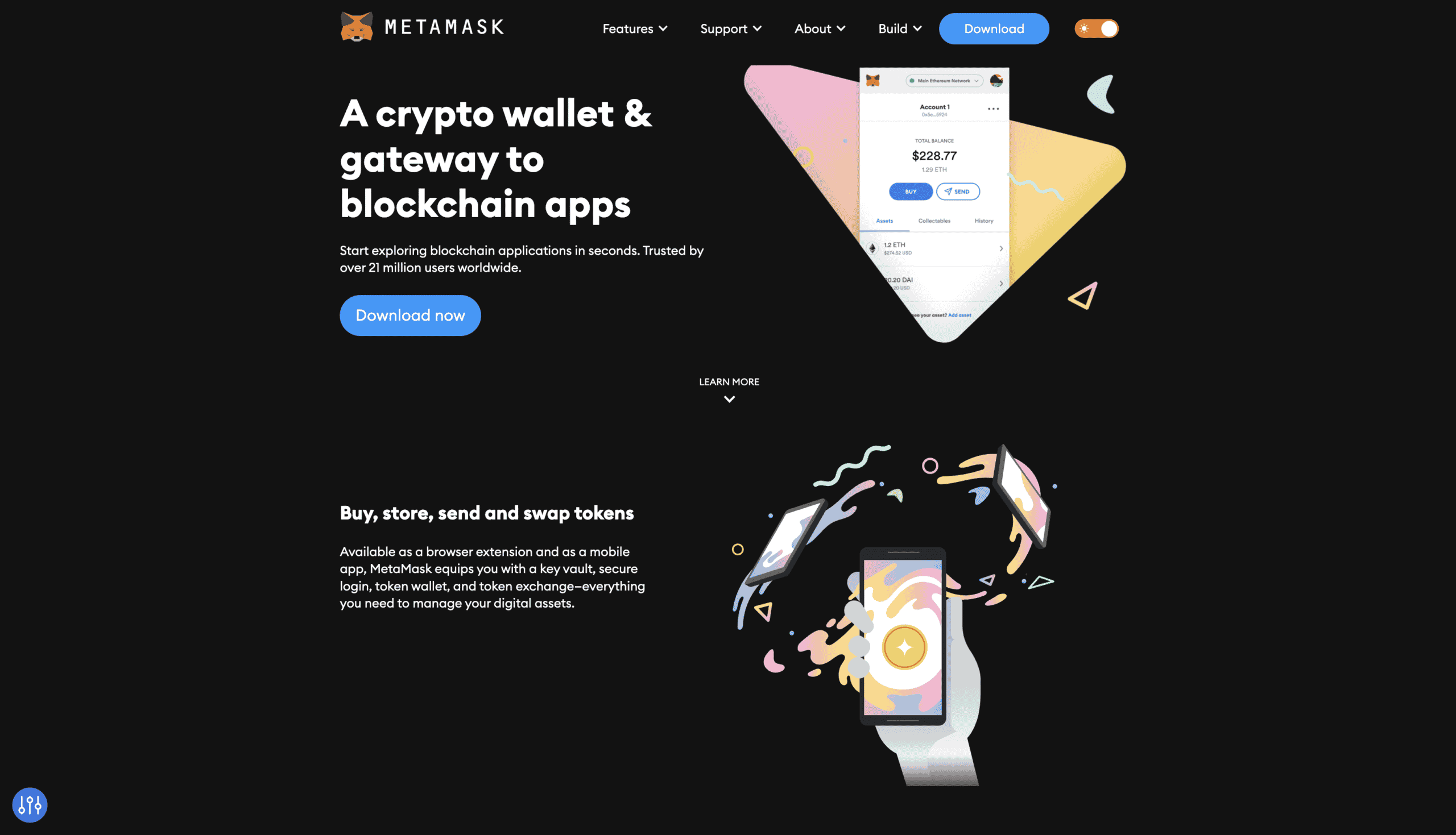 2) Click on the Download button in the menu bar at the top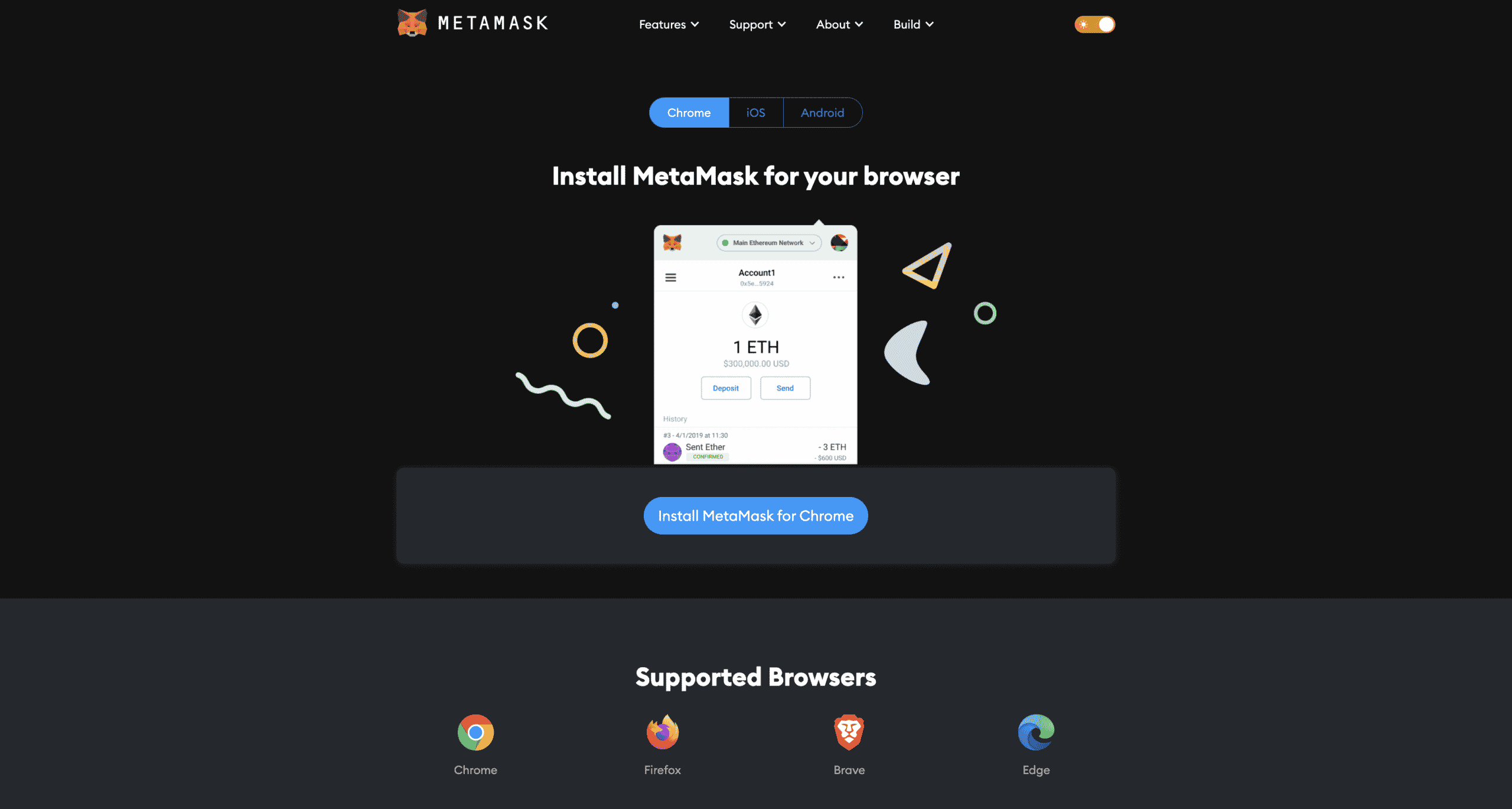 3) Choose your supported browser or app.
4) Add the extension to your browser and follow any other instructions you are prompted with.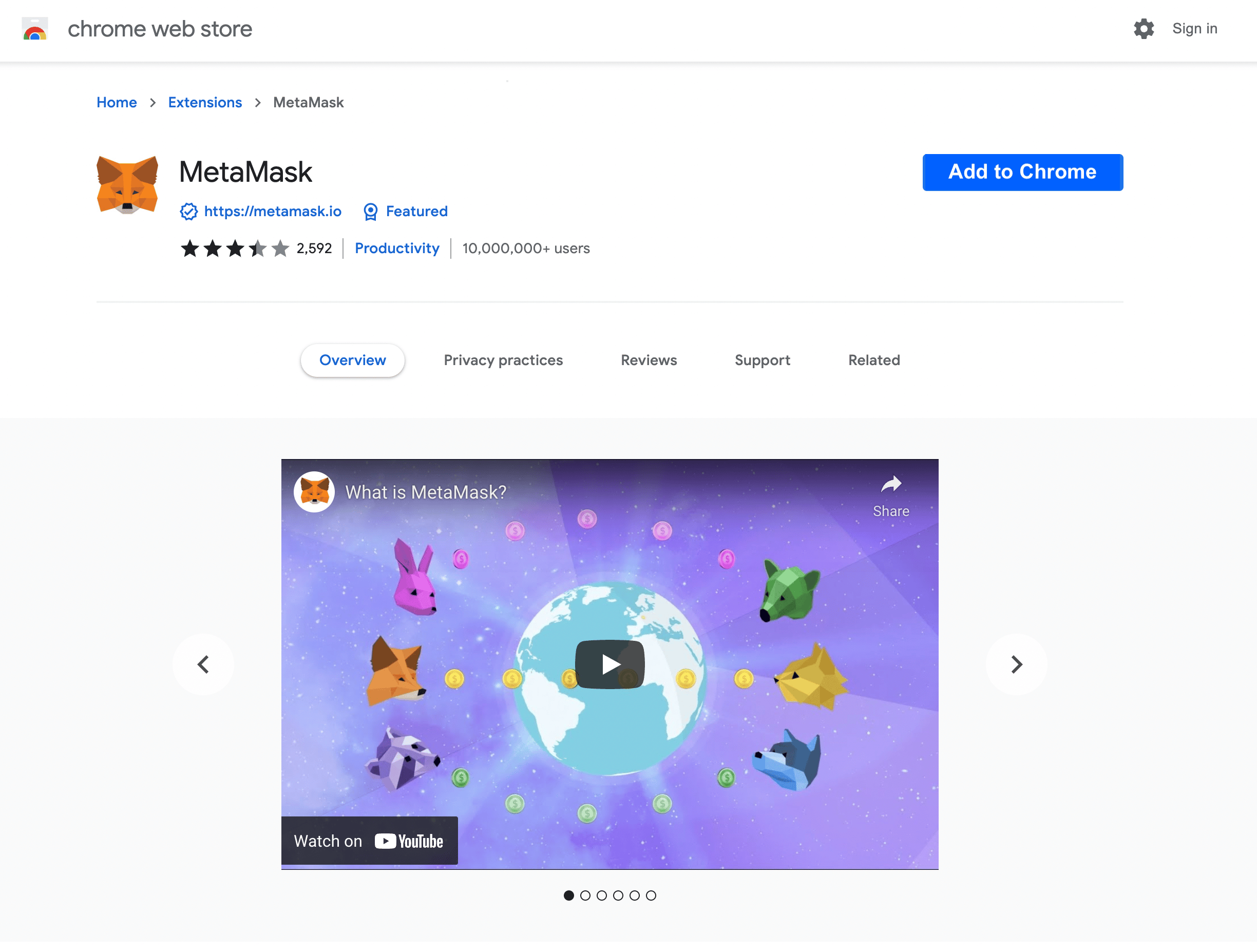 Setting Up the MetaMask Extension
The first time you open your new MetaMask browser extension you will need to set it up.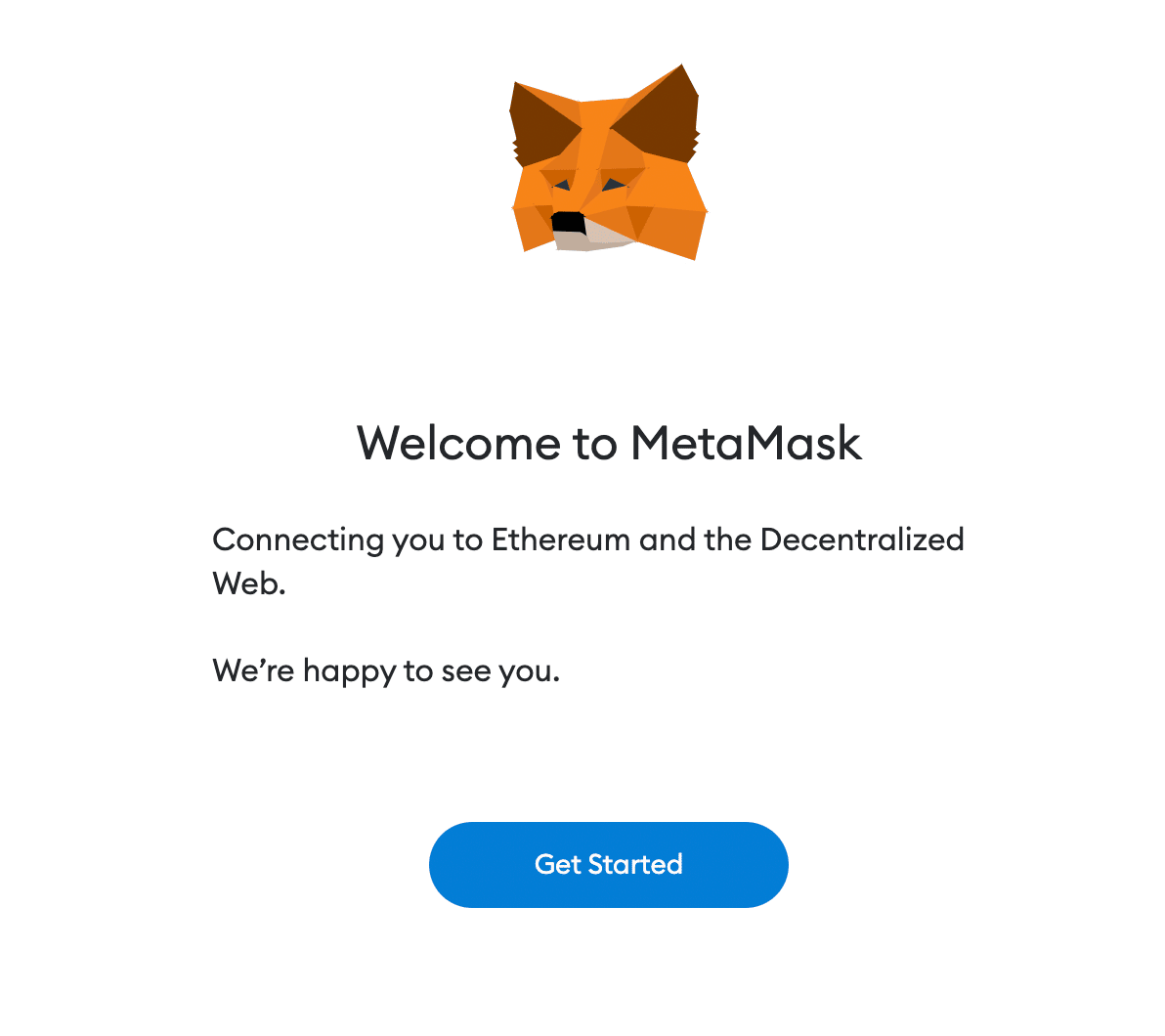 After clicking the Get Started button, you will be presented with two options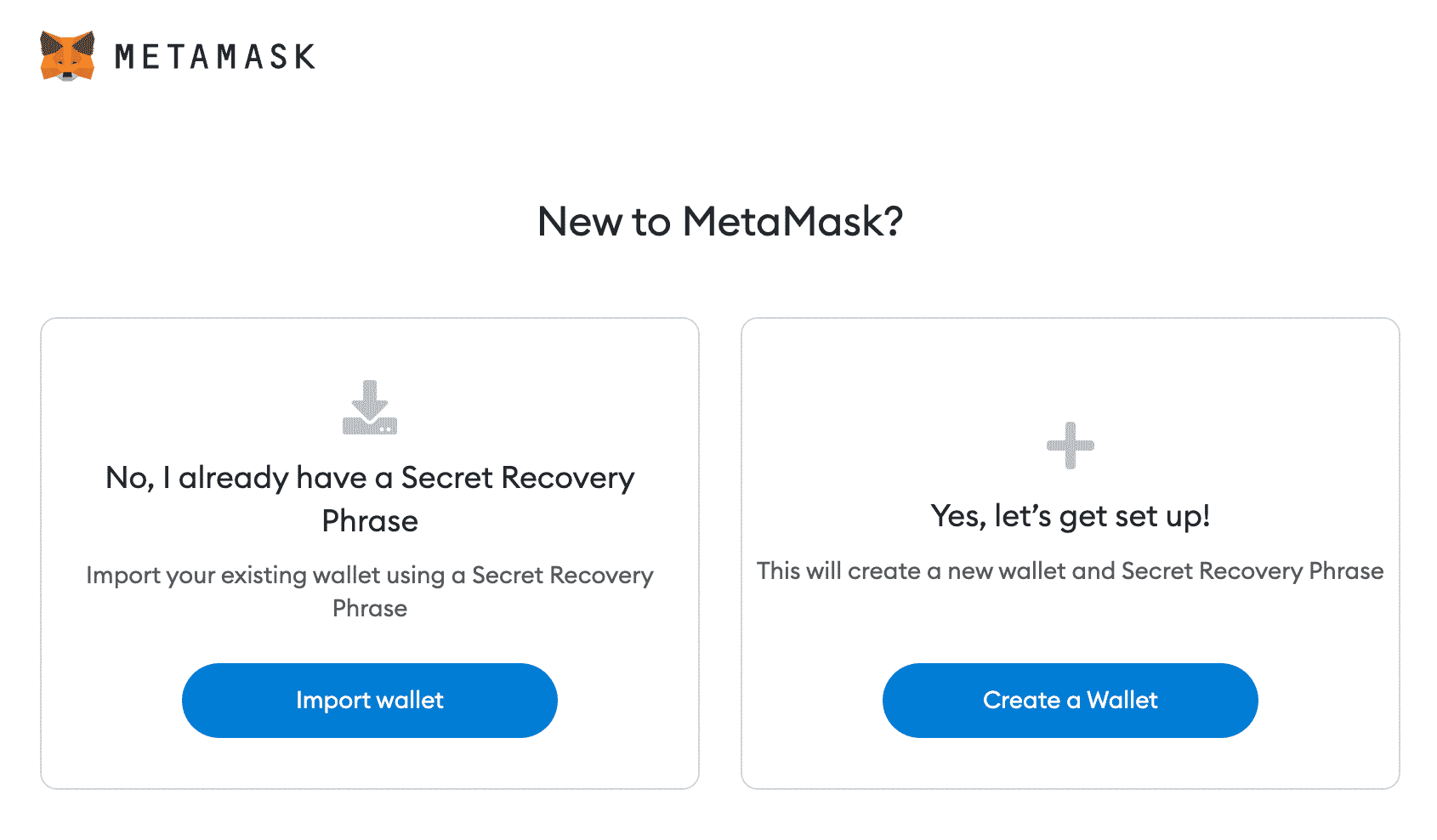 If you have never used MetaMask before, you will want to Create a Wallet. As with anything, you will need to decide what access to data the app will have.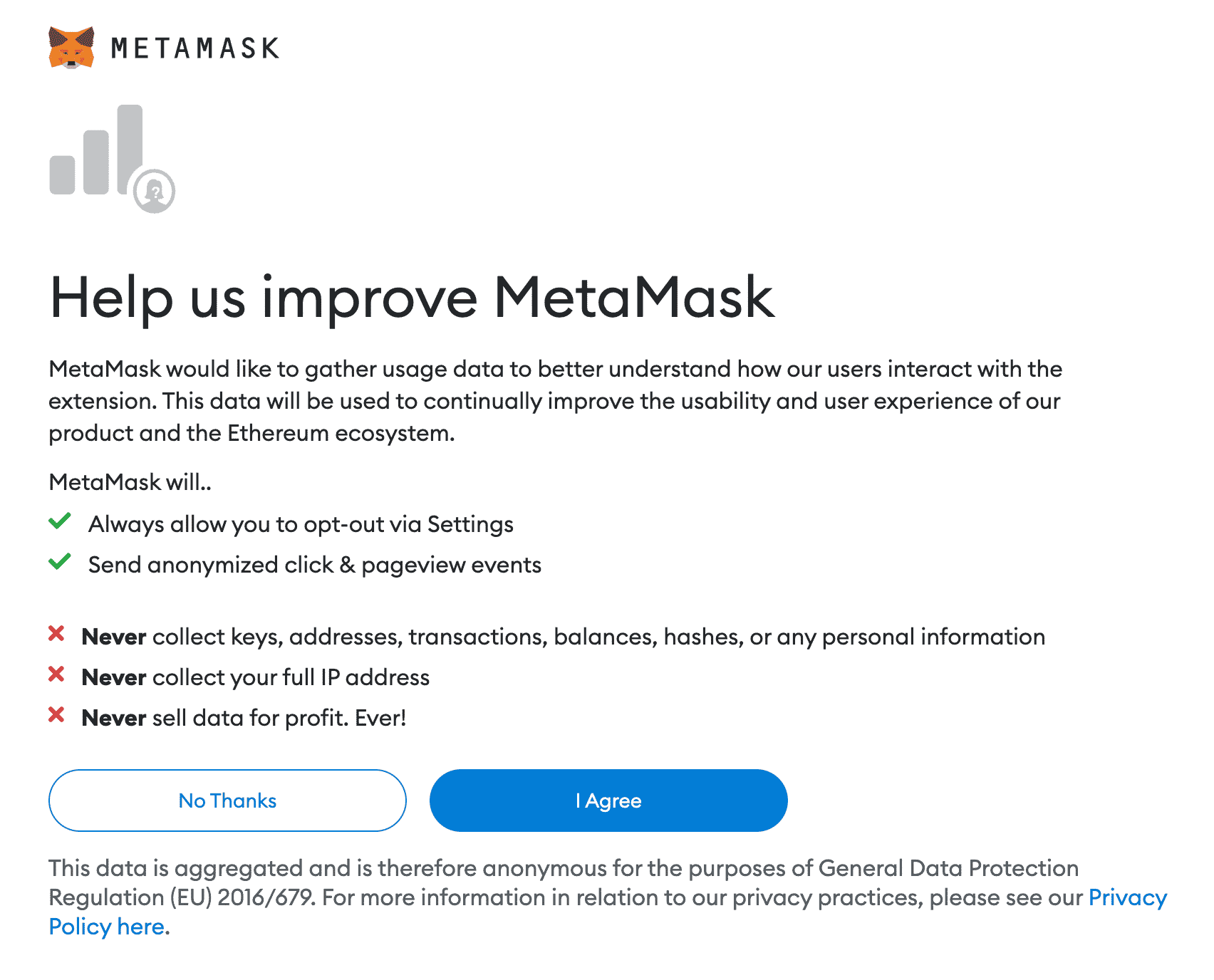 Next, you will need to Create a Password for your new MetaMask account.  Be sure to create a strong password that is not easily guessable.  Don't use a password you use for other apps or social logins.  If this password gets compromised people will have access to your wallet, your crypto, and your NFT's.  This means they could transfer all your assets to anywhere they want and there will be no way for you to get them back.
CHOOSE A STRONG PASSWORD, WRITE IT DOWN, AND PUT IT IN A SAFE PLACE!
Do not store it on your desktop or in the Cloud on an unprotected file.  
If you choose to save an electronic copy, password protect it and put it on an external hard drive or USB that you can lock away somewhere safe!
The process is pretty self explanatory and even comes with multiple versions of print and video to help drive the key points home.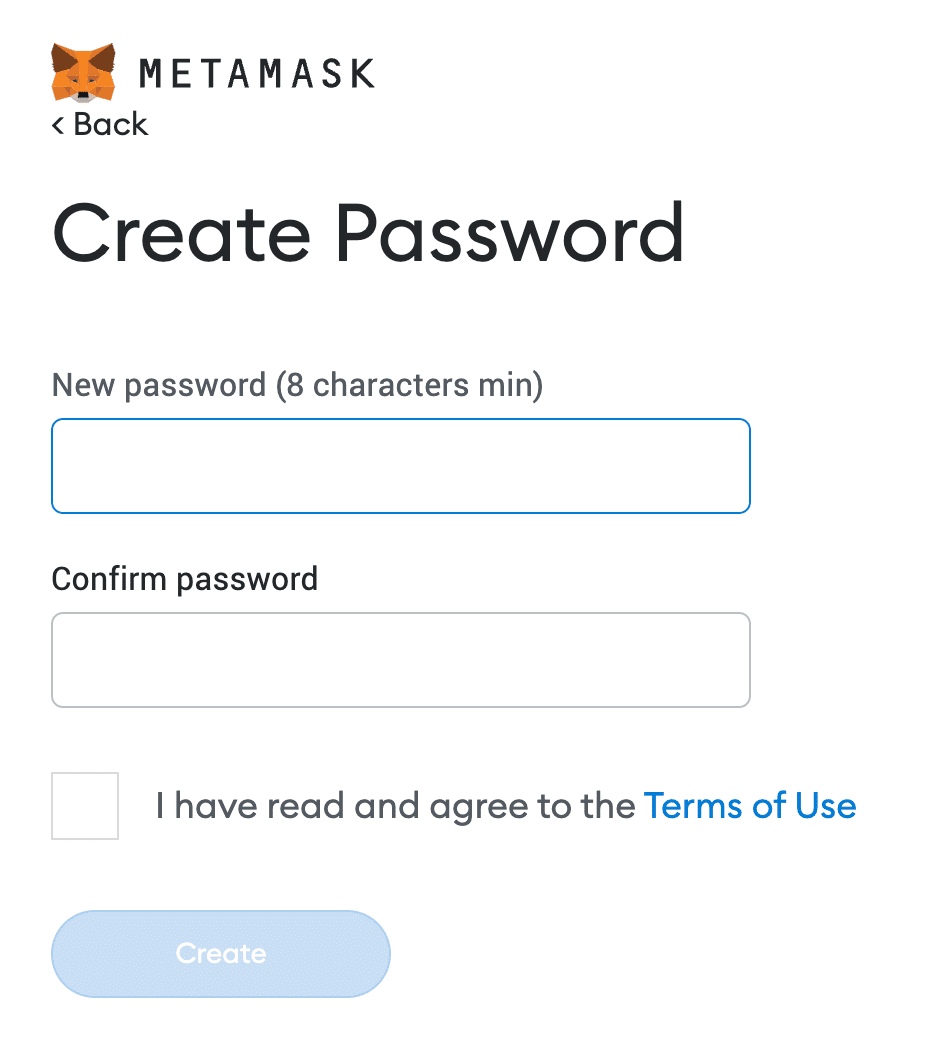 MetaMask has made it really easy to follow along the process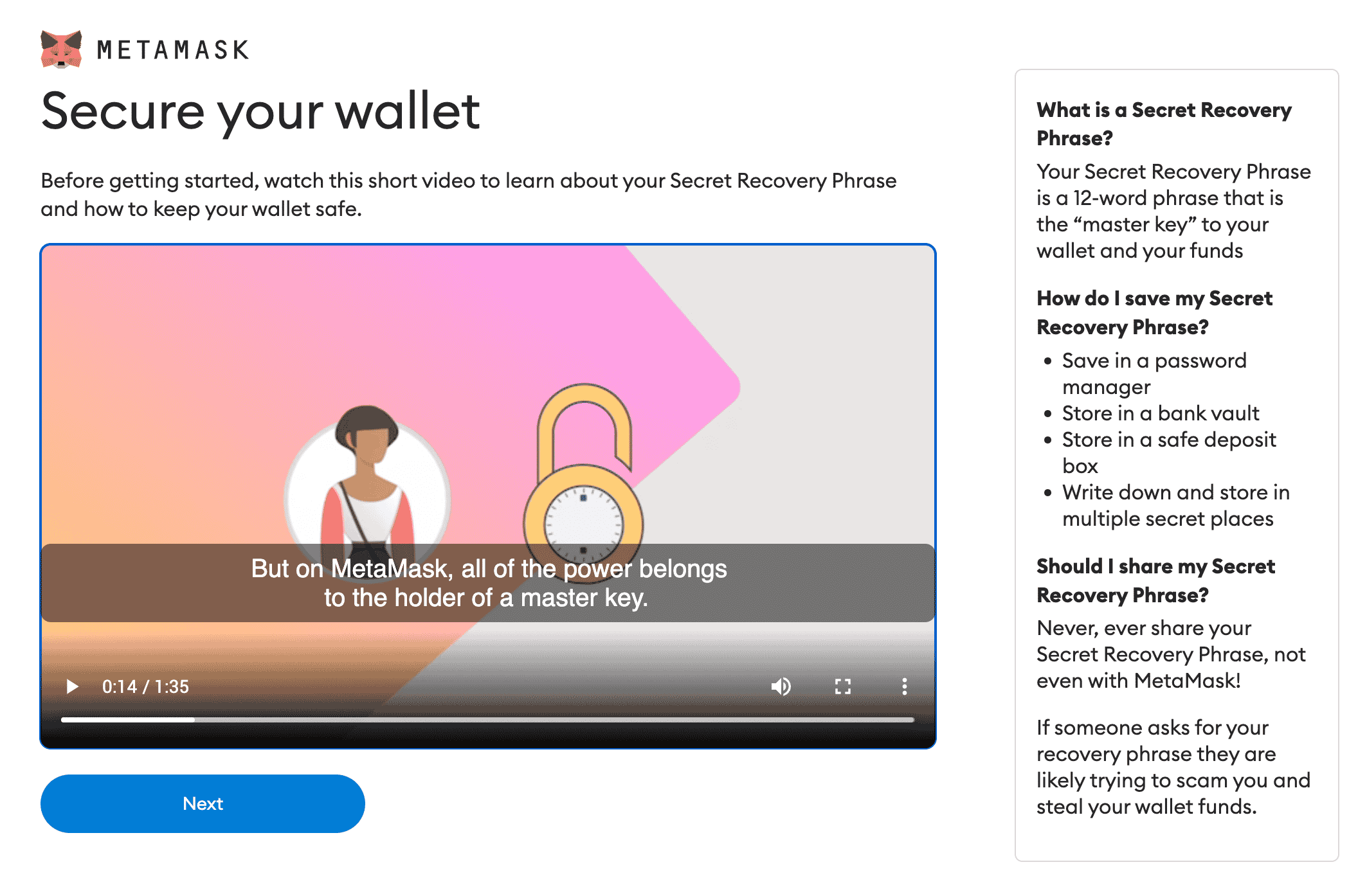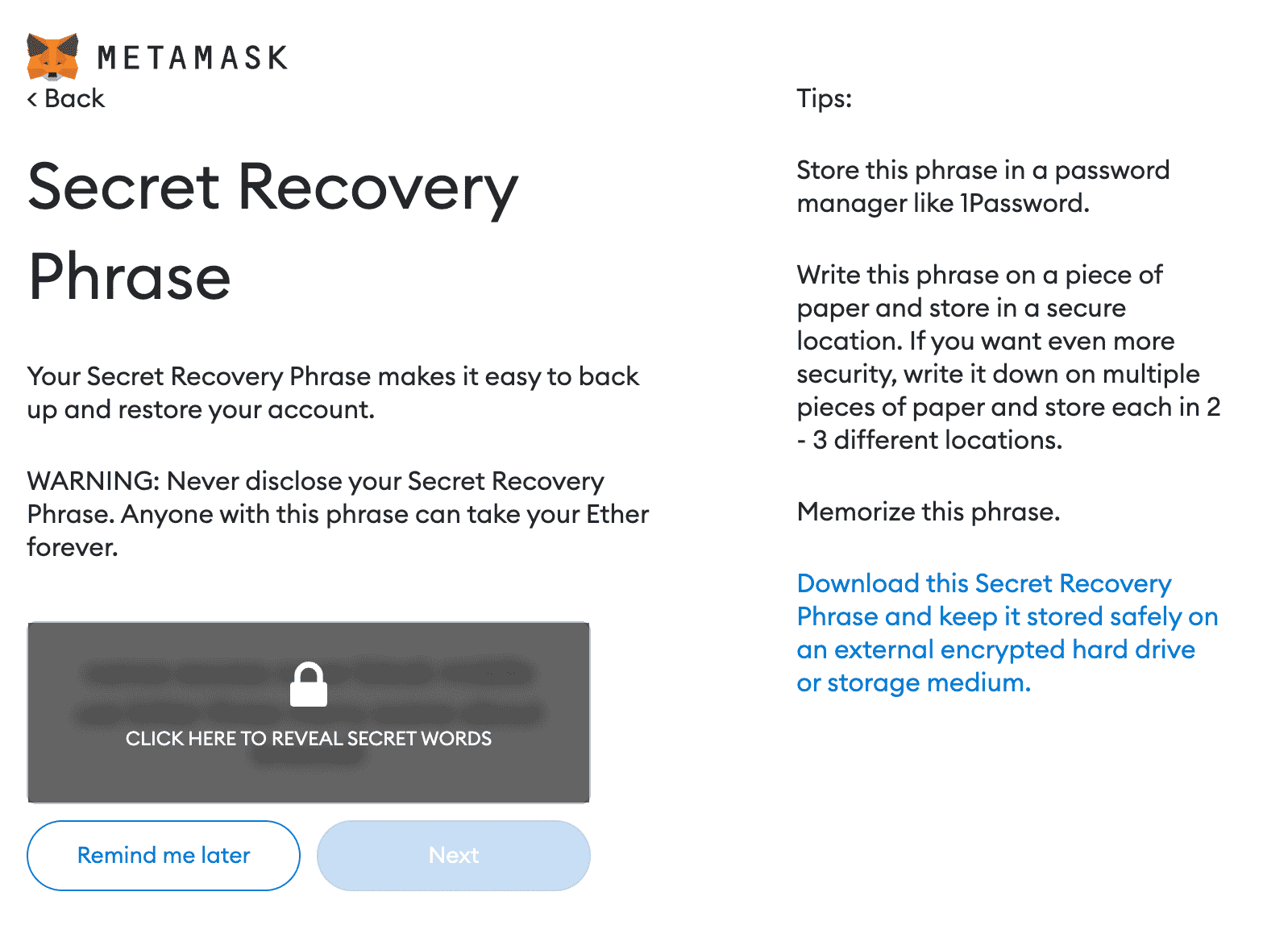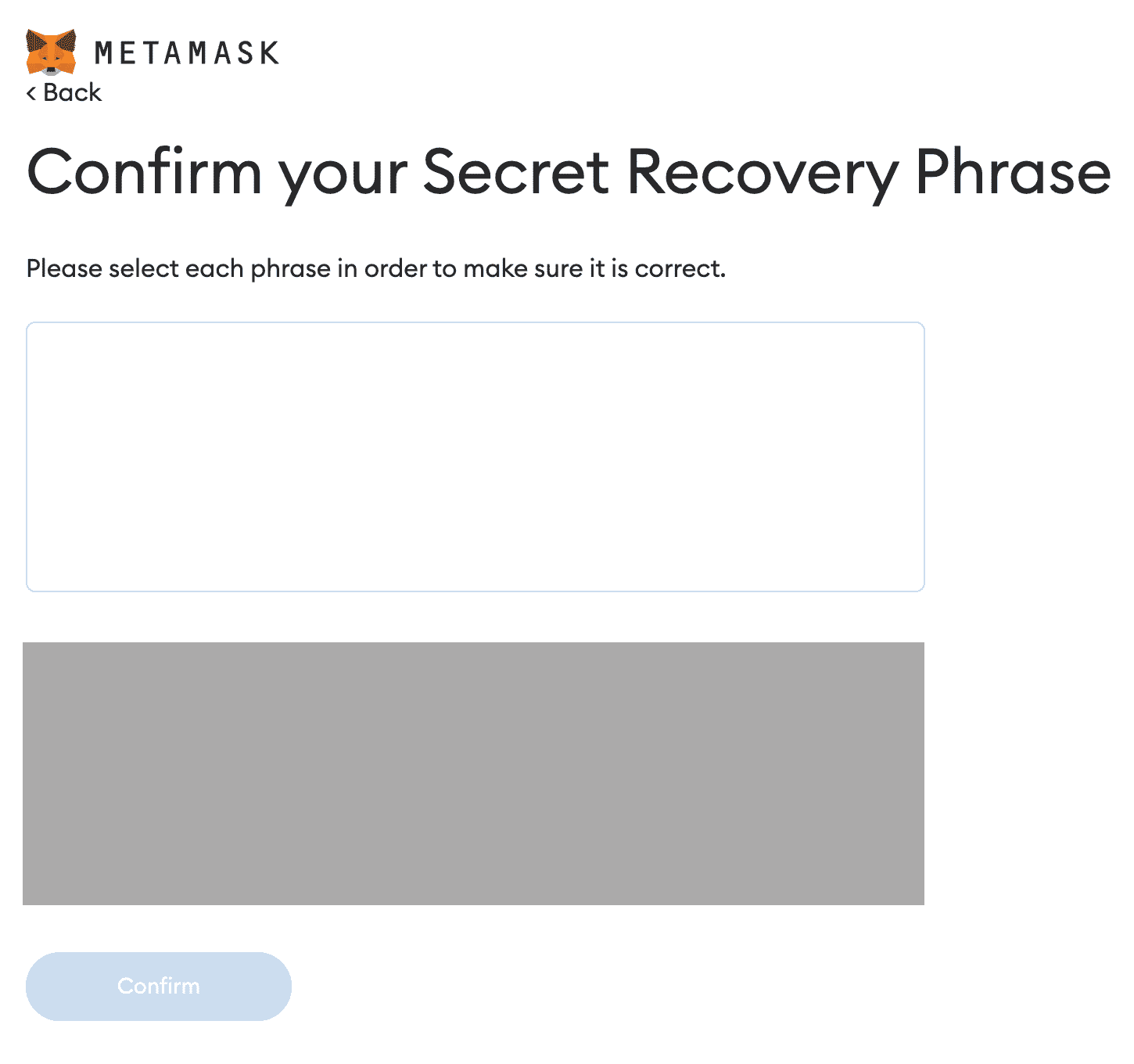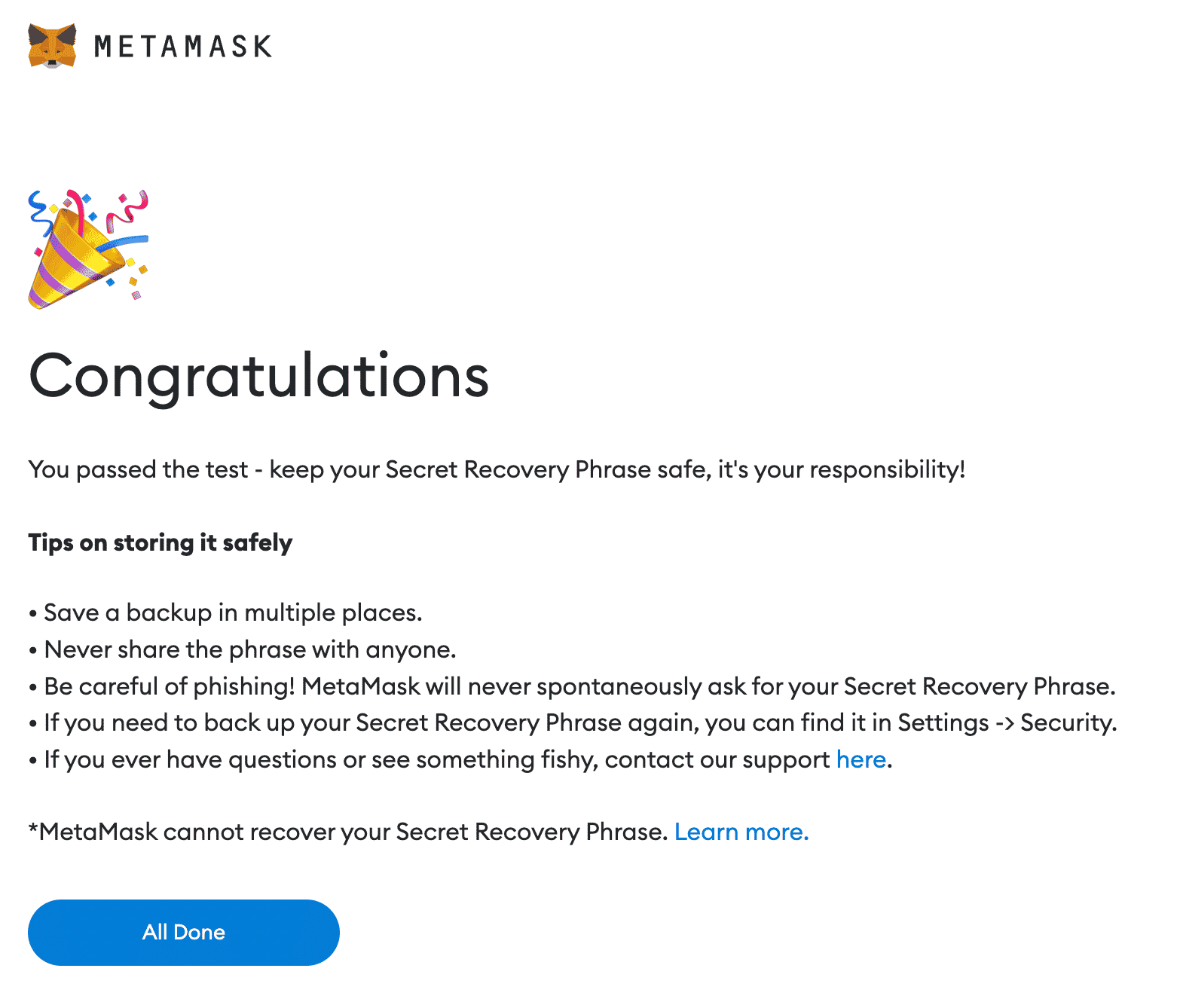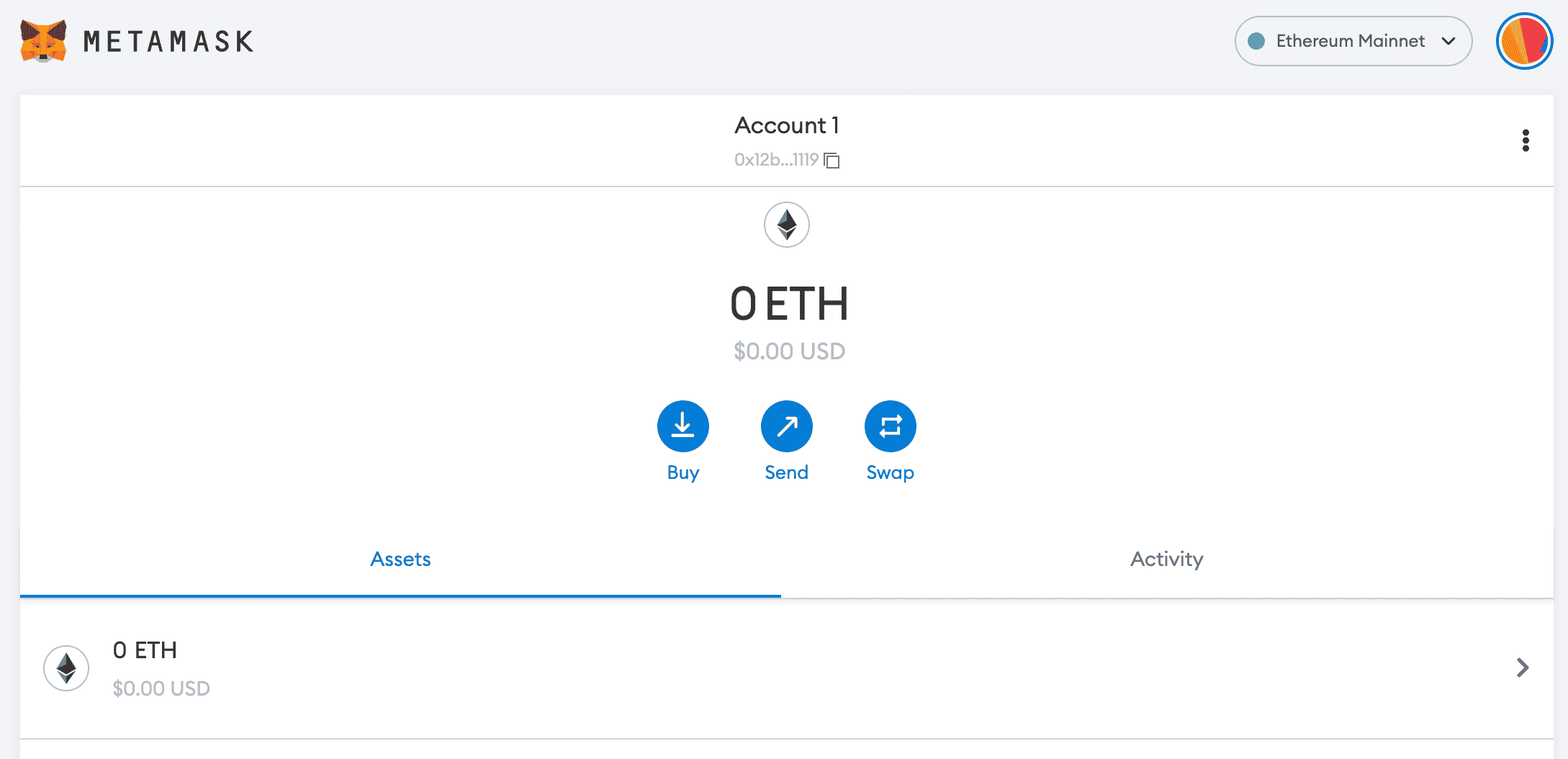 And there you have it, your first ever MetaMask created Ethereum account.  Of course there are a few more things that might also be relevant, so let's dive into those now.
Change you account name by clicking on the 3 dots in the upper right corner and selecting Account Details.

You can also export your Private Key which is recommended.  Again, store this in a safe place as if anyone has access to this, they have access to do whatever they want with your account.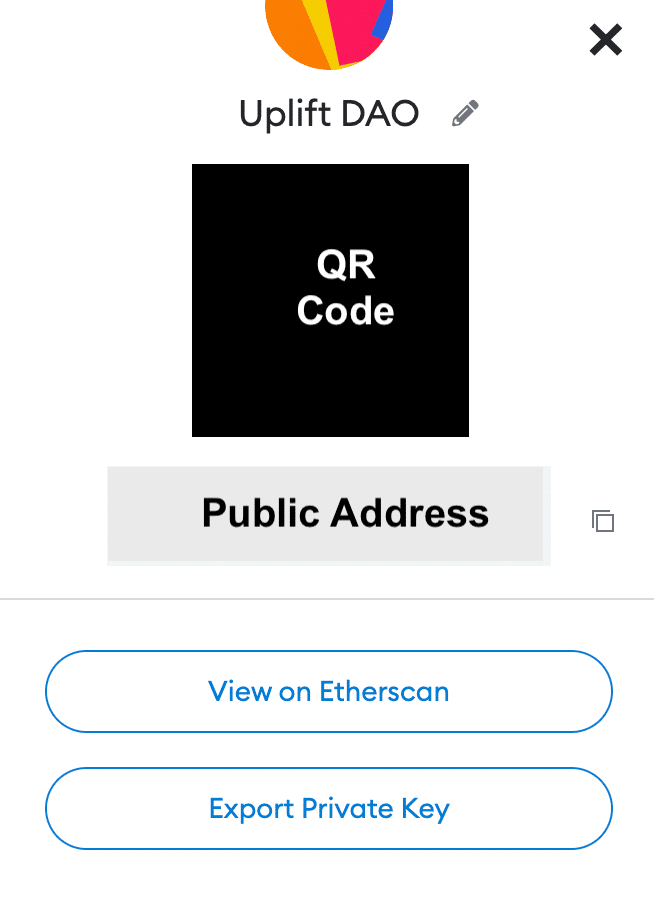 Create, Import, or Connect a Hardware Wallet by clicking the round icon in the top right.  This will also let you switch between accounts once you have more than one.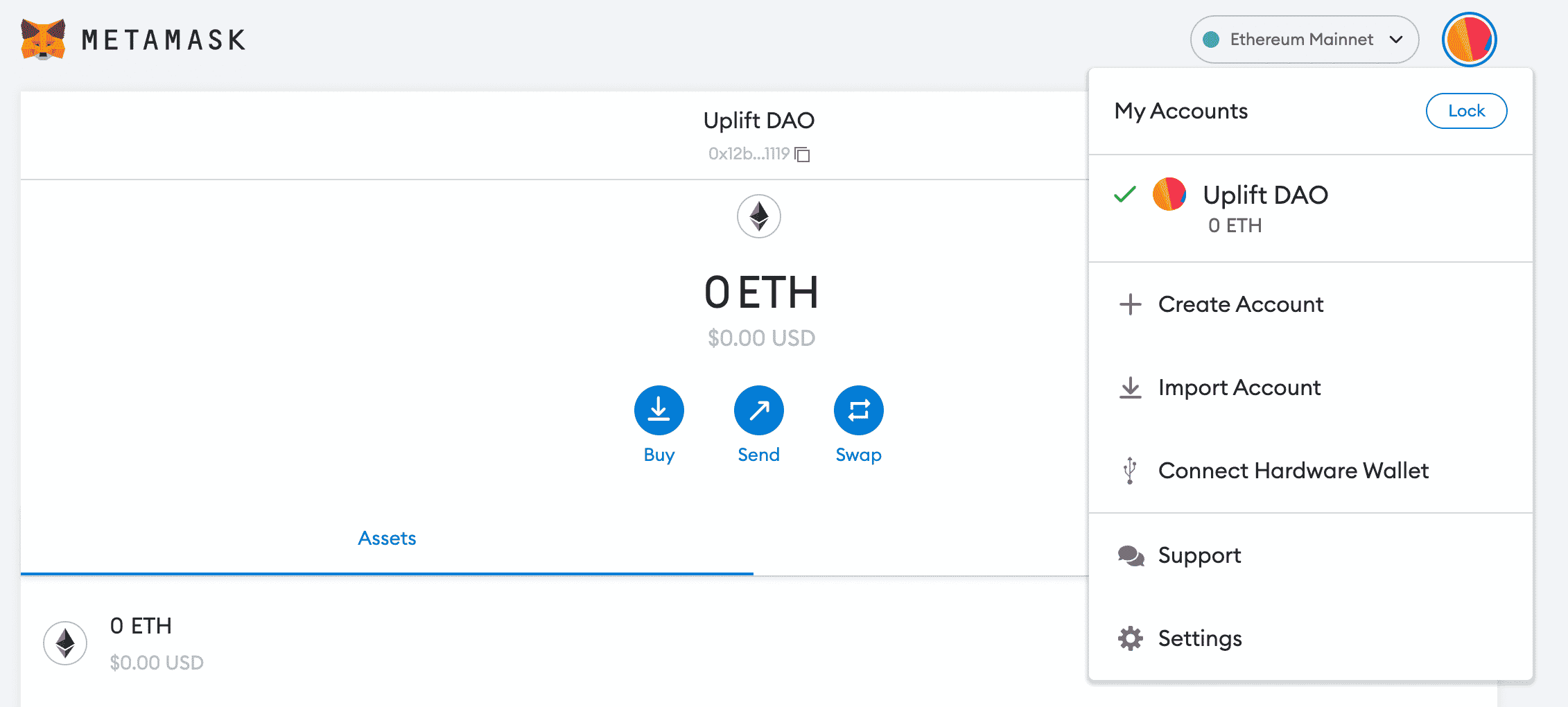 Funding Your Wallet
As of right now Ethereum is still a 'proof of work' blockchain.  As opposed to a 'proof of stake' blockchain like WAX, transactions on proof of work blockchains require a transaction fee.  The transaction cost will depend entirely upon the blockchain and the day, but in order to do any on chain transactions you will eventually need some Ethereum to cover these costs.
Although in the case of The Uplift World this is not something you urgently have to worry about at present, we wanted to note that really the process is quite simple involving the sending of ETH to your wallet.  If you are new to Ethereum the following steps are required.
Register or go to an exchange that lists ETH.  There are many but some of the more popular ones are Coinbase, KuCoin, Binance, and Kraken.
Deposit fiat or another cryptocurrency
Trade for ETH
Withdraw ETH to Ethereum wallet address.  You can find this under the Account Details section on MetaMask shown above.
Connecting Your Ethereum Account to The Uplift
Announcement: You can now link an Ethereum wallet on enter.theuplift.world! Doing so will 'reserve' your DAO tokens at snapshot. Reserved tokens do not expire, so you will be able to claim them at your leisure after we claiming is enabled. You have until June 01 at 12pm eastern to link an Ethereum wallet or you will LOSE any allocated DAO tokens."
A couple of reasons for this:
The act of linking an Ethereum wallet costs nothing.  Even if your wallet is empty you can still link it.
The linking of wallets and reserving of the right to claim means you are not subject to gas fees beyond your control.  You can wait for better times when gas might be lower or when IRL issues are more favorable.
Enter The Uplift World
If you are new to The Uplift, enter.theuplift.world is our de facto account management system allowing you to link your Minecraft and crypto accounts, manage your NFT keys, interact with Upliftium mining, and utilize other useful tools.  For more on how to get started on enter.theuplift.world please see the introductory guide on the Getting Started of the official homepage.
Now in addition to linking your WAX wallet via WAX Cloud Wallet, Anchor, Scatter, and Wombat options, you can also link your Ethereum wallet through MetaMask.  The process is fairly straight forward, but here it is below for any who may need a visual walk through.
Step 1: Log in with your WAX account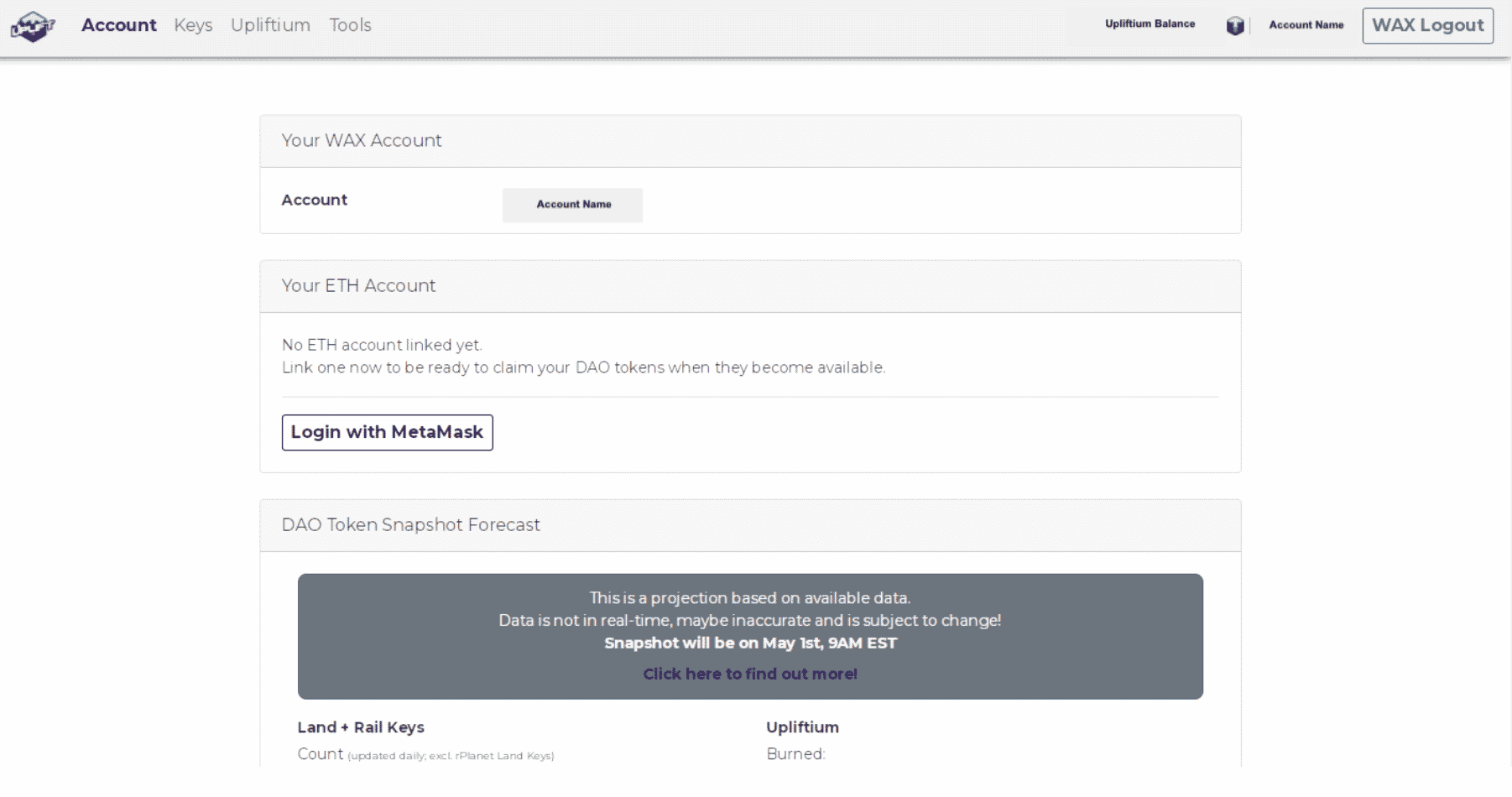 Step 2: Click on the Login with MetaMask button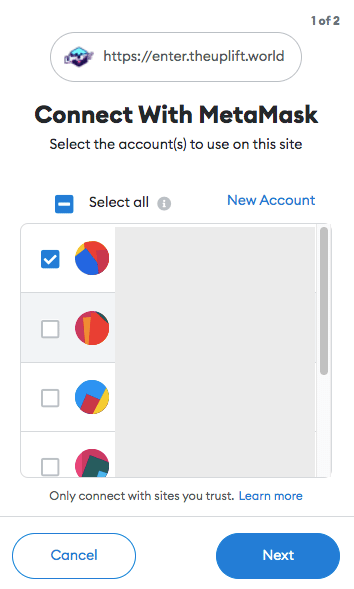 Step 3: Confirm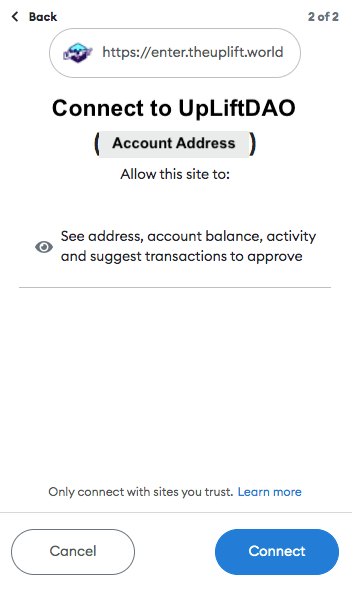 Step 4: Verify your account was linked.

*Note: Once your account has been linked your DAO tokens will be reserved for you to claim later so long as this process is done by June 1st, 2022.  The next time you come into enter.theuplift.world your account will not show as logged in, but will connect to the same one next time you prompt it to.
And that right there good ladies and gentlemen of our good metaverse is the beginner guide process for how to get an Ethereum account and link it to The Uplift World with MetaMask.  Should you have any questions about this process, please don't hesitate to ask in the public or AMA support channels of our official Discord below.  Please like and share this out if you found it useful, and tune in next time we cut to the nitty gritty of connective and operational basics soon in the next Degen Guide! Roar!!

The Uplift World Official Links
*Article curated by Jimmy D