Welcome one, welcome all! Welcome those seeking the glory, those looking for the story! Welcome to the first ever PVP Colosseum Event in The Uplift World
When
January 07, 2022, at 6PM EST
Where
Access
In order to access the event you will need a Colosseum Event Ticket.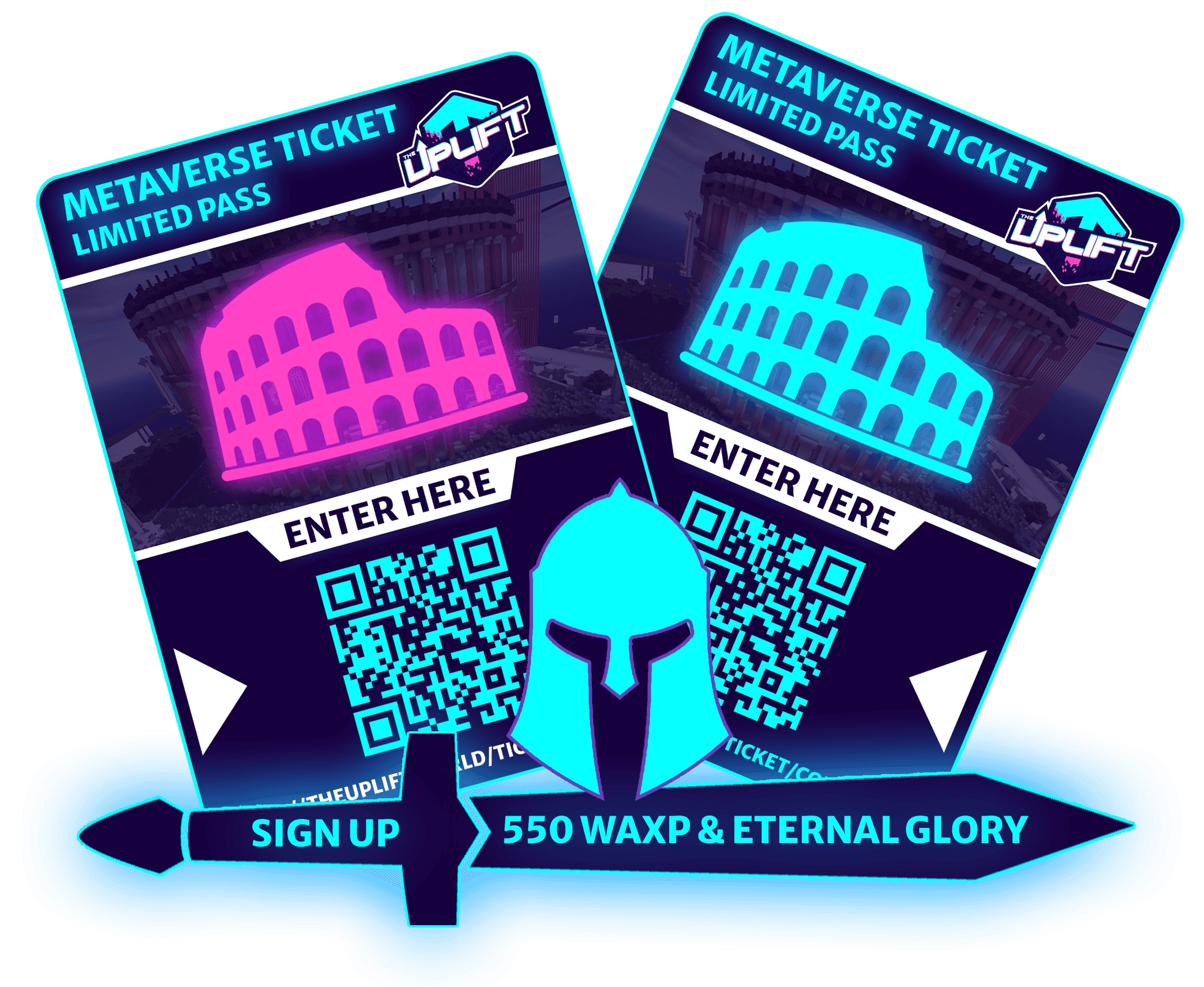 There are 2 types of tickets available for the Colosseum event, player tickets (10 maximum) and spectator tickets (unlimited). These are NFT tickets and MUST be held in the WAX wallet that you use for The Uplift World.  They can be obtained on The Uplift World Drops page over on NeftyBlocks and each have specified properties on how you can access/participate in the event.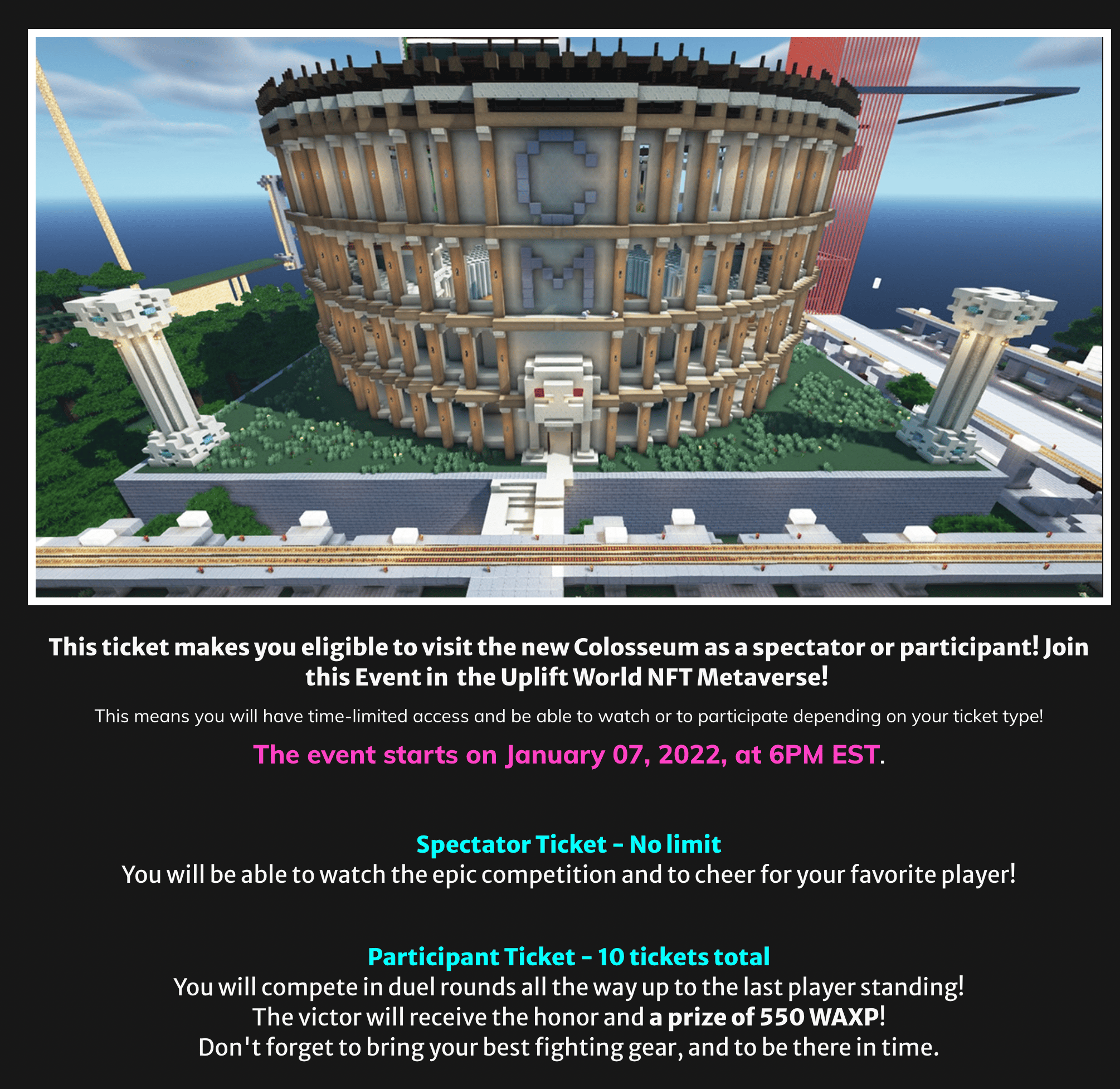 *Not yet in The Uplift World? Find everything you need to get started on our official homepage right here!
The Rules
There will be a total of 10 competitors maximum.  The contest will take place around single elimination matches only.
All competitors must bring their own gear
No Elytras
No hacked clients
No totems
The Risks
Shame
Death
Any gear you bring into the event if you lose
Prizes
The event victor will take home the Grand Prize consisting of:
select gear
550 WAX
and most importantly, ETERNAL BRAGGING RIGHTS as the first ever PVP Colosseum Event Champion!!
Attending the Event
In order to attend, all players and spectators will MUST hold a ticket in their connected Uplift World WAX wallet and enter through the portal in Old World Spawn shown below.

The Venue
The CostAffective Colosseum was originally built in Genesis, however for this event you MUST enter through the portal above.  That said, should you wish to learn more about this remarkable venue, check out the featured article below.
The UpLifters Lenz: The CostAffective Colosseum, Maze, and BAYC Gallery
Prepare Yourselves, And Come Join Us for the History About to Be Made!!
On the 7th day of this first month of 2022, prepare yourselves and be ready for the epic first ever Colosseum event inside The Uplift World Metaverse.  Don't miss out on this historic moment where warriors will define themselves, spectators will embrace their most carnal desires, and the once in a lifetime opportunity to witness the first ever Colosseum PVP victor crowned with irreplaceable eternal glory!
Post Event Update
Overall, the event was a huge success.  The first of it's kind, and surely not the last.  For those who may have missed it or earn to relive the thrill of the in the moment glory, check out the live event coverage below:
Welcome to the World of Uplift Events
Have an event of your very own in mind?  From PVP fighting, to ice track and other races, gallery showings, and pretty much any other types of event you can envision hosting or being a success in The Uplift World, don't be shy and let us know. We are always open for considering a multitude of event ideas to collaborate on helping our communities in the metaverse expand and grow!

The Uplift World Official Links