Welcome to another Uplift World BLDRZ episode, a series in which we focus in of some of projects, individuals, and teams doing amazing builds within multiple sectors of the Uplift World.  For this episode we go way back not so very long ago to a time before the Uplift was the Uplift World, and dive in with the one and only Russel.  Until now the community may not have been properly introduced to Russ, but we can almost assure you that despite the exposure is has been and will continue to be one of the most unique and creative builders in the entire metaverse.
How did you first get introduced to top blockchain and cryptocurrency?  
Corey Cotrell offered to reward several friends and family, myself included, some WAX crypto if houses were built in Minecraft. I had to learn about WAX wallets and the token to get paid. Then I learned about NFTs, mostly from AnyObservation's YouTube videos and the other members of the server who shared their crypto findings. I have kept all of my crypto and having been using them for games and purchases. I have accumulated a lot of crypto stuff and not cashed out to fiat currency, and likely won't.
What is it about the future of blockchain and cryptocurrency that excites you the most?
I would like to see certain information made public and easily trackable, such as titles/deeds to property, vehicles, firearms, and product manufacturing dates/lot numbers for recalls.
It would also be nice to trade digital media such as music, books, and movies. Currently if we "buy" a digital movie on platforms like Amazon, You Tube, and HBO for example, then those purchases can be deleted with a unilateral decision by the company at any time, for any reason, and without financial compensation to consumers. NFTs can potentially solve that issue by allowing people to trade media, often with a cut of a sale going to the author/artist. This is similar to royalties being paid to an artist.
What blockchain projects most excite you and why?
I super support the Uplift World. My reasons are far more lengthy than your typical gratitude sign, and I would be happy to speak about them sometime.
I am also a really big fan of Green Rabbit. I support them as a customer because Nvenom has put more effort than other crypto games at making a story / lore and I believe crypto games could use more of that. In my opinion, Nvenom's Green Rabbit story is not well written but is far better than other crypto games. Nvenom's focus on story may lead to better writing in the future if he is supported. I see the potential, and the motivation.
An aside, I'm surprised that crypto communities with so many wonderful nerds haven't got a DnD super star dungeon master among them who will write a incredible crypto RPG game. I do not believe in complaining and I am an incompetent writer, so I have contacted the best DnD friend I have, but he is very shy about other people seeing his work. He is truly a great writer and I'm certain the world would love the games and stories he has to share, if only he would share. Similarly, I'm sure you've met charismatic people who were camera shy. I'll send him another DM.
I am building in Shippletopia. It's set to become a giant theme park/concert venue/charity/secret thing. I'm not supposed to talk about yet. People will really enjoy it and hopefully will be a draw for the Uplift as a whole.
How did you first find out about The Uplift World?
I was in Corey's family and friends Sunday Gratitude cult before the Uplift was the Uplift. I am still in the cult, and even got comfortable talking on camera.
What was the overall design of the plot(s) and why?
I am building an area in SE Chik'in Ka'ah Server to showcase some of my animations that are on YouTube. I would eventually like to get them on NFTs like Yoshi did with music. A Cryptostash tutorial last night pointed me in the direction of IPFS servers. I have more to learn.

There are multiple plots in the 5000, 4200 area of the Chik'in Ka'ah server.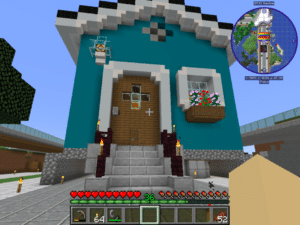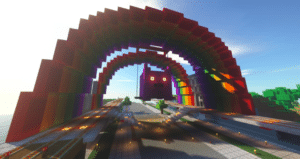 Including resource gathering my builds are around 5-10 hours for a small build such as the two I've pictured, medium builds are closer to 50 hours, and large projects are 100s of hours.
I have many more builds that we can see. Chik'in Ka'ah, the Old World, Londom, Upluft, Gratitude, and Genesis all have some of my builds. I have also built for others, but I would prefer to focus on my own projects for the purposes of this article.  Here are some fun pictures from a few of those creations.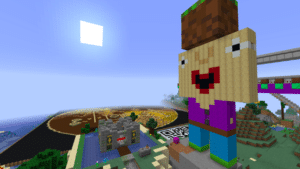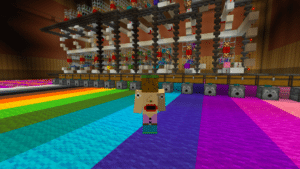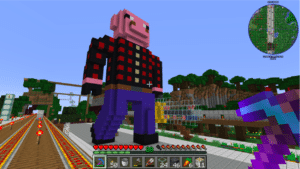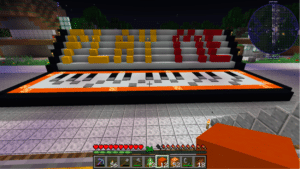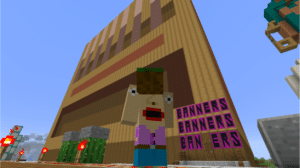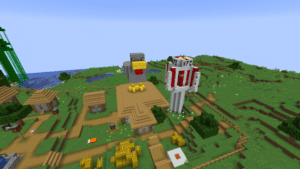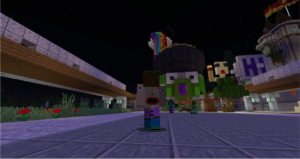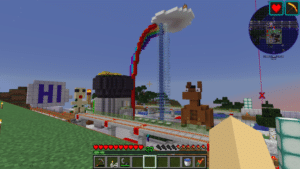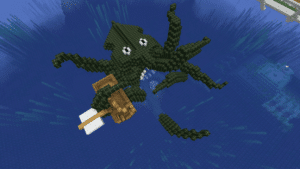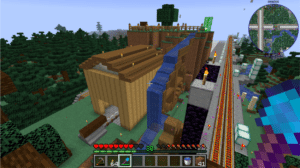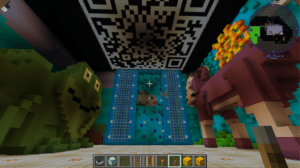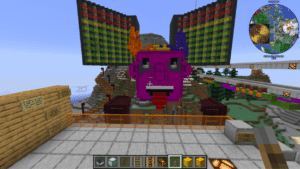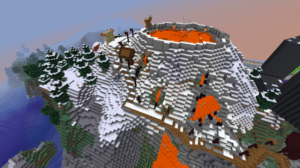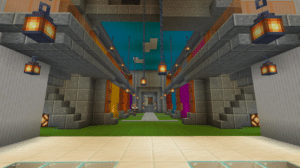 And don't forget to check out the Secret Santa for a couple different interactive surprises.
.
********
.
As for Russel and those interested in these very inventive creations, please do check out his Chik'in Ka'ah and other plots across various Uplift World sectors to get a deeper look into some of the most unobtrusive thoughtful buildz out there.  And definitely check out some of his very original videos on YouTube and subscribe to his Twitter account to keep up to date on all his latest builds and ongoings in both the Uplift World and his creative life in general.  Finally, if you haven't already, be sure to pick up your very own piece of Russel Build history in the form of a official Uplift World Postcard over on our official Nefty Blocks drops site.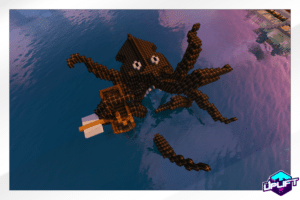 Of course we also highly recommend that you catch the live walk through of some of these buildz and get the underlying perspective in Russel's Journey Through the Uplift World exclusive with Jimmy D on the Uplifters Channel.  Doing so will greatly increase the way you look at some of the most creative and unique builds in the entire metaverse.
And for all you other Uplifters with a personal story to tell and an amazing build or ten to show off,  well it just so happens that we are in the business of making dreams of your build being seen would love to hear from and do a feature on you too.  All you need to do to be considered is to follow these instructions and dm Jimmy D a copy alongside a main channel alert tag when complete.  We look forward to hearing from you all, and of course, continuing to show off as many of the amazing Uplift BLDRZ we can.
.

.
The Uplift World Official Links