As many of you are aware, The Uplift World BLDRZ series main intent is to feature projects, individuals, and teams doing amazing builds within multiple sectors of the Uplift World.  For this episode we have something extra special for you all as we dive into not only all the amazing builds, the the impeccably awesome details of the one and only SueFG.
Having been around and in world since before the actual Uplift World began, Sue has earned a reputation for being on point with the finer points of the Minecraft designer lifestyle.  Likely some of that real world artistic nuance flowing through, but in kind, there is likely a lot that even we don't know about Sue's motivations and inspirations in all that she does both in metaverse and beyond.  And with that in mind, what follows is the perfect opportunity for you all to get to know Sue and all that she can do!
Due to the sheer amount of time SueFG in the business of doing awesome builds, hard to pinpoint a standard local as her reach spans across most Uplift World sectors, considering however her role as the CK7 Land Management and Tourism Director over in Chik'in Ka'ah, this is where most of her time is spent.  You'll understand, and be able to find them easy enough when you get a little further down this page.  With pleasantries out of the way then, looks like the only thing left to do to get to know Sue is to hop on in with a question, or rather a few.  
How did you first get introduced to top blockchain and cryptocurrency?
I was first introduced to cryptocurrency through Corey. I had met Corey and Greg through some different groups and started listening to their podcasts covering local politics. Corey came up with the idea of creating a joke token, Shipple, making fun of Ripple. It was fascinating to watch the community grow. I met with Corey one day, with a couple of other people and he walked us through downloading a wallet and how to use it. We created tribes in the Shipple community and held weekly Memewarz where the community voted on everyone's memes. The winners received a lot of shill! We also had weight loss tribes where you got shilled for "proof of sweat" photos and weight loss. I'm really crossing my fingers that shipple becomes a real thing!  I met some really fun people through that process. Several of us live right here around the Tampa Bay area and met one night down at a local bar. Not my usual scene, walking into a strange bar alone, but I did it. Strangest feeling in the world to walk in and hear a table of strangers yell your name out! I'll never forget that. I really am quite proud of myself and how much I have actually learned about crypto. Still a noob but I've come a long way. So lucky to have a great group of experienced people around me. 

What is it about the future of blockchain and cryptocurrency that excites you the most?
I think it's my own personal growth in learning about it that I get excited about. I have no idea where this is going but it feels like it's going to be big. At least, I'm hopeful that it will be big. I feel like a tiny drop in a huge ocean but I'm hoping that drop leaves a ripple in my little part of the world.
How deep have you dove into the world of blockchain and cryptocurrency? 
I have not ventured out very far from the Uplift. There is a group I like to refer to as my "mens group" that I hang out with just about every day, Kustom Krypto. I met them when we came together to do a few Panda Hunts in CK (before we had access to slime we really wanted to find a panda to get some). I learned so much about MC on those walks through the jungle. We would all get on discord and talk as we hunted. We still do that today as we work on our builds. We also like to get together to do some of the events and activities around the Uplift. I love my Men's Group. It's also nice that a couple other women have joined us. Slowly, wives and girlfriends are coming around to discover the Uplift.
I have learned about some other projects through them but haven't really gotten involved with any. They did manage to get me on another MC server, MineTribes, and walked me through some of those games. I'm happy here in the Uplift. Maybe some day I'll spread my wings more but for now I keep pretty busy with projects in CK. I love the people here!
How did you first find out about TheUplift World?
Corey and Greg had been trying to get me to play in MC when they had a small group of friends building on their server. I finally did, mainly because my daughter promised to build with me and teach me how to play. I quickly fell in love with the creativity and the group. We were having gratitude ceremonies on the weekends and gathering and building during the week. I have to admit, I was not very excited about it when Corey first started talking about marrying MC, crypto and inviting the world in. Basically he told me to shut up, sit down and hold on (said as Corey would…. FU, you're doing it!). LOL!! I'm so glad that I came along for the ride. I've jumped into several things that were totally out of my comfort zone all because I truly trusted Corey & Greg. They've all proven to be fun and exciting if nothing else. 
What was the overall design of the plot(s) and why? 
I think my designs are fairly basic. I have not done any HUGE over-the-top type of builds. I like building a community, a center where things can happen and I love building with Zesstraa. We have always tried to pick land next to each other so we can tie them together and help each other build them out. We work well together. The Men's Group has been trying to get some land together in Upluft. It would be so much fun being close, where we could really build out a community together.
As far a design goes, I don't go into a build with an image in my head. I'm like that in my real world artwork as well. My art happens while I'm making it. I build and rebuild till I get the thing I like. I've been intimidated by these themed builds in CK, like the New Orleans Style Hub or the MezoAmerican CK Center but I've really liked how they turned out. Once I get over my initial fear I do fine 😉
I own a rather large 1000×1000 plot on the east side of Chik'in Ka'ah Center. You might have seen the Medfield Market (4181 82 2550). If you take the rail heading east out of the CK hub you'll run right into it.  Here you can peruse some shops that built which are occupied by some of the CK7. Let me know if you find a Banner that you like in the banner shop. Once fractionalization gets turned on some of these shops just might go up for sale. Be sure to check out Zesstraa's electronics shop and her other Pie Shop, Jen's Art Gallery, Russ' Redstone Shop and Laughtrack11's Mining Store. I also built a Bee Store there with an apiary on the roof.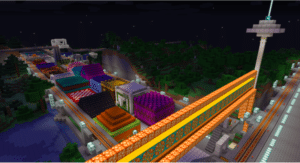 "Medfield Market & Marina is the brainchild of CK7 member, SueFG. Medfield Market contains a plethora of shops for all your purchasing needs. From the ART store featuring UpLift Mural Artist, jbar; Zesstraa's Sweet shop; Laughtrack's Building Supplies; russ's Redstone emporium and SueFG's Banner Shop. We have everything you need to build the best plot in Minecraft. All of SueFG's properties are connected by an amazing waterway system – grab a boat at Medfield Marina and explore the lands. Medfield Market & Marina – A must stop on the Chik'in Ka'ah Server." [source]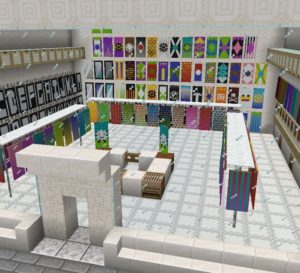 From the middle of town you can travel south on the "SheRail" which will bring you right into Woodstack Farm (4212, 2923 upper 40/ 4299, 2961 lower 40) and Concert Venue (4135,  2862).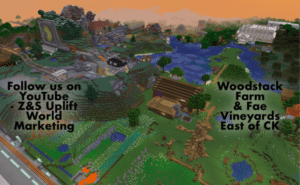 As a side FYI, this SheRail connects all those plots on the east side of CK, all owned by OG women. OK, back to Woodstack, be sure to visit and walk around. You'll find many farm machines that I built (thank you Youtube). Some of them work, some don't, not sure if it's because of the game version or Uplift issues in conflict. I keep them there because they were labors of love and I like how they look.
After checking out the farm on the lower 40, head on up to the upper 40, past the train station, guest house and of course the helicopter bringing in the VIPs, where you'll find the concert venue. The background art on the stage was one of my first freeform art builds. You'll find bleacher seating and private cabana's available to view the show. I'm hoping to have some of Corey's music playing when you enter the concert zone. Behind the seating area you'll find the concessions. Check out the Woodstack Steak House, complete with bathrooms if you need one. There's a small workshop behind the concessions and an elevator that leads down to an underground rail system that will take you back to further out on the lower 40 and the iron farms. Before leaving, walk on up to the concert stage and find the ladder that takes you down under the stage where the acts hang out before and after the show. You'll find a snack bar down there, dressing rooms, the VIP lounge and a state of the art Recording Studio. There's also a large mine below the concert venue with some living quarters, see if you can find it!
I think that the most fun that can be found on this property is behind the house. If you look up, behind the main house, you'll see a big platform up on the mountain. Grab your Elytra and some fireworks and have a go at the Flight Mission obstacle course in Chik'in Ka'ah (4199, 2859). It starts on the ice rink behind the house at Woodstack Farms. Just find the scaffolding to climb up to the starting gate to test out your flying skills.
My property and builds are right on the border of Zesstraa's land. We like to build together and connected our builds both in the old World as well as here in CK. Be sure to check out Fae Vineyards and don't miss the Fae Resort and Winery. We have a bridal suite and beautiful deck waiting for our first wedding to be held there.
"Fae Resort is a 5 star hotel, created on the Uplift Server in Minecraft. Located east of the town center on Zesstra's and Suefg's land in the Chik'in Ka'ah district, it is a must see if you are in the area"
From here, you can jump on the river and make your way back around again to any of the builds I have. Each one has a marina to dock at and you can find extra food and boat dispensers along the way. Be sure to grab a couple boats because the Clear Lag will steal the boat out from under you. Each waterway has its own unique channel markers to follow and signs to guide you.
I recommend heading to The Regatta Estate (4648, 2251). I occasionally run races with 3-4 people at a time. You boat your way around the track stopping at each of the banners to read directions and complete a challenge. Here's a head's up for you… learn how to make a banner before you race your friends.
If you are in the Old World you can find my very first build that I did with my daughter, K80Gents. She did most of the building as she was teaching me how to play Minecraft. This was all before the Uplift was the Uplift. The S&K Homestead is just south of Cathedral 2.0 at -1124 86 1353, you can find a walking path that takes you out there. We built this in survival but the Old World is now a creative server. The CK was built later, much of it done in creative but then became a survival server once the Uplift was formed. I had plans to build a putt putt golf course behind the Homestead in the Old World but I think I'll need to find a spot somewhere on my CK land so I can do it in survival.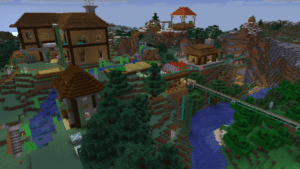 I also designed this floating house in the Old World (4195, 2202).  I'm not sure why but I really like this concept. I'm going to build another one in CK Center.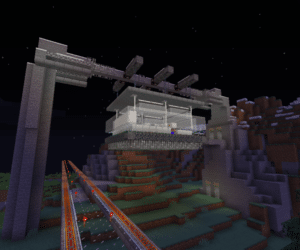 Aside from various other house builds on my large property, and there are several more than what I've mentioned here, I have also worked on other people's projects which you can see featured below. 
Alongside others in the CK7, we built the Burning Ma'am, the first ever auctionable NFT inside the Uplift World with all proceeds going towards charity.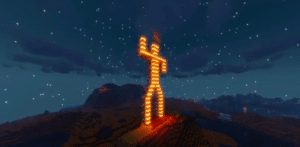 I spent some time working alongside the K80Gents working the Ti Amo Build for mBlu.  I did these with my daughter, block by block. She built the guy and I built the girl. We also worked on the 3D heart together. It was fun building with her.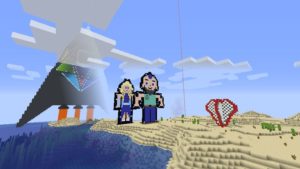 I helped out Jimmy D at his underwater build in Genesis for the GenerEOS project.  When I visited I noticed his home was a bed under the elements, so I put up a small cabin for him.  I also put in an experimental underwater tree farm on the South West corner, a turtle sanctuary on along the Eastern boarder,  and coral reef and viewing area on the South East section of the plot.  At present I am working on something special on an adjacent plot I own next to that coral reef, so keep an eye out out for that.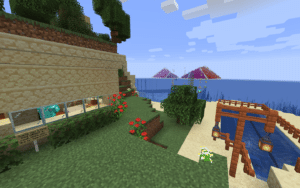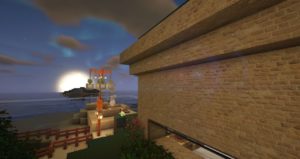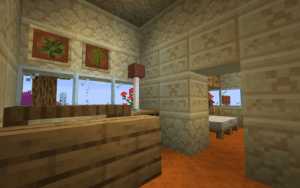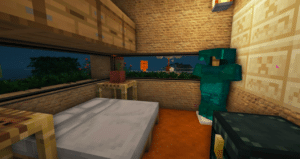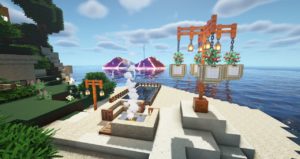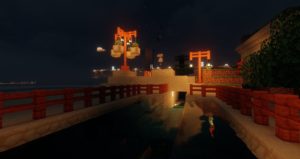 "Check out some of these awesome SueFG GenerEOS plot additions included in the video below, and continue on to learn more about SueFG and some of the other Uplift World OG's and how much of what still has presence today all began in some truly epic builds" [Jimmy D]
Another honor I had was working on some of the gardens that have featured around various builds in the Uplift.  I co-created the Legend Build Gardens with Gary, and I also spent several days making gardens around the Blue Room with Corey and Russ.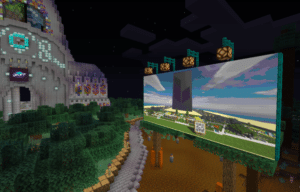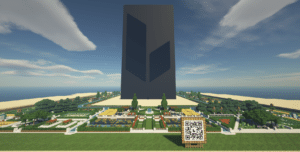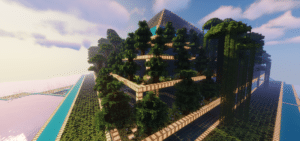 One other co-creation I did with Zeesstraa was the design and build of the shops in the CK Hub.  The center of the hub is where I made the New Orleans Square Train Station, it is supposed to look like the one found in Disney, my nod to Florida.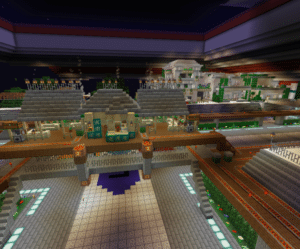 My latest build is the Charity Garden outside the Ka'thedral, where we will be honoring those generous people, donating money to help us do good in the world. I also really enjoyed making the trails that lead to and from the Ka'thedral and worked on detailing the Ka'thedral itself with Zesstraa.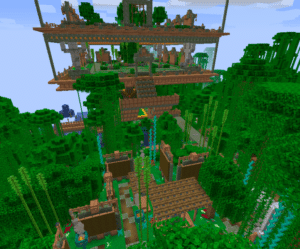 I'd surely be remiss if I didn't mention the Hatian School build that I did with Laughtrack11 and Zesstraa. Building to resemble something in the real world is a bit more challenging but rewarding nonetheless. Laughtrack laid out the foundation for the school. Zesstraa and I looked at a photo of the real school and tried to create something that resembled what they have there. You can scan the QR code hovering above it in the air if you want to make a donation.  Take a walk with us inside the school in the video below.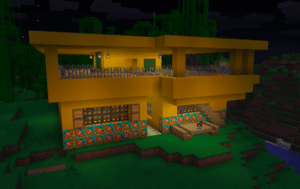 Below the Led Zeppelin Stairway to heaven build there are some tiny cottages.  Despite the intricacies outsides the interior was quite bland so I decided to fix that.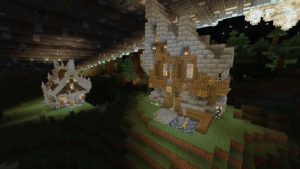 I'd also like to mention that there have been some secret builds going on that will be introduced later on when Shippletopia opens. I can't wait for people to see what's going on there because it is going to be really fun.  
I don't ever go too long before another project pops onto the radar which in itself is pretty exciting.  Not always sure where I will end up, but I can say with certainty that I am enjoying the journey and multiple rides.
What are you looking forward to the most in regards to theUplift.World?
I am really excited for the move to the new servers. Hoping that some of the issues that we've been having with redstone and stacking might be taken care of. Turning on the player rewards will be fun and the introduction of more people into the server is always exciting. BUT…most of all, I'm really looking forward to the opening of Shippletopia. That is going to be great!
What are you planning next for theUplift.World?
I have no idea. The sky is the limit with this team. All of it has been so exciting. I'm hodling on tight and enjoying the ride! Thanks Corey for changing my life for the better. Thank you to the whole Uplift team and to the whole community, together we have all made this place so much fun to visit every day.
Jimmy, thanks for making me sit down to write this. I was not looking forward to doing it, I'm not a writer. The process has made me realize just how much I have contributed to the Uplift World. I get so focused on what's happening right in front of me I forget what has come before. Can't wait to see what the future is going to offer. Win, win, win, – do good, take naps! 
If anyone would like a property tour, a race around the Regatta Estate track or to visit Flight Mission Course just DM me.

Discord: SueFG #6690

Telegram: @SueFG
********
As you can see there are just so many amazing things inside the Uplift World that can be attributed to SueFG.  And honestly, what is featured above is but a drop in the bucket.  Just from that I am sure many of you just have so many questions, and lucky for you, so too does Jen.
Be sure also to check out Sue's real world Art Passions Polymer Clay art on ETSY, another form of expression that Sue more than adequately excels in.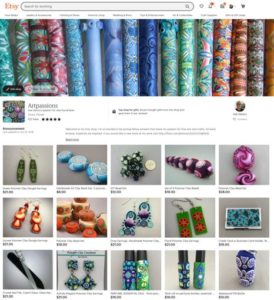 And for the rest of you Uplift BLDRZ out there with an amazing build to show off, please don't be shy and get in touch as we would love to do a feature on this blog of you too.  The process to be considered is relatively easy.  Simply follow these instructions and dm Jimmy D a copy alongside a main telegram channel alert tag when complete.  For all those who dropped in to pay homage SueFG and all our other great BLDRZ, thank you always for tuning in.  Please like and subscribe to our socials below and be on the lookout for more of the amazing creations the community at large has been putting out there.  This metaverse already truly is a site to behold, and the awesomeness and scope just keeps getting more amazing by the hour.
.

*Notes Images taken by Gary
The Uplift World Official Links