Welcome to another Uplift World BLDRZ blog post where the intent is to feature projects, individuals, and teams doing amazing builds within multiple sectors of the Uplift World.  In this episode we are diving into our first feature of a plot designed with player interaction via events and gaming in mind.
Kindcoin MegaLove Raceway
Genesis 1550, 1650
First though, a little background on Kindcoin, the creative genius and architect behind the MegaLove Raceway.
Like many of us, Kindcoin was introduced to blockchain and cryptocurrency back in 2017 when the promise of bluer skies led him to fall down the rabbit hole of all the potential wrapped up within the ideas he encountered.  Still to this day, what excites him the most is the ideal of decentralized ecosystems allowing for a fairer and more transparent governance model.  Especially so recently, he has especially taken a liking to the social network aspects of NFTs and the experimental sandbox arena of gaming, and from many of our collective experiences, its pretty easy to see why.  
Already a fan of mBlu and following him throughout the space, it was the introduction of Uplift founder Corey in conjunction of already thinking about and seeing the potential of Decentraland and Sandbox that pretty much got him interested in the Uplift World from day one. 
At present building with plans to continue growth of competitive racing in the Uplift World metaverse is Kindcoin's main focus, he also acts as and advisor to the Bitcoin Babes project. Despite both of these utilizing the WAX however, he himself is Blockchain agnostic.
As for the overall design and motivation of the MegaLove Raceway, Kindcoin had this to say
I knew being early would give me some ability to pick and choose, and I was already involved in Upland strategies.  I put a lot of serious consideration into traffic flow, spawn point and project locations, and trying to think where the best areas would be.   The wild card was all Genesis land and rail was randomized.  Using the options of random rails I pinpointed the area I felt had the greatest potential and used probes to capture one of the longest rail-side properties in the Uplift Genesis sector, now consisting of 300 blocks in total along with a 100 blocks of rail.

The track itself was a reinvention of a popular Minecraft activity called boat drifting usually done on frozen ponds.  I actually spoke to and recruited Minecraft players from Discord very early.  When they told me the fastest thing in MC was a boat on ice I started doing some R&D, as nobody I spoke to had ever seen one before. The final outcome was awesome!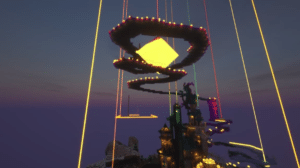 At any given time the track can race up to 5 people.  It's great fun as you drift around corners.  There is a high level of talented racers and more than a few that would love to take the crown from TheLai or current champion. We still have all kinds of ideas and space to make it a lot longer.  Personally though, what I am looking forward to the most is proximity sound which will enable us to communicate and broadcast within our races easier, but throughout the Uplift World as a whole.
For those who may not grasp the concept of just how incredibly detailed and fun this type of event can be, or how talented those that take the races truly are, be sure check out this very special episode on the UpLifters channel showcasing one of the MegaLove Raceway events.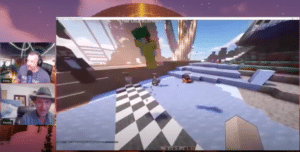 As for future plans beyond The MegaLove Raceway, Kindcoin is working on putting in a Gallery that will feature a local artist from his area.  In addition he has plans to implement another first that at this point he prefers to keep a surprise, so keep an eye out for that sometime soon.
And with that and all the fun times we as a community have to look forward to when it comes the gamification aspects that Kindcoin and others are bringing to us via the Uplift World metaverse, we extend a thank you to those building not only for themselves but for the community at experience at large.  Find Kindcoin on Twitter and keep an eye out for any upcoming events that will happen here at the MegaLove Raceway for your chance to be a part of this enticing communal experience in the making.
As for the rest of you out there, are you too an Uplifter with a personal story to tell and an amazing build to show off?  Well, we would love to hear from and do a feature on you too.  All you need to do to be considered is to follow these instructions and dm Jimmy D a copy alongside a main channel alert tag when complete.  We look forward to hearing from you all, and of course, continuing to show off as many of the amazing Uplift BLDRZ we can.
.

The Uplift World Official Links