It is actually quite uncanny the amount of amazing buildz, projects, and people involved across this little metaverse we call home has become.  The Uplift World BLDRZ blog is intended to be one avenue where we can feature projects, individuals, and teams doing amazing builds within multiple sectors of the Uplift World.  For this episode we have a pretty sweet feature to showcase when it comes to fine art, NFT's, galleries, and displays inside the Uplift World.
Joe Chiappettta's ArtVndngMchn Amusement Park
Entrance via the Art Rollercoaster Gratitude 

3050, 71, 2375
How did you first get introduced to blockchain and cryptocurrency?  
In 2010 I wrote a very short self-help spiritual book called Debt Busters. About 4 years later I wanted to expand upon it in a new book called Mega Debt-Busters, as there is so much to say about economics. I was doing a lot of research in between the 2 editions of the book, and it was between this period that I stumbled across Bitcoin. As soon as I heard about this technology–and the philosophy behind it–I believed it had a significant future. Since I am a cartoonist as well as a fine artist, I also started doing cryptoart cartoons about Bitcoin, and later Ethereum. Some of them ended up in a giant comic book about family called Silly Daddy Forever.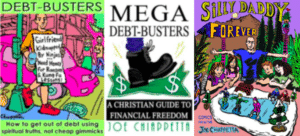 What is it about the future of blockchain and cryptocurrency that excites you the most?
This is very disruptive technology. It is possibly even more disruptive than the Internet. If things continue on the current trajectory, people will become more of their own banks, and for many, their own currency producers or currency generators. Blockchain also integrates art more directly with currency-like tokens. Whereas before, there was art and there was money. Yet now with rare digital art, because the art is cryptographically linked to a unit of cryptocurrency, the art is the money.
What blockchain project are you affiliated with and what is it that they do?
ArtVndngMchn is the main project I have been focused on for 2021. We're talking about fine art NFTs wrapped in randomized bundles on the WAX blockchain. Along with my own artwork, I curate art from my friends and associates in the international art world and release them digitally through ArtVndngMchn packs. It is a fun way to discover and collect new fine art from around the world.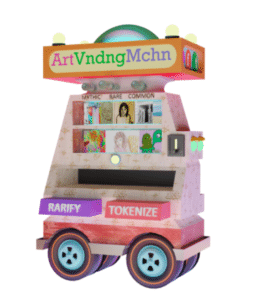 How did you first find out about TheUplift World?
I have known mBlu, one of TheUplift World founders, as a man of integrity and vision for a few years from a previous NFT gallery where I was a cofounder and he was one of the featured artists. As soon as I heard mBlu was involved in a grand project involving Minecraft, WAX, NFTs, and a metaverse experience, I was all in! I had already been planning on launching a 3-D gallery experience for my own art plus curated art from my collection, and this was the perfect place to build it. 
What was the overall design of the plot and why? 
My son, Luke Chiappetta, and I are the principle builders. Luke releases NFTs under his NFTnT Gallery brand. He introduced me to Minecraft when he was a preteen. At first we were calling this plot the ArtVndngMchn Gallery because there is an epic main building that serves as a focal point for exhibiting fine art. 
Yet the plot has morphed into so much more. Guests can now experience the art while riding rollercoasters, waterslides, and art jumps. For those unfamiliar, an art jump–or art dive–is an interactive art viewing experience I came up with where a guest climbs high up and then dives downward through small openings in various pieces of artwork to end up in water. On the fall down, you get to experience the art in a whole new way while also simulating the thrill of falling. Therefore because of all these innovations, we now think of our space as the ArtVndngMchn Amusement Park.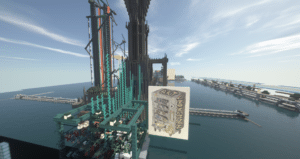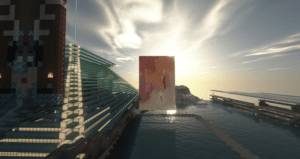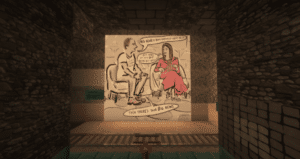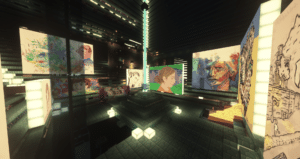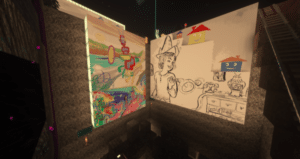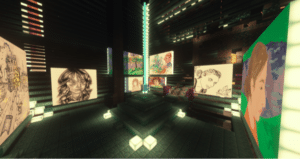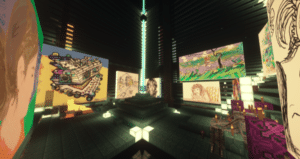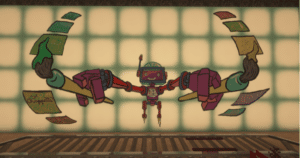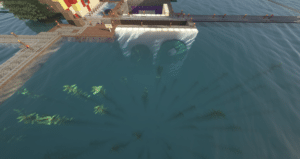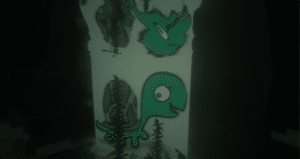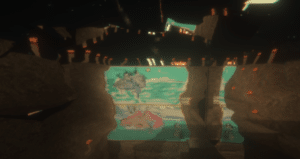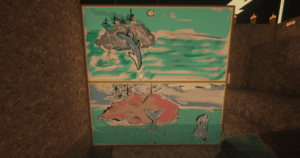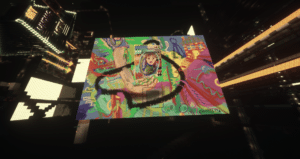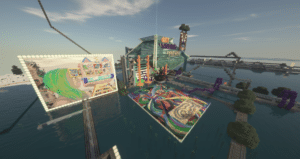 An additional element that makes our art park so exciting is the variance of building styles between Luke and I. While Luke is a very structured, orderly, symmetrical, and grand-scale world builder with great vision and patience to meticulously construct colossal structures, I am quite the opposite. My building style is eclectic, organic, and surreal. What we have found is that the clash of our two styles in the same 3D virtual environment makes for an experience full of surprises that could not have been imagined by one individual.
What are you planning next for theUplift.World? 
We add new art installations twice per month and soon we will offer guided adventure tours, art walks, and treasure hunts for free NFTs. There will also be new NFT blends from ArtVndngMchn series 1 and 2 that feature exclusive NFTs inspired by our 3D gallery experience. We look forward to you visiting ArtVndngMchn Amusement Park: the place where fun comes to fine art!
********
ArtVndngMchn truly is something special, both in underlying concept of the project itself and the life of its own within the Uplift World Metaverse the ArtVndngMchn Fine Art Gallery and Amusement Park has evolved into.  Joe himself has been in the creative space for quite sometime, and we definitely encourage everyone to stop by the ArtVndngMchn homepage and check out the various art, books, and other release information about Series 1 and 2 and blending attached to the NFT side of the project.
Of course the best way to get to know what is happening in the gallery itself is to head on over to the Gratitude sector of the Uplift World Metaverse and take the full ArtVndngMchn Amusement park walk through and tour if you haven't already done so.  You can also learn more about the process involved in creating this fine art land and see parts of it unfold live is a variety of videos featured on theUpLifters channel.
To learn more first hand about Joe Chiappetta and ArtVndngMchn be sure to check out the following links:

Also, if you have not already done so, be sure to pick up your very own piece of Uplift World history in the form of an official post card featuring the Genesis ArtVndngMchn plot while supplies last here at Nefty Blocks.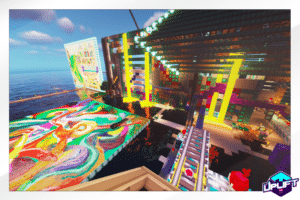 And as always, a giant thank you to all those who tuned in to this episode episode of The Uplift World BLDRZ with Joe Chiappetta of ArtVndngMchn.  Should there be others out there that have been working hard to showcase your builds looking for a place to get the word out, all you need to do to potentially become a feature on this blog itself is to follow these instructions and dm Jimmy D a copy alongside a main channel alert tag when complete.  We look forward to hearing from you all, and of course, continuing to show off as many of the amazing Uplift BLDRZ we can.
The Uplift World Official Links