It is actually quite uncanny the amount of amazing buildz, projects, and people involved across this little metaverse we call home has become.  The Uplift World BLDRZ blog is intended to be one avenue where we can feature projects, individuals, and teams doing amazing builds within multiple sectors of the Uplift World.
Today we will dive in with Yauggy, who not only has done some incredible solo buildz but has also teamed up with a couple other fascinating BLDRZ to bring collective creativity to fruition in multiple ways.  That said, this piece is intended as the first part in a four part series detailing the individuals themselves and their solo buildz later culminating in the M.Y.T.B collective creations themselves.
Yauggy's Hikari Tower
Genesis 4300, 4950
How did you first get introduced to top blockchain and cryptocurrency?
I first got into crypto and blockchain from my great friends Jourdan, Da'vid, Mello, Nate, and TC. As a music artist, once I found out how we can integrate our group CeresNine with crypto and NFT's, I was blown away at how that is going to change the way I think about distributing art and music. Our group consists of Milano and I. We both produce and write our songs and we're excited to see where the world of blockchain and crypto takes us!
What is it about the future of blockchain and cryptocurrency that excites you the most?
 I think that it is revolutionizing what we know about currency and community. So many lives are changing for the better.
What blockchain project are you affiliated with and what is it that they do?   
I am very new to the space and I'm in awe of all the different types of projects and communities that there are. The Uplift community is amazing. They are extremely kind and inspirational to me. The amount of love that we've all received is overwhelming and we are grateful to contribute and be a part of this movement.
How did you first find out about the theUplift.World?
 My friend Mello introduced me to building on Uplift. We formed a building crew called M.Y.T.B. which stands for Mello Yauggy TC Builders. Ever since I first logged in I've spent hours creating and connecting with people, and I couldn't be happier.https://twitter.com/Themellobuilder
What was the overall design of the plot and why?  
The design for Hikari Tower was completely random. I had no plan as to what it was going to be, which is usually how I start my personal builds. I love using shaders to enhance my Minecraft experience. The one that I use in this build is called Complementary Shaders version 4.0.1 for Minecraft version 1.16.5. I just started building with a faint sense of direction and a few blocks in mind for the design. All I knew is that I wanted it to be big. As I was building I felt inspired by TC after we connected about our faith and then I knew what I had to build. I was listening to a snippet on repeat of a song by Kanye West while I was making this. It is a church spacecraft that is emitting the power of light (Hikari).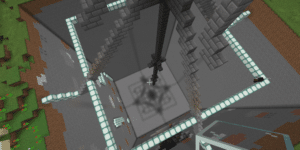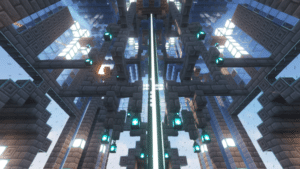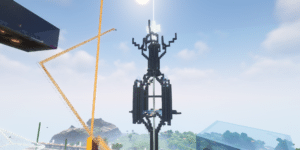 Now as fantastic as these images are, what really tells the tale of the scale of this build is the full living shorts that amplify everything above into an almost euphoric experiential. 
This is my first build on @theupliftworld !! I call it "Hikari Tower". I'm new!! I hope you all enjoy and I look forward to building more!! My build is at 4300, 4950 ❤️🙏🏾@PaperBagBoyNFT @loveisnathan @YES_IM_A_Geek @coreycottrell @mBluCrypto @kanyewest #theupliftworld #boomcrew pic.twitter.com/qCVZdD09mD

— yauggy (@yauggy) July 24, 2021
This is a clip of a journey through Hikari Tower into the light. TC (@YES_IM_A_Geek) has been wanting me to post this haha!! I hope you all enjoy!! @Themellobuilder @loveisnathan @coreycottrell @mBluCrypto @yksanjo @kansai_krypto @theupliftworld @20011981 @AURORAmusic #Uplift pic.twitter.com/YBDHIldj4O

— yauggy (@yauggy) July 27, 2021
What are you looking forward to the most in regards to theUplift.World?
I'm looking forward to creating the best builds that I possibly can, and connecting with as many members as I can in the community! I'm excited to share amazing moments with everyone!
What are you planning next for theUplift.World?  
I plan to learn as much as I can about the Uplift, blockchain, and crypto in general. The amount of kindness and knowledge there is in the community really makes me feel great, especially being able to spend time with like-minded individuals.
Is there anything else you would like to note about your project, community, build, upcoming events. 
I put God first in my life, and being able to express that in any space is amazing. It took about a half a day or so roughly to construct the base concept, and then I added smaller details as the days went by. It felt like time didn't exist while I was building, and that's how I feel when I make art. I'm grateful to have the ability to create a vision, and I strive to grow as an artist and a builder each day.
********
And with that and all the amazement and awe that comes with it, we shall take a segue until we jump in again with one of the other pair that represents the trilogy of M.Y.T.B before showcasing all the collective creativity these three have be bringing to the table.  As for Yauggy, you can find and follow him on Twitter, Instagram, and YouTube, as well as on Discord in the M.Y.T.B sever or his personal handle of yauggy#7630.  Finally, be sure to check out the collaborative efforts of Milano & Yauggy's Afro-Hispanic influenced CeresNine on Spotify and all the unique influences and sounds their creative minds are coming up with.
As for the rest of you out there, are you too an Uplifter with a personal story to tell and an amazing build to show off?  Well, we would love to hear from and do a feature on you too.  All you need to do to be considered is to follow these instructions and dm Jimmy D a copy alongside a main channel alert tag when complete.  We look forward to hearing from you all, and of course, continuing to show off as many of the amazing Uplift BLDRZ we can.

The Uplift World Official Links