You've seen the image, you're ready for the hype, you're on-board for the adventure — or maybe you were sleeping, cause that happens sometimes.  Well, if you're just waking up all sleepy eyed wondering why that first morning brew takes so long to get the power in you, maybe take a moment to sit back, absorb, and chillax – cause we got an update that is gonna blow your mind.
Not so hot off the press, here is the upgrade schedule and the blends that will get you those mythic's you've been pining over – but we decided just now to add a few more.  More options means more ability to break barriers into smaller pools, which not guaranteed as we do adhere to the beauty of the free market, is a pretty proper incentive to all our valued community that has supported us along the way.
So first up, what you already know – with links none the less to be able to have a gander at what you need for path one of these upgrades.  But don't jump in with all your WAX straight off, cause following will be path two, yes you read that right – path two for mytic upgrades now exclusively here at your disposal.
The Spark that Lit the Fire!
The schedule and blends below may not be new to you if you were paying attention to pretty much all of our socials – which if you have yet to decipher is where all the juicy happens.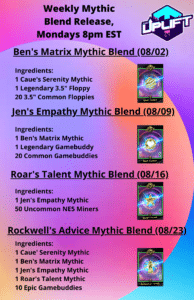 Before we get on to the upgrades however, just cause we love you so, we thought it might be nice to save you the hassle of  searching out all those blendable assets you already know and make things just a little easier by dropping some links of where those things you may be seeking are easily sought.  Remember though, we have below a secondary path that will also allow these upgrades, so do be sure to read to the end to ensure there might not be something a tad easier that has been added from your already present personal inventory.
Ben's Matrix Mythic Blend (08/02)
Jen's Empathy Mythic Blend (08/09)
Roar's Talent Mythic Blend (08/16)
Rockwell's Advice Mythic Blend (08/23)
And that good ladies and gentlemen is what you already know, but with the twist of the actual Atomic Hub find list.
And now for what you don't…
Path 2 Towards the Blends You Crave
Now just to keep things interesting, for these you will have decipher the code so speak.  It's all there for the taking should you take the time to figure out where you need to be.  May the ambition and power be with all of you that choose this path is where they want to be…
Ben's Matrix Mythic Blend (08/02)
Caue Serenity
50 Uncommon 3.5″ Floppies
20 Common Game Buddies
Jen's Empathy Mythic Blend (08/09)
Ben's Matrix
50 Uncommon Gamebuddies
20 Common Gamebuddies
Roar's Talent Mythic Blend (08/16)
Jen's Empathy
10 Epic NES
20 Common Gamebuddies
Rockwell's Advice Mythic Blend (08/23)
Roar's Talent
Jen's Empathy
Ben's Matrix mythic
Caue's Serenity
10 epic 3.5″ Floppies
20 Common gamebuddies
And there you have it.  Check what you have, plan what you want, and detail your strategy… 'cause if there ever was a need to check that inventory of yours it might just be now.

Official Links & Places to Learn More 
The Uplift World