Welcome to another edition of TheUplift.World Community BLDRZ, a series where we dive into those that are a part of and impacting our metaverse and embracing the world of blockchain in general.
For this one we will be tuning in with long time community member, builder, and artist Jrob who has created quite the personal legacy intwining his passion into the metaverse here at The Uplift World. With further ado then, lets jump in with both feet to all the beauty that is the creative influx of Jrob Abstract!
How did you first get introduced to top blockchain and cryptocurrency?
It was about Jan 2021. The first time I really took any notice was when I heard Austin Matthews was releasing his own NFTs. Then I watched a movie about Bitcoin, and I started investigating asap. I was drawn to the NFT side of it and discovered the gaming side of it pretty quickly.
What is it about the future of blockchain and cryptocurrency that excites you the most?
The expansion of the Metaverse goes without saying I guess. Have you tried Spatial with VR? Imagine The Uplift with that kind of fidelity in VR. Better fidelity than that? Imagine how life-like our avatars can become, and playing in the uplift like that! Rollercoasters and flying in The Uplift in VR. That's exciting. Seeing my art on walls as big as buildings in VR, that's cool…. Deep serious stuff though, I think about it but it doesn't excite me. If it makes humans more accountable in the end that would be great.
What blockchain project are you affiliated with and what is it that they do?  (If applicable) Or what other projects do you support and why?
Not many. I have a pretty noice collection of Splinterlands gear. Some bits and pieces of other NFT projects. But since I came to The Uplift I mostly just try to support everyone I meet here.
How did you first find out about TheUplift World?
I tried a bunch of different games, some made money, some didn't, but most were pretty boring. I was looking for something more interesting when I found The Uplift. It was from watching a Crytostach video. I had played Minecraft with my son and daughter so I had a fairly good understanding of the gameplay and enjoyed it, but I was mostly interested in the metaverse concept. I had purchased land plots in Splinterlands so the idea of land in games was not new to me, but I didn't know of any other NFT game where you could actually roam around, let alone build whatever you wanted. Understanding how Minecraft worked I could see the creative potential and see the opportunity to really interact with people as a person in a virtual world. I didn't need any convincing, I went straight to the Uplift site, and realised I had just missed the initial Genesis sale by a few hours. So naturally I fomo'd into buying the 1st random plot I could find on Atomic Hub. That plot is where the Gallery is now. I guess none of my stuff is really very out there in terms of design because I see the metaverse more as an extension of reality than a completely foreign universe.
What was the overall design of your metaverse plots and why?
Jrob's Riverside Retreat
My first thoughts about The Uplift were that it would become like an online home to me. I'd just been meandering between gaming communities until that point and it was all getting a bit repetitive.
From playing Minecraft with my kids a few years earlier I knew I'd want to play in survival, and work toward creating an online reality of my own. So my first project was somewhere to live. I bought a new plot about 10 plots from the desert plot where the gallery is now.. It was nice, kind of what I'd like in real life. On a small hill overlooking a river beside a rail. It was perfect, so I set about building my perfect home. The design for that was basically just what I'd want if I could do whatever I wanted in real life. It took me forever, but I mined and farmed most of it myself and it was rewarding, and it really did become to feel like it was my online home. I was mostly in my own world, not venturing too far or meeting too many people yet, but just focused on building this house.
It's a modern looking white quartz building, but I used Acacia slabs and logs throughout it also because of the Savanna Biome it's in.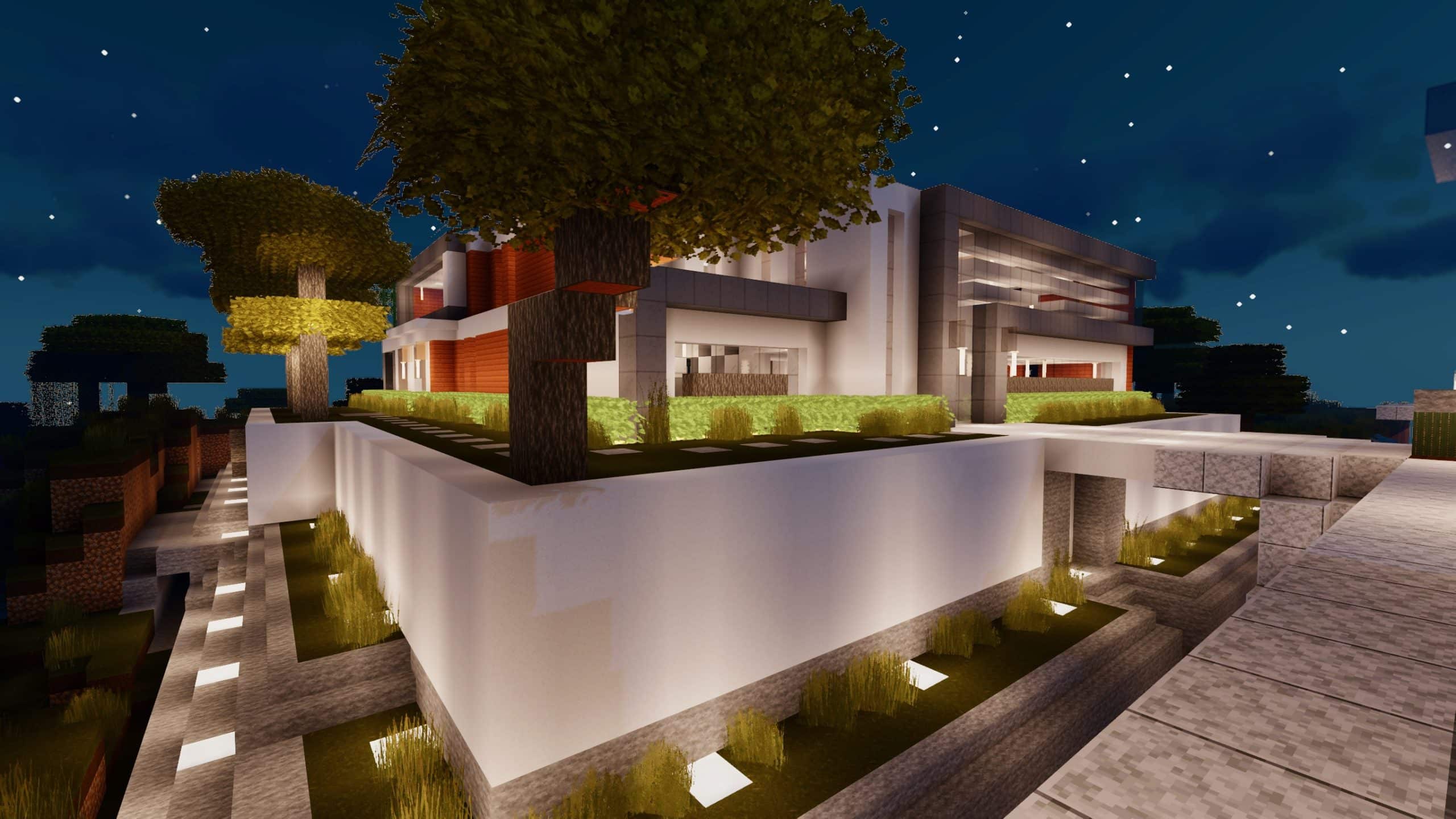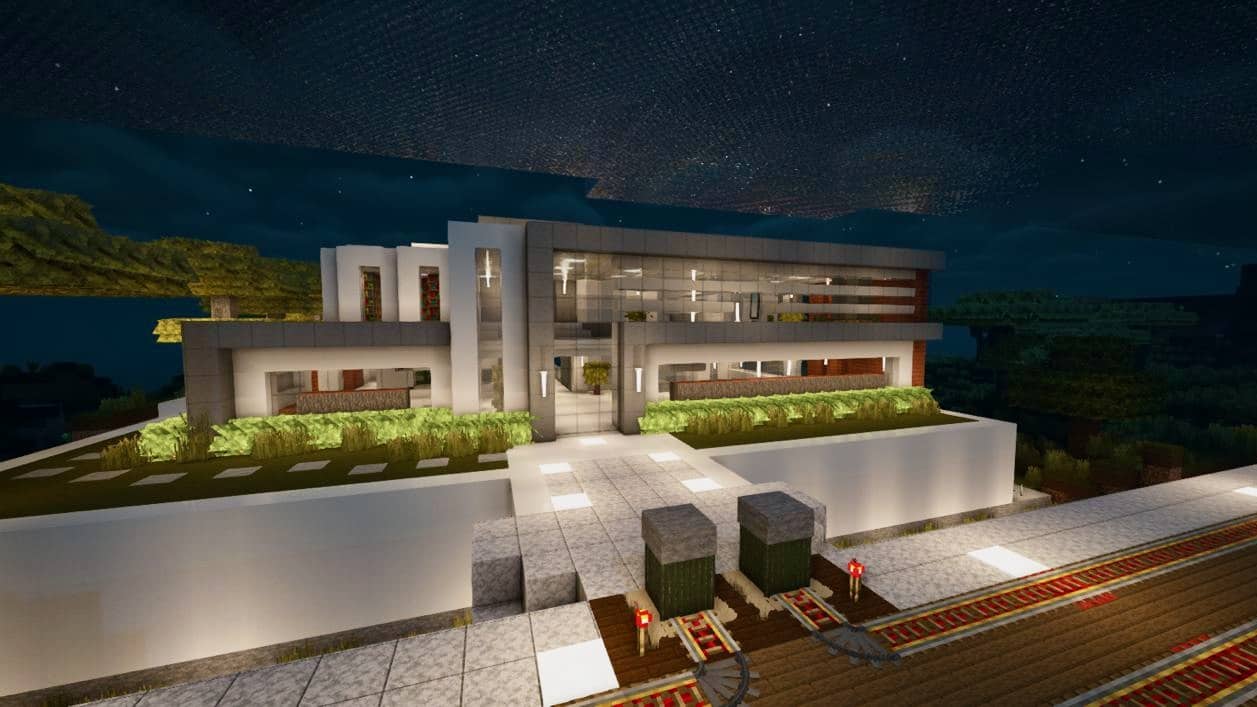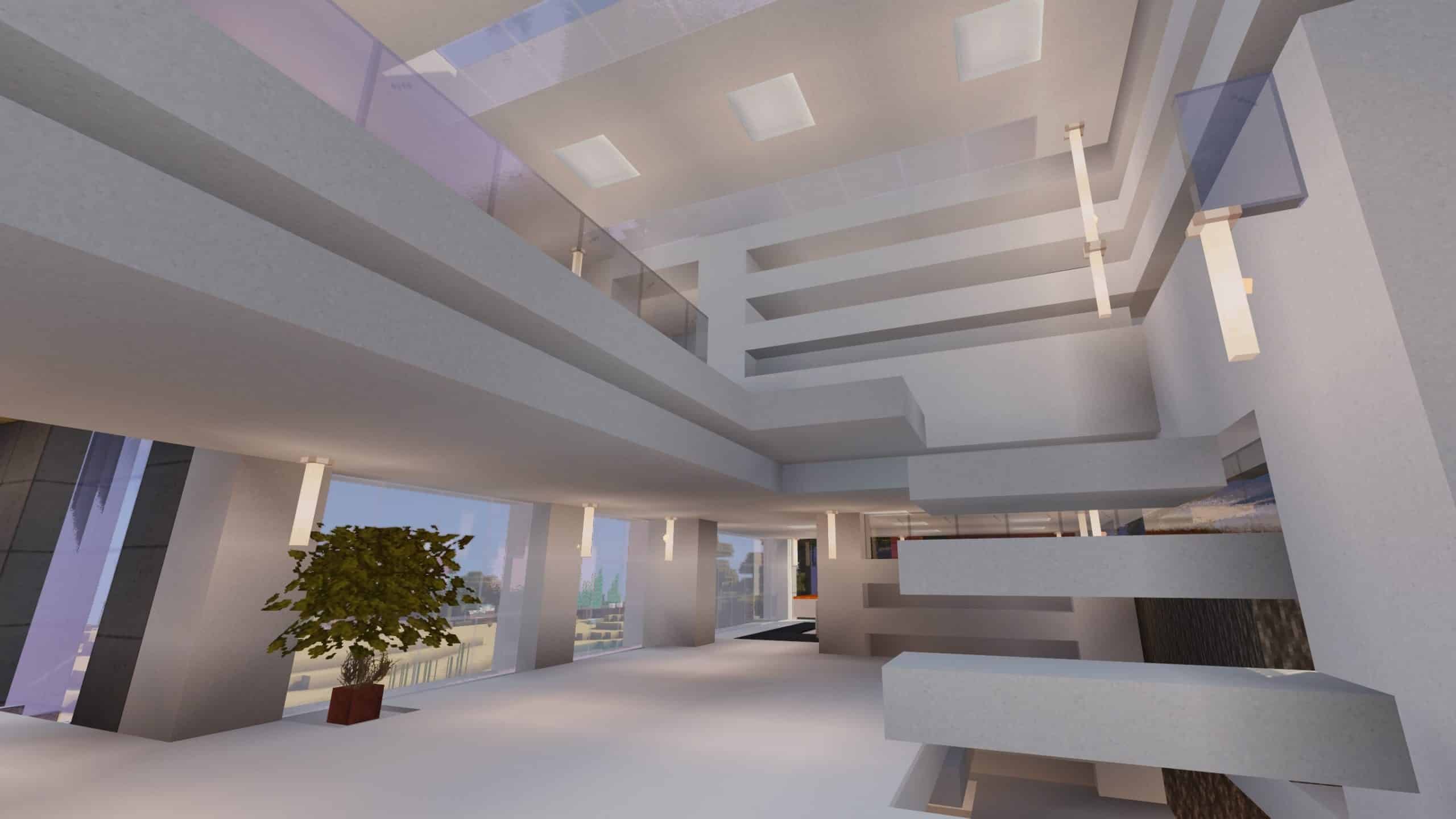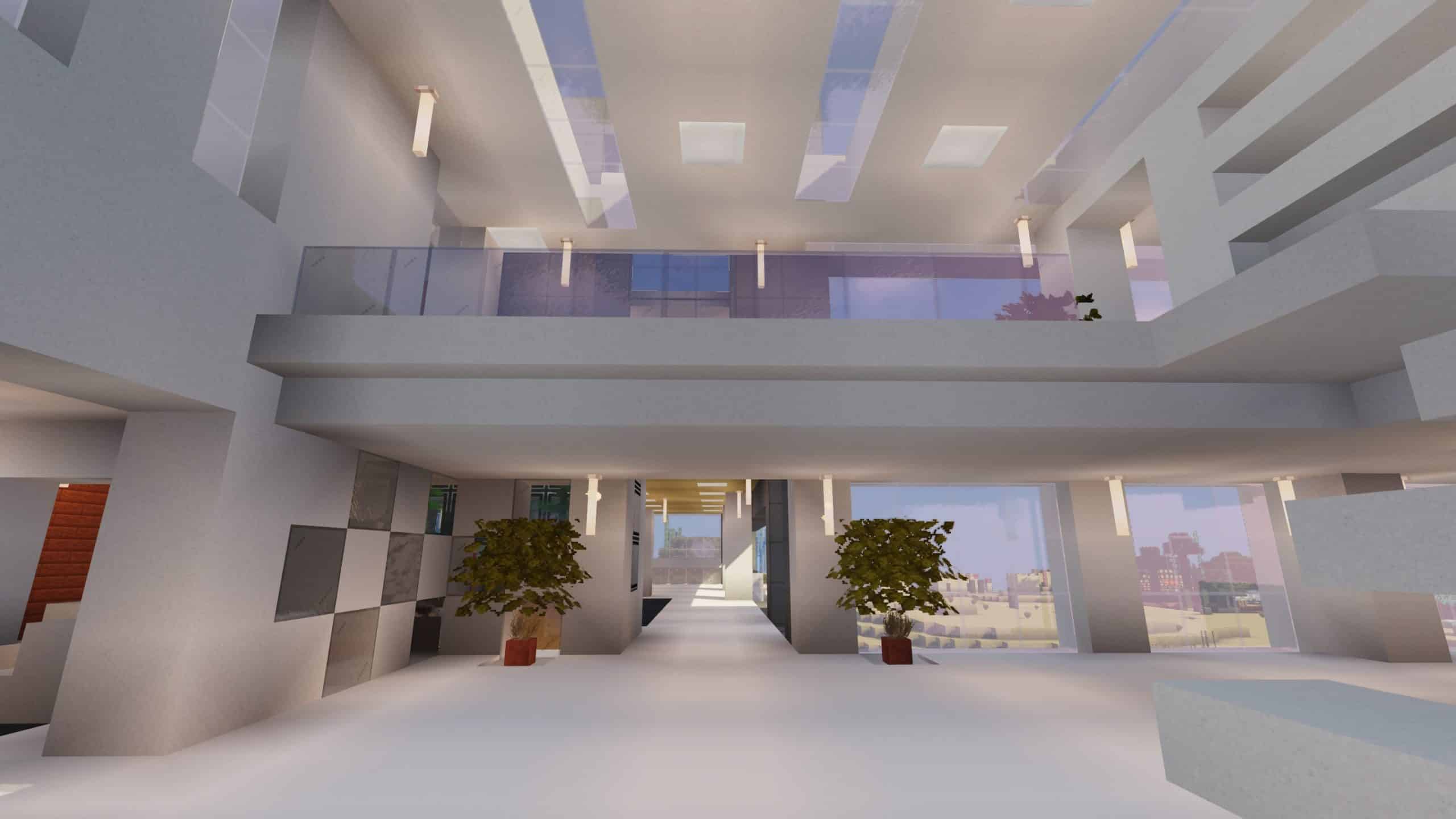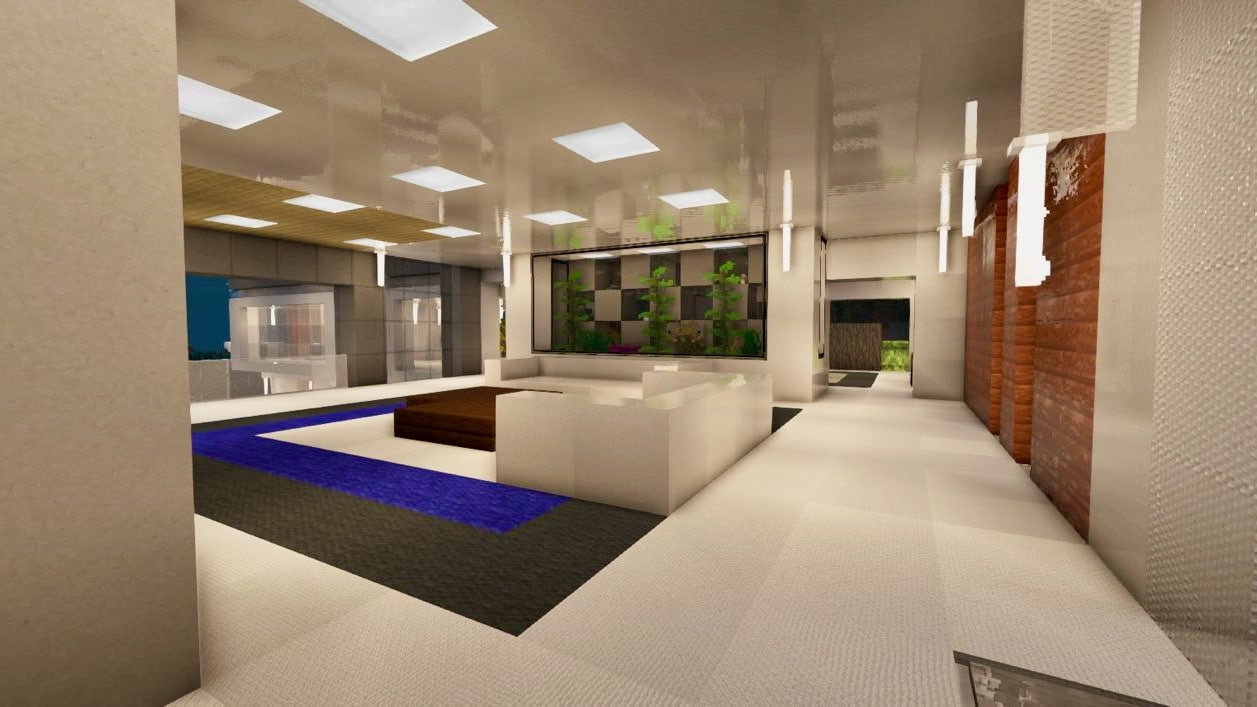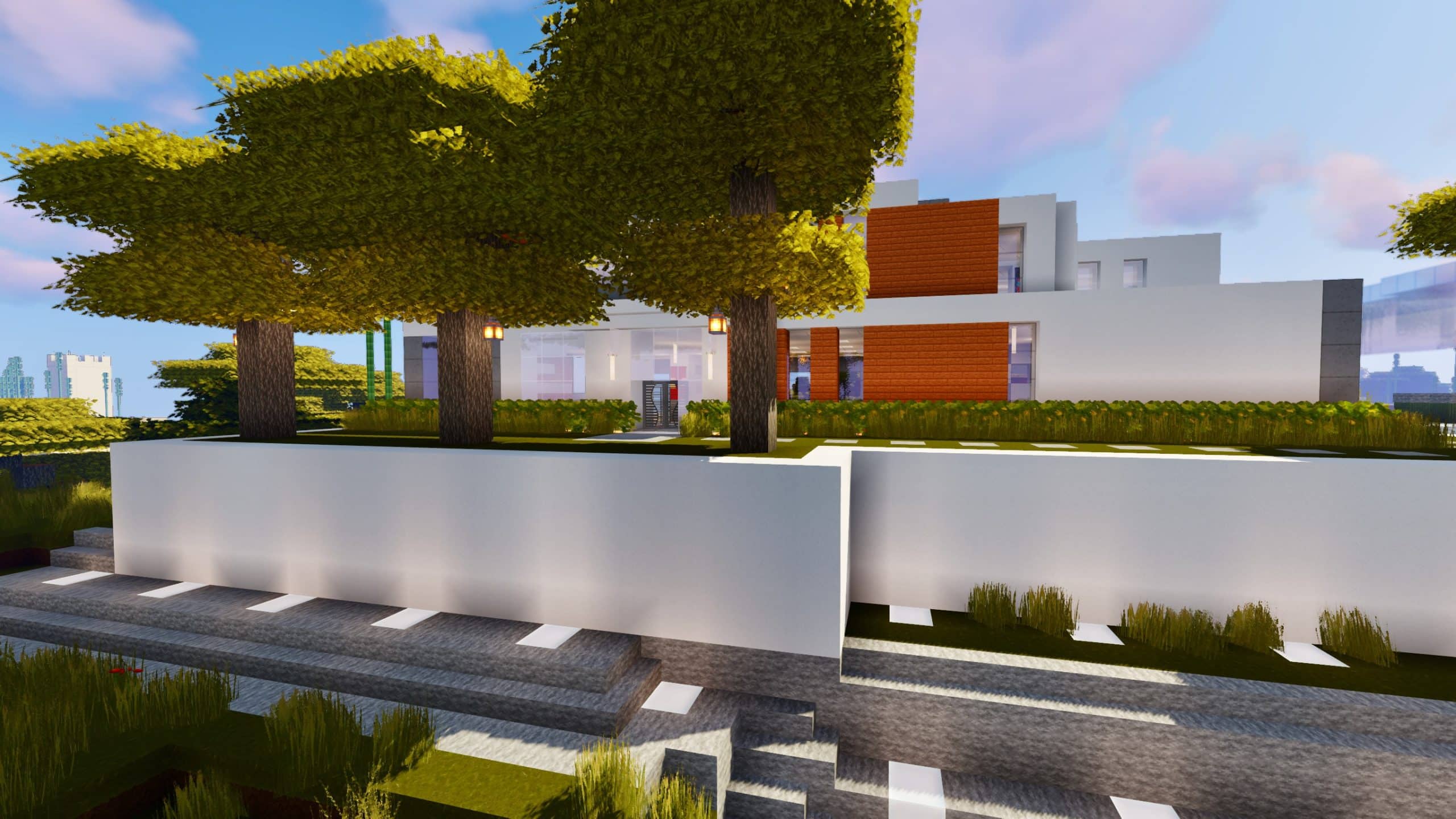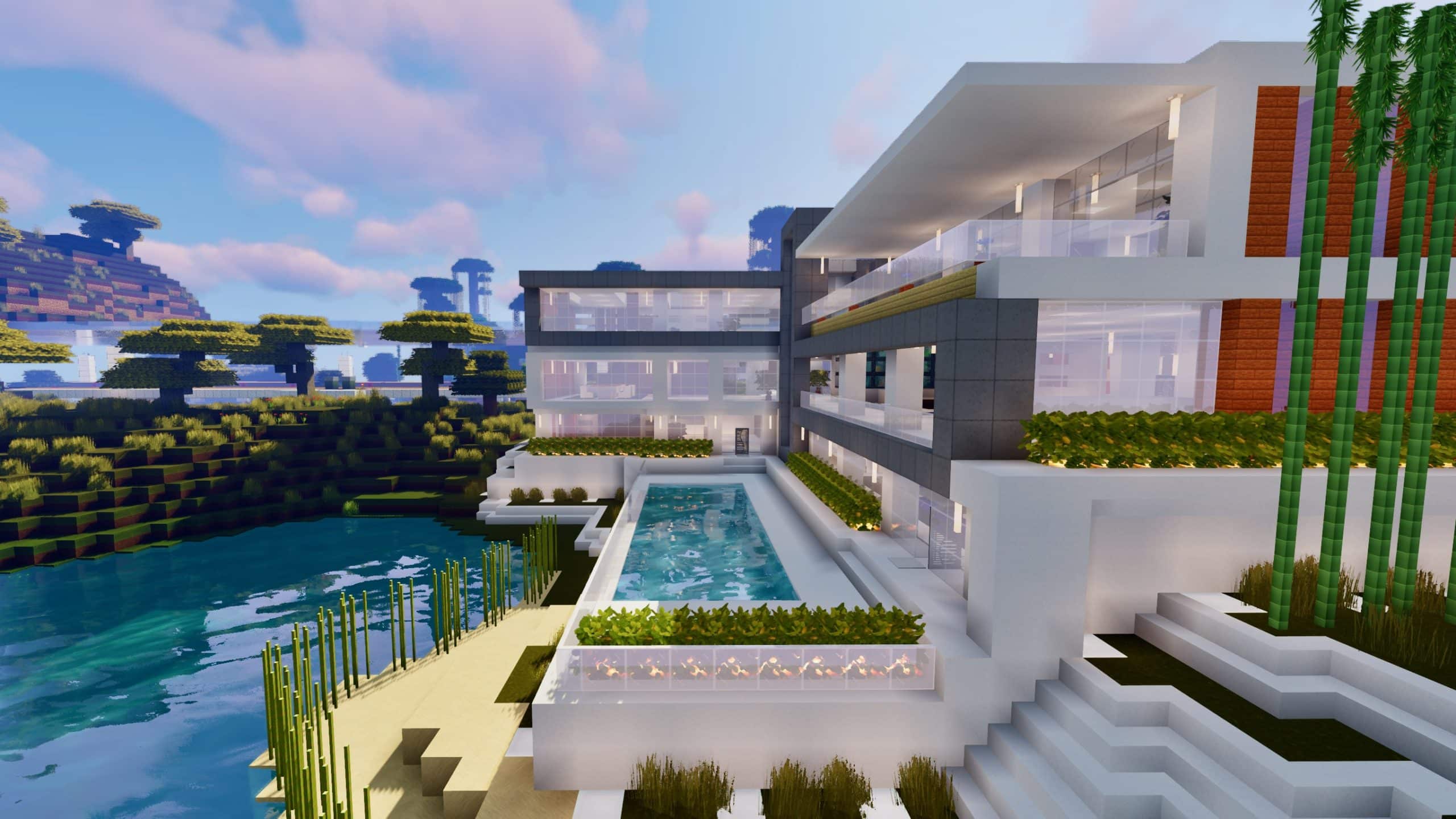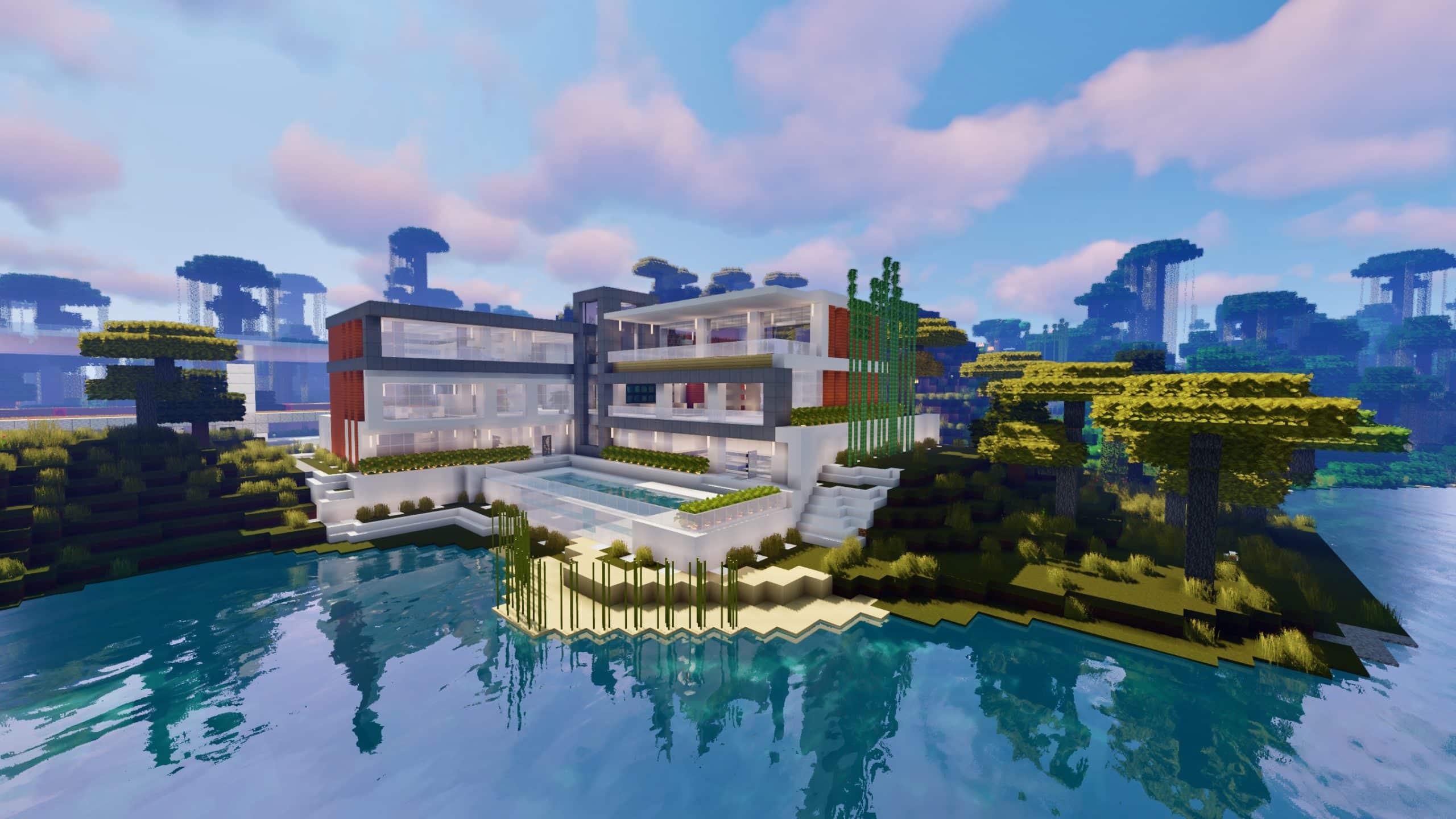 The Desert Abstract Gallery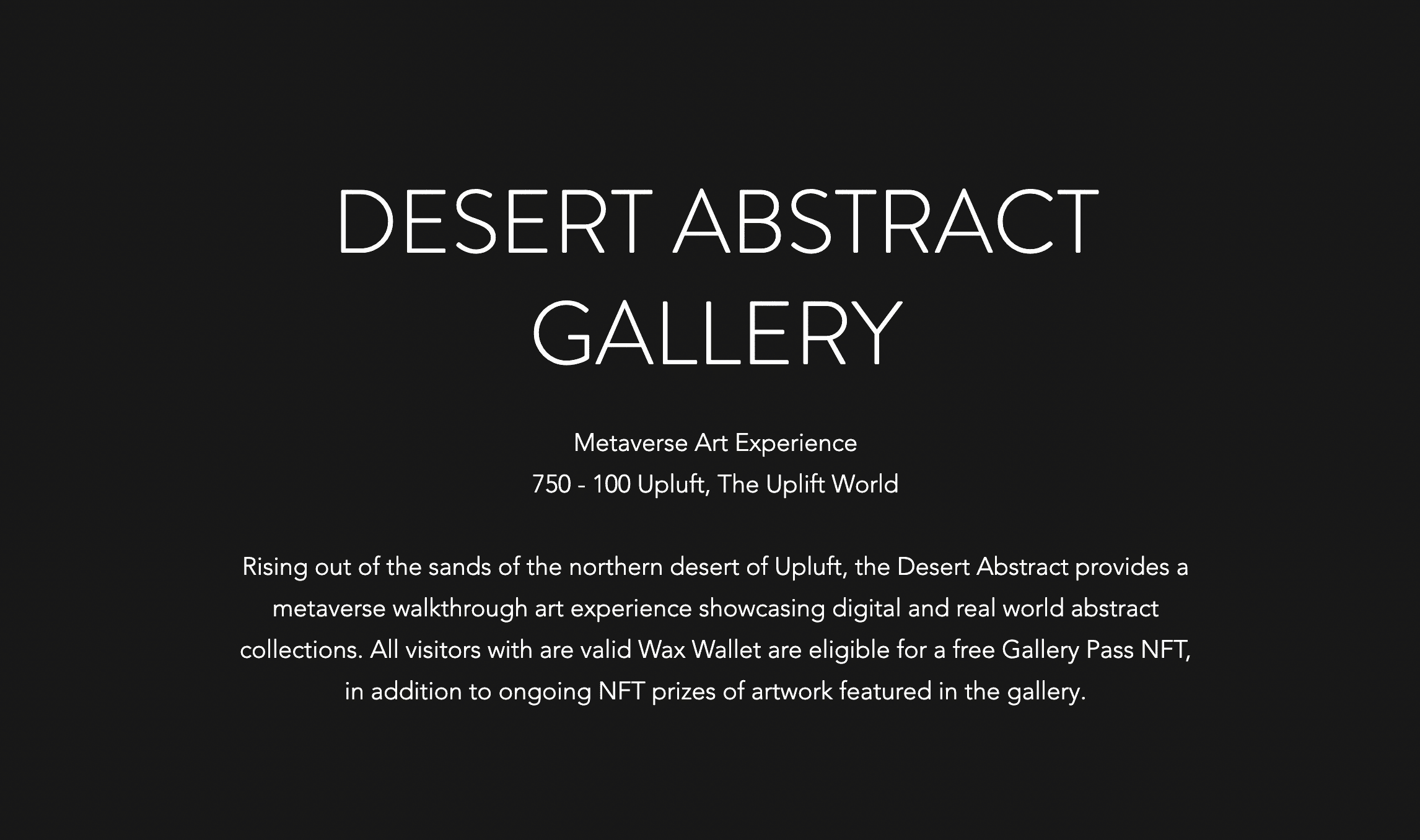 It was the ClasseArt and Mitzi Azalea galleries in Genesis that inspired me to build my own gallery, but I thought the challenge of doing it in survival would make it more satisfying for myself personally. Having just built the house in survival, I felt like I was capable of doing it. I like to believe in a sustainable planet so I kind of took this thinking into the gallery build to use materials I already had or could grow from the farm I had made there. The only thing I had a lot of help with material wise was all the sea lanterns. Sadisty helped me a lot with that. The building itself is mostly sandstone, different coloured glass, stripped birch logs, and dark oak leaves.
Mitzi Azalea has a portal from The ClasseArt Gallery to her gallery, and I especially liked her climbing spiral design. I thought it was an efficient use of the space of the plot, but I wanted a walkway that would go up, but also back down again. So that is where the double helix design for the stairway came, and it was the basis of the whole build. My vision of the metaverse is probably less colourful than most people. I like it to be somewhat real looking, and the goal was to build a gallery that felt like it was an art gallery.
The entire internal structure and walkway, picture frames, and walls below the ground, were 90% complete before I decided on the facade. It took a few attempts to come up with how it would look from the outside. The other attempts were awful and were torn down after only one or two sides were complete. The final design just came about by experimenting with the different ideas and taking pieces from the first few tries.
The exhibition is currently just the top half of the building and is a collaboration of 6 artists. Initially it was going to be just my art and Herb Robert. Herb Robert is an Australian artist and one of my oldest and closest friends. He does not have an NFT collection, but the collection we put together for the gallery is made to be ready for minting as NFTs whenever he is ready. Along the way TheMTBER reached out to me and asked if I would like to contribute to the new area he was building at The Vine Gallery in Genesis. It seemed natural to ask if they would like to do the same at my gallery, so then there were 3. I had also become friends with Claes (Classe Art) and Mitzi Azalea, so I very sheepishly asked if they would also like to join in. They were really enthusiastic about it, and I've been completely blown away by their generosity, support and friendship ever since. Claes' 2 pieces feature immediately as you arrive by portal on either side of the mezzanine. 4 of Mitzi's One of the One's collection, which is a collaboration with Sovoccor, are featured exclusively on the very top floor of the gallery. So then there were 6. I'm stoked to have so much awesome art there. Every piece is something I would love to have in my collection, and/or on my IRL walls, and now many of them are. Including a RL Herb Robert Original I picked up on my recent trip back to Australia. The next exhibition which will fill the bottom half of the gallery will be a collaboration also. Again with my art and Herb Robert's art, but hopefully other artists as well.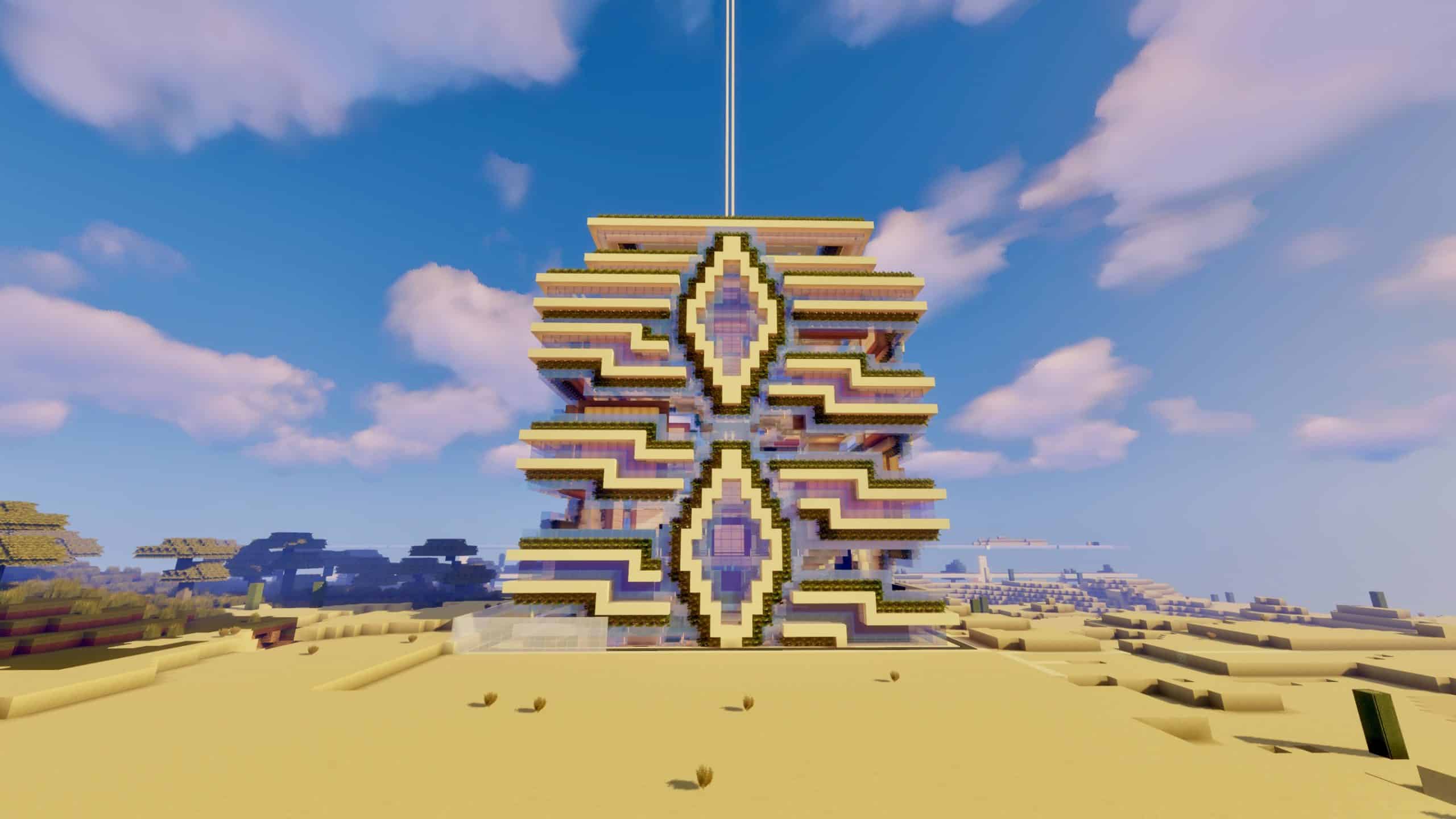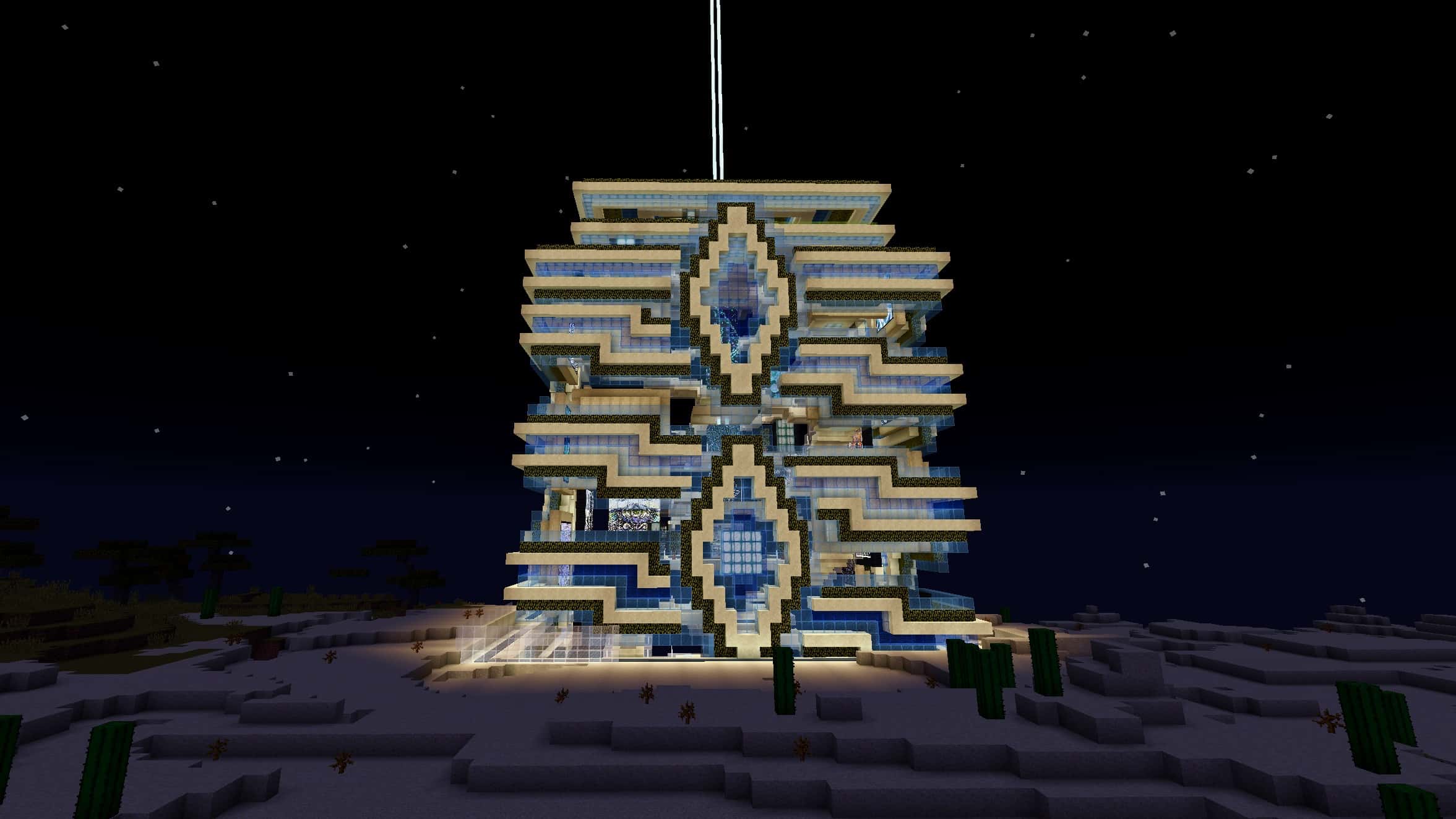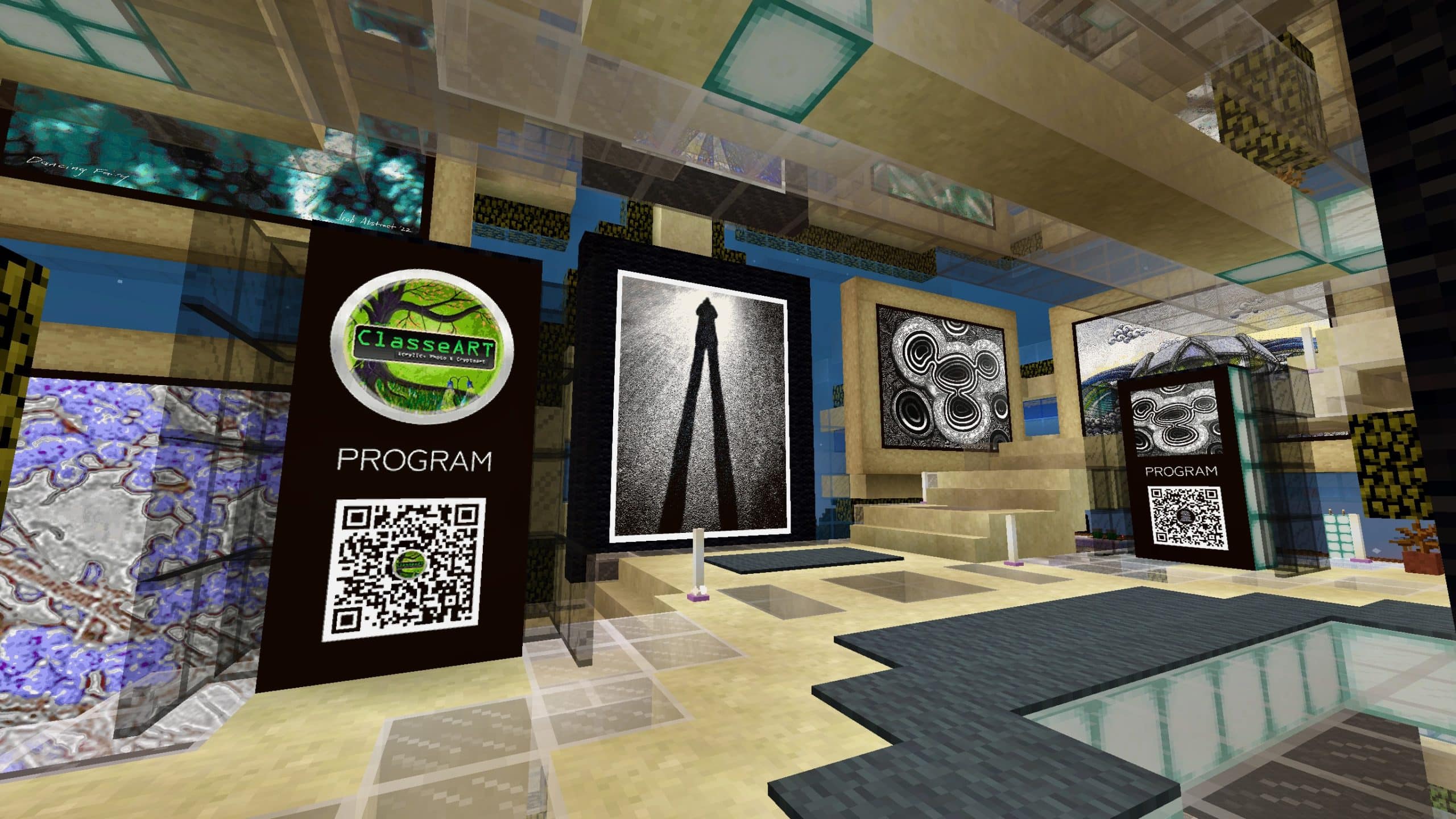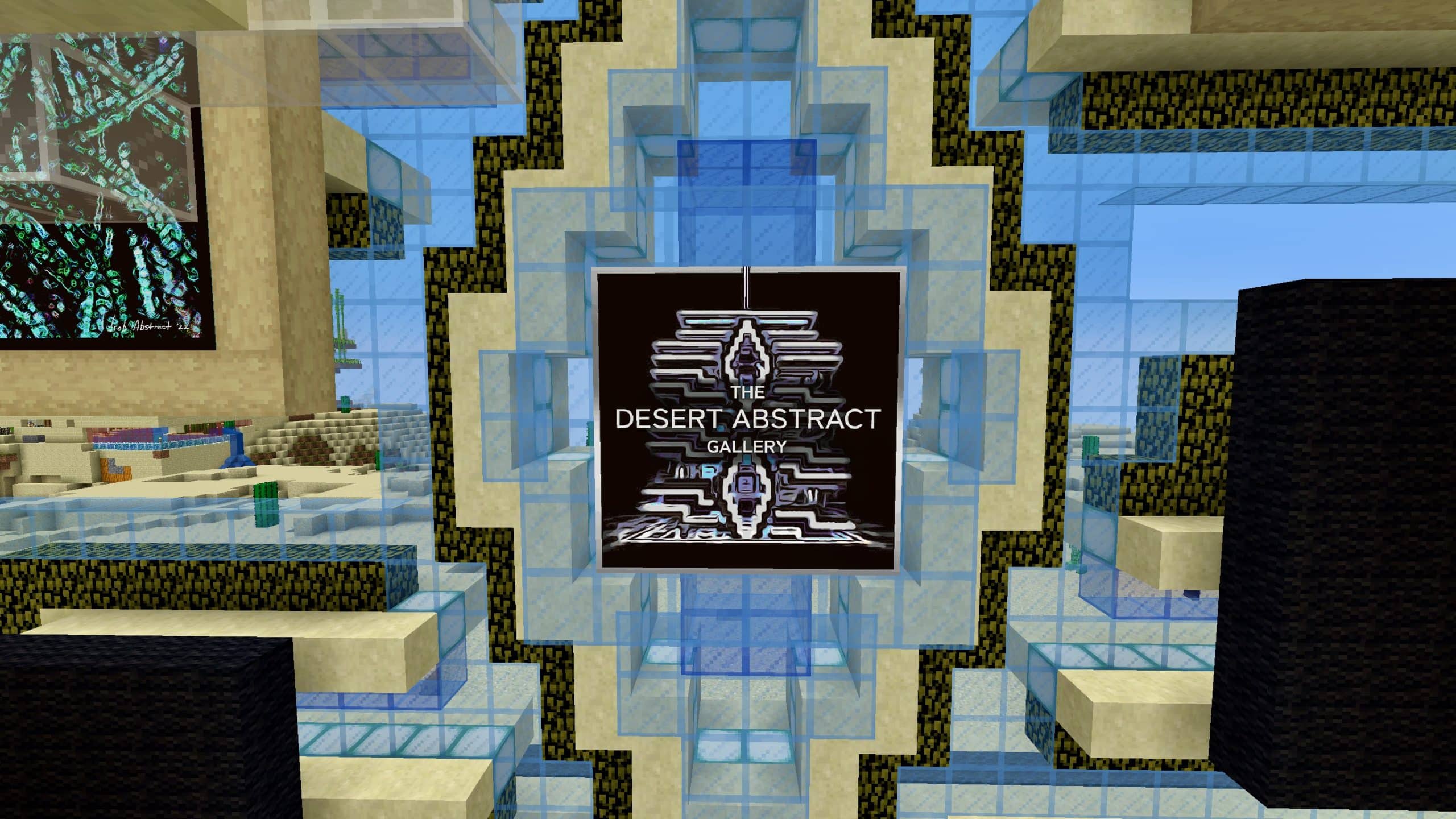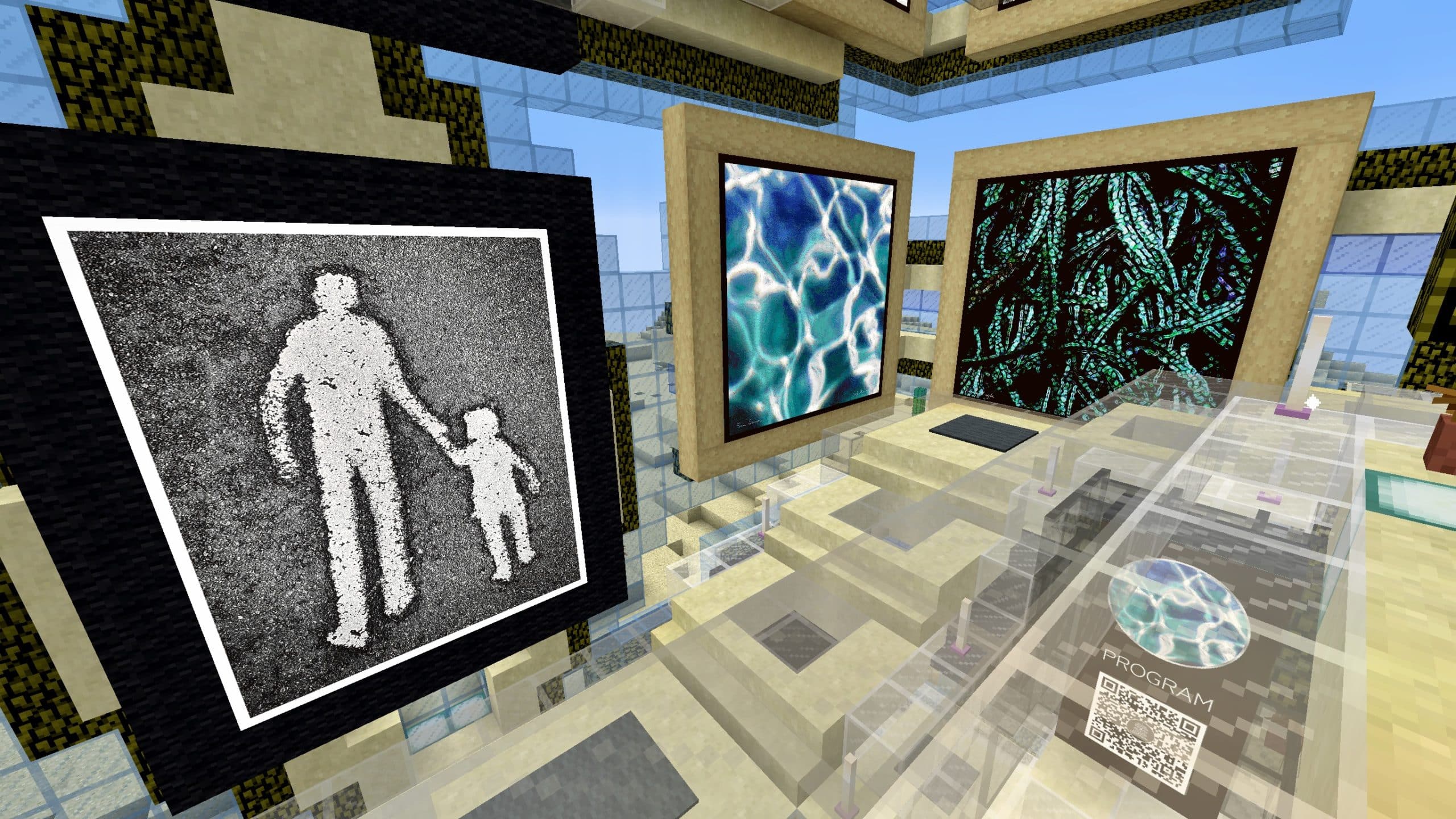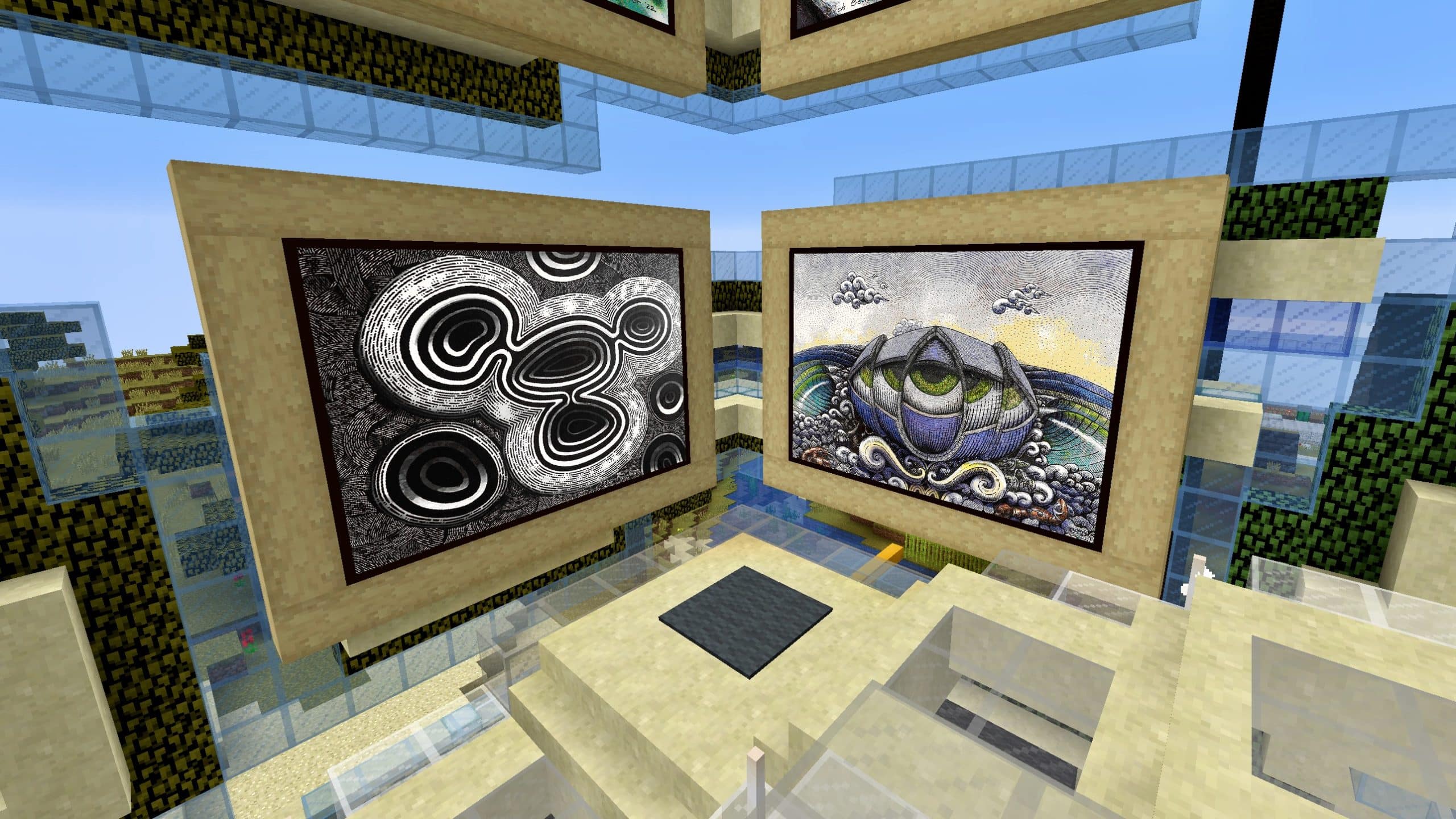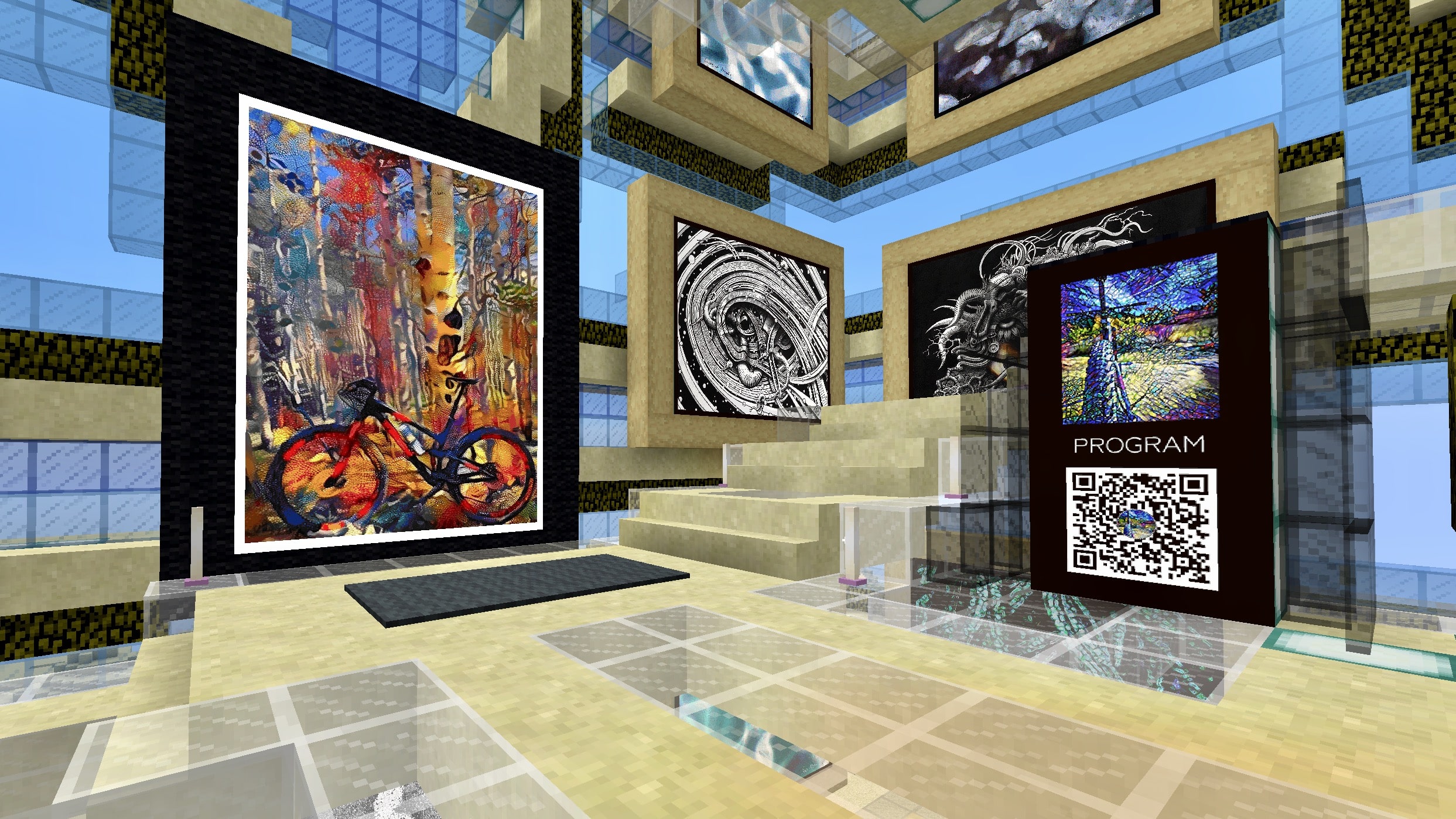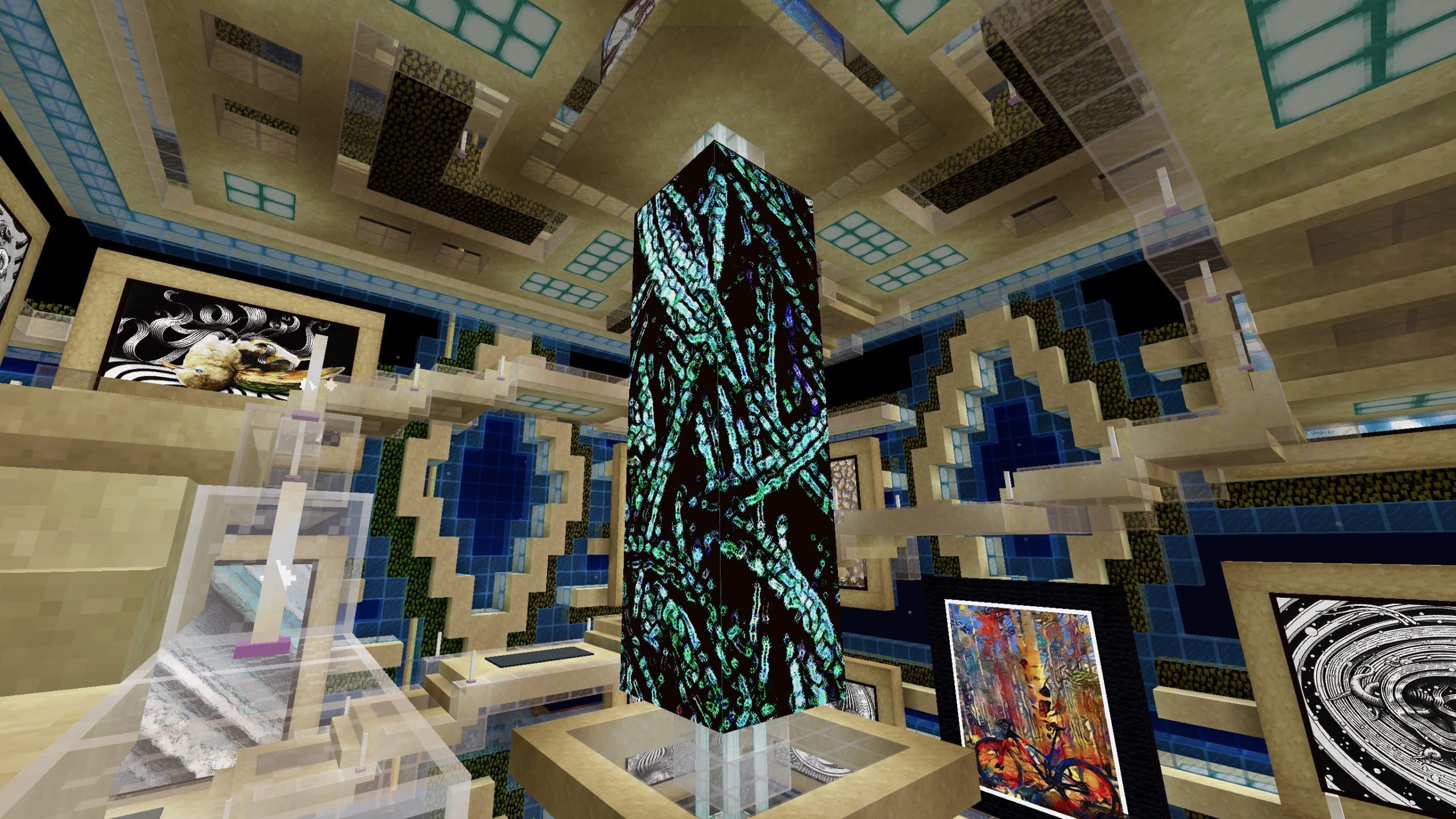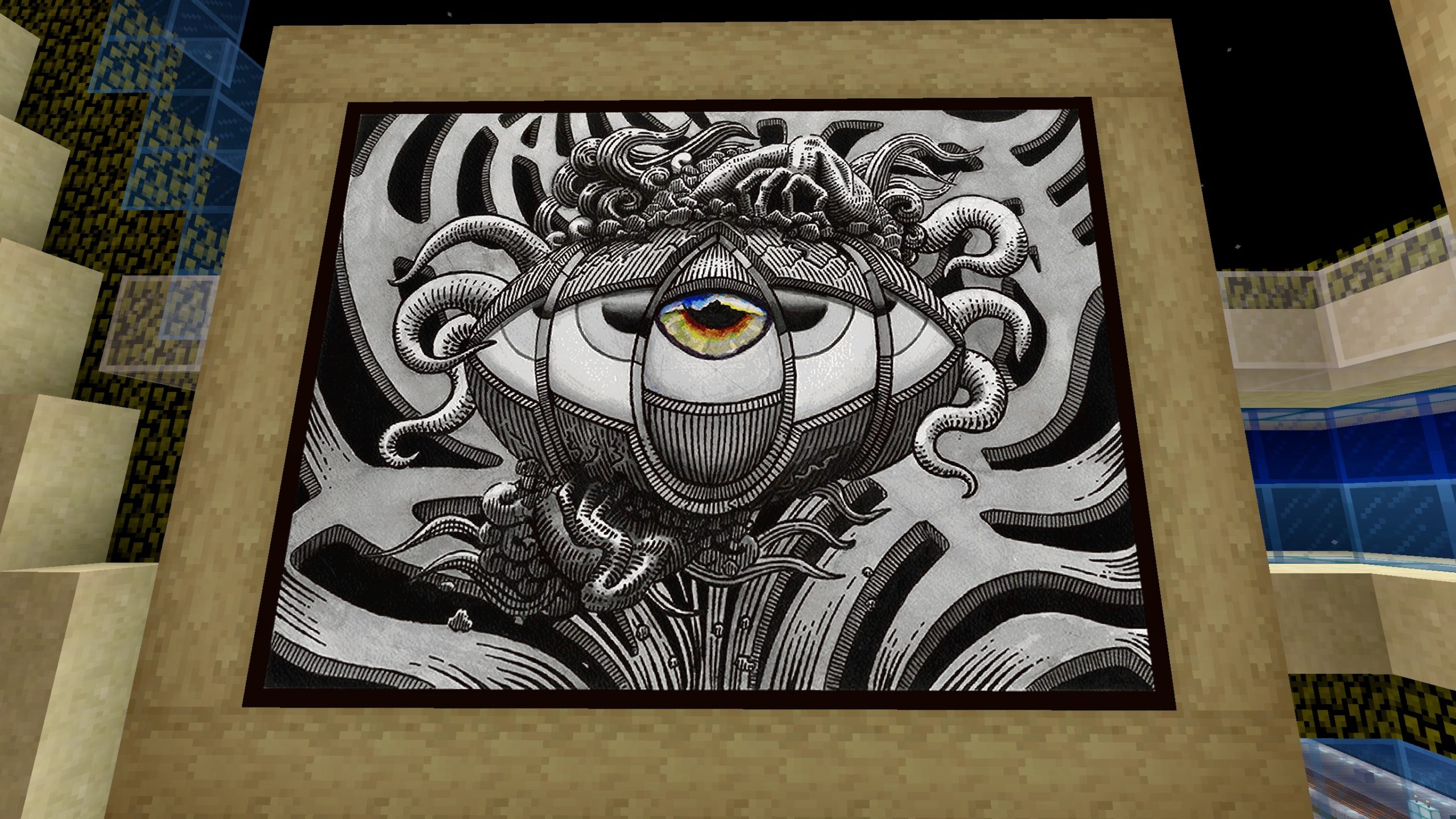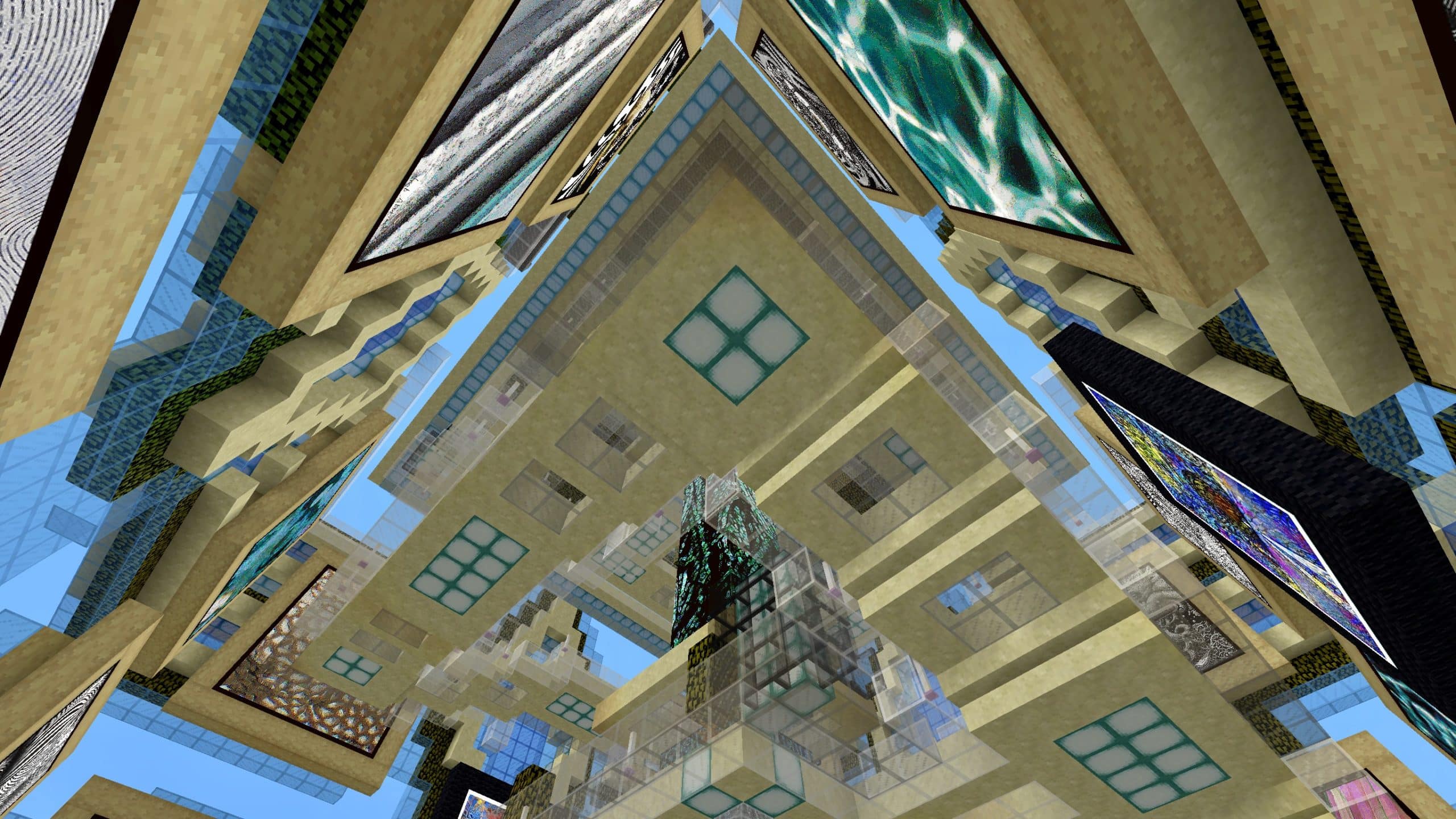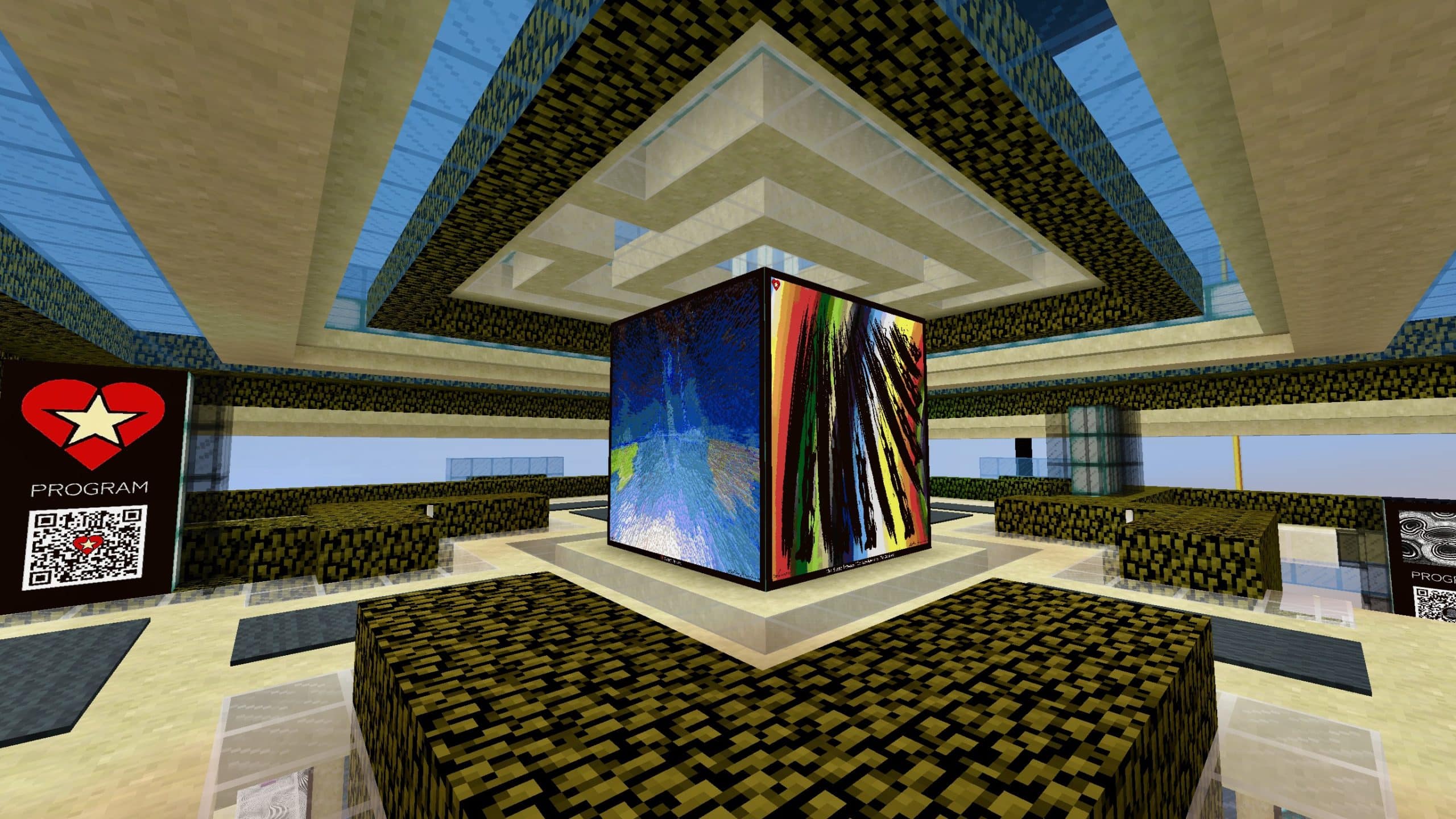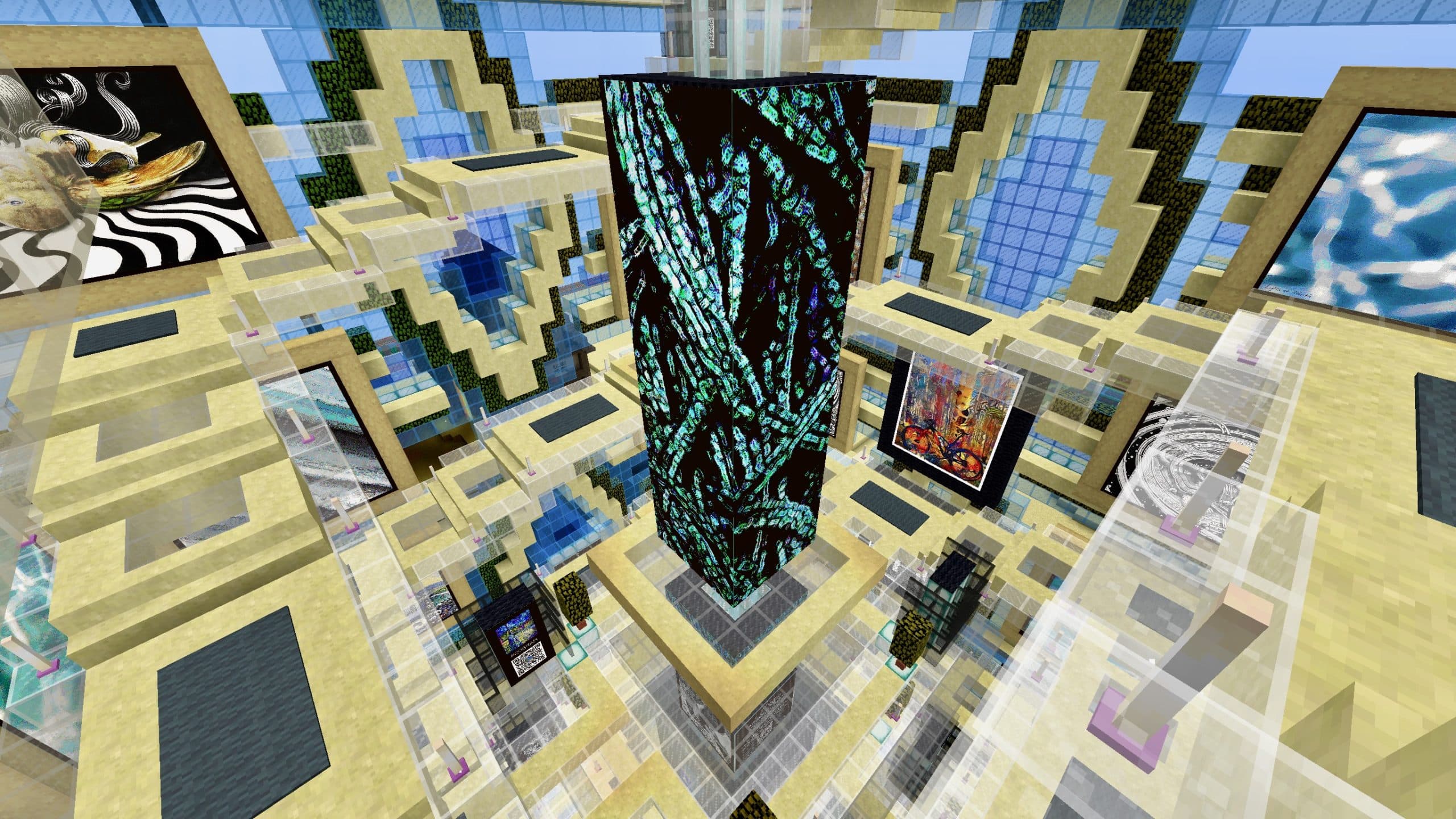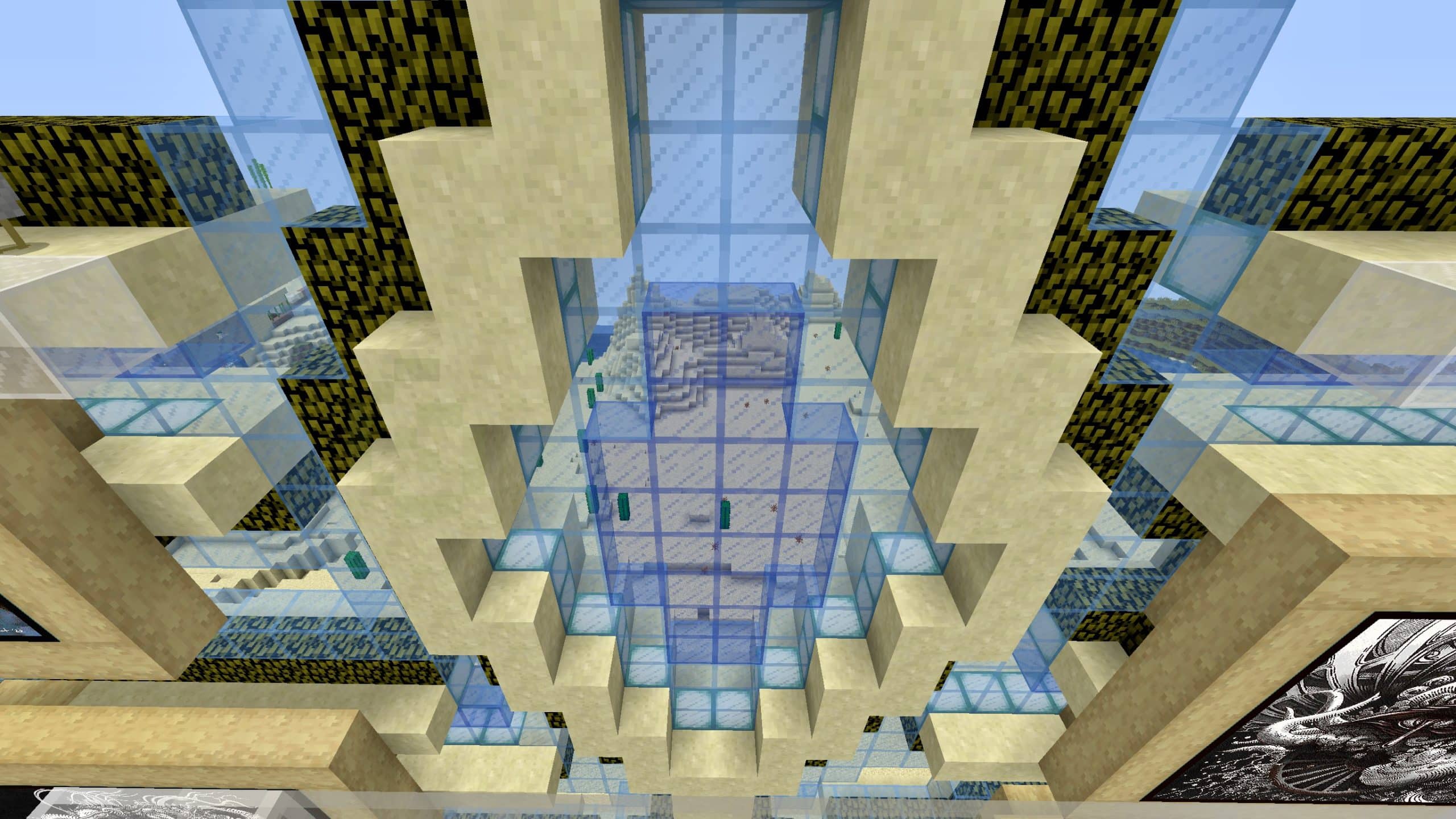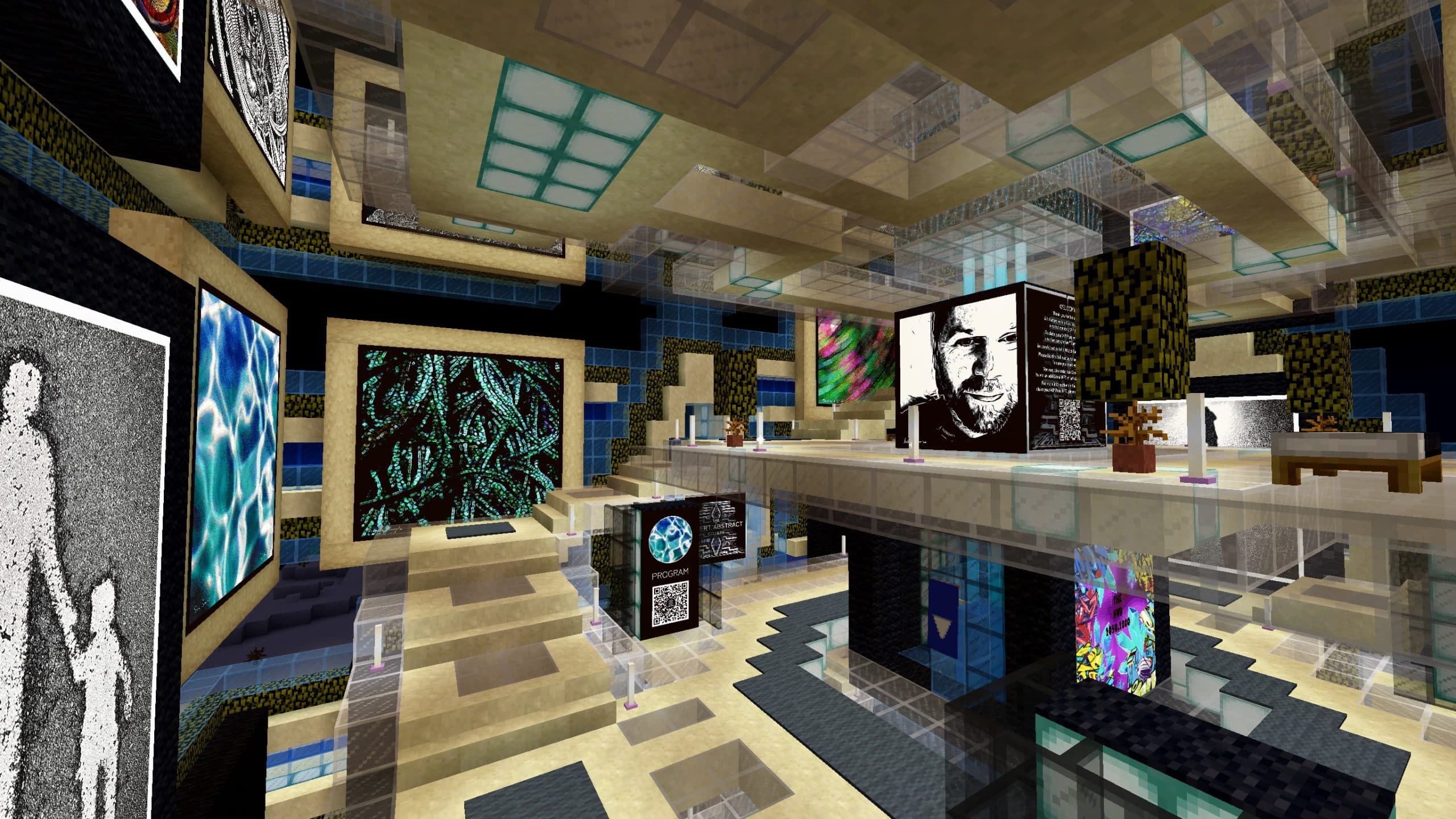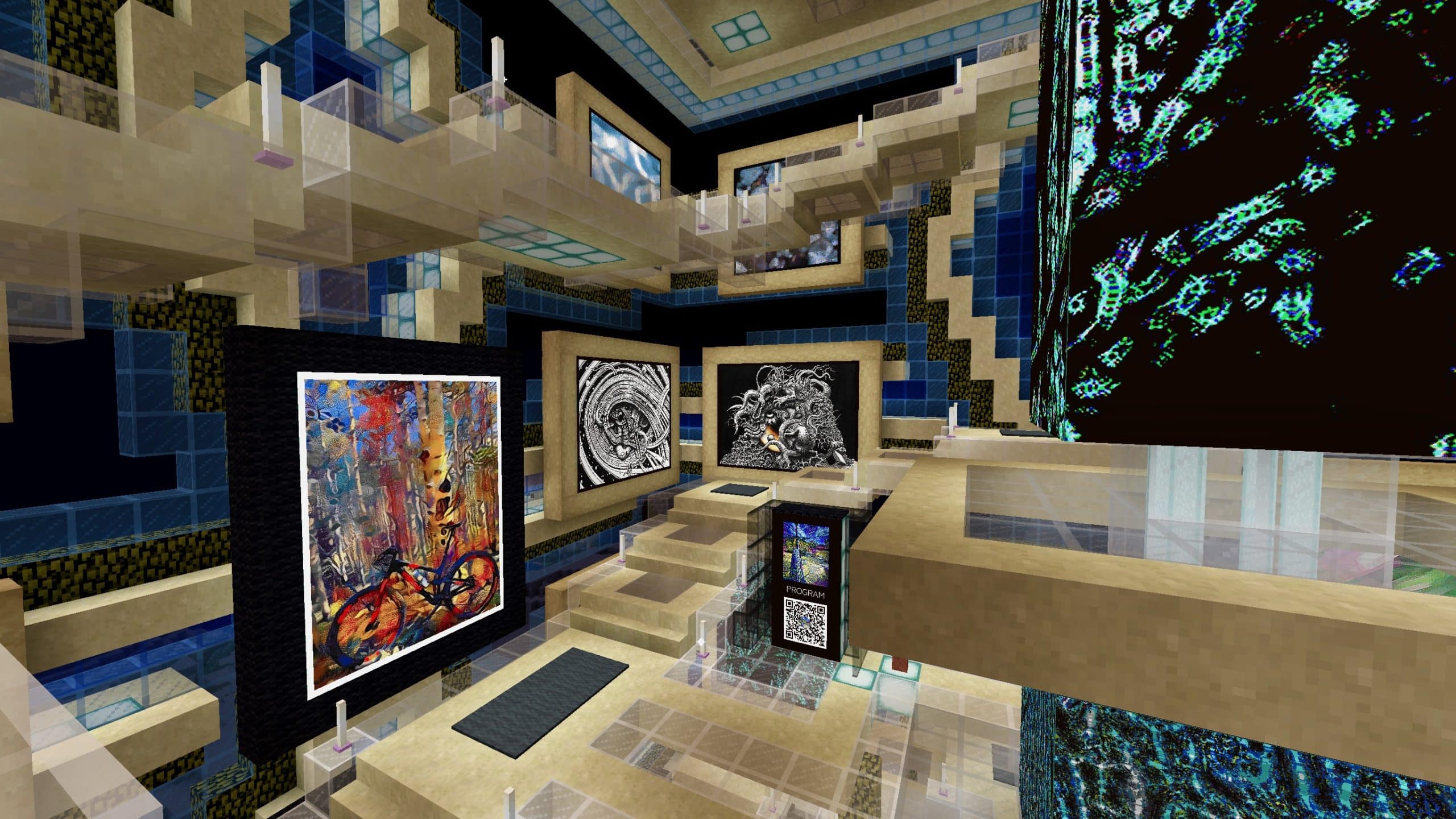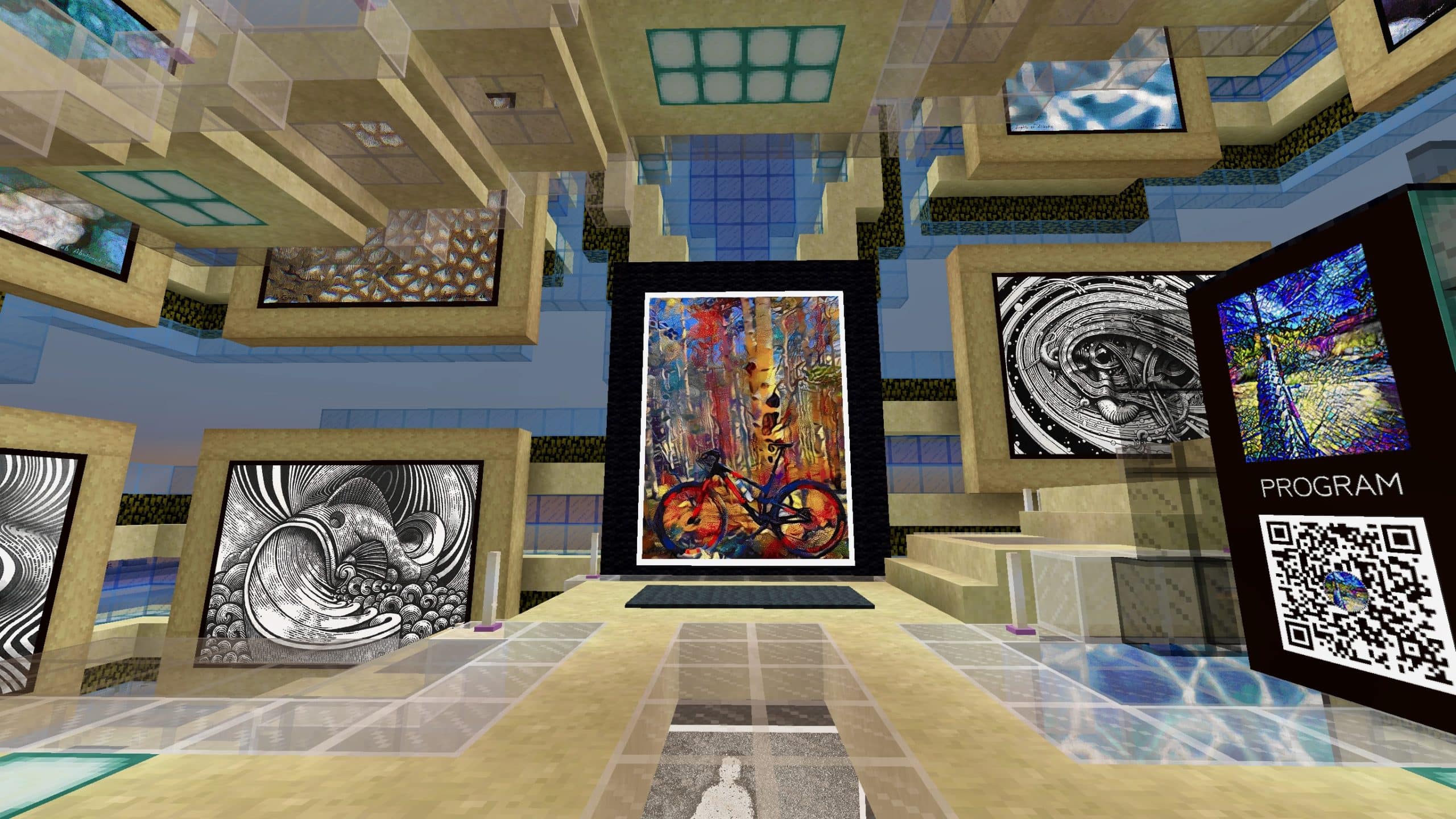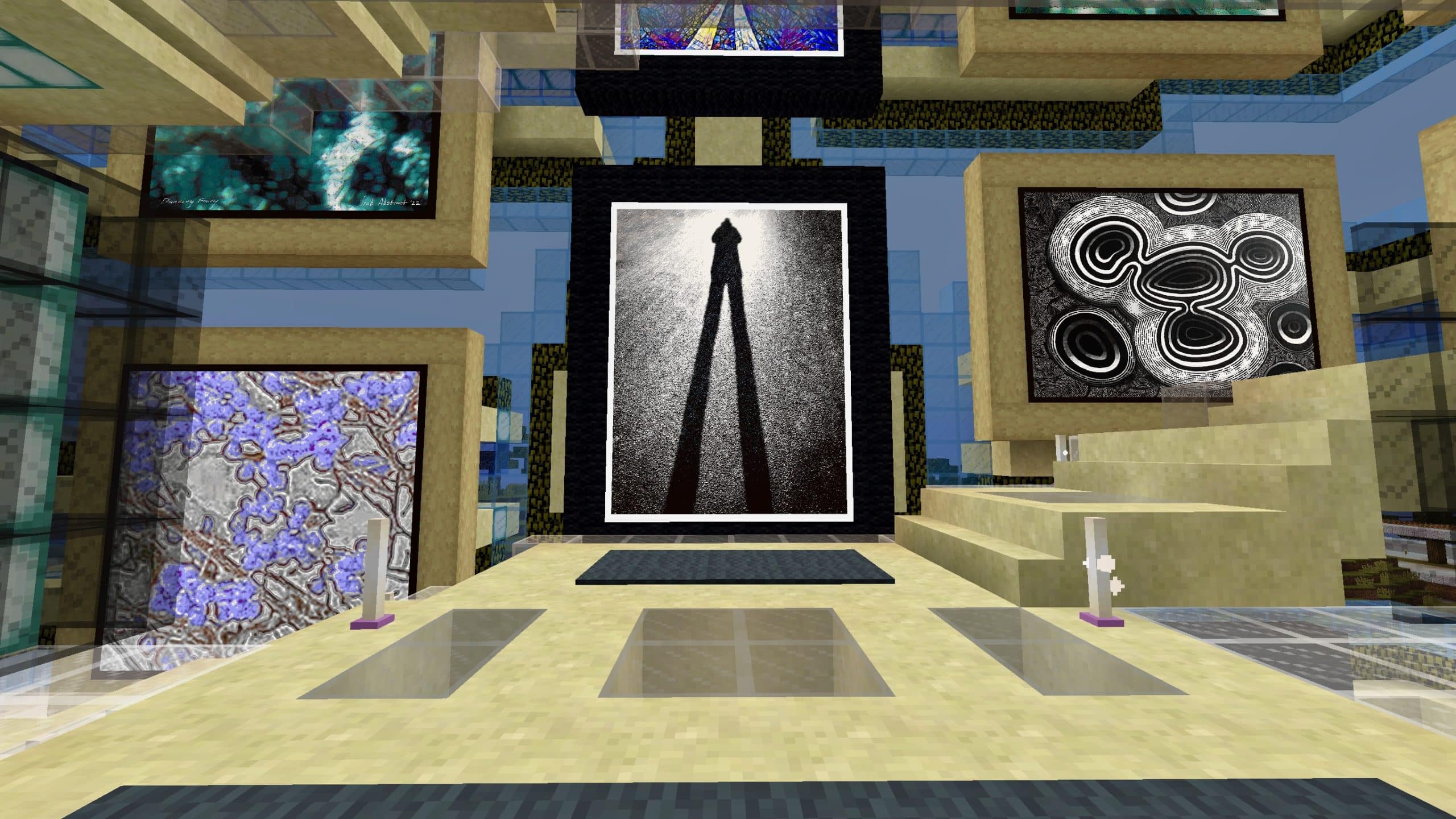 Jrob's Desert Reprieve
The shop came about very quickly to try and take advantage of the Upliftium burn before the DAO token drop. I didn't know at the time that we'd be able to buy services in advance so I went madly trying to get all the portals and images done that I thought I'd want for the next decade (joke). I had bought the plot purely as it seemed like a really good buy at the time. I knew I was going to need a personal portal hub somewhere, but I didn't want to put random portals in the middle of a rail, so I decided to make a small shop so anyone who stumbled across it might have something more interesting to see. It's supposed to be a boutique with mostly blue coloured items and other things to help you escape and recoup from the heat of the desert biome it's in. It's just for fun.
The only design concept I started with was to build something small, and between the rails. I wanted it set back from the boundaries in case my neighbors decided to build tight up close. I was really time pressured for ideas for a quick build, so the facade ended up being a very loose adaptation of the Leonardo Glass Cube building in Germany. It's all white and blue (cool coloured) glass, with a white frame. But the shapes built into the frame between the glass are supposed to represent waves in water, which is quite different to the cube building. There's a bunch of pools and ponds around and under it as well to cool off in. I stuck with the Polished Diorite theme of the rails, mostly so I didn't have to tear it down, and the polished white quartz works well with that I think, and fits together with the style of my house.
All together I have a loop of portals that go from the gallery room at the house, to the shop. And from the shop to Sadisty's Addiction, and another from the shop to the gallery. The gallery has another portal to The Hub at Spawn.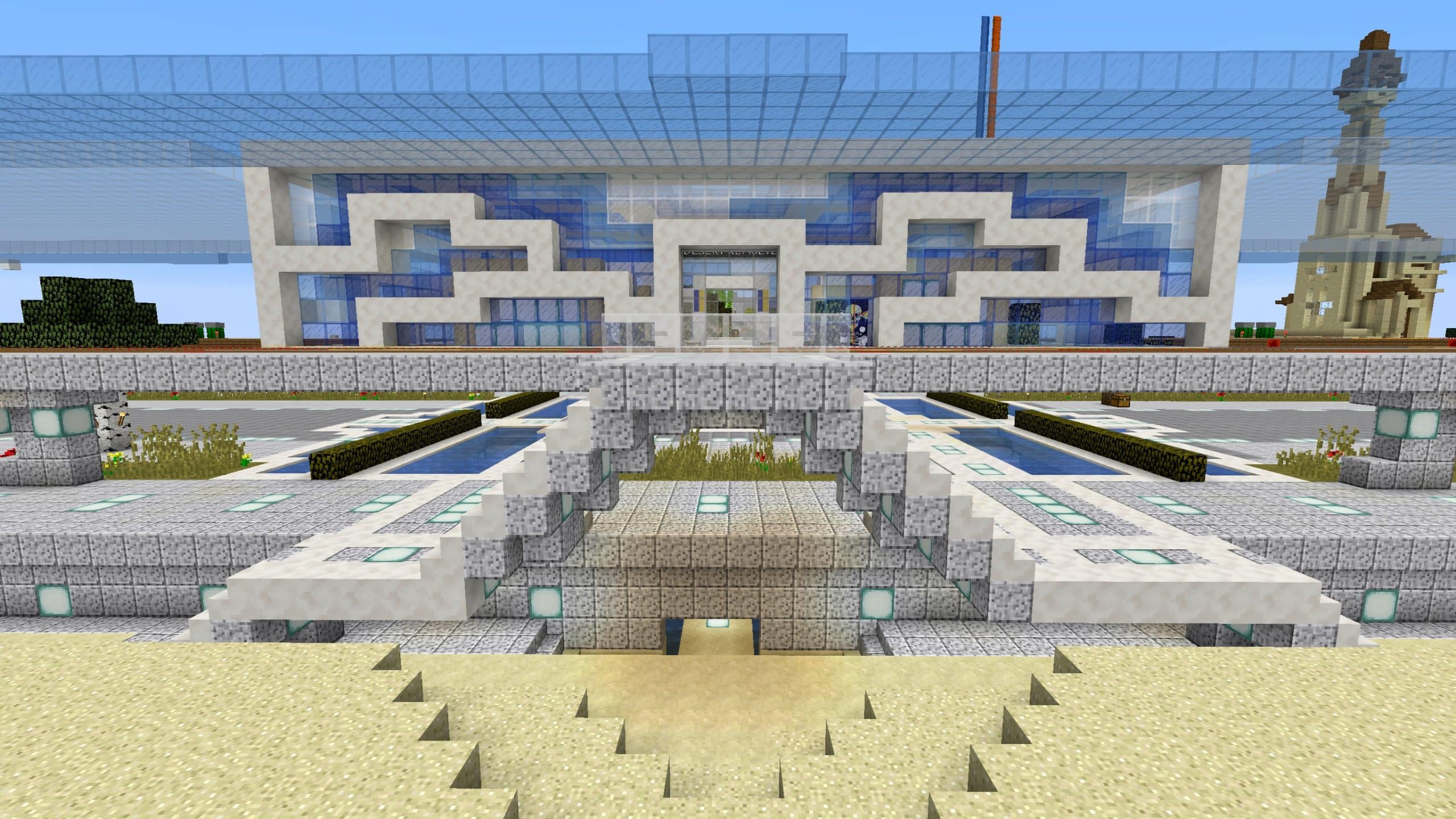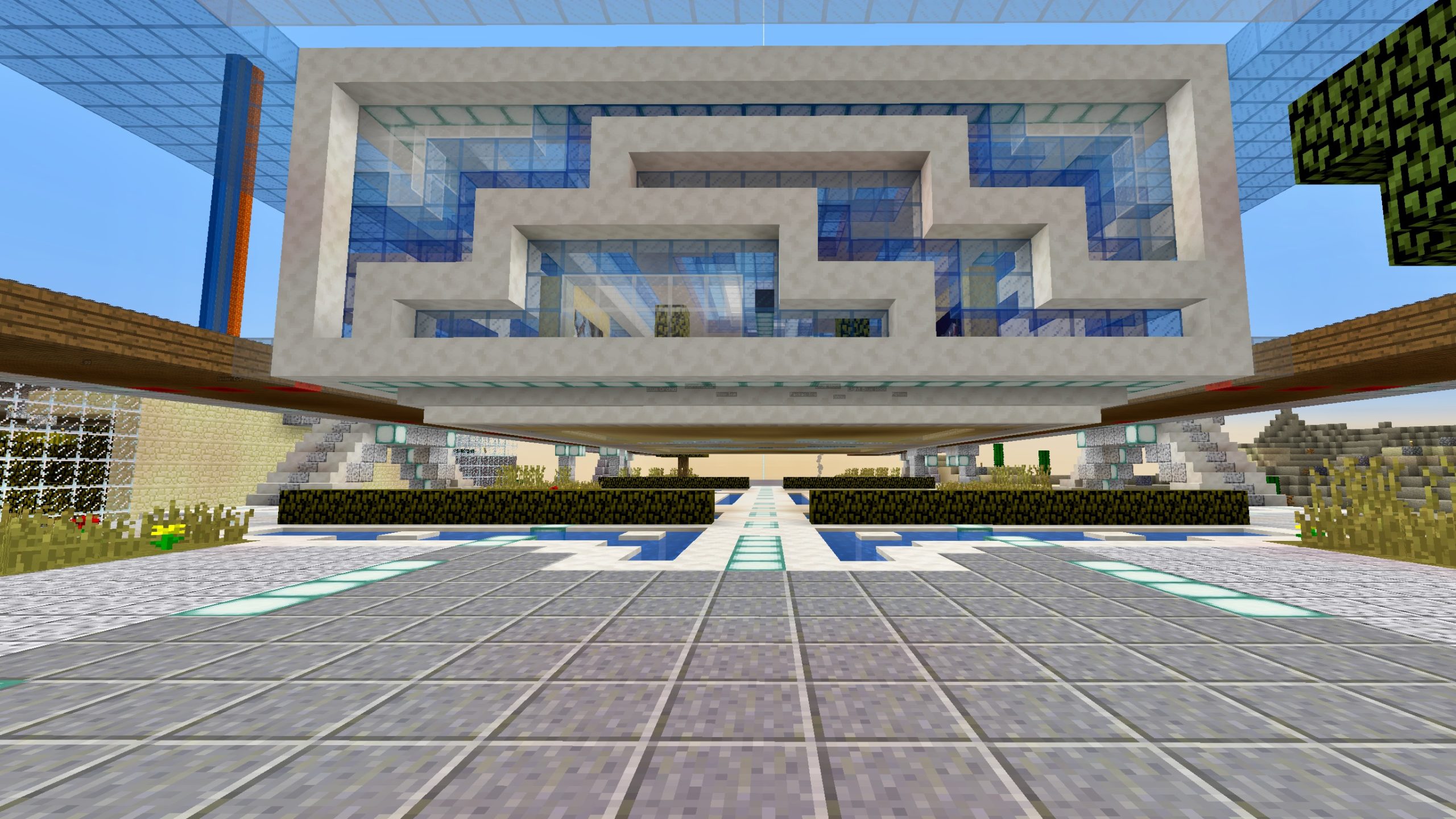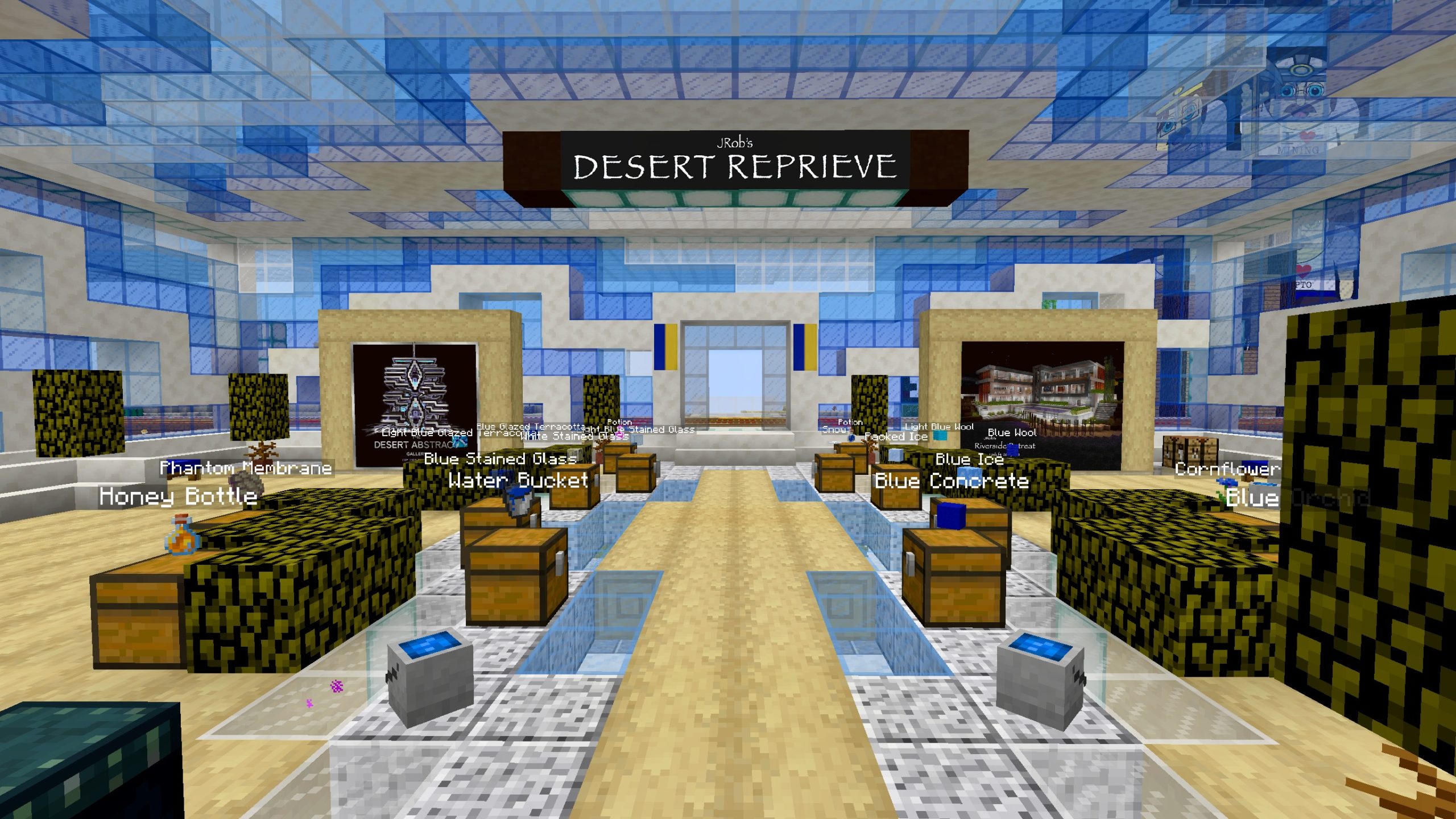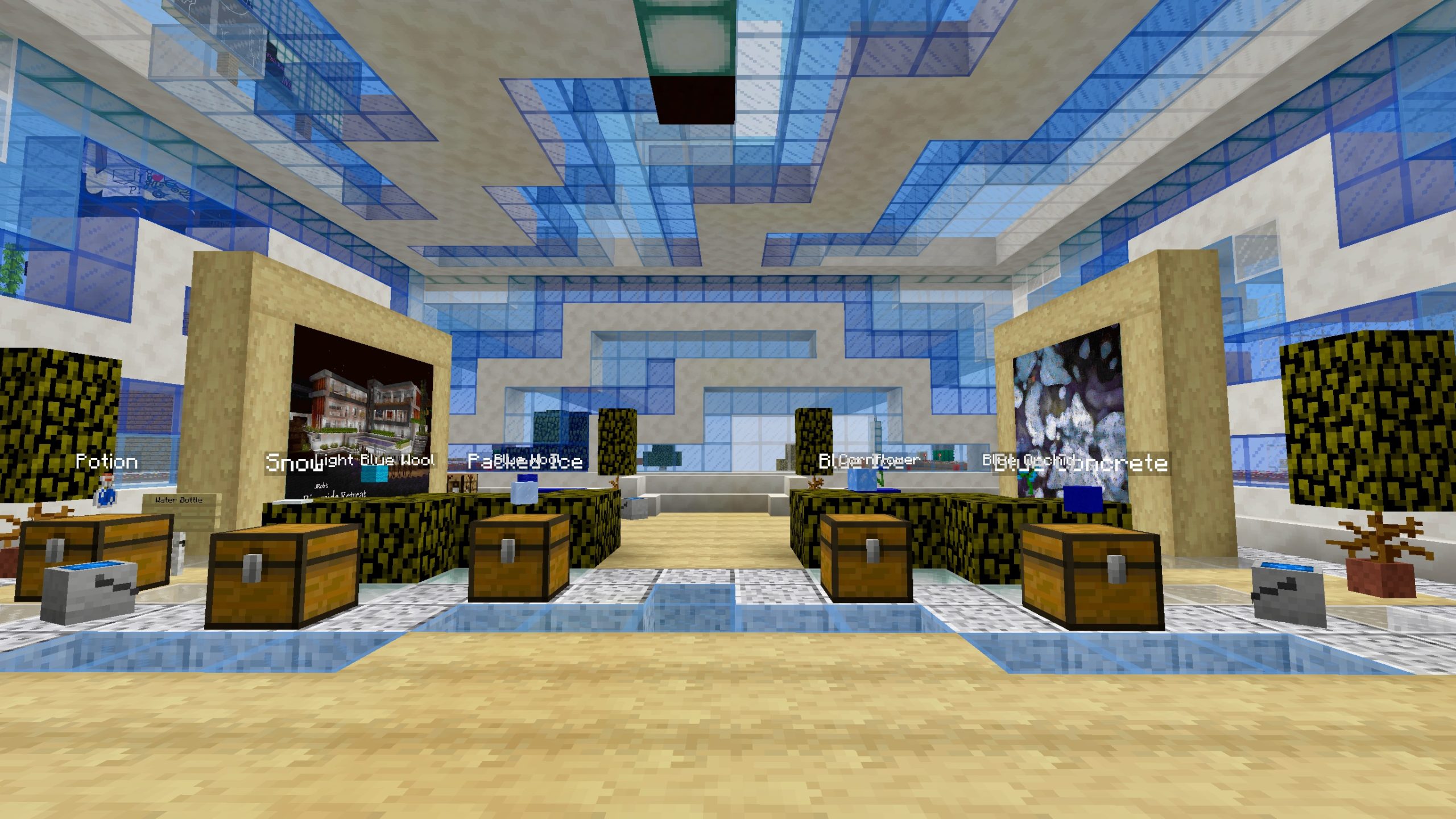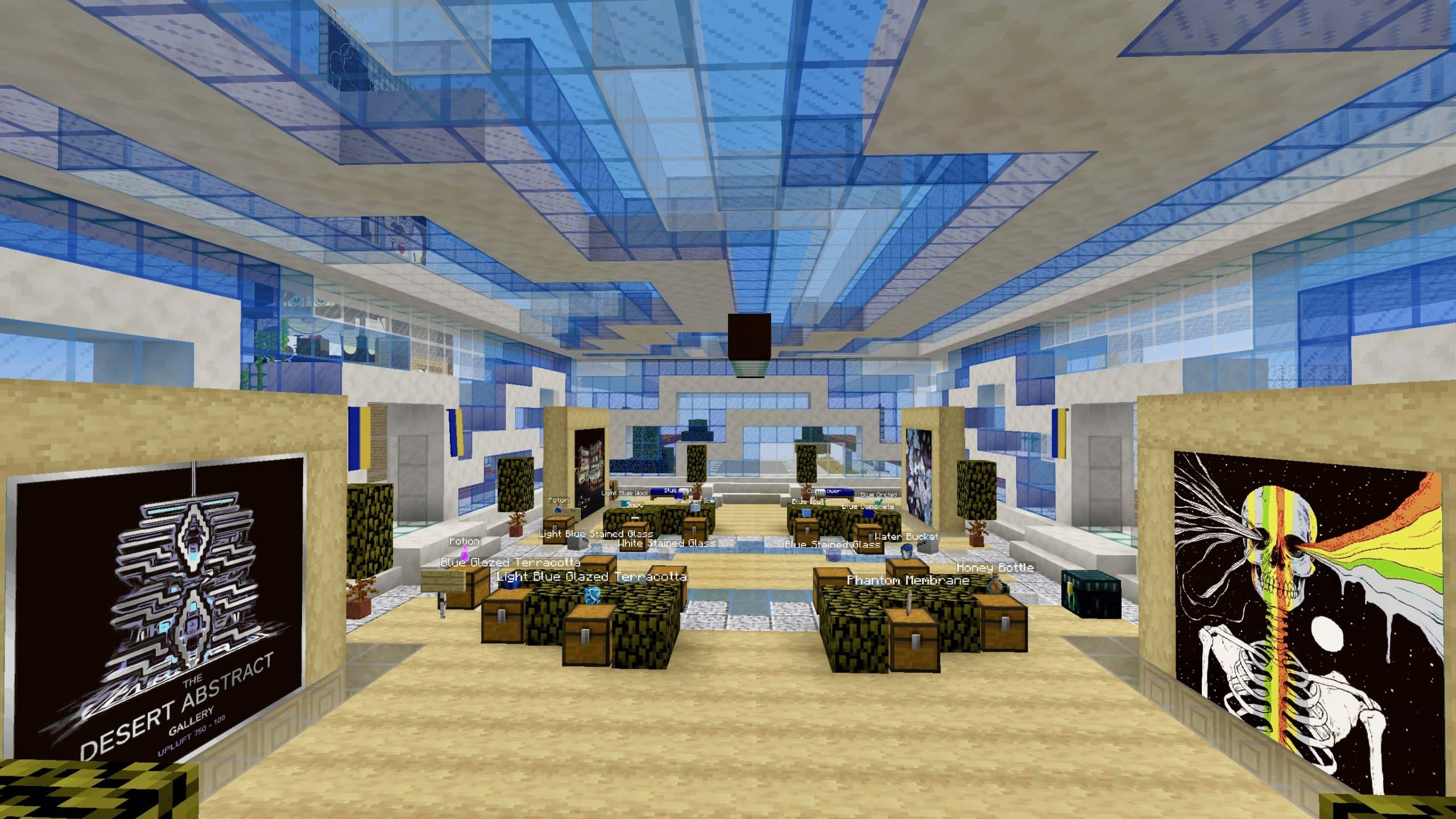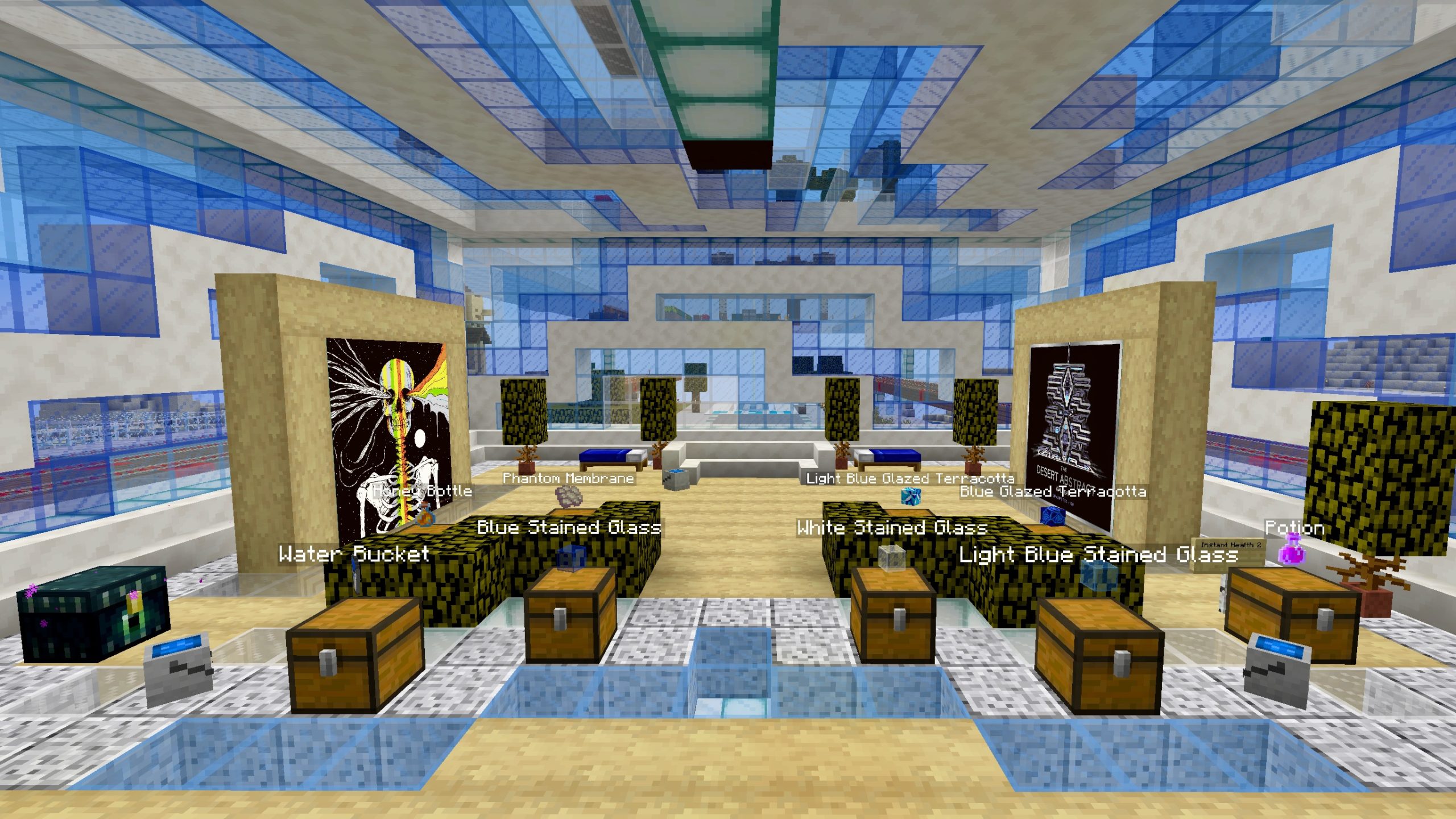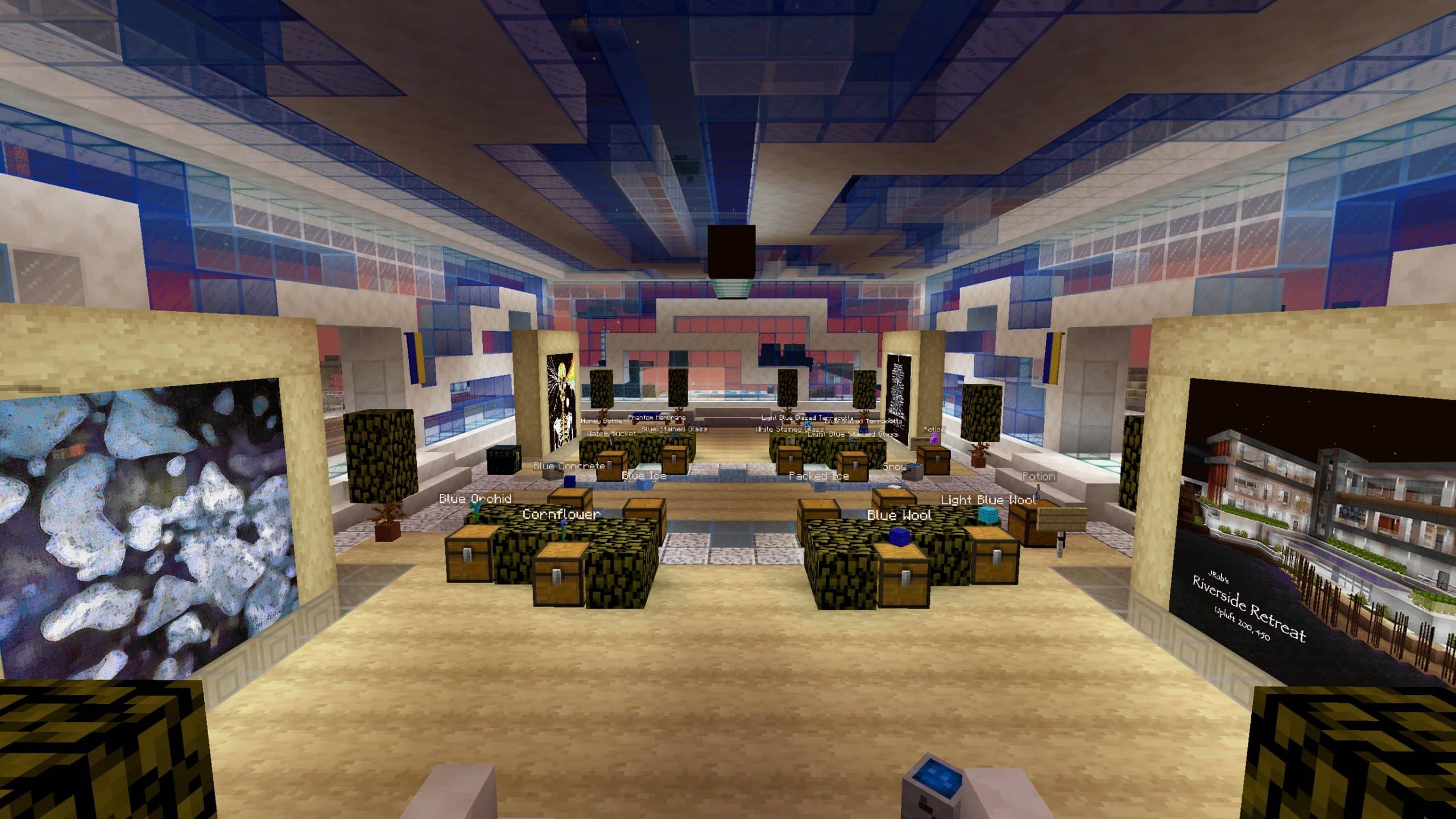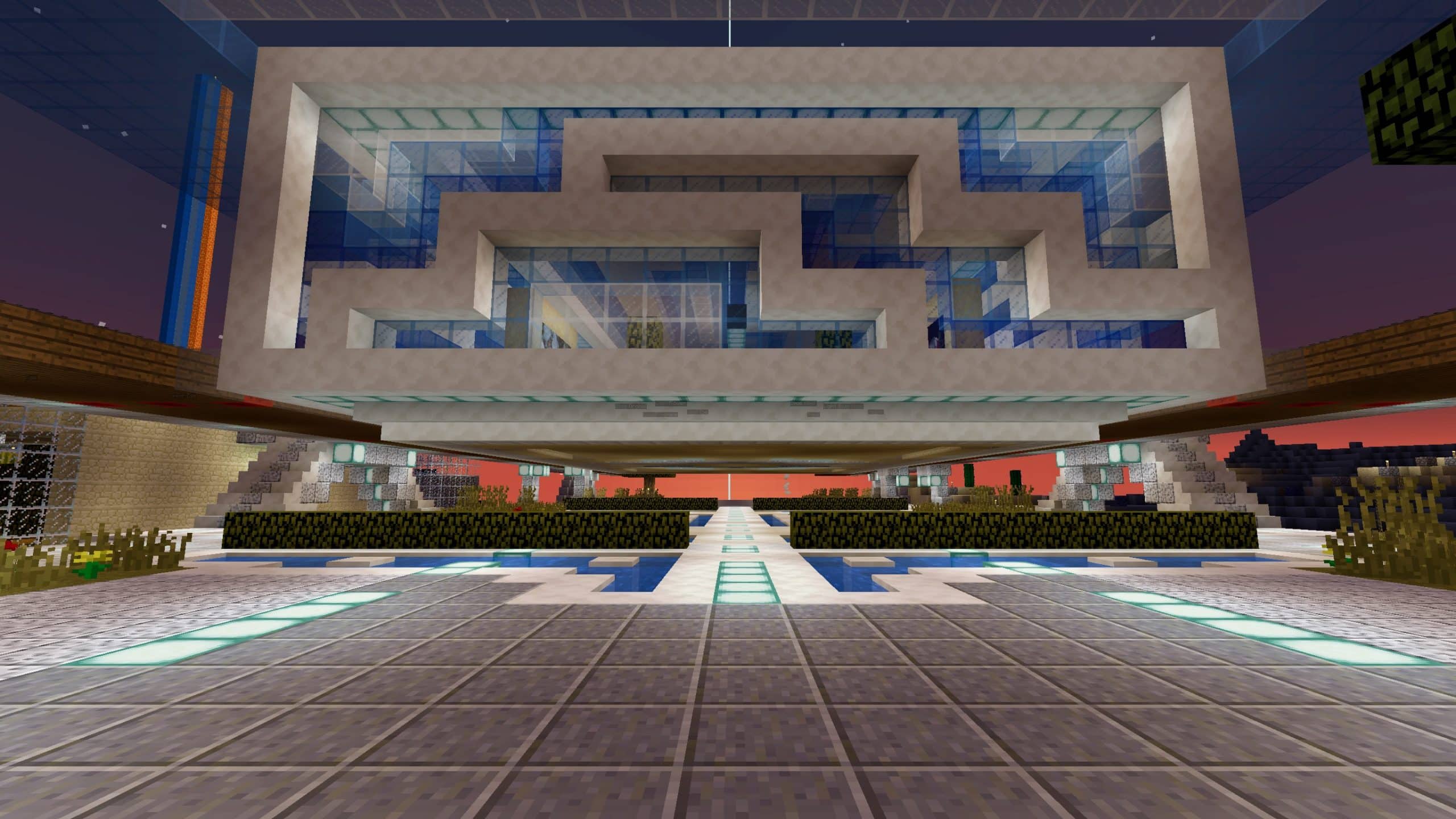 What are you looking forward to the most in regards to theUplift.World?
To me I just think that The Uplift already has so much to offer. I really want to help find a way to combine everything we already have, all the land, the miners, Upliftium and shards and use the freedom Minetest will give us to tie it all together. There's already so much set up, and if we can use it all to create a bunch of new games within the worlds, I think it can become unlike anything we've ever seen. If a new bull market came along at the right time we'd be laughing.
What are you planning next for theUplift.World?
I'm currently part of the Documenting and Summarizing team on the Rules and Bans Committee, so I plan to continue that and hopefully put more time into it than I am now. Build wise I am working on a pair of galleries in Gratitude, but completion of those will be well into next year. I also have the next exhibition in the bottom half of the Desert Abstract to complete. There's also a website that I've made for the gallery, and I'm thinking of maybe asking other gallery owners in The Uplift if they would like to use it also. And I plan to continue supporting Mitzi's Quests, the Boarvallis Raids, and as many other in-game events that I can.
Is there anything else you would like to note about your project, community, build, upcoming events?
This is mostly all just a hobby for me. I do take the well being of the Uplift and the community pretty seriously though, and I think with The Uplift becoming a DAO it's more important than ever that everyone's point of view is heard. My discord messages are always open, and I usually only take a strong stance on something if I know there are others less willing to speak publicly who feel the same way.
I'd also love to hear from any other artists or projects that would like to contribute to the next exhibition at The Desert Abstract Gallery. I'm still early in the planning and anything is possible at this point. Messaging me on twitter, Instagram or telegram is the best way to reach me.
Jrob Socials and Contacts:

It is actually quite uncanny the amount of amazing buildz, projects, and people involved across the multiple sectors of our metaverse and pretty much impossible for us to keep up.  The Uplift World BLDRZ is a series where we do our best to bring you all the goods in their most extensive form with a focus on the people and projects that make the metaverse what it is today. So for those of you with builds in the metaverse and a larger story to tell reaching far out beyond, we are certain that the community would just love to hear about where you came from and all it is that you do! Simply head on over to the simple Article Submission Content, Notes, and Guidelines Form to learn more.
The Uplift World Official Links