Recently we did this thing.  You may have seen it mentioned in the telegram or on Twitter.  We call it the UpList.  So ya, let's talk about it!  
Basically then, considering all the hype that our NFTs have been generating, not to mention theUplift.World in general, we wanted to come up with a way to ensure that value was passed on to all those that have thus far supported us the most.  
Of course, we could just do what most other projects do and let things be a free-for-all, and to be honest it's very probable that at some point in the future, we'll carry on with this methodology.  However, stagnancy is boring, and experimentation fun, especially when we can involve all those that make all we do so much better by rewarding those who've supported us the most an almost sure fire way to get in on the action.  
Much like what we did with the YoshiDrops Yoshicoins that brought maximum value to all of the projects that have supported our collective in this space, the UpList was specifically tailored to creating a list a people that have from the beginning, or wish to presently in supporting us and all that we and our underlying premise of gratitude do.  
Knowing all this now, and having found out what this UpList will firstly and foremost be utilized for, there may be some FOMO out there.  Maybe you think you made the whitelist but are not really sure.  And we get it, the anticipation of not knowing may very well be killing you.  We've all been buried under an obtuse triangle in wait for circumstances to swoop in and place us upon the peak of momentary euphoria, but in this case we did what we did for a very important reason, and believe it or not, we actually have a pretty solid plan and process in place.  
So basically then, as for what you can know right now, the best way for us going forward is to point towards the basics allowing you to decipher the invisible writing upon the wall.  Well, if you answer no to any of these questions then for this next drop, the UpLift Rail sale, then unfortunately no, you likely are not.  
Again, if the answer to any of these is a solid NO then unfortunately you may not have made the UpList this round.
And why you might ask, can we not just add you now?  I mean how hard could it really be, right?  Ya, we know.  It's not fair and now that you know that you can only get in on this upcoming sale with all these bonuses you figure making a fuss and begging someone for a spot will get you to where you need to be tomorrow and should have been 2 days before. Unfortunately though, the window for this drop is boarded up and closed, and allowing it to be opened up for one, a few, or many would just mess everything up for our grand plan and the expectations of all those who were vigilant about their timing.
You see, we constructed the UpList partially as an experiment to see what a world in which we offered immense value to all who were active and supportive in some way.  We spent countless hours scouring the back depths of our dm's, the public channels, and everywhere else we can be easily reached to make sure that we most fairly as possible gave everyone an equal opportunity and voice to be able to express why they belong on this most overarching UpList of meganess.  And then we set a cut off date and stuck to it.  And for good reason too.  
As mentioned in our last blog post The UpLuft Rail Sale Draws Near, we have specifically constructed this sale and how it is orientated around the number or pre-existing UpListed in order to make it possible for all who want to participate the chance.  
So yes, the UpList was designed to be a special place.  It was designed to add the strongest beats to the heart that is the community behind the Uplift World and all they through them we have been able to achieve.  It is a mechanism for us to delve out extreme value to those who have supported us the most and made the effort to reach out and tell us what it is they love about us and how they want to parallel their engagement with us and our closest affiliates.  It is a way to ensure that the buy bots are subdued in their hostile takeover of UpLuft Rail and the random bonus land that will populate the first ever whitelisted sale within Uplift lands.  
To those who made the first cut, Welcome with open arms to version one of the UpList.  Still not 100% sure?  Well not to worry as we will be making a cleaned up version public within the next few hours so you verify your suspicions. 
To those that did not, unfortunately the bell has tolled.  That said, it's something that for all intents and purposes we feel pretty good about.  Again, does this mean that we will use the UpList for everything UpLift?  Probably not.  But there will be future use for it, and being it's already become known as version one, likely an extended version two as well.  
The FOMO is real friends.  The UpLuft rail with bonus land sale approaches for which The UpList version is the way.  For those of you that did not make it, we applaud you for you patience as we get the UpLuft show on the road for those that did.  Yes, you may have missed out this time, but now you know the backdrop ideology and the reasons why – of which we are sure will enable you to make the best possible chance of keeping an eye out for when we do open it up again for version two.  When?  Honestly, that is more than a week away, and in crypto time far too much is going on for us to answer that now.  Continue to keep engaged and subscribed to out news outlets and channels. 
And for those who made this little thing we put together simply known as 'The UpList': Welcome aboard!  You're here for a reason and a good one at that.  Looking forward to hoping in live with love alongside you all to the up and coming initial UpListed UpLuft sector in this metaverse we call home, The Uplift World.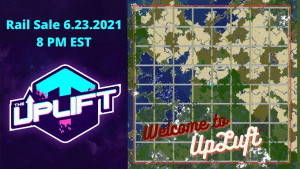 In case you missed it, don't forget to prepare yourselves for the upcoming UpLuft Rail Sale here.
Official Links & Places to Learn More 
The Uplift World
YoshiDrops