The Uplist is the growing community-based whitelist especially for the Uplift World!  Let's begin with the simplest play by play so those that need it fast can continue upon their way.
Who: Anyone previously registered for the UpList

Where: Follow the link from the Uplift World homepage

What: Uplift Rail Sale made up of a total of 1400 Non-transferable UpList tokens for 5000 WAX per token.

When: Begins 6.23.2021 at 8 pm EST

Why: Because we love what we do and want to bring more people, value, and ultimately fun into the mix. Oh, and continue below for another whole of reasons that will blow your pants off. 
So, ya, now that we got all the basics out of the way, here is the slightly more extended version.  
Anyone previously on the UpList will have the chance to get in on this most special of deals Wednesday 8pm EST whereby theUplift.World will begin the UpLuft Sector Rail Sale.  In total, this UpLuft sale will  have 1400 rail up for grabs, and not only that, but we have decided to roll this out in tandem with a special promotion matching every rail that is purchased with a free piece of land in UpLuft as well.  
That's right, for every piece of Rail that gets sold in the UpLuft Rail Sale, one piece of land will also be thrown into the mix.  As is our custom, we are in the habit of not undercutting any of our other sector going rates, so we have taken the average cost of the secondary market Rail in other sectors and come to price point of 5,000 WAX for a random Rail plot in UpLuft to which we will throw in a random Land plot to sweeten the pot just a tad more.  
The sale has been structured so that everyone on the UpList will have a chance to get at least one piece of UpLuft Rail. That is not to say that everyone on the list will want or get one, but we wanted to make it so that everyone no matter where in the world they resided would have a chance to get at least one.  With that in mind, here is the structure we have decided upon.  
As mentioned, the first pieces of the Rail sale will be available at 8pm EST on Wednesday, June 23rd, 2021. The sale itself will last for 48 hours.  Also, to ensure that everyone who might be eligible and want one has equal opportunity, there is a 1 claim limit per 6 hours.  In other words, for those whitelisted accounts that want to potentially pick up more than one, it will be possible to pick up a second, third, or more by repeating the process after the 6 hour cooldown window.  
As to how the transfer itself will work, upon receiving the WAX from the previously whitelisted accounts, the Uplift World contract will send ONE non-transferable UpList token that will be used later to get the rail and land development right NFT's to their rightful owners.  
And just well we have you here, as a reward to having stayed and read all the way to the end, the team has also decided to sweeten the pot even more throwing in 2 Yoshicoins which can be hodled for UpLiftium Drips, or even traded in for a clear YoshiDrops membership.  And if that were not enough, we've decided that if more than 1000 tokens are sold, we'll also be dropping ONE additional parcel of UpLuft land to ALL who have purchased these tokens. 
That's right, everyone who purchases an UpLuft Rail is guaranteed one piece of random UpLuft Land by default alongside 2 Yoshicoins, with the potential for one more parcel of UpLuft land should we surpass 1000 initial sales.  Have a look at the going prices for land in all our other Uplift World sectors, and it's easy to see that Uplift World founder Corey Cottrell really wasn't joking when he said it was his goal to give away 1 million dollars of virtual land before the end of the month.  
To all those who have helped us become all that we are today, we love and appreciate each and every one of you.  This community UpList whitelist event is kind of our way of saying thank you by bringing about as much value as all that made the UpList so clearly deserve.  
The UpLuft is here! Hop on into our UpLuft Rail sale and see what cool biomes you end up with on what will be the newest in the mix of the Uplift World survival servers.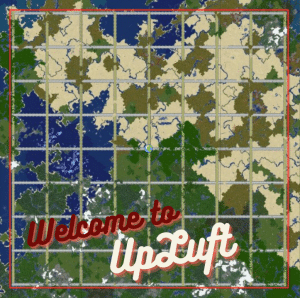 Official Links & Places to Learn More 
The Uplift World
YoshiDrops