In more than a minor sense, all of us are to some extent products of our environments. However, the yin to the yang of that is our environments too are also in constant flux being constantly shaped by our presence within them.  A harmony in life and balance of influence is often the case when it comes to how we interact with our environments and those in co-exist there with us.  One very fascinating and quite unique anomaly the world over is the present embedding of traditional cultural aspects of historical Japan into the present state of tranquil being.  In some strange almost uncanny metamorphosis into the present era, Japan has become a melting pot through its various cultural and religious traditions where many aspects are respected and observed but none are followed so strictly that others are frowned upon or persecuted.  It's a synthesis of incorporations and understanding maybe special and unique the world over.
All that aside, what pray tell does this have to do with The Uplift World Metaverse and all that we are doing here.  Well, besides being a place where all people of all places should be able to gather irrespective of differences of cultural, political, religious, or other major differences with the common goal of graciousness towards others and understanding, there are a few overlapping aspects about our little shared metaverse that jive quite nicely with what can only be described as Japanesque.
Now just for clarity sake, that does not mean that there are not many other regions, aspects, and cultures represented as part our collective metaverse, because definitely there are.  It's just that the resemblance of The Uplift World to Japan especially at this time of year is almost too perfect in its coincidental perception not to mention.  So keeping that in mind, what is it about shōgatsu, or New Year in Japan, that brings about the nuances being hinted at within this piece.
正月
"In Japan, New Year (正月, shōgatsu) is the most important holiday, but the celebrations are generally quite different from the typical Western celebrations."(1)  Although there are many customary traditions that accompany Japanese New Year, those of hatsuhinode and hatsumode are what concern us most here today.
初日の出
"Hatsuhinode means the first sunrise of the year in Japan. It is a happy event for Japanese because Toshigami who is a god of the New Year come with it."  Traditionally people often prayed for a huge harvest and perfect health, although today their wishes have expanded to include many other aspects (2).  "Hatsuhinode specifically represents hope and renewal, and is meant to be a rejuvenating and serene practice."  It is not uncommon for many in the country to stay awake all night or leave their homes early to find a place offering a spectacular view for the first sunrise of the year" (3).
It should be obvious that this practice generally brings with it an aura of intentional thought, whether it be that of reflection of things past or thoughtfulness of things to come.  In this way it really is quite profound the similarities to both the sunrise and gratitude traditions in The Uplift World.  Although most by this point are likely aware, one of the foundational aspects of The Uplift World, existing in fact long before the Uplift was even the Uplift, is the practice of gratitude.  From the very first time the server was entered into by founder Corey Cottrell and his cohorts, gratitudes became present with a simple denotation by one of the crew on a sign stating simply 'I'm grateful for this place'.
And from that point the tradition just grew, both within the individuals themselves and together as a collective crew began gathering weekly to solidify what exactly in life they were all grateful for.  From the original weekly ceremonies ascending from the caves to place gratitudes on the walls, then moving into the Cathedral specifically built for the purpose, and now carried on over in Chik'in Ka'ah weekly at the Ka'ahthedral, the provisions of gratitudes followed by a moment of silence to watch the sunrise have become a staple of the power of intentional thought, practice, and power within the reflective capacities of us all to slow down and help not only appreciate the smaller things in life, but also shape the one we both need and desire.
For any who have yet to check it out, Gratitude Services in The Uplift happen weekly Sunday morning at 11 am EST, simply meet at Spawn in Chik'in Ka'ah for the run to the Ka'ahthedral where gratitudes are taken from the in metaverse or video comments and memorialized into our collective metaversal timeline pre the traditional observance of of the rising sun and post thought commentary.
And for those that the actual sunrise may also appeal to, Uplift founder Corey has been known to play around with this aspect as well in his introspective Sunrise with Corey morning steams.  In the end, for any who may wish to include the essence of hopeful, rejuvenative thinking, serenity, clarity, introspection, gratitude, or intentional thought or any other positive aspect of things past, present, or future, what both the practices of the Japanese during hatsuhinode and the collective of UpLifters that has embraced the tradition of sunrise observance whether through immersing themselves in the weekly ceremonies, pausing in metaverse for solo practice, or joining Corey and others both in real time or when their personal time is ripe, it's a powerful practice that has clear and obvious benefits for all who have chosen to partake.
初詣
For those seeking some luck or positive energy for the upcoming year, hatsumode, the first shrine visit of the new year, is a popular tradition observed within the first few days of January in Japan" (4).  Culturally speaking, regardless of religious one of the most important aspects of New Year's in Japan involves flocking to shrines (jinja) or temples (tera) in Japan to appreciate the heath and happiness of last year and pray for good luck in various aspects for the next.  Overall the whole experience involves somewhat of "a festive atmosphere with food stands and many people lining up for a prayer at the main hall, purchasing lucky charms for a fortunate new year and disposing of their lucky charms of the past year" (5).
Although there are many similarities to other Asian customs and traditions, Japan actually only began the celebratory New Year festivities January 1st in 1873 alongside their adoption of the Gregorian calendar from the West.  Previous to this they followed the Chinese Lunar New Year cycle that the majority of East and South East Asian regions still hold true to today (6). Although purely coincidental, it is interesting to note that the 'Land of the Rising Sun' now follows the sun based calendar and observes traditions based as such for many important cultural events, including those of the New Year.
The Uplift World Temple Circuit
Shikoku may not be the first destination that comes to mind when visiting Japan, but Japan's fourth largest island has many unique experiences to offer. One of these is the Shikoku Henro, or the pilgrimage to 88 temples dotted around the island… Unlike many pilgrimages where there is one final destination, the Shikoku Henro is a journey to 88 temples… There are no strict rules on which temples to visit or how many in total. People make this pilgrimage for many reasons: some religious or spiritual, others just to spend time in nature or for fun. The 88 temples belong to various sects and welcome visitors of different beliefs, religions, and nationalities… The Shikoku Henro experience is a combination of the pilgrimage itself and the welcoming culture that has developed in Shikoku over the ages. (Henro: A Spiritual Journey Through Shikoku)
It is actually quite incredible to note just how many temples are visible while skimming through the 3D maps of The Uplift World metaverse sectors.  Although there are plenty of build and creation themes that could be called upon, the ideas and notions in this article seemed the opportune time for us to point towards all the great many Japanesque temples and shrines that we could find in our metaverse.  Considering that The Uplift World offers the ability to explore and be rewarded in the process, why not take this special time of year to do a mishmash 'Uplift World' temple circuit and pay homage to all these amazing architects and builders.  And maybe for those up to or in need of it, take a moment out from all the hustle and bustle of daily and metaversal life and catch a sunrise filled with some introspective thought or gratitudes from the vicinity of one or more of these truly enlightening builds.
The Gratitude Pagoda Retreat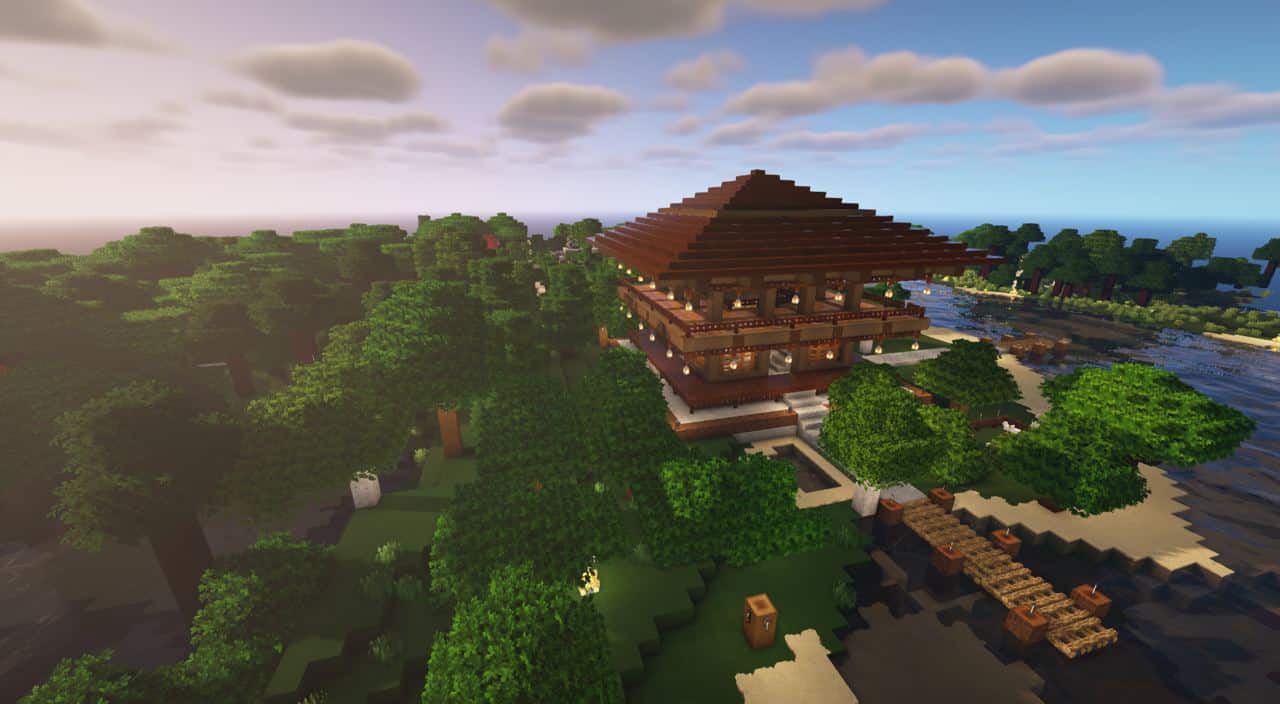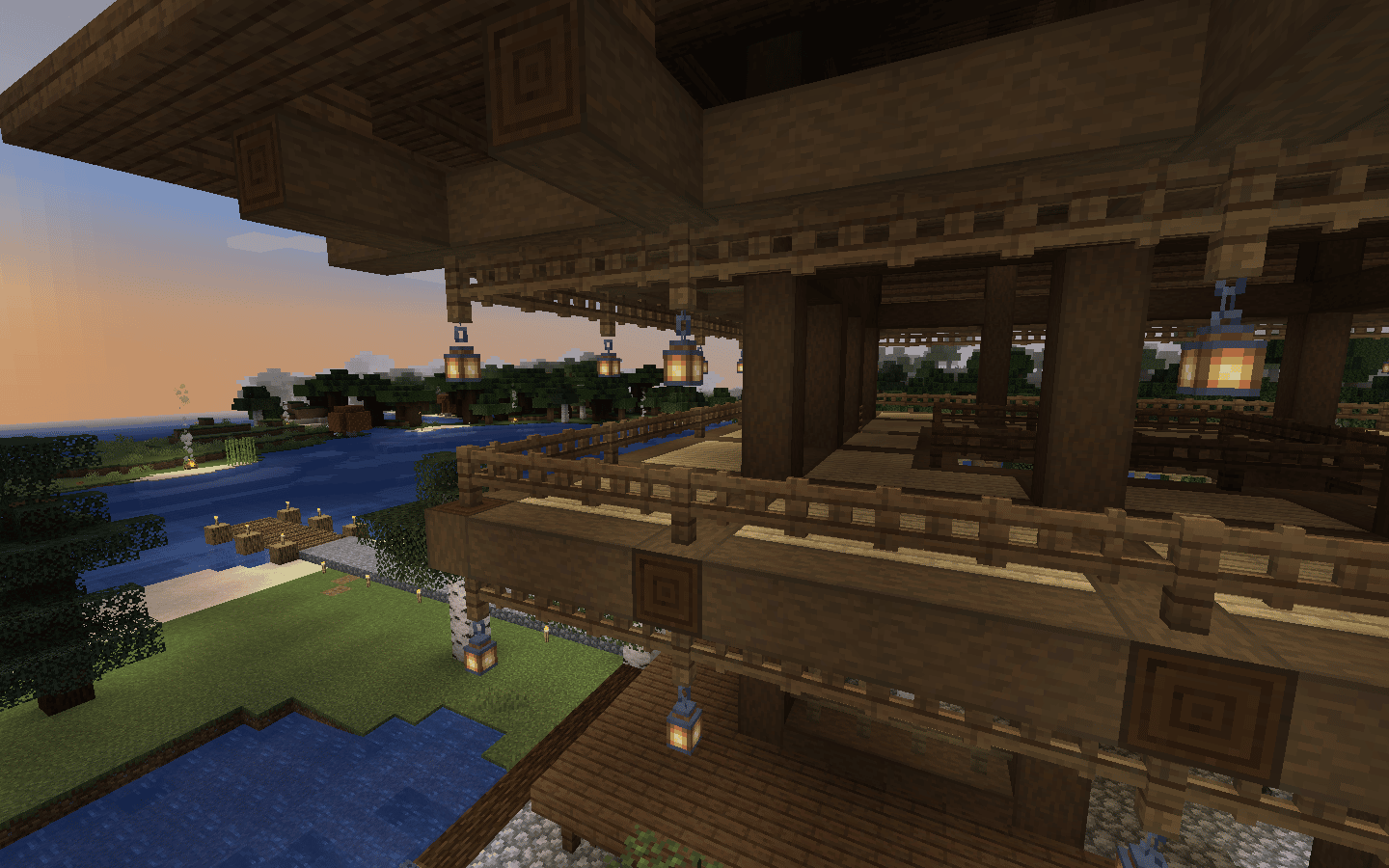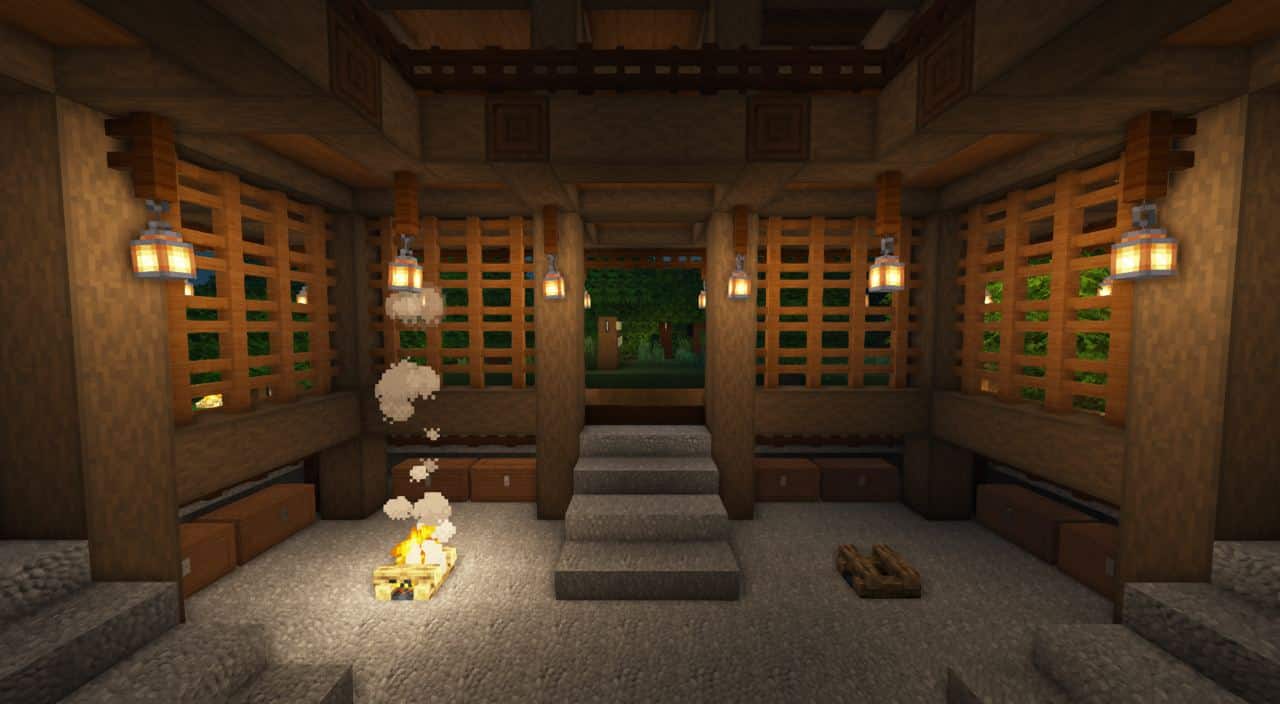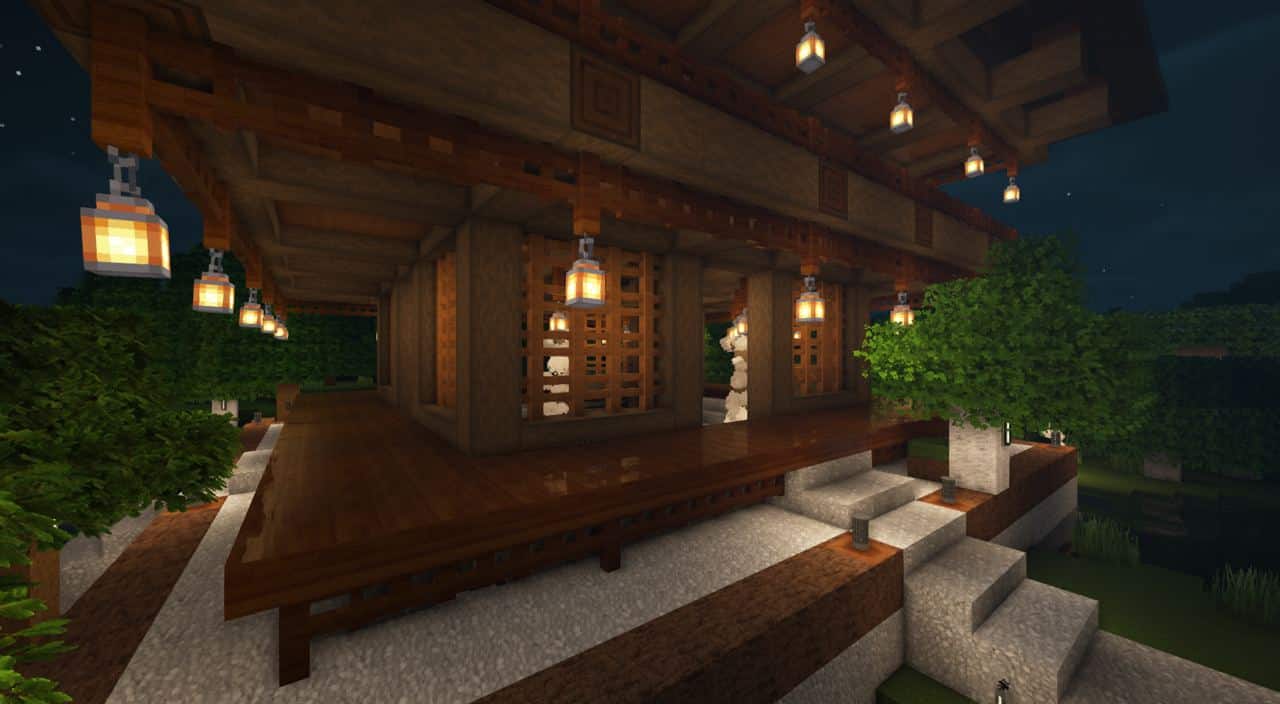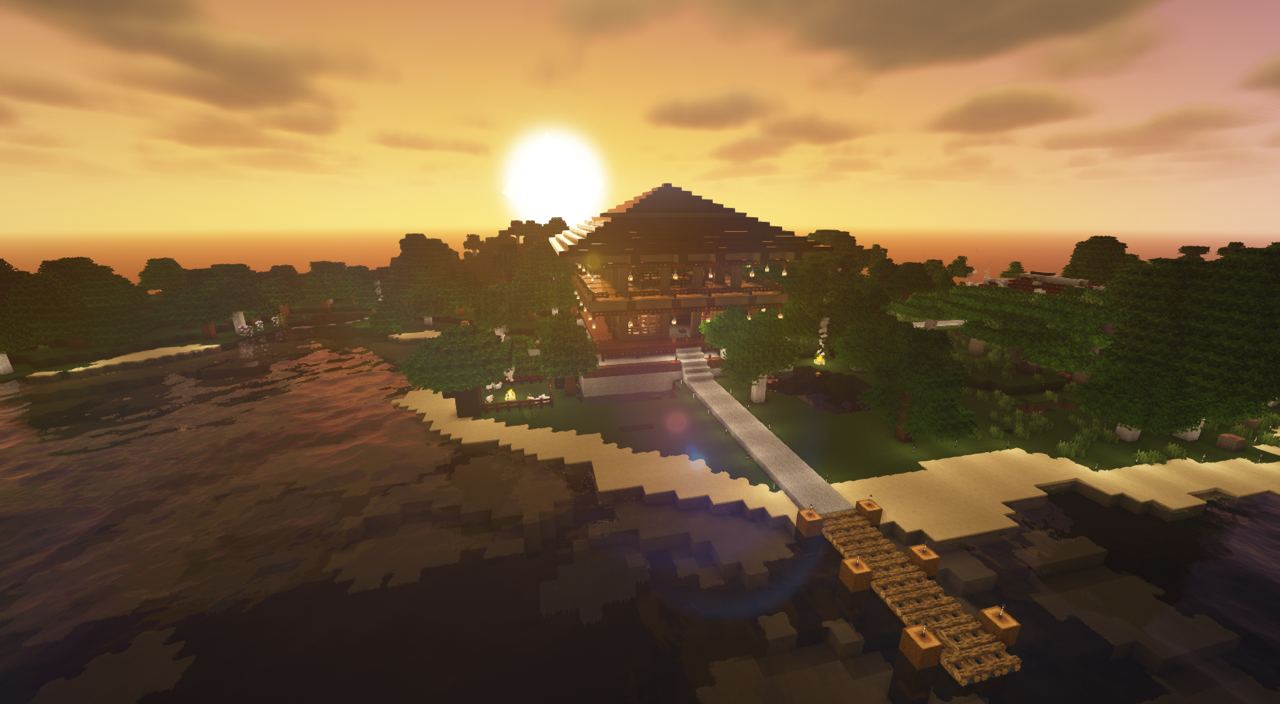 HoofedPlanet420's Modernized Temple Complex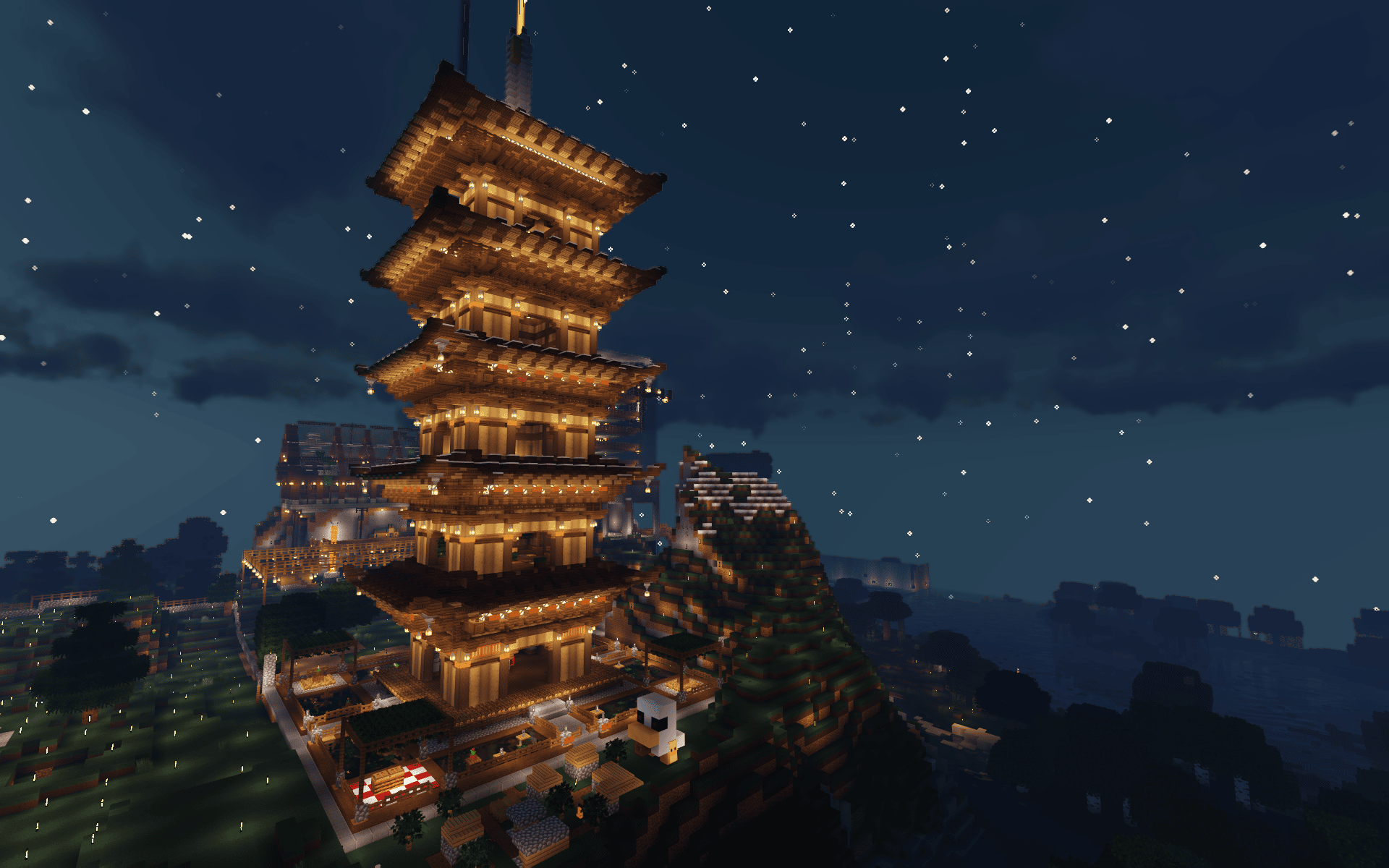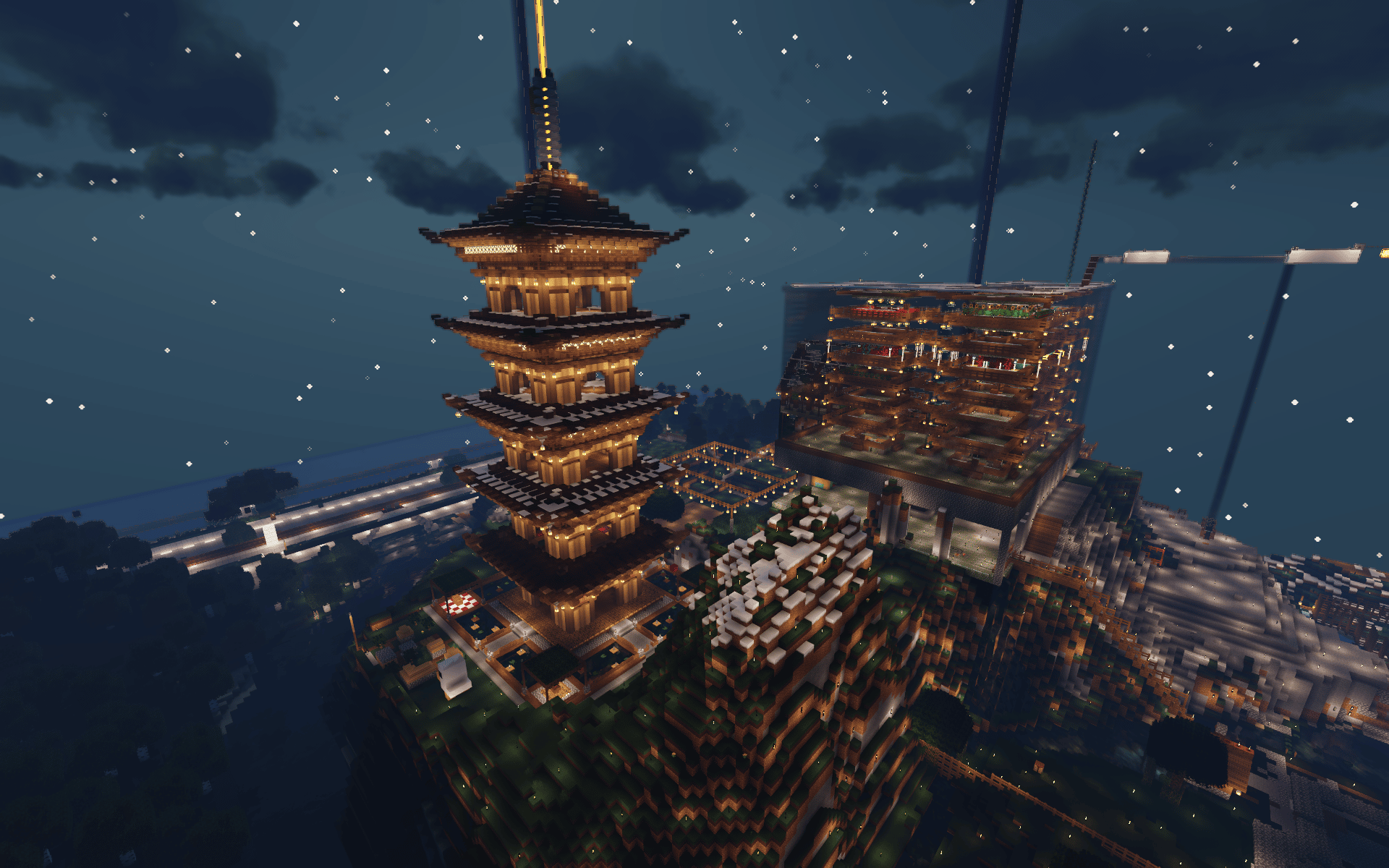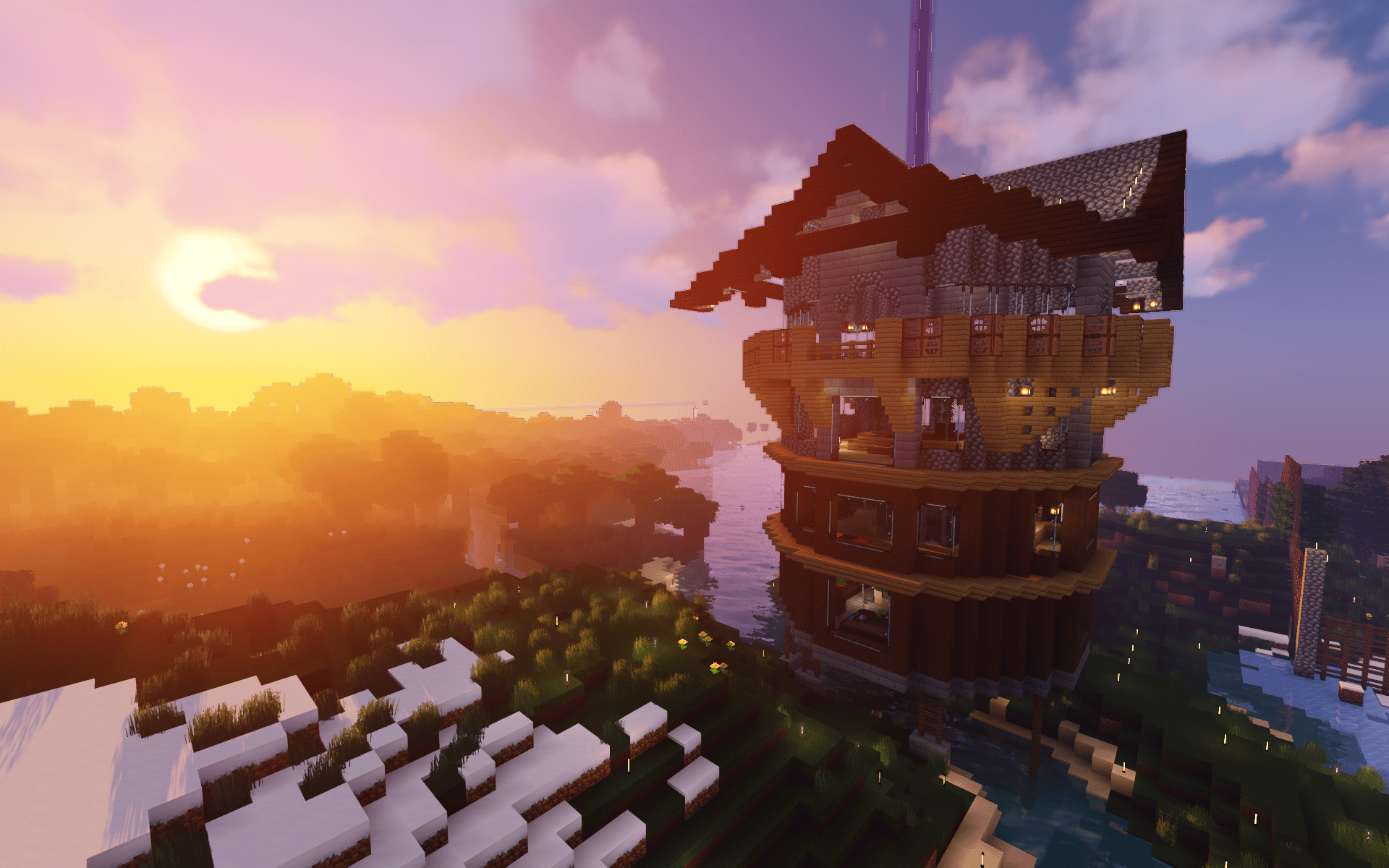 TheMTBER's Shrine of Tranquility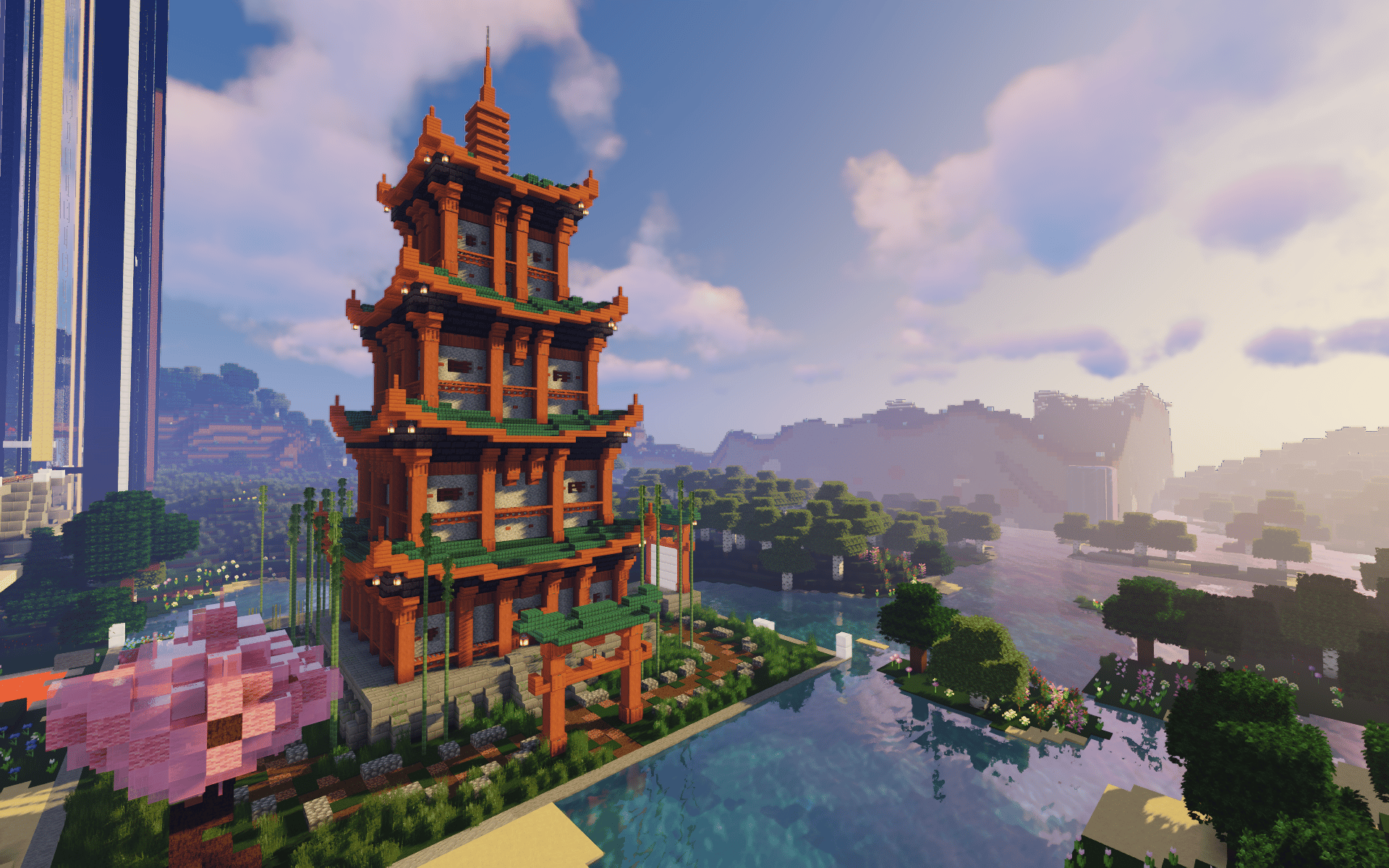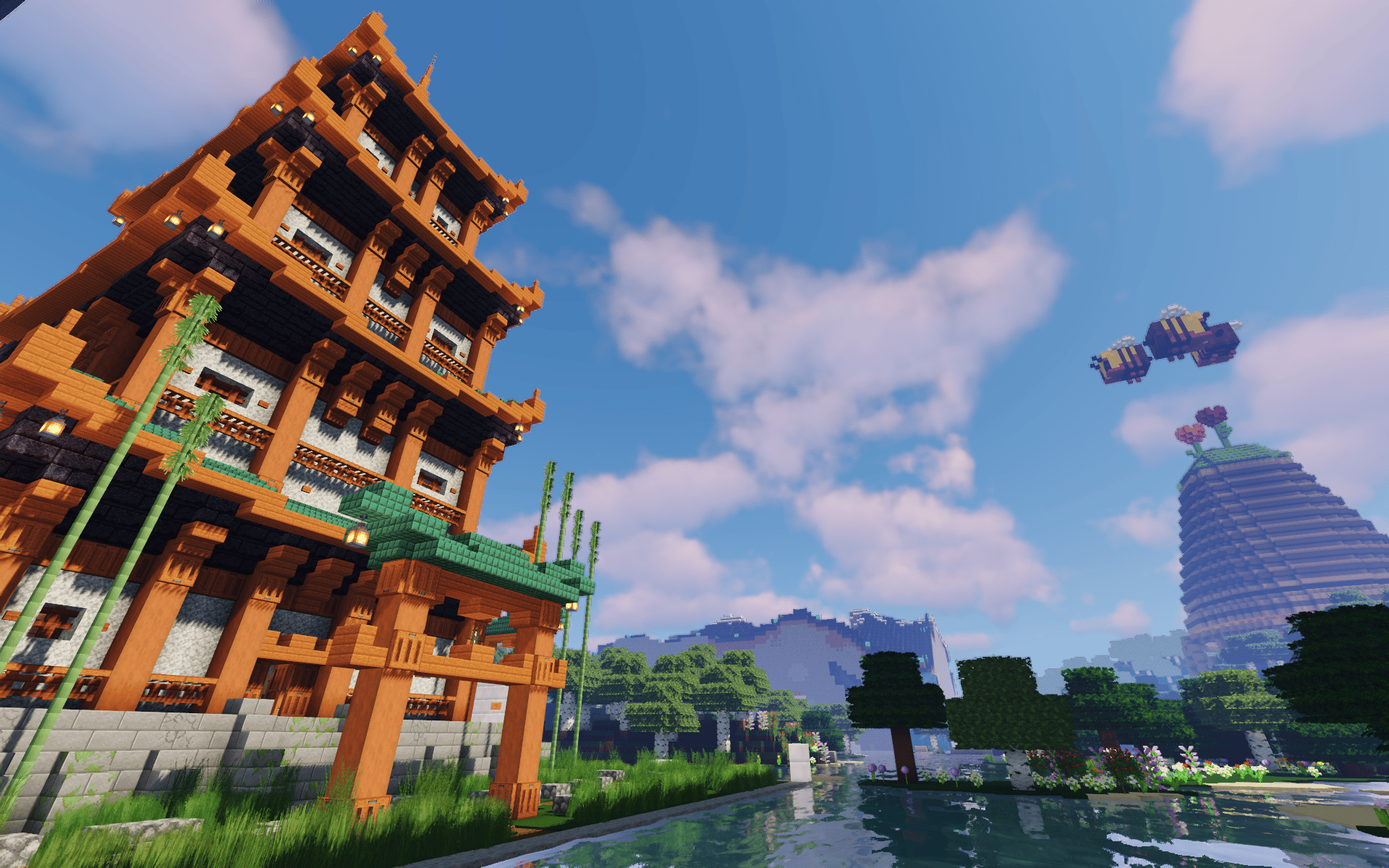 Wilkstead's Sky Terrace Temple and Shrine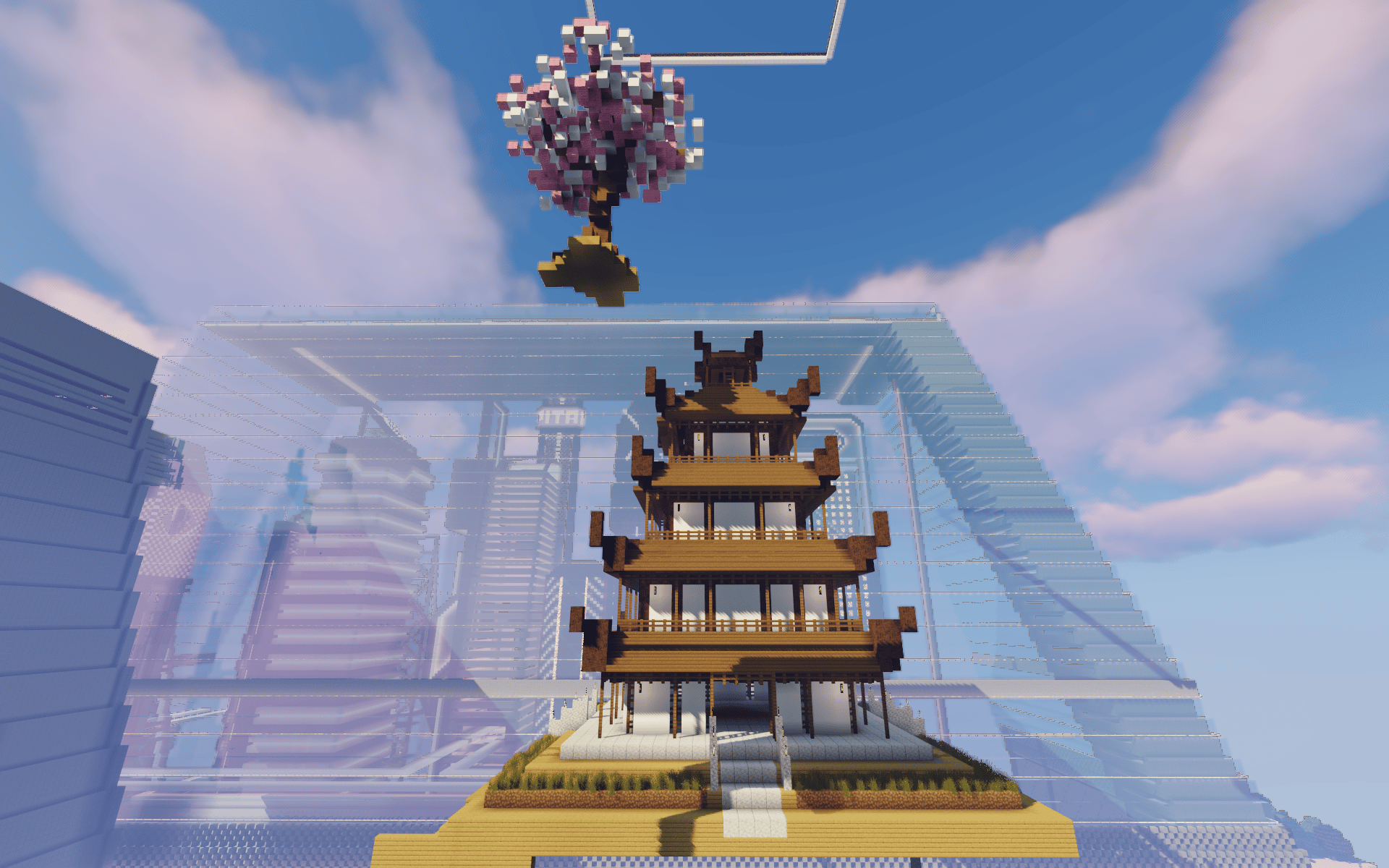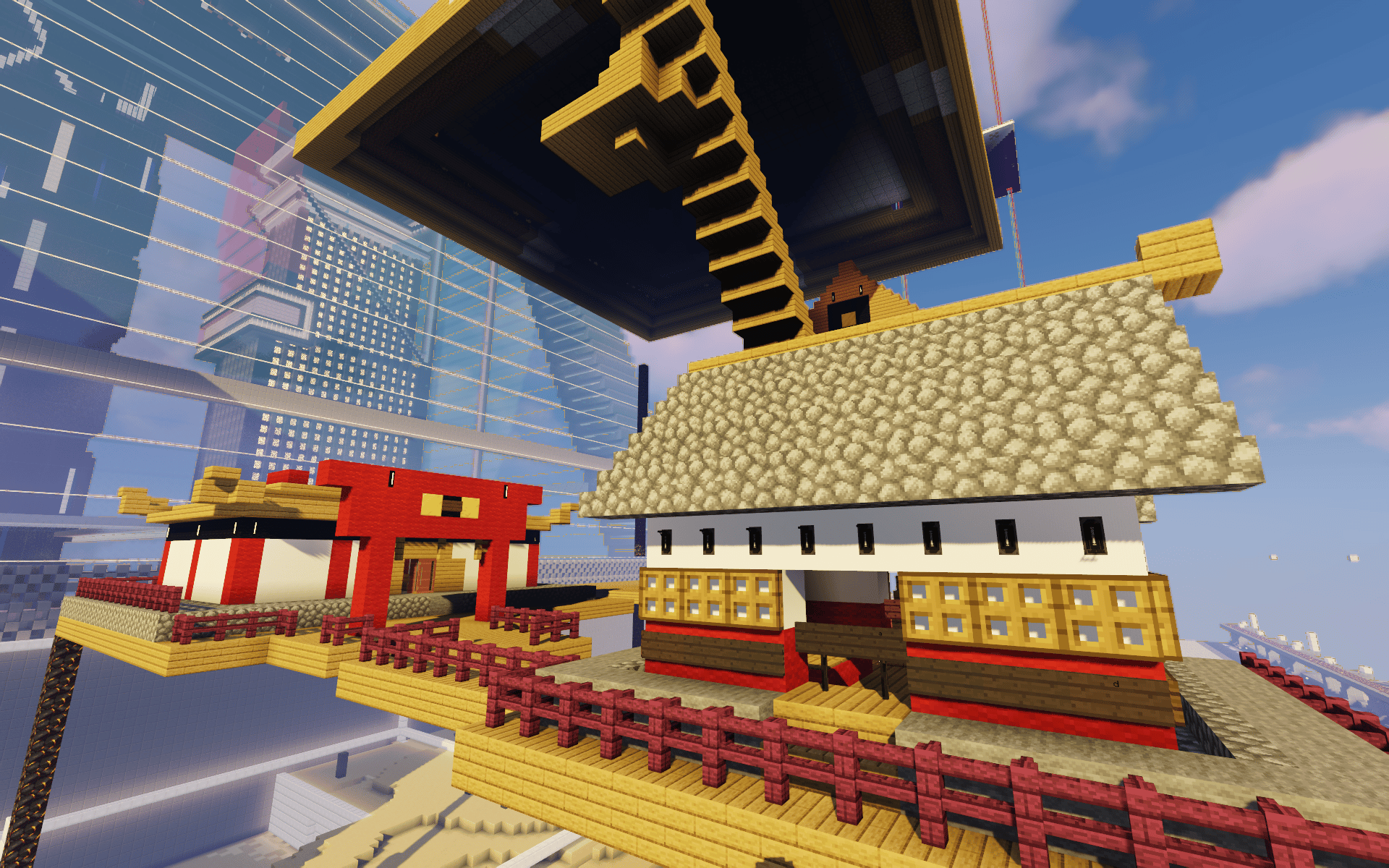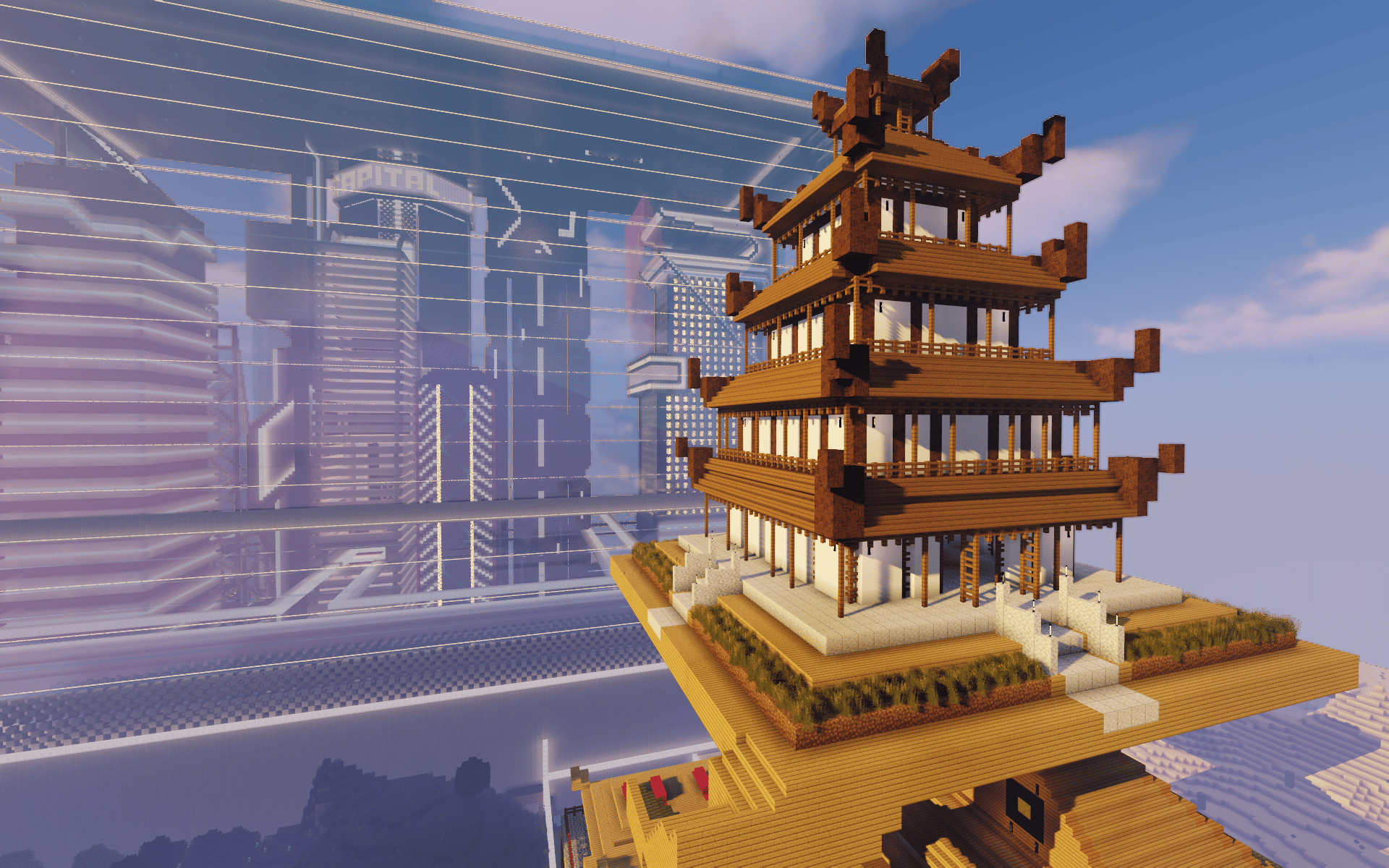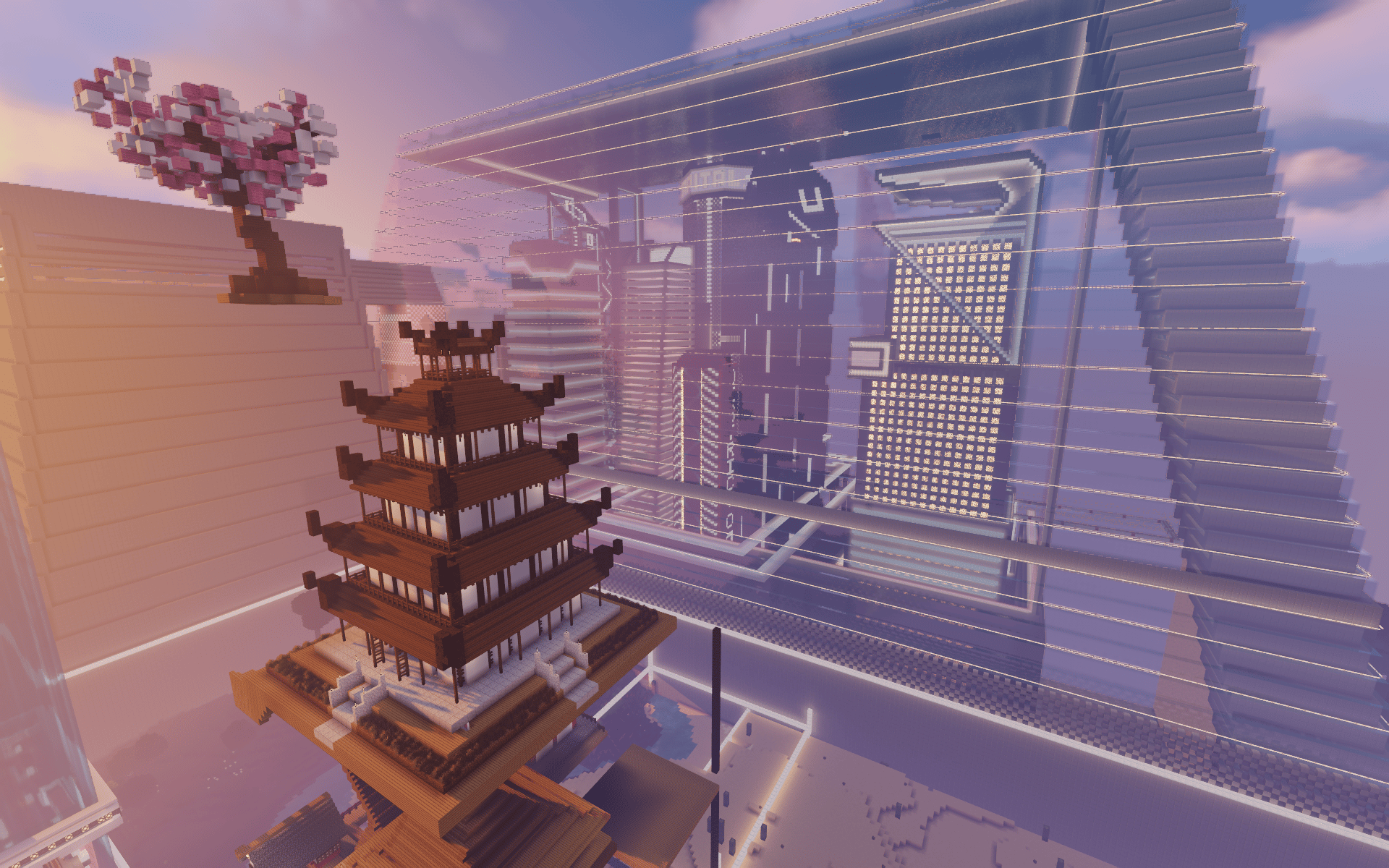 Realty4545's Pagoda Oasis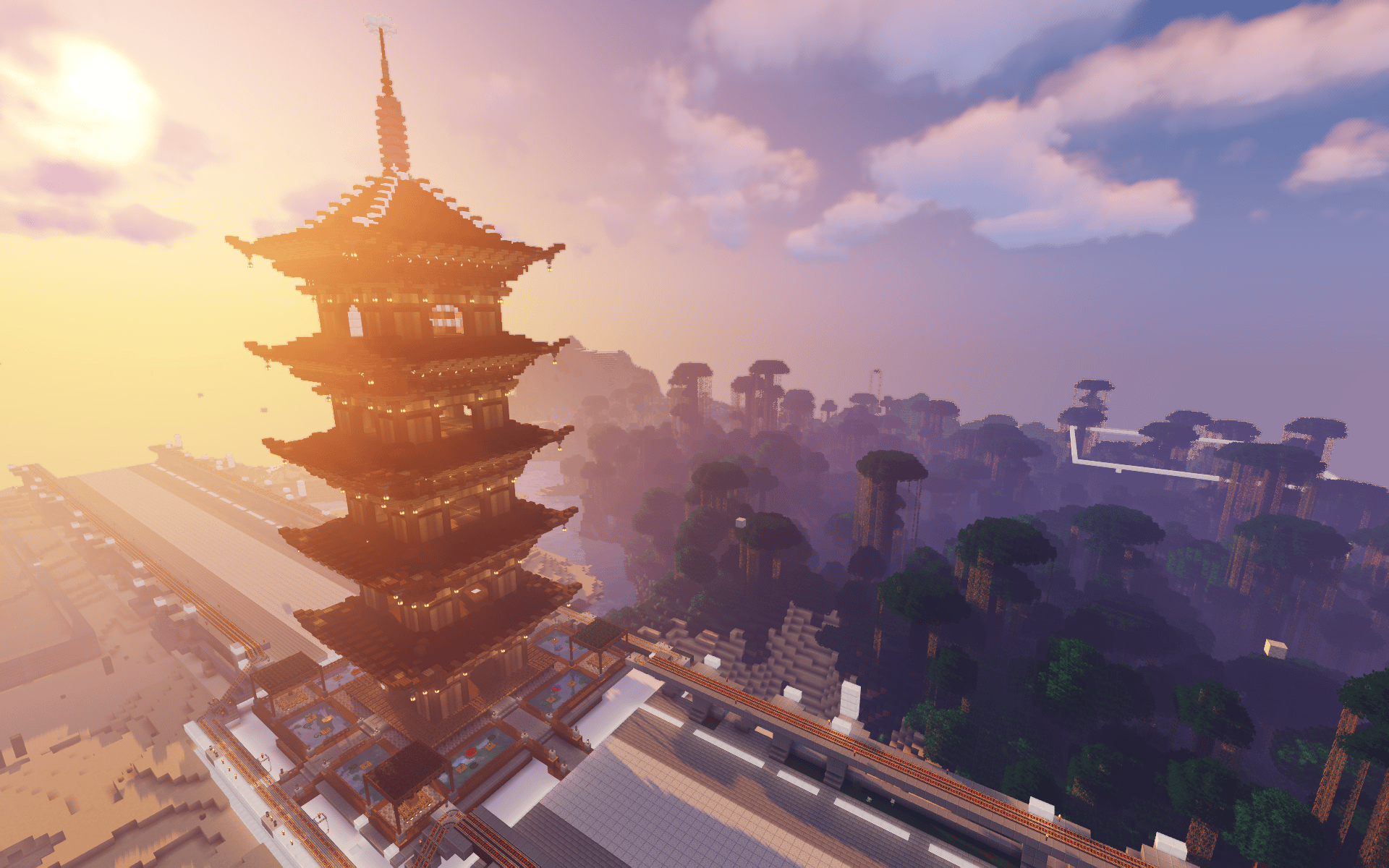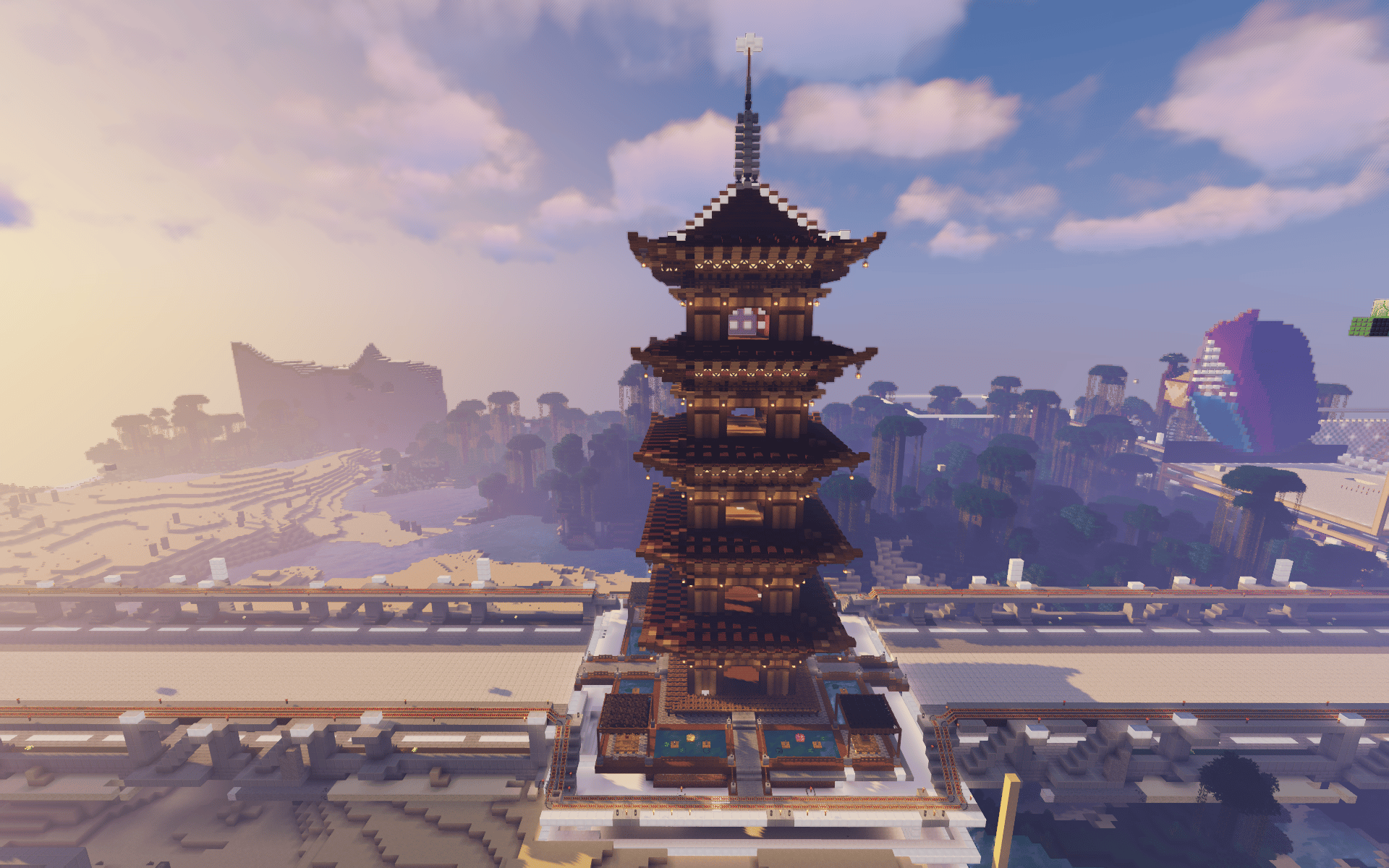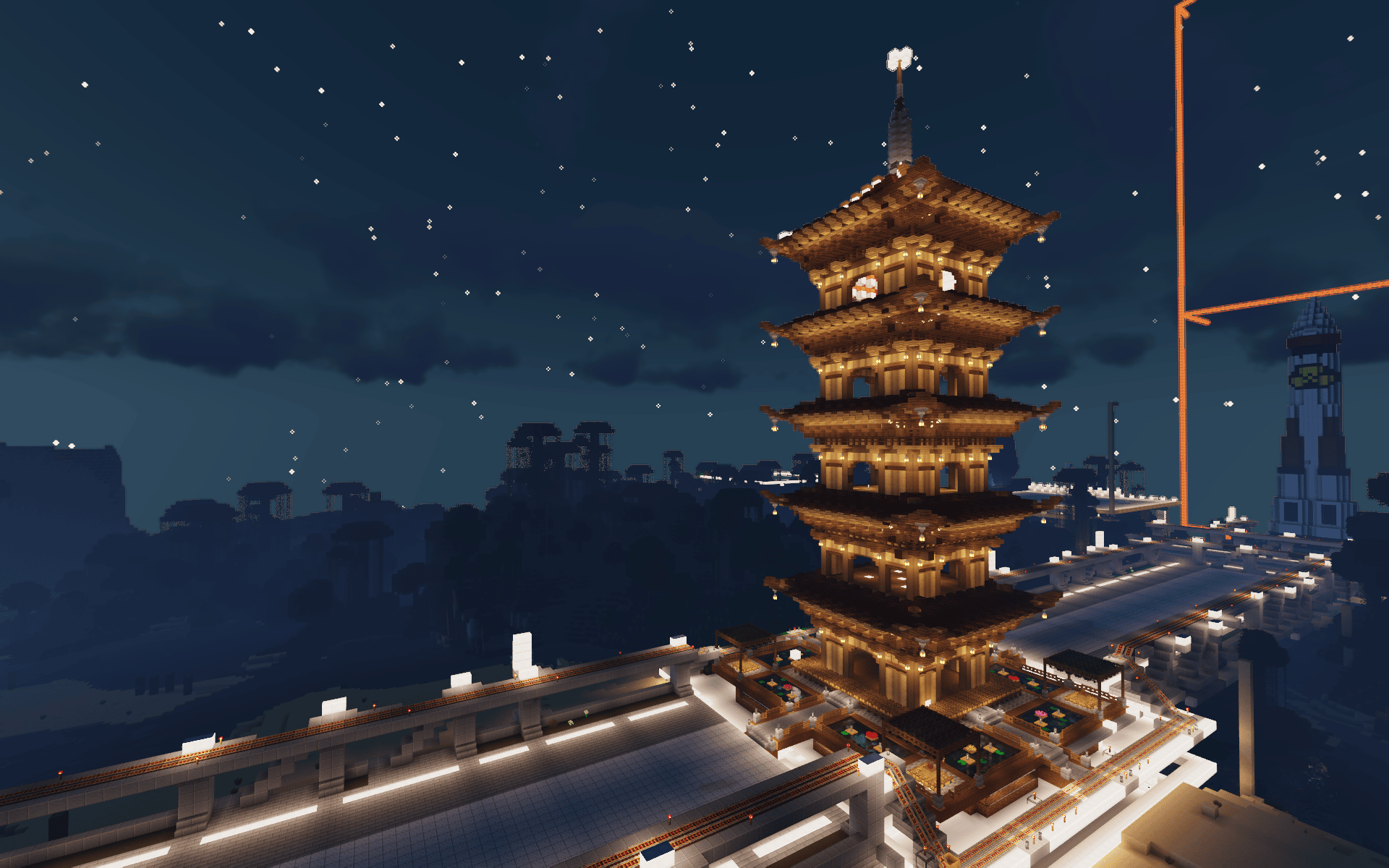 Dionix's Mountain Temple Complex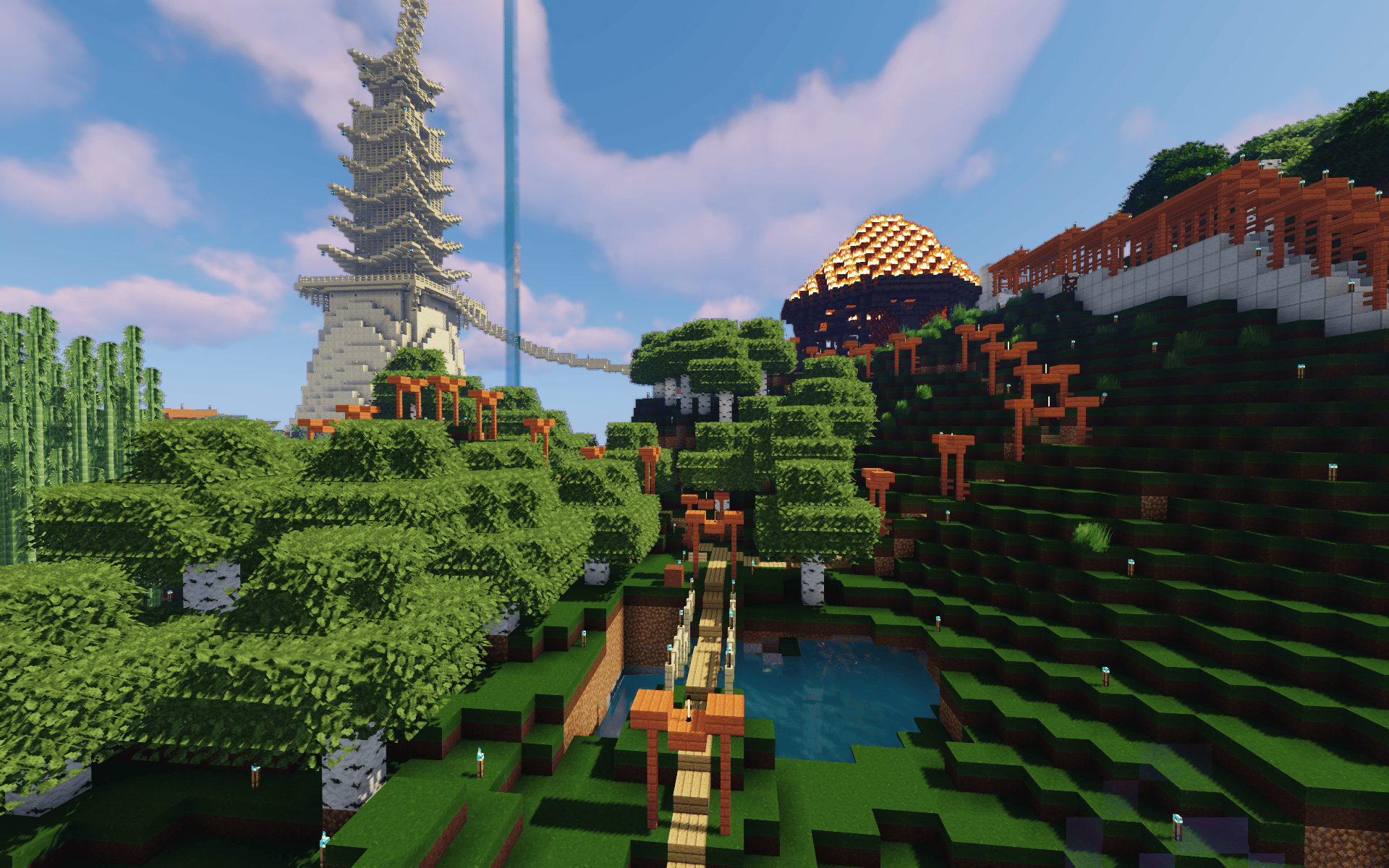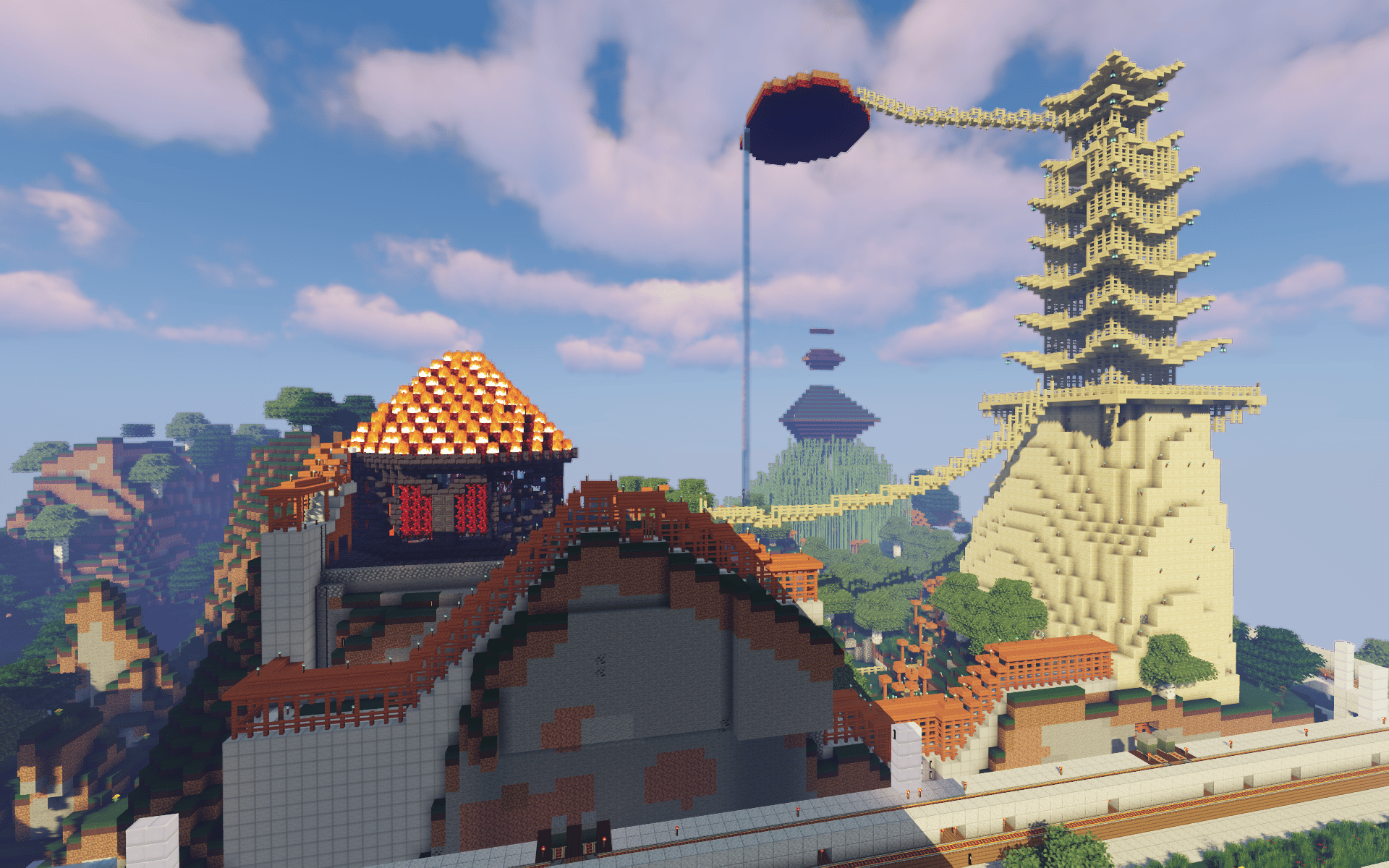 Cryptoaloha's Pagoda Crossroads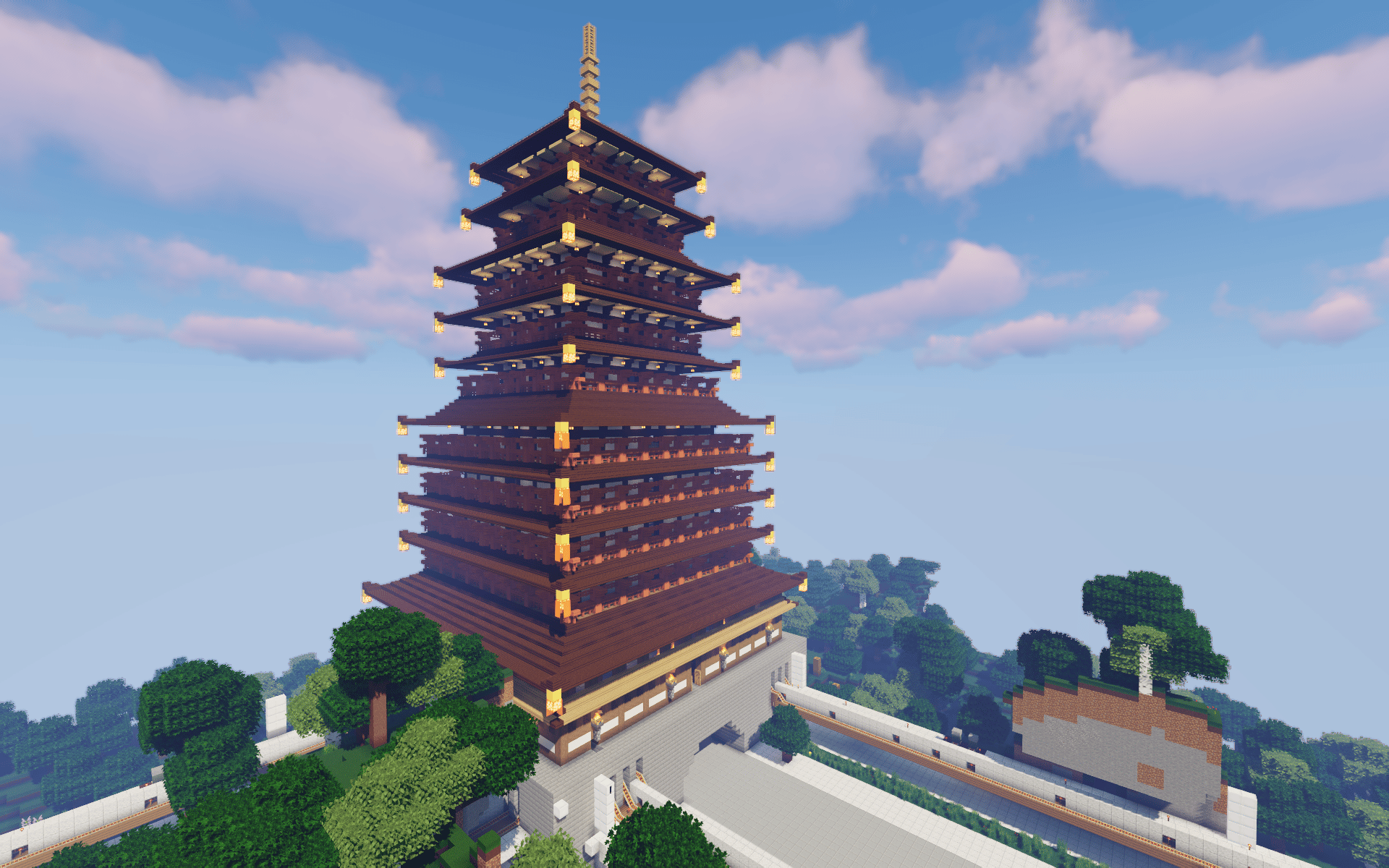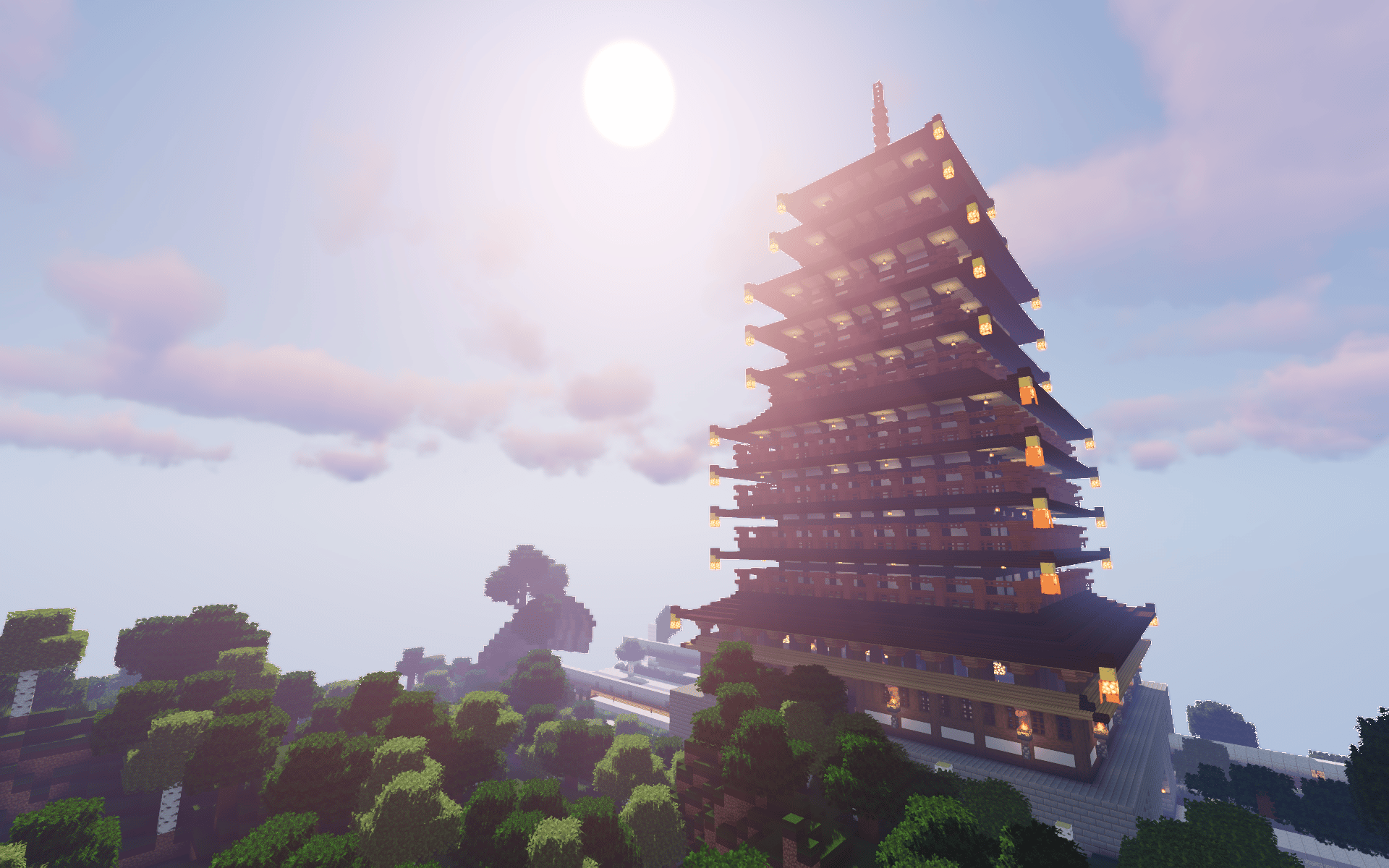 EvolutionZane's Harbor Village Temple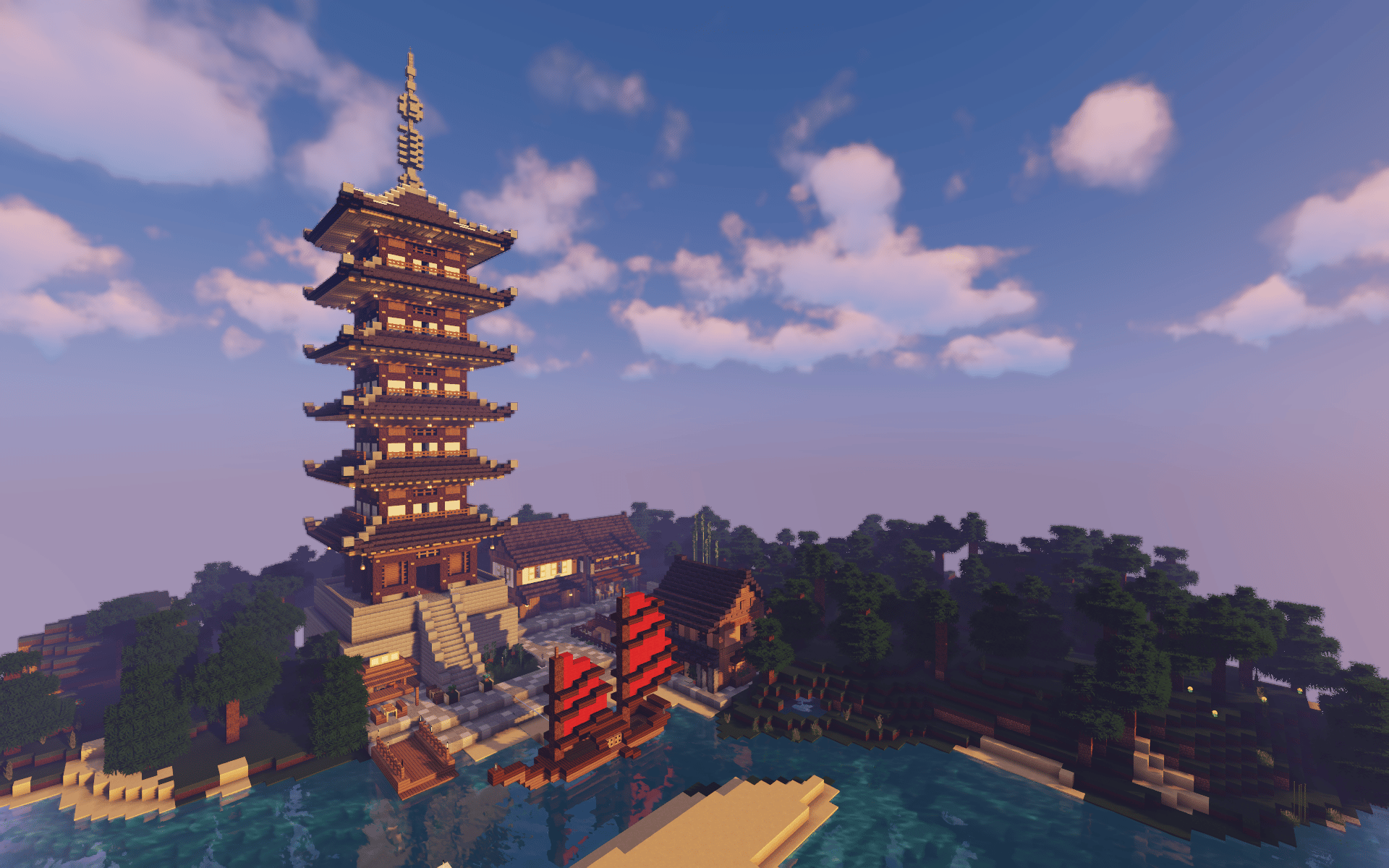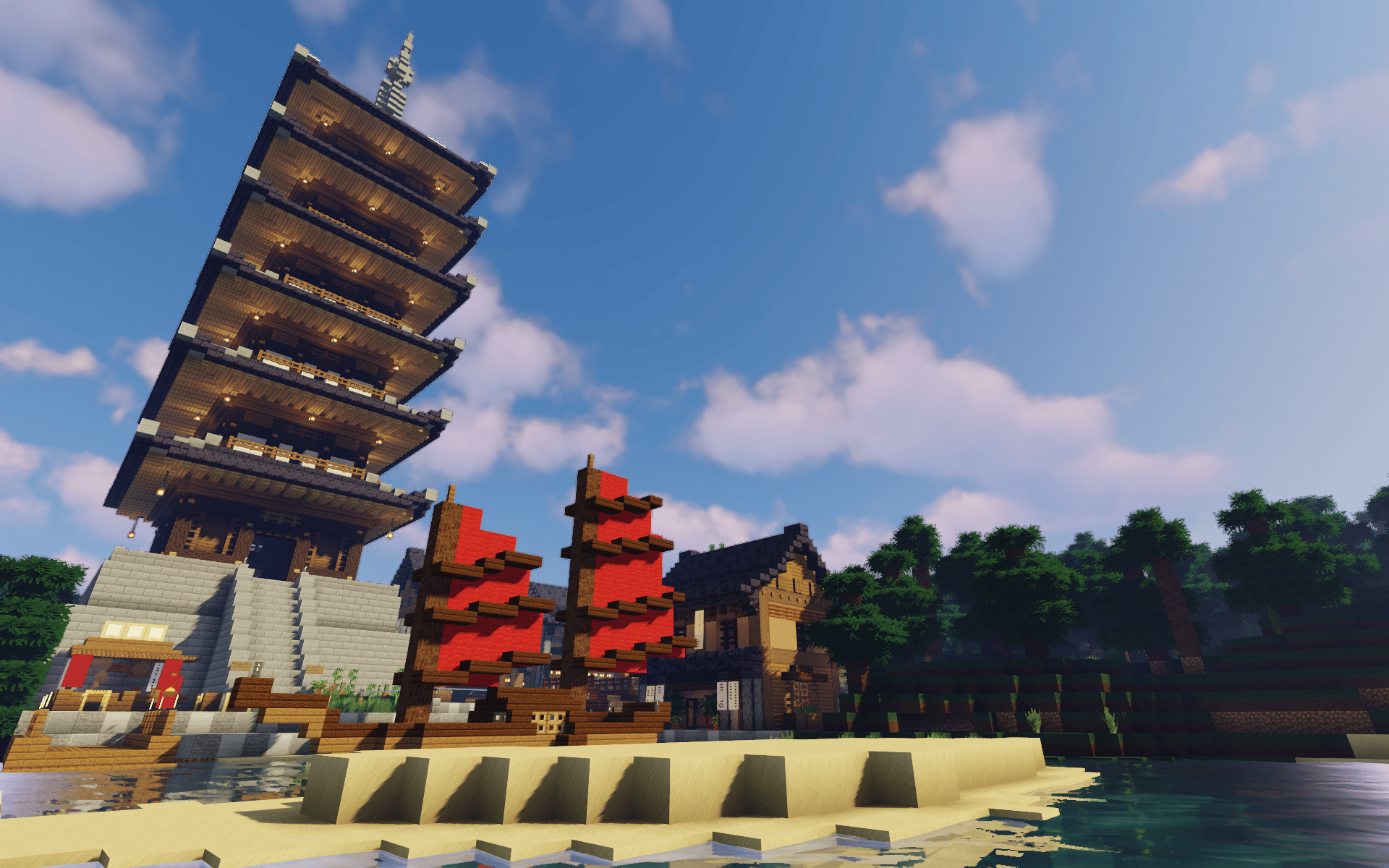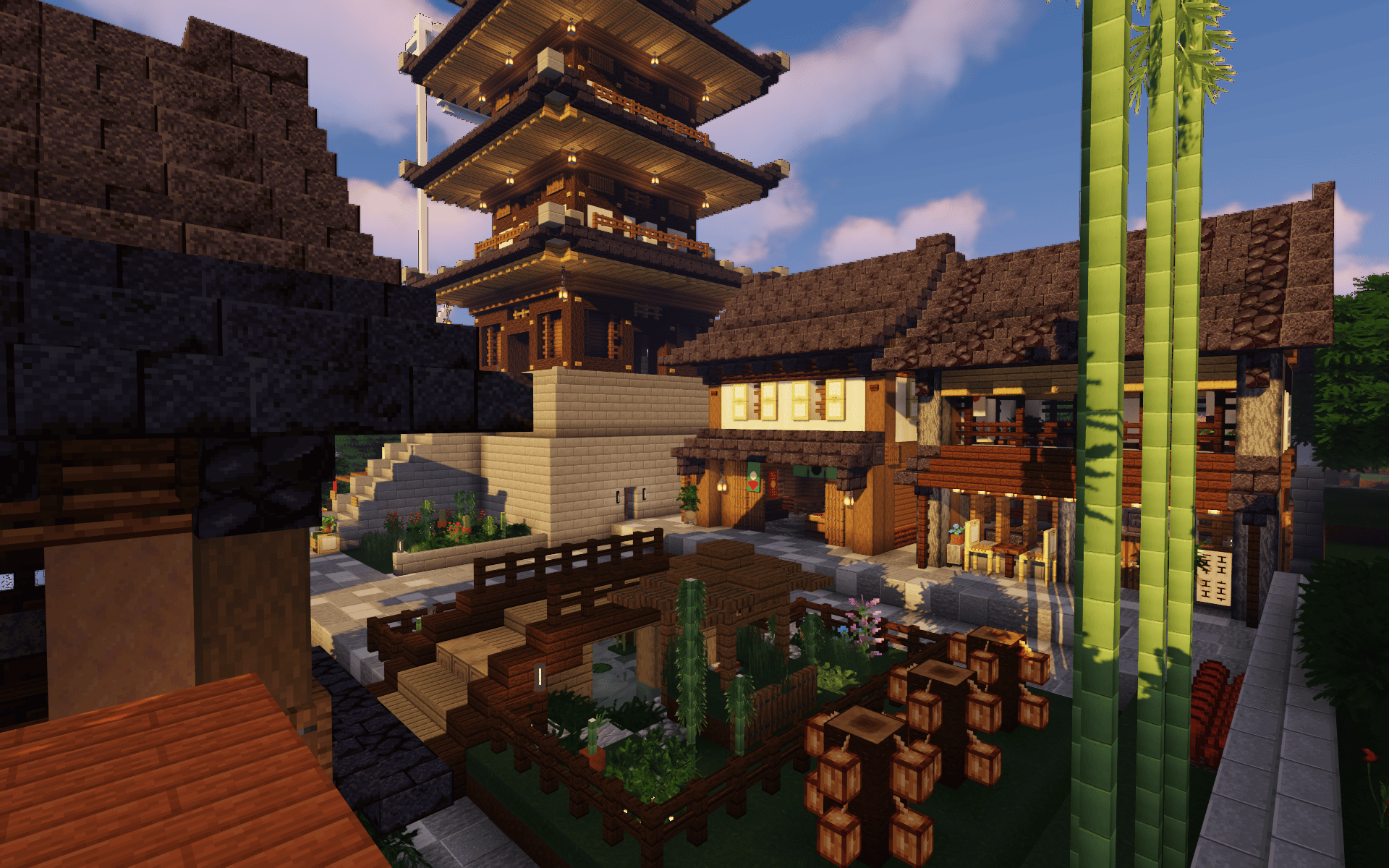 Chiapet's Giant Sakura Guardian Temple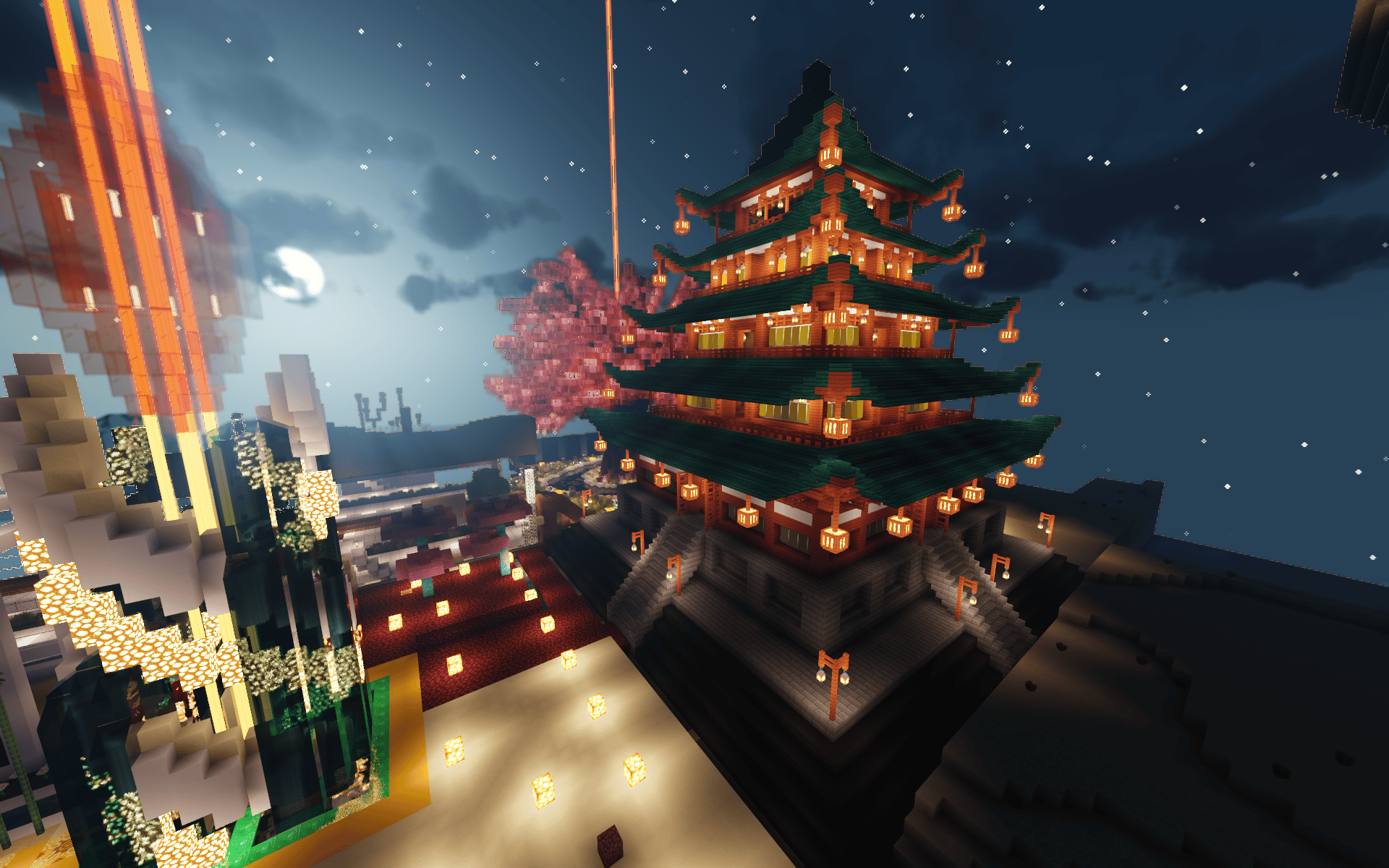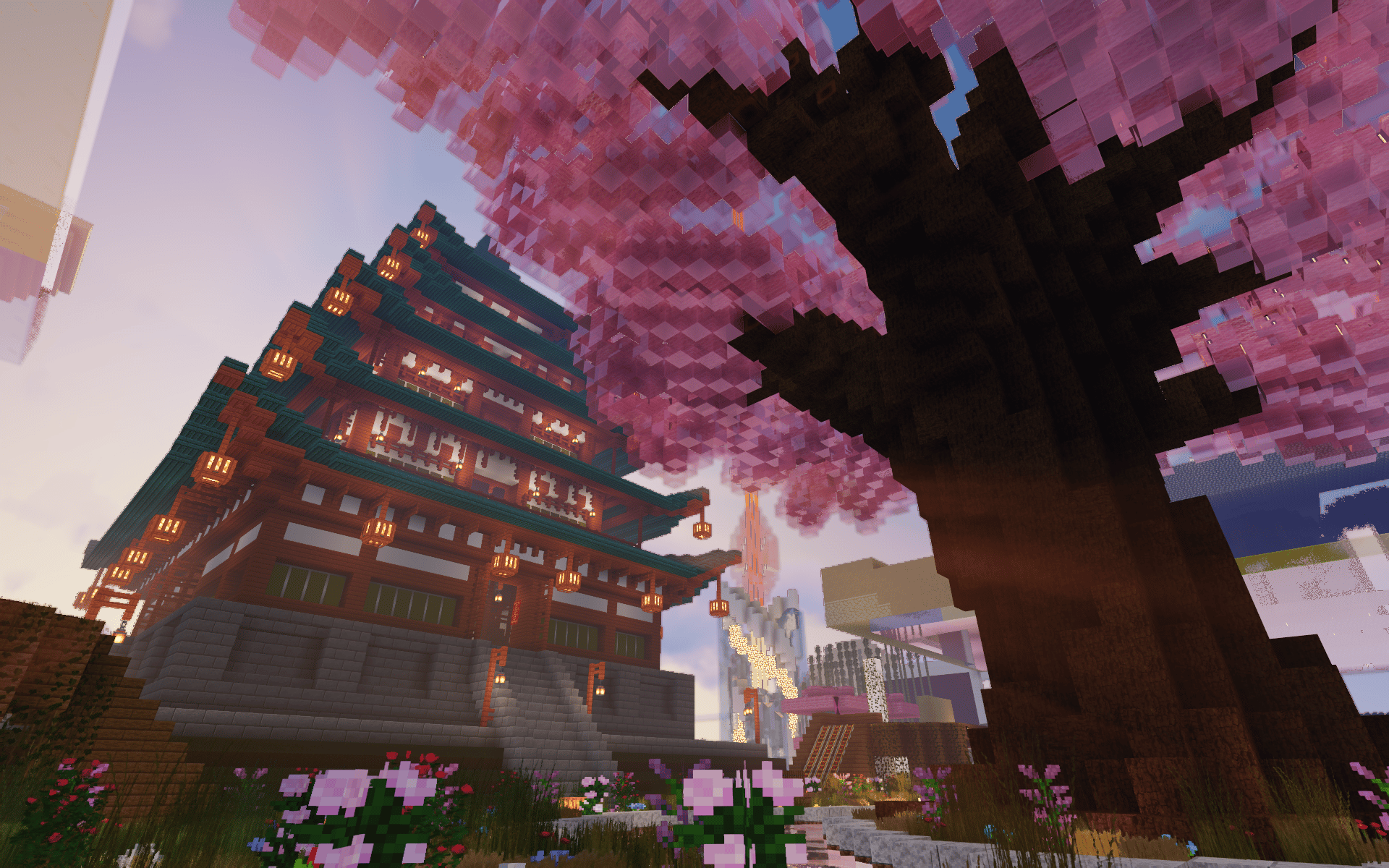 Curuxita's Purple Pagoda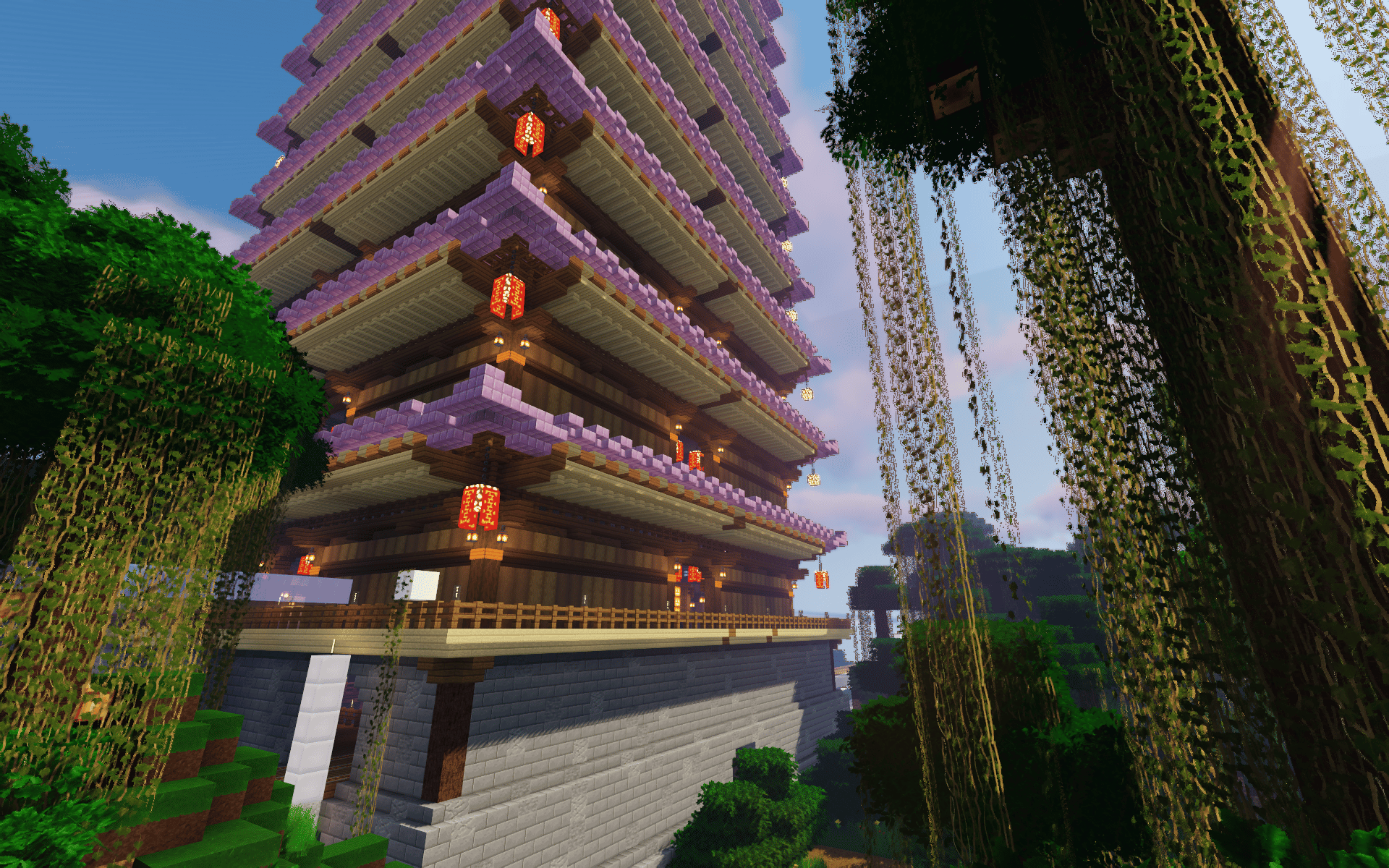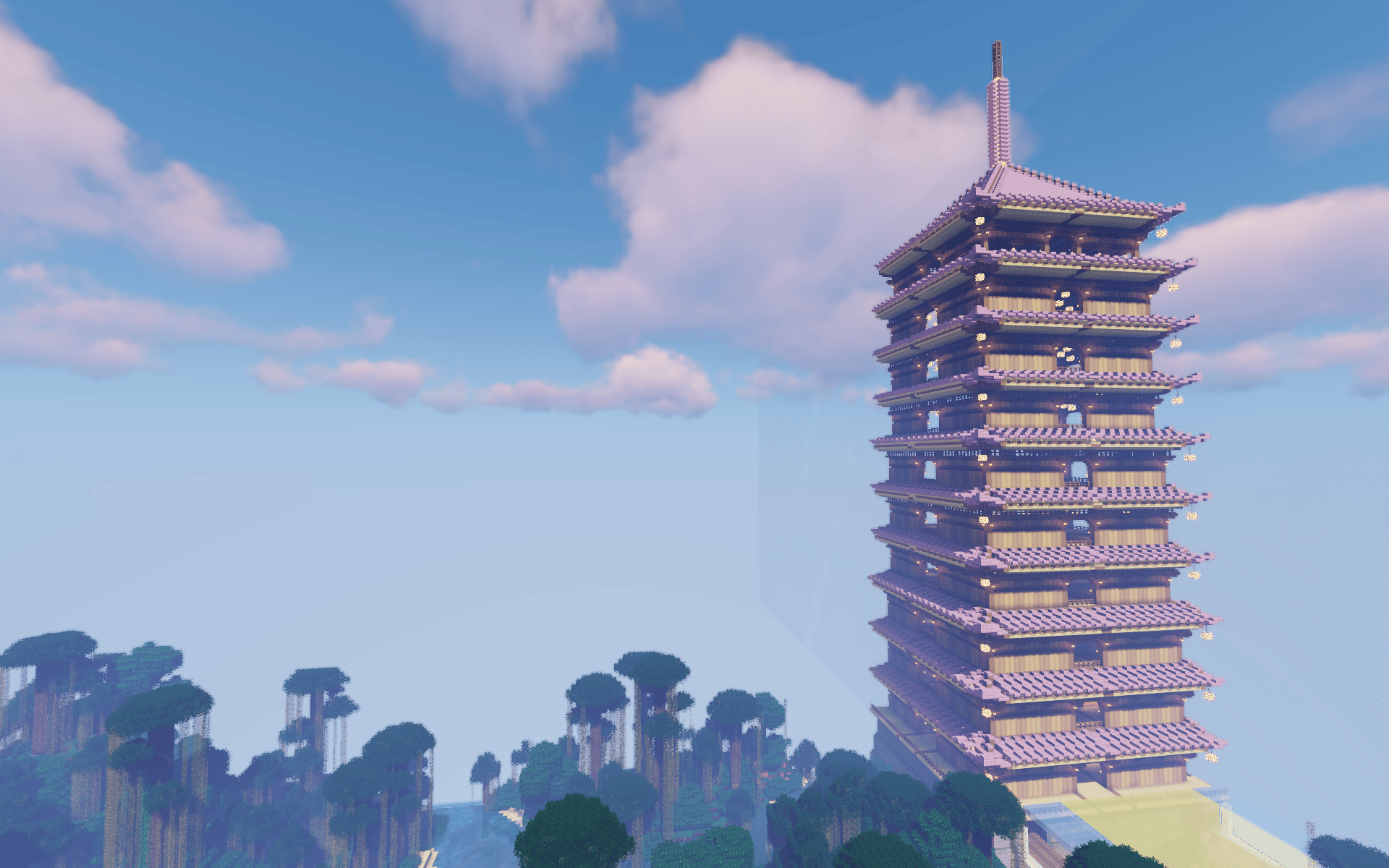 Hatcubinho's Pagoda Escape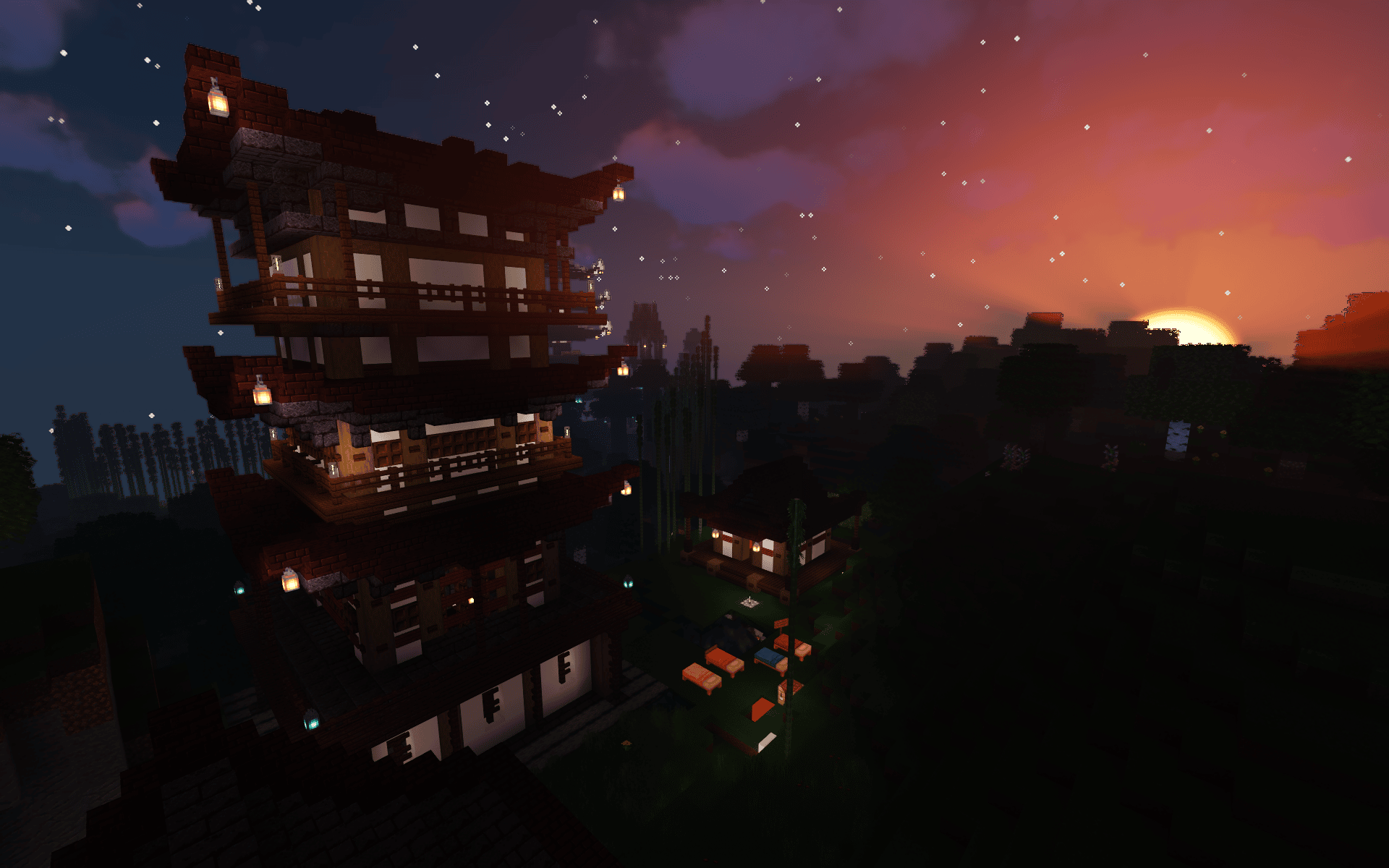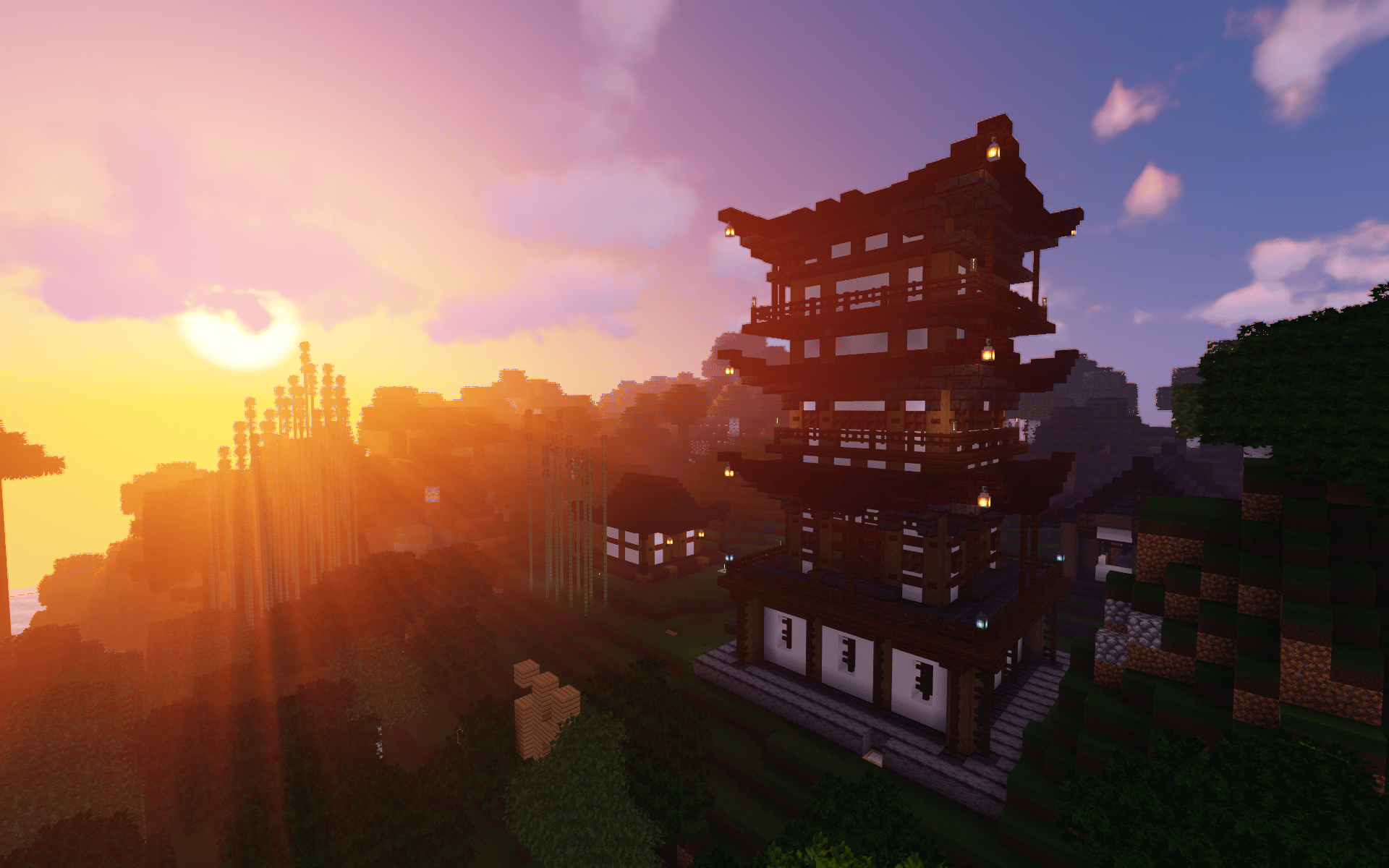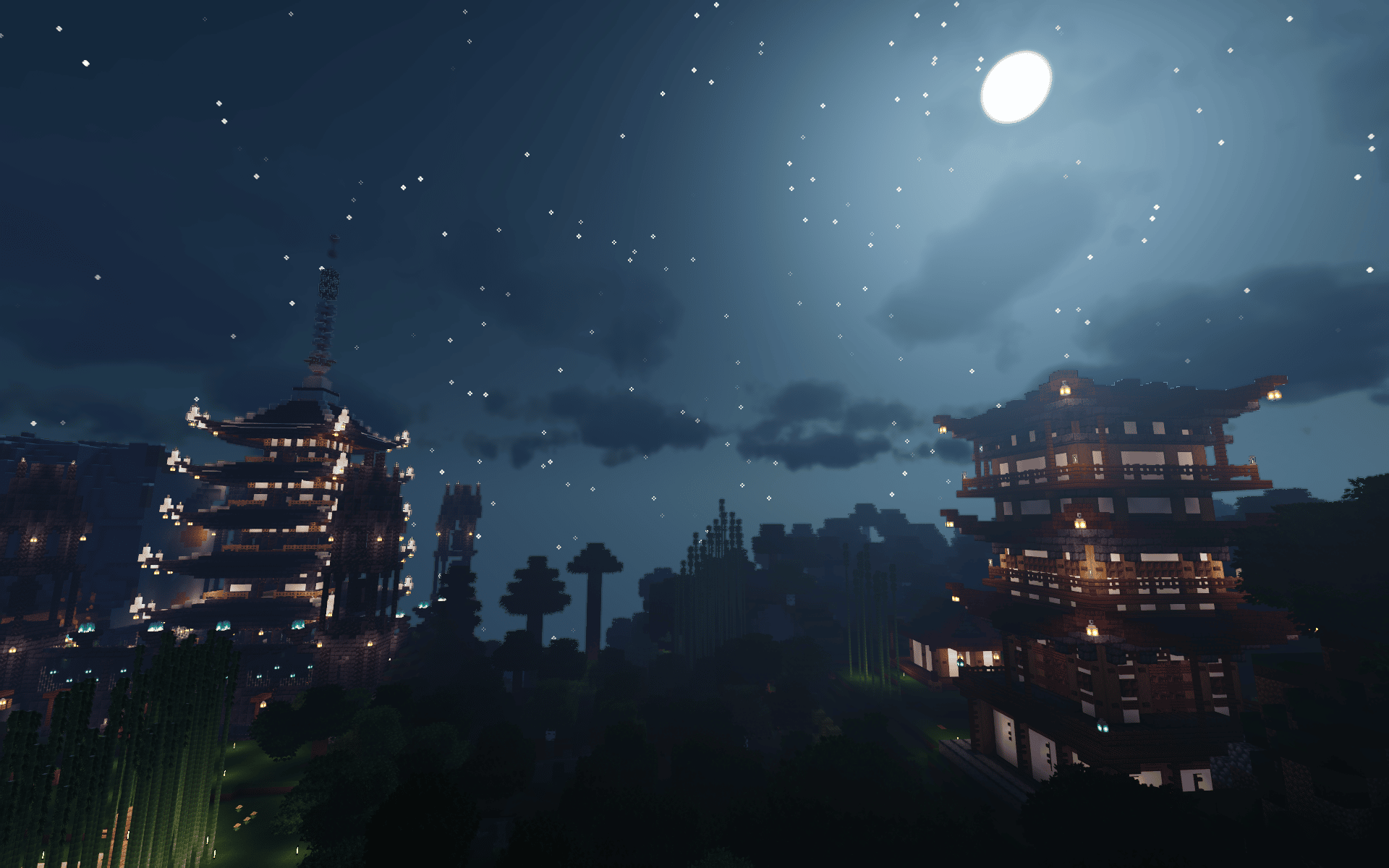 MundoCrypt0's Surreal Temple Complex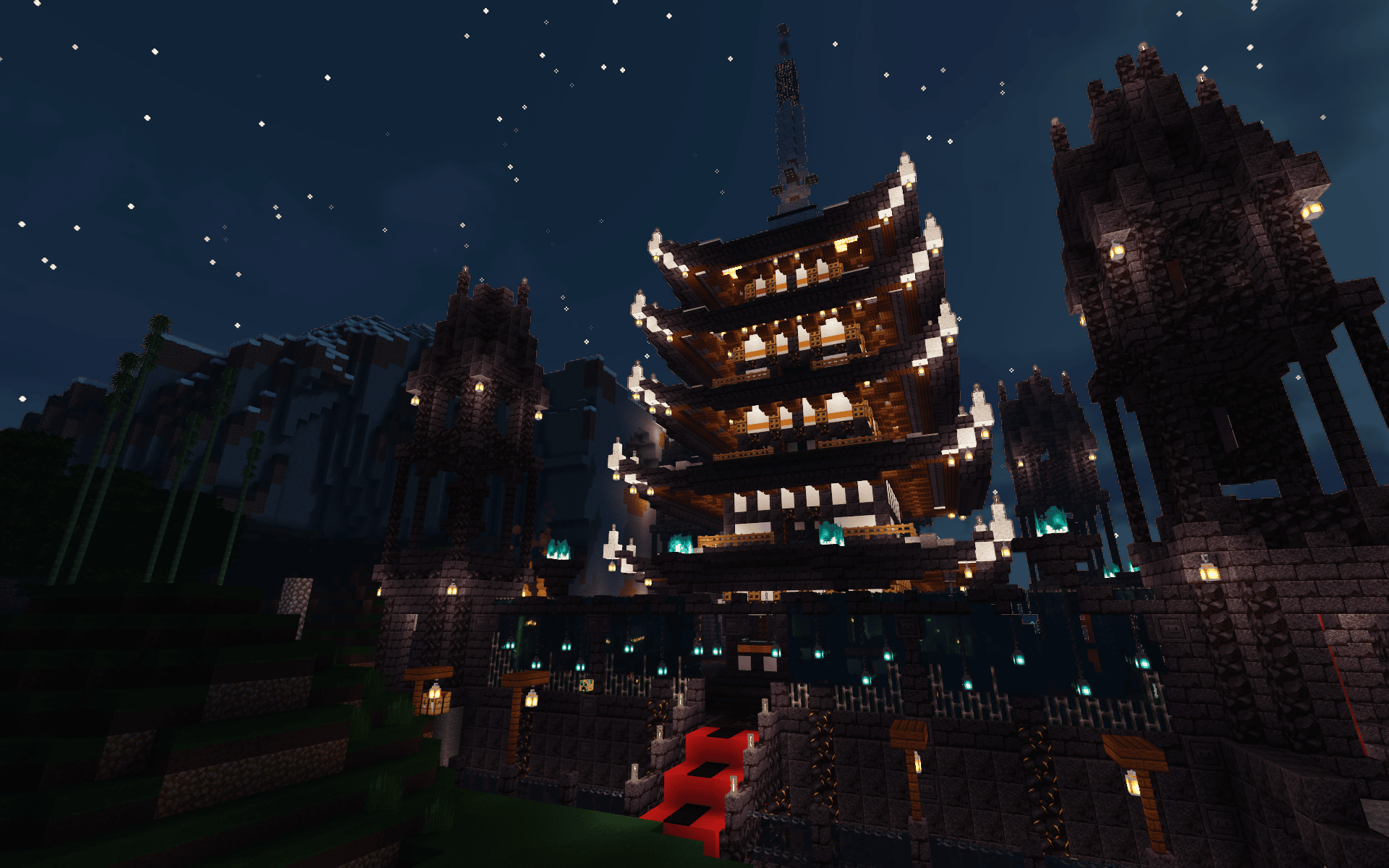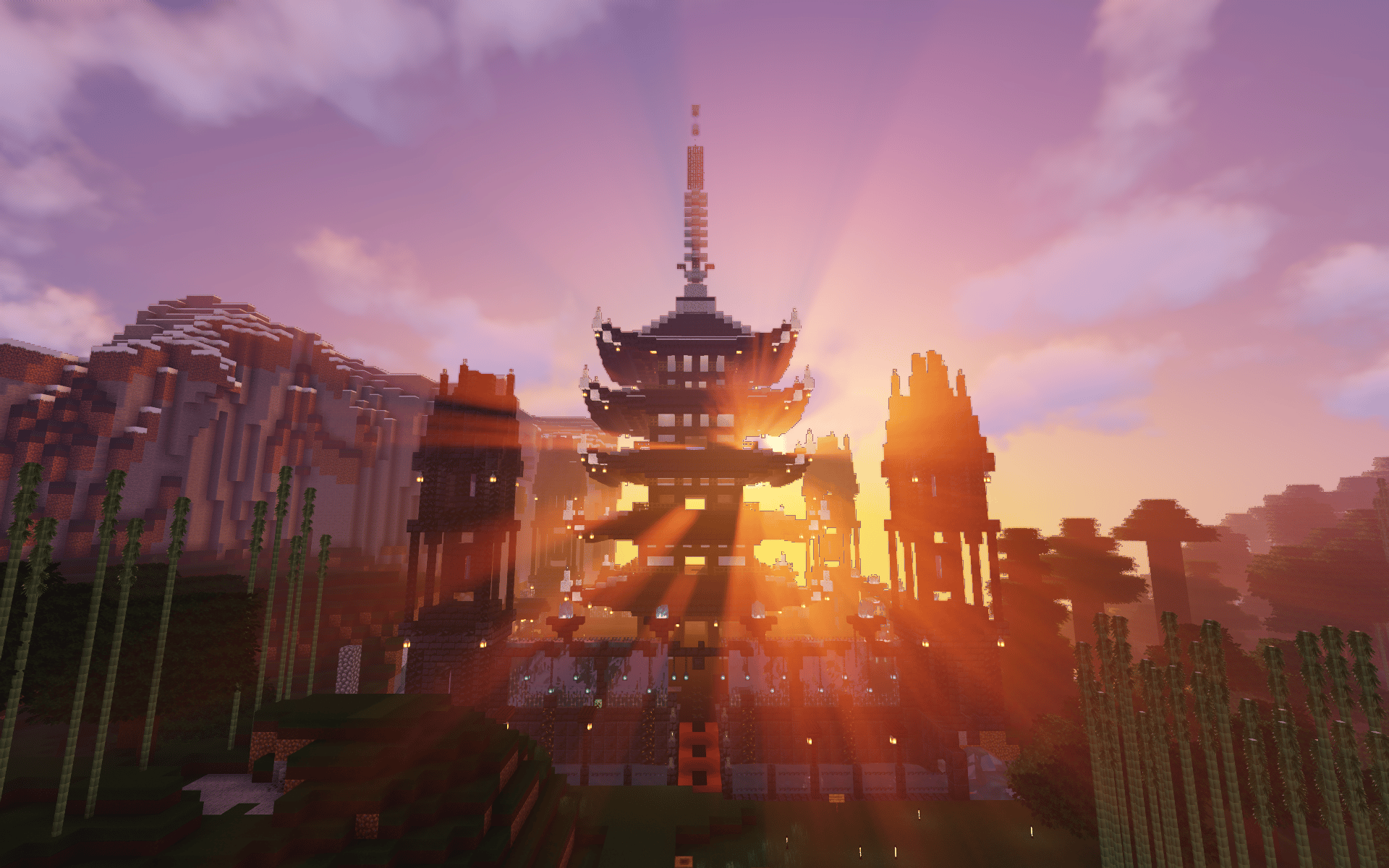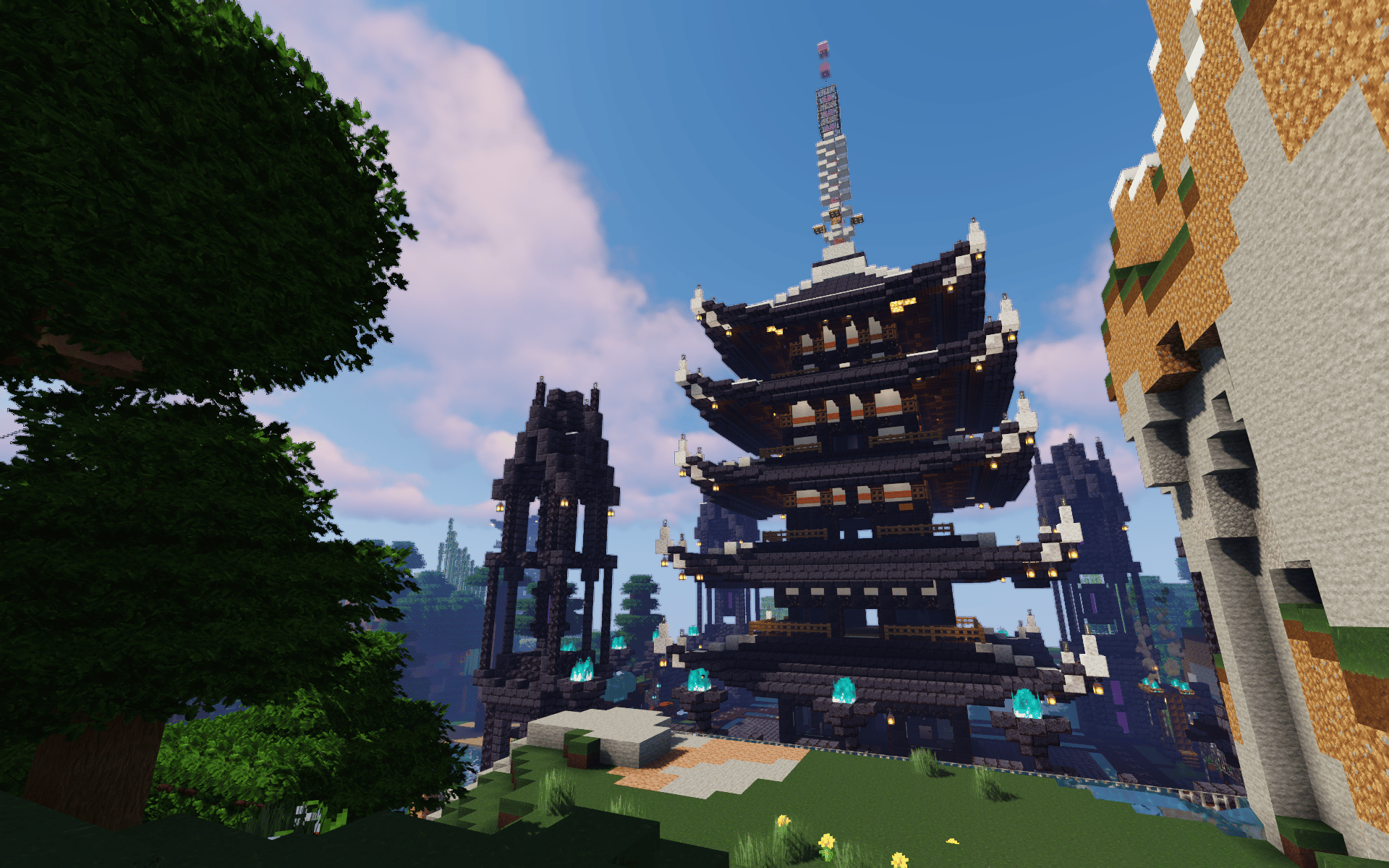 PapiChuloWAX's Sky High Pagoda Temple Village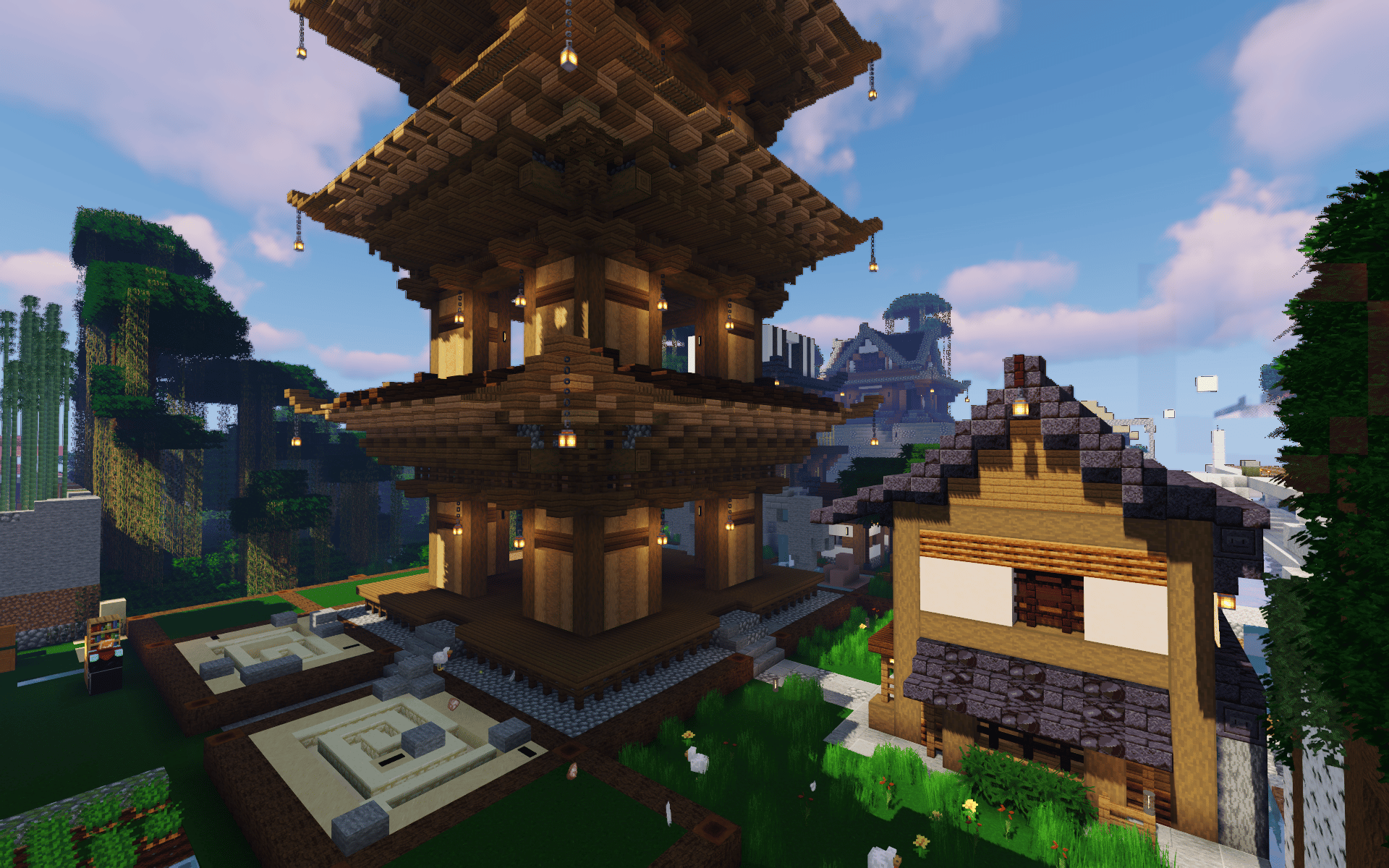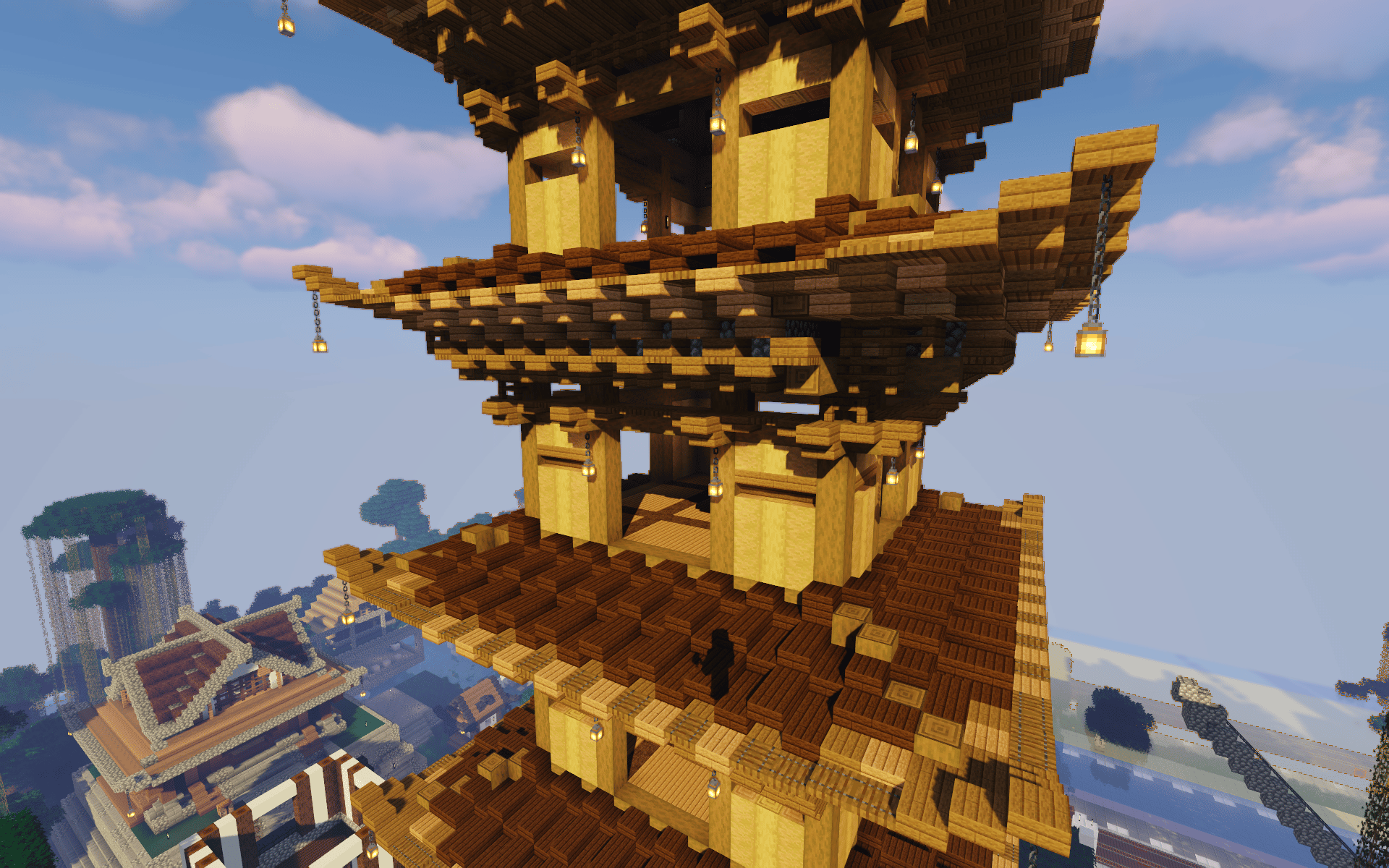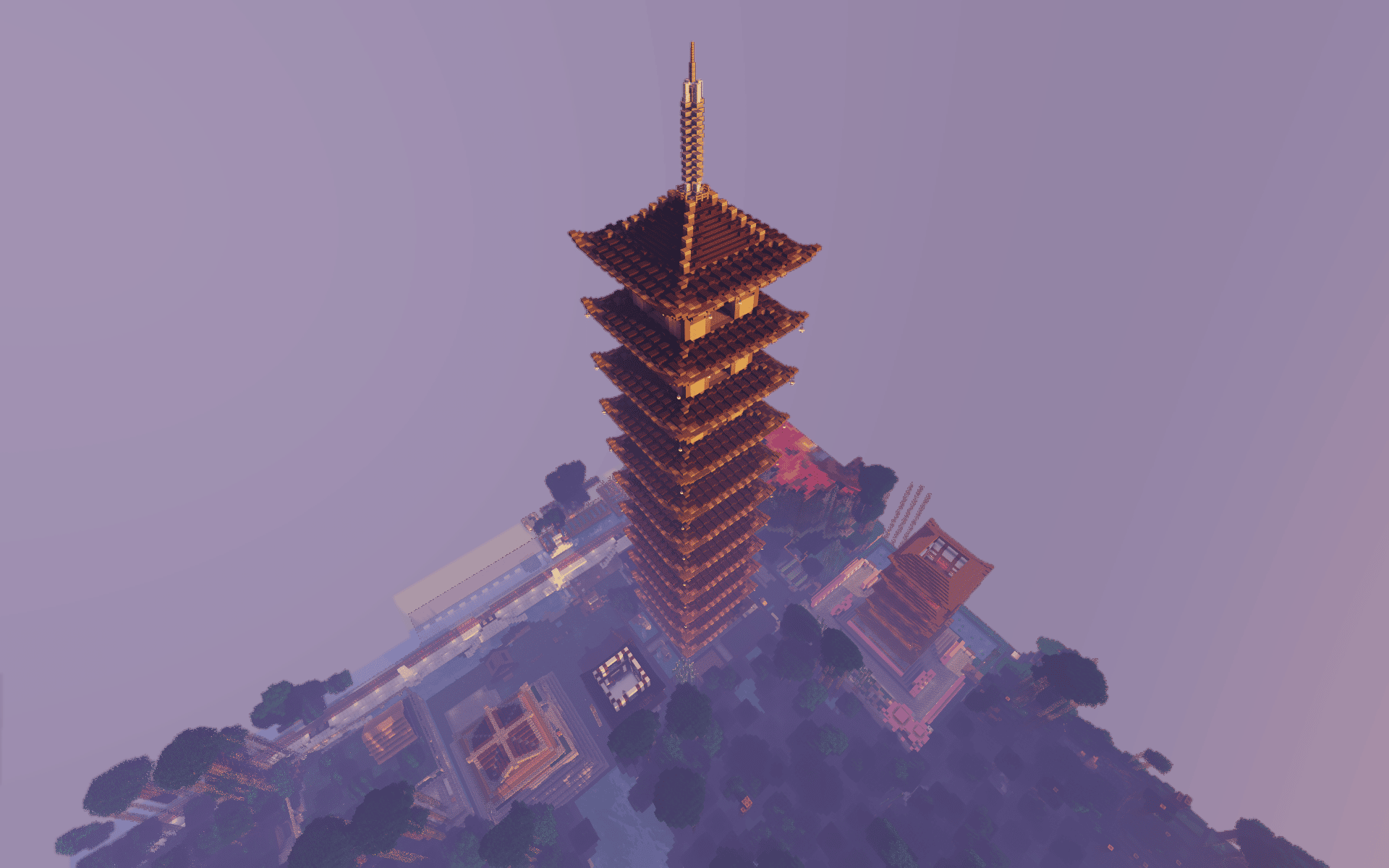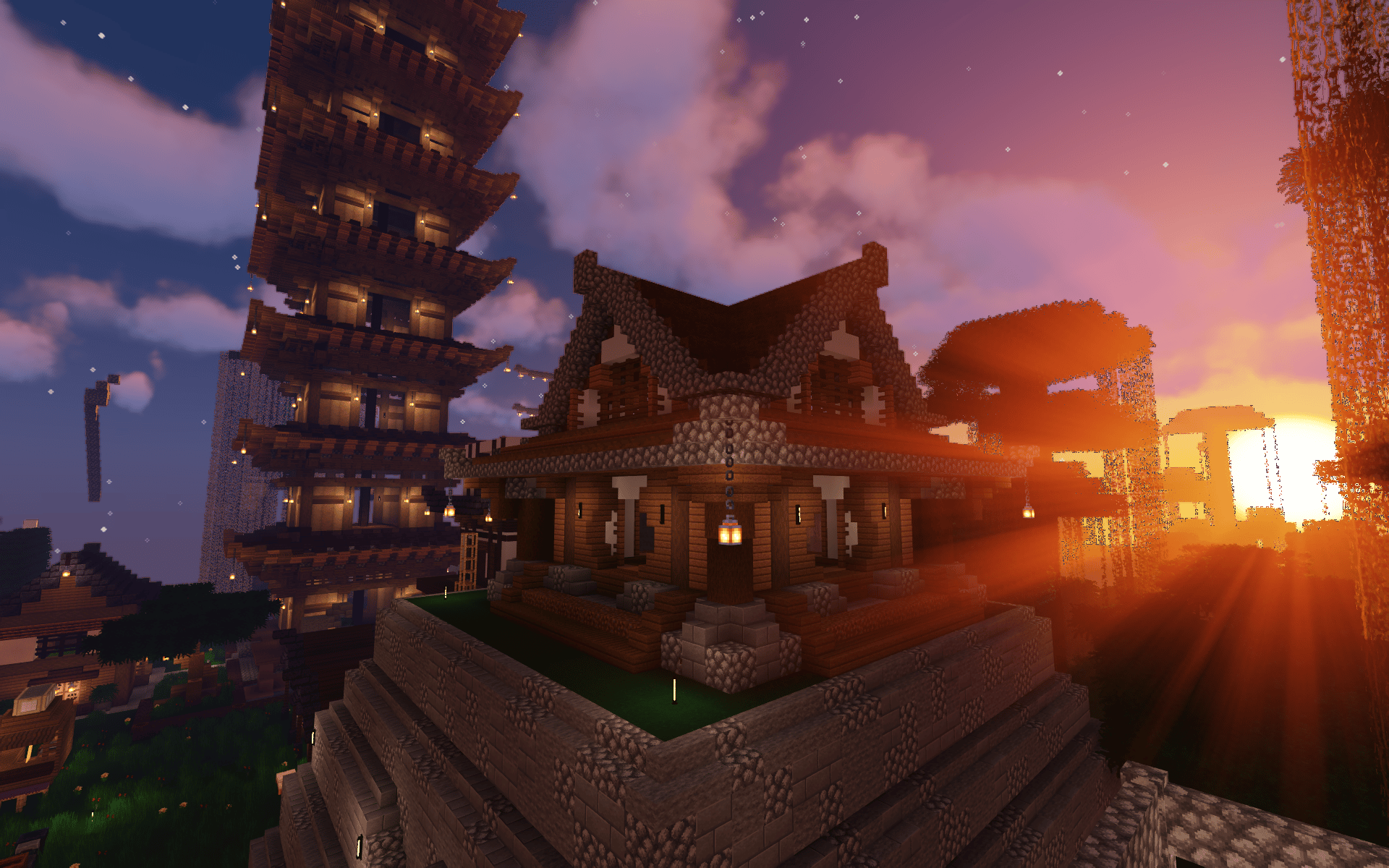 NFG_Jajaaaaaaa's Red Pagoda Temple Shop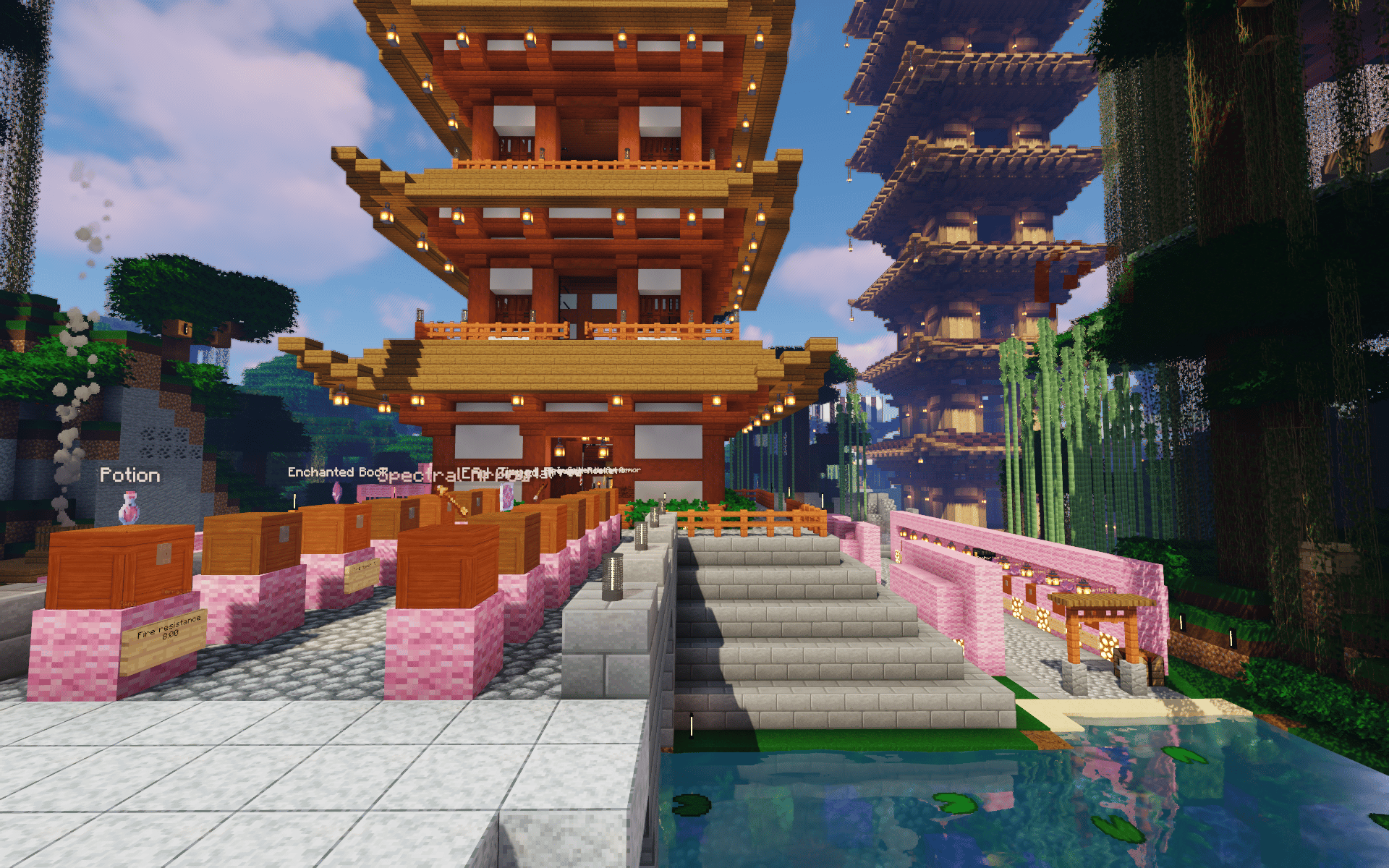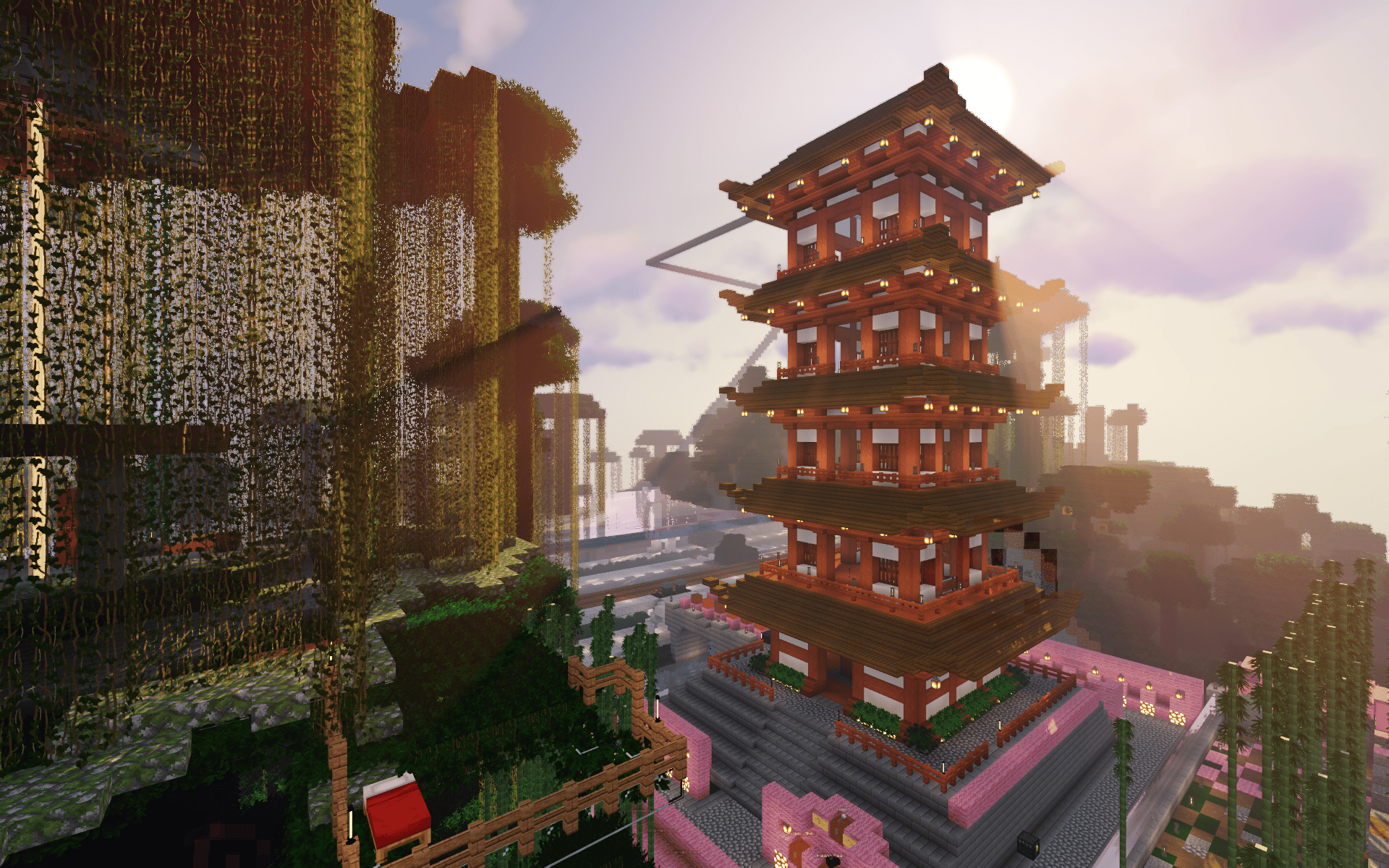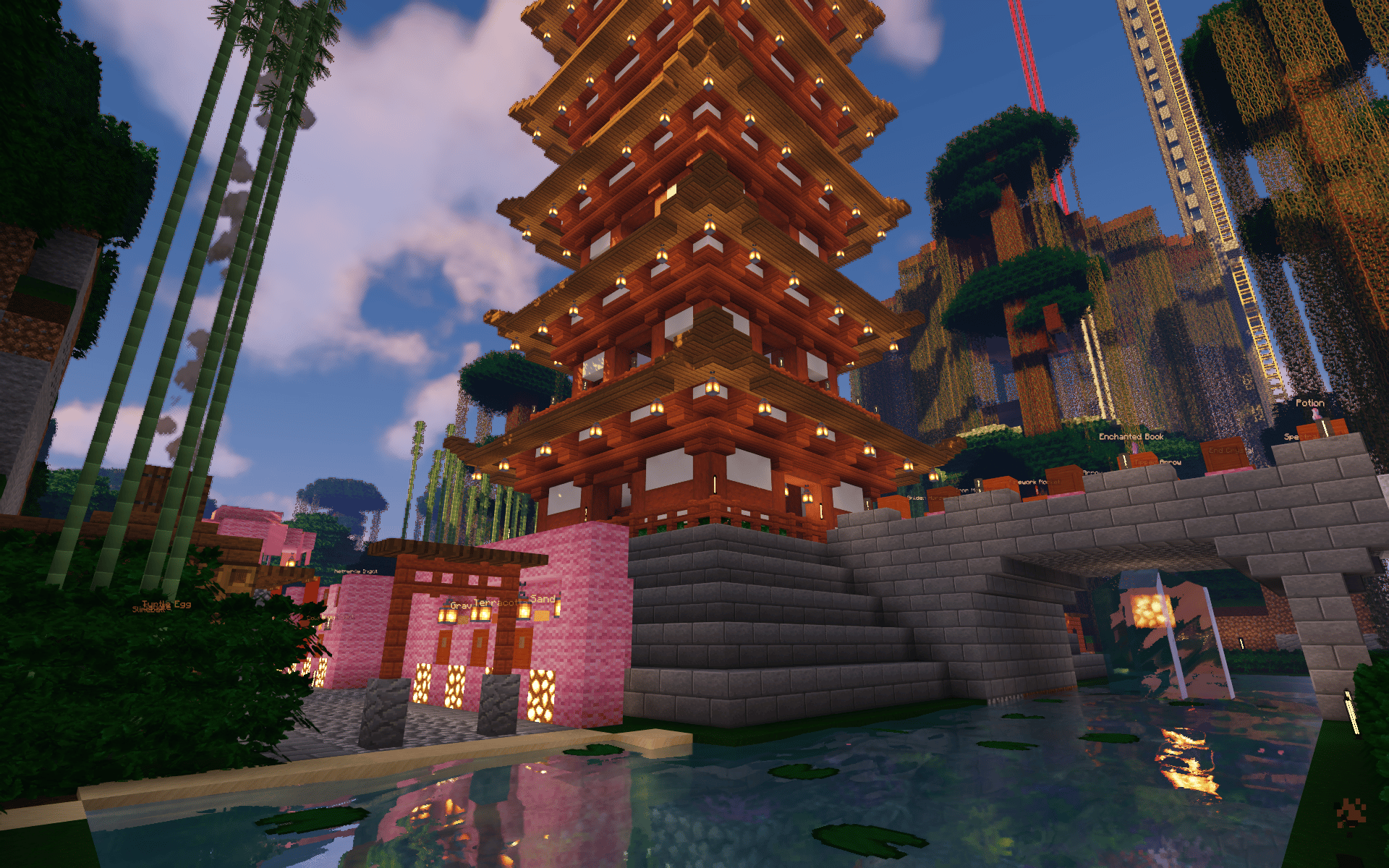 Before the Sunset
Of course there exist many more varieties of both finished temples and those in the works than those of  showcased above, some of which may not even be based on Japanese designs.  However, just as with so many things, the influences that have been exerted upon the Japanese from other parts of Asia, and especially China, penetrate deeply into not only the cultural but the aesthetic style to such an extent it's hard sometimes to tell them and others with commonalities apart. In a strange sort of off beat way, this is pretty reminiscent of what we have seen in development here together with our time in The Uplift World.
It seems there is quite the fascination with traditional Japanese and other Asian forms of building styles as well as many others from other regions and cultures the world over.  The beauty of our metaverse is that anyone from anywhere can interpret and construct freely what it is that interests and appeals to them the most.  In this way, our metaverse has become quite special not only allowing us the ability to bring our own passions and joys to life, but to observe, interact, and even learn from those of others.  The inspirational value of this collective metaversal mentality to create and shape experiences enabling many to empower the best parts of ourselves and each other has been truly remarkable thus far, and something we likely shouldn't expect to slow down anytime soon as we enter the next phase of all the amazing things that together we're set to chart out, define, and become as we embark upon a new dawn of 2022!

The Uplift World Official Links
*This is a personal perspective piece with collected content and majority of images by Jimmy D, and does not necessarily speak for all members thoughts, feelings, or beliefs on the team.