Welcome to another Uplift World BLDRZ episode, a series in which we focus in of some of projects, individuals, and teams doing amazing builds within multiple sectors of the Uplift World.  For this episode we are going to jump into the Gratitude sector once more, this time with Dan for a gander (and some giggles) straight from the Bitcoin Babes Headquarters

How did you first get introduced to top blockchain and cryptocurrency?  
Around 2014-ish I first read about a magic black box that could mine something called Bitcoin. In 2019 I got interested in creating NFTs on Enjin and minted Sandra. High Ethereum gas fees made it not very feasible to continue on that route, so I looked around, found WAX in 2020, and haven't looked back since!
What is it about the future of blockchain and cryptocurrency that excites you the most?
Having the ability to do fast low cost transactions, game-if-fication, and DeFi are where it's at. And the Uplift World and amazing Upift community of course! 
Who are the Bitcoin Babes?
Have you ever heard of Charlie's Angels?? Well, they got nothing on The Bitcoin Babes! Nothing beats this group of female superheroes currently residing on the WAX blockchain. There are currently three residing in the Gratitude HQ with a fourth on her way:
Sandra is the leader of the Red Wolves mercenaries. She was born into a successful family and lived free of worries until she was 17 years old, but at that point life changed. Terrorists descended on her town, killing everyone she loved. She joined a band of mercenaries and learned to fight, selling her gun to the highest bidder. She managed to rise in the ranks and crush all that's in her way, quickly becoming a force to be reckoned with.  She's humorous, brave, and loyal to a fault.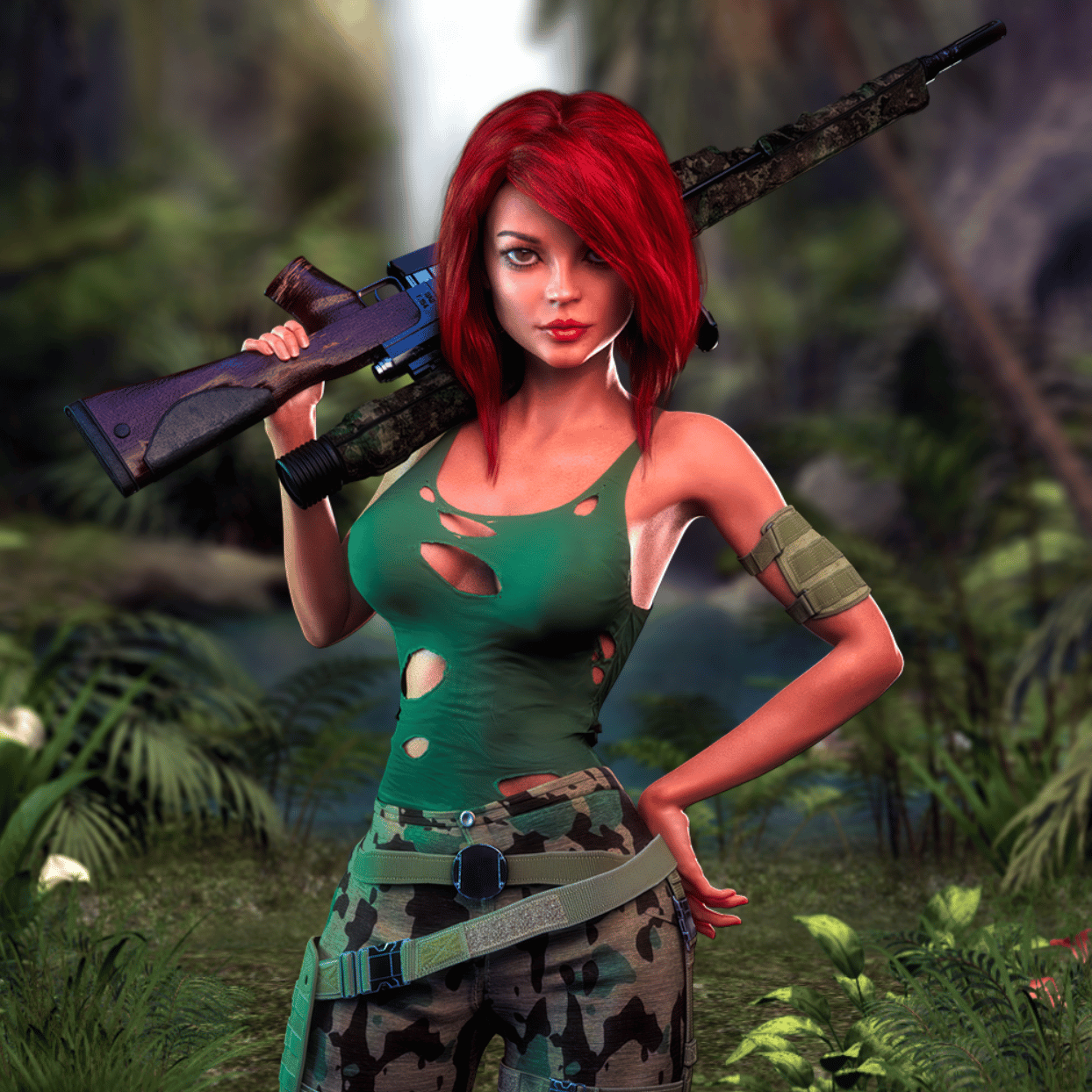 Queen Aminatu is the daughter of the late Emperor Mansa Musa. Her father died when she was young, leaving Aminatu to assume the throne. She has ruled Mali since. She leads Mali's army of 20,000 soldiers into battle to protect the Mali border and spice route from the Tuareg and Songhai nations that seek to control the salt and gold. She is interested in the latest fashions and loves anything gold. She has expensive tastes and enjoys collecting rare objects. The only thing that she values more than gold is the throne, which is why she fights to maintain her power in the Mali nation. Her beauty is enough to attract the eye of many a prince and princess, but she is also smart, intelligent, and resourceful. She has always been loyal to the Mali Empire and will do whatever is necessary to protect the kingdom.

A-Dena is a hacker extraordinaire and master of disguise. Infamous for infiltrating a Facebook data center and using social engineering, she now has the leverage she needs for her next job. Her life in Krasnoyarsk, Russia has been hard and she dreams of leaving but she needs a lot of money for the move and has secured a job in China Town to pull off her biggest score yet. A-Dena is fearless when it comes to hacking.  Despite having a bit of social anxiety, she hides it with a strong front and  would die for her friends.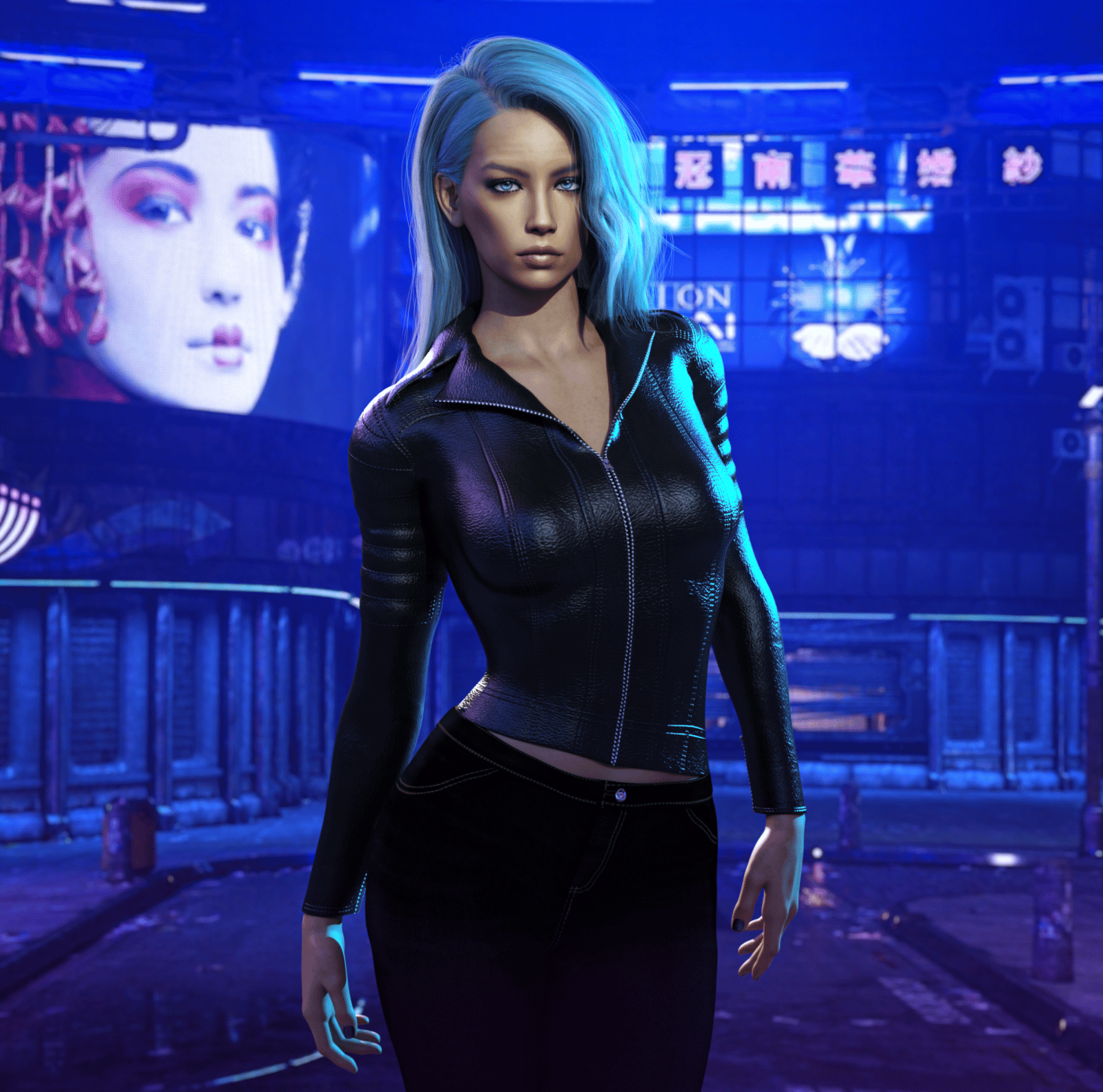 And a soon to be released Bitcoin Babe #4! There is also a BABE token that will be used eventually in the game. 
Beyond these mainstays of the collection, there are quite a few other affiliated NFT's available from the collection, the most interesting for our purposes here today being the Bitcoin Babes Minecraft skins putting the ladies directly into the metaverse.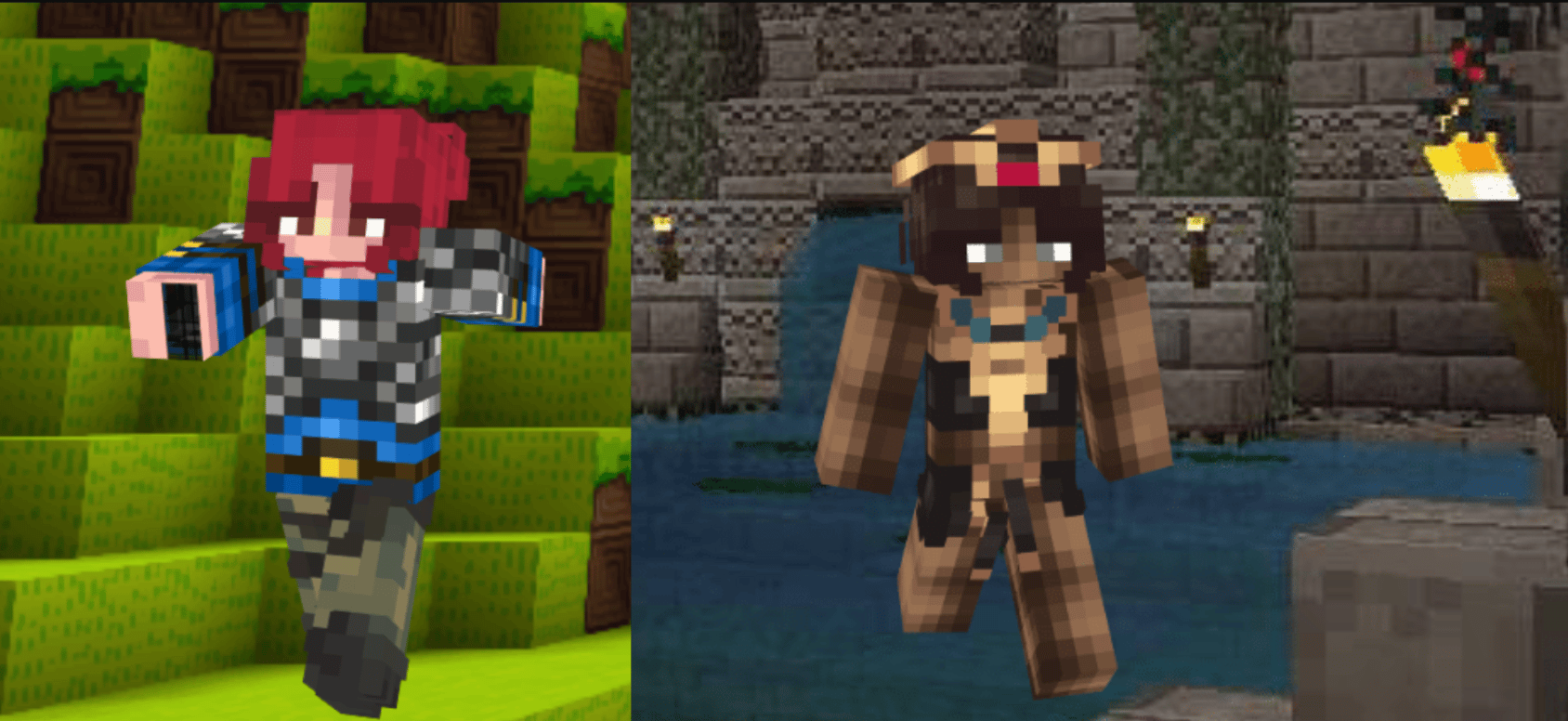 In addition, Sandra the Sniper silver & gold packs are available on Neftyblocks with a chance to win a BABE token miner, as well as a few other drops from our collection on the Atomic or Nefty Bitcoin Babes secondary market pages.
How did you first find out about The Uplift World?
In 2020 when I first found WAX, I joined the Uplift telegram and met Michael Blu. I followed the project and then they had the first Uplift land sale in Genesis. From that point forward the rest is history.  
What was the overall design of your Uplift World Gratitude community plot and why?
For the Western border of Bitcoin Babes plot we wanted to create a castle gate, something like this Lord of the Rings gate that exists in New Zealand: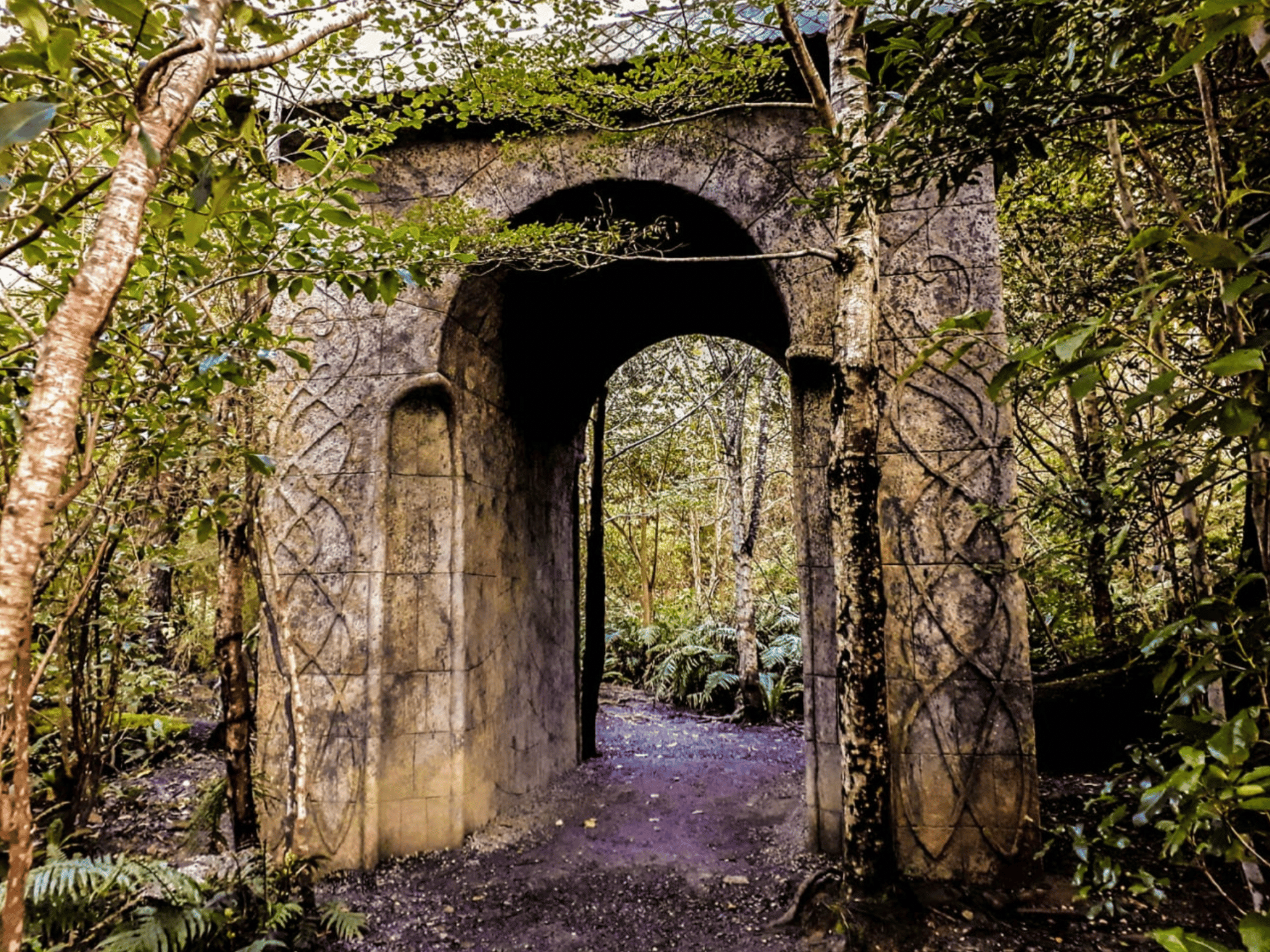 Bitcoin Babes creative advisor Kindcoin worked with another builder to create the masterpiece you see below. Jennifer Barrett did the image installations for the Bitcoin Babes logo on each gate. The images below were captured with Minecraft graphics shaders turned on. It was quite beautiful with the snow falling at night and the soft glow of the light from the sea lanterns.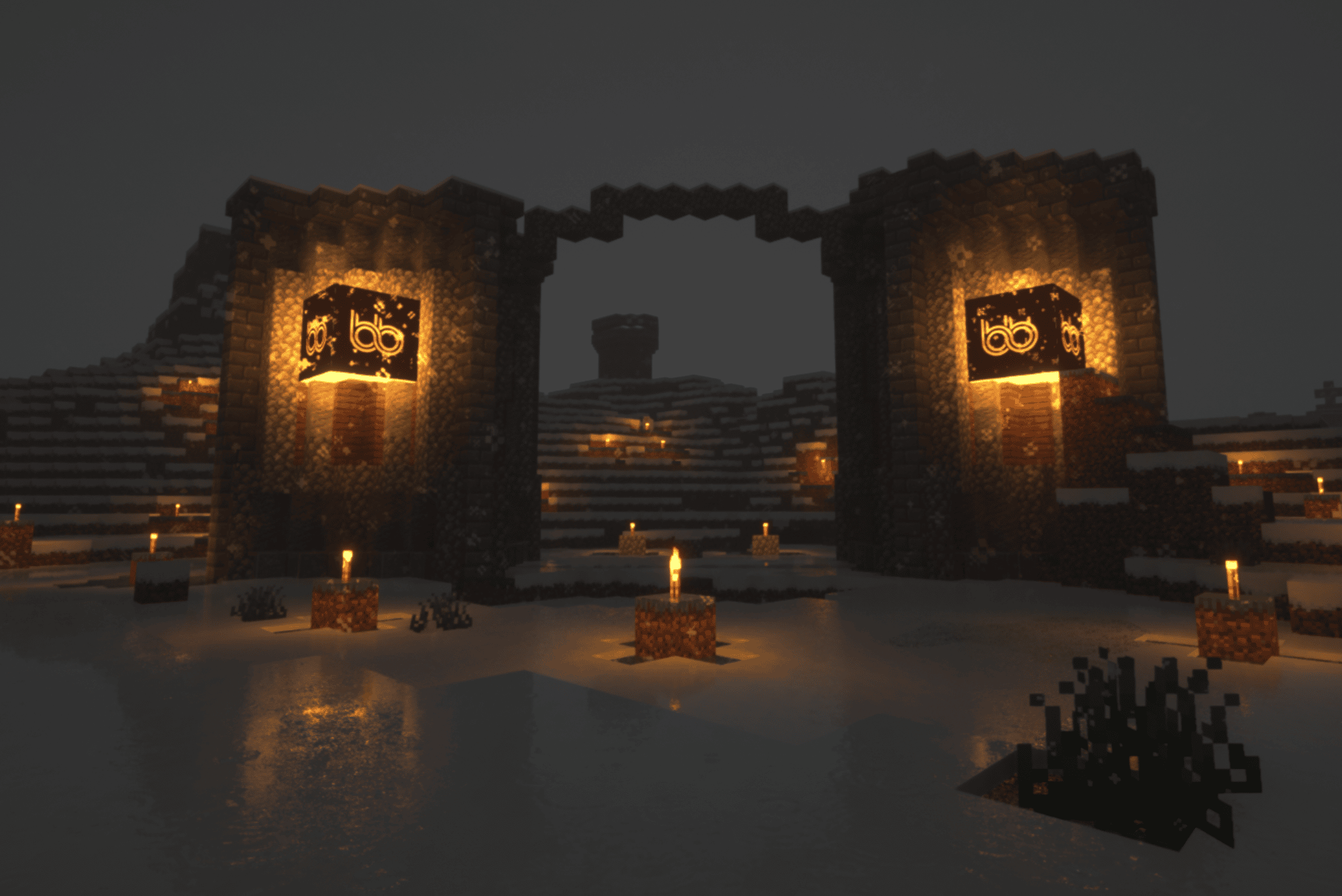 The Bitcoin Babes logo looks especially spectacular in the middle of a cold winter's night…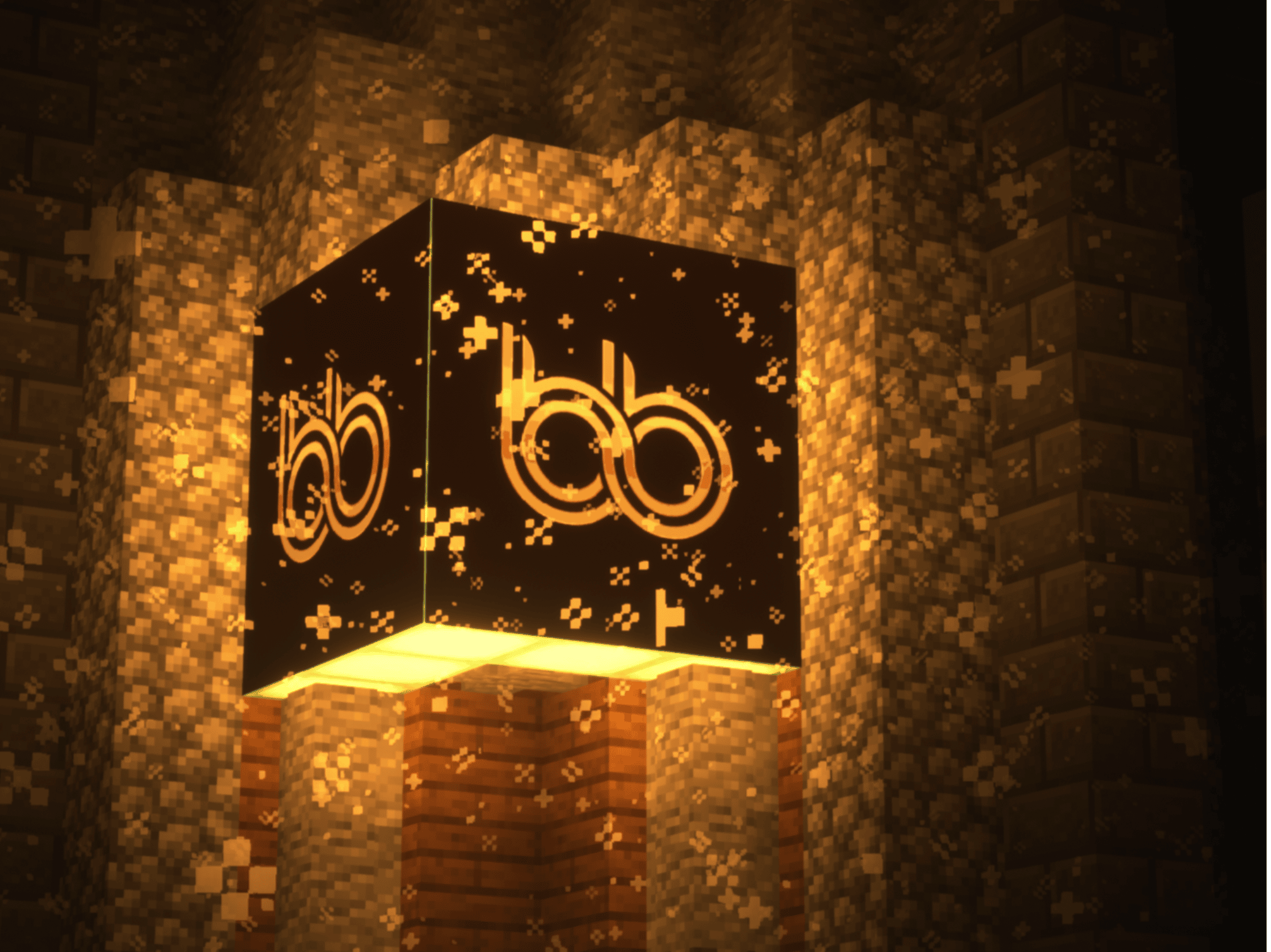 And to finish the whole thing off, I wanted to create a promotional image with the tops of the towers and gate on fire. EOS USA Michael provided the Netherrack and I lit it on fire 😀 I only fell off three times while lighting the Netherrack on fire. Queen Aminatu was wearing a golden helmet and there was a saddle on the horse. Actually I lost one horse to a creeper explosion so I had to lead a second horse on a lead for the photo shoot.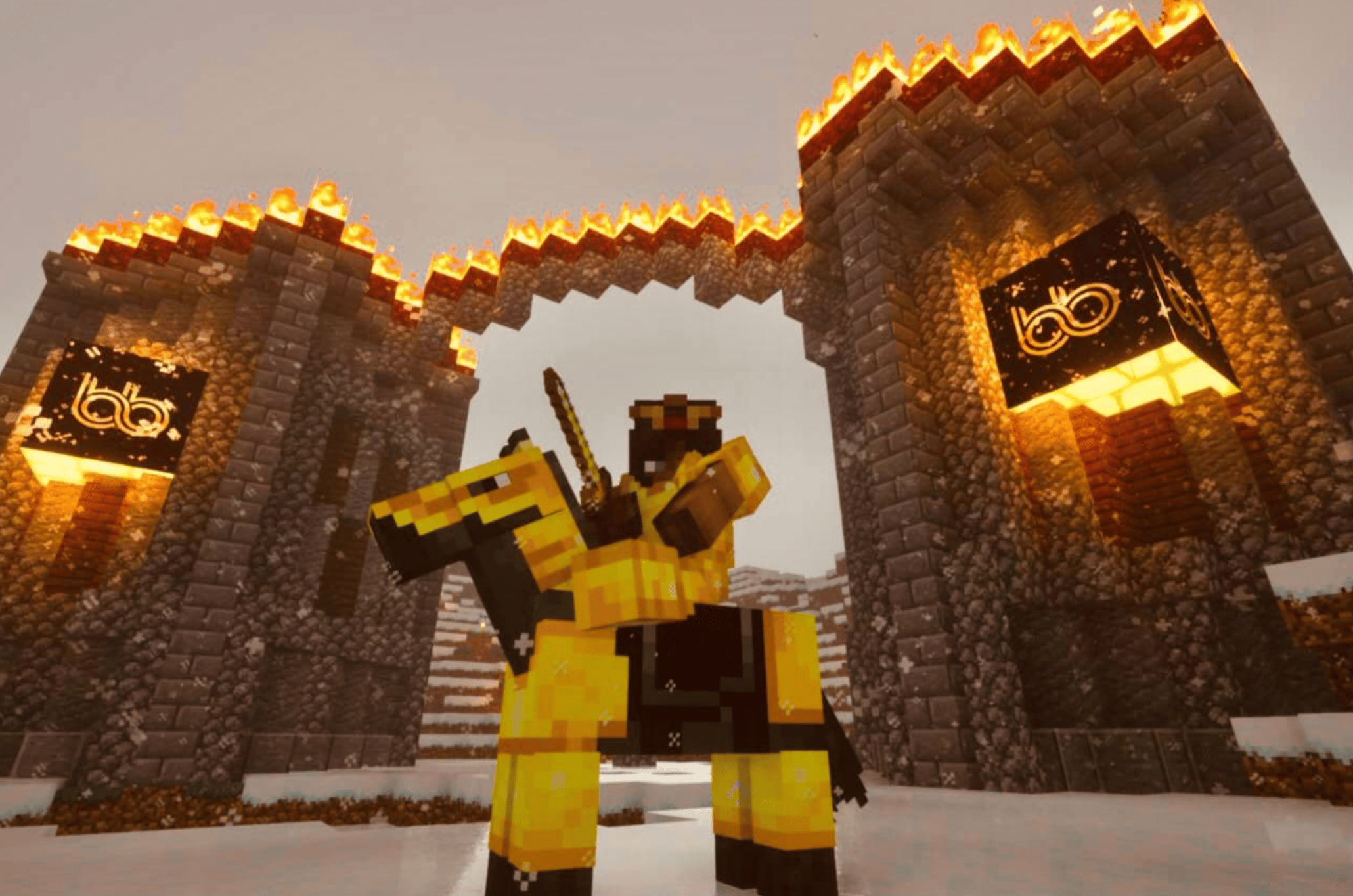 As for the rest of the plot, the Bitcoin Babes HQ at this point primarily consist of a modest yet extremely functional village – for this is survival and we do have to gather resources both to build out the HQ and sustain and nourish ourselves.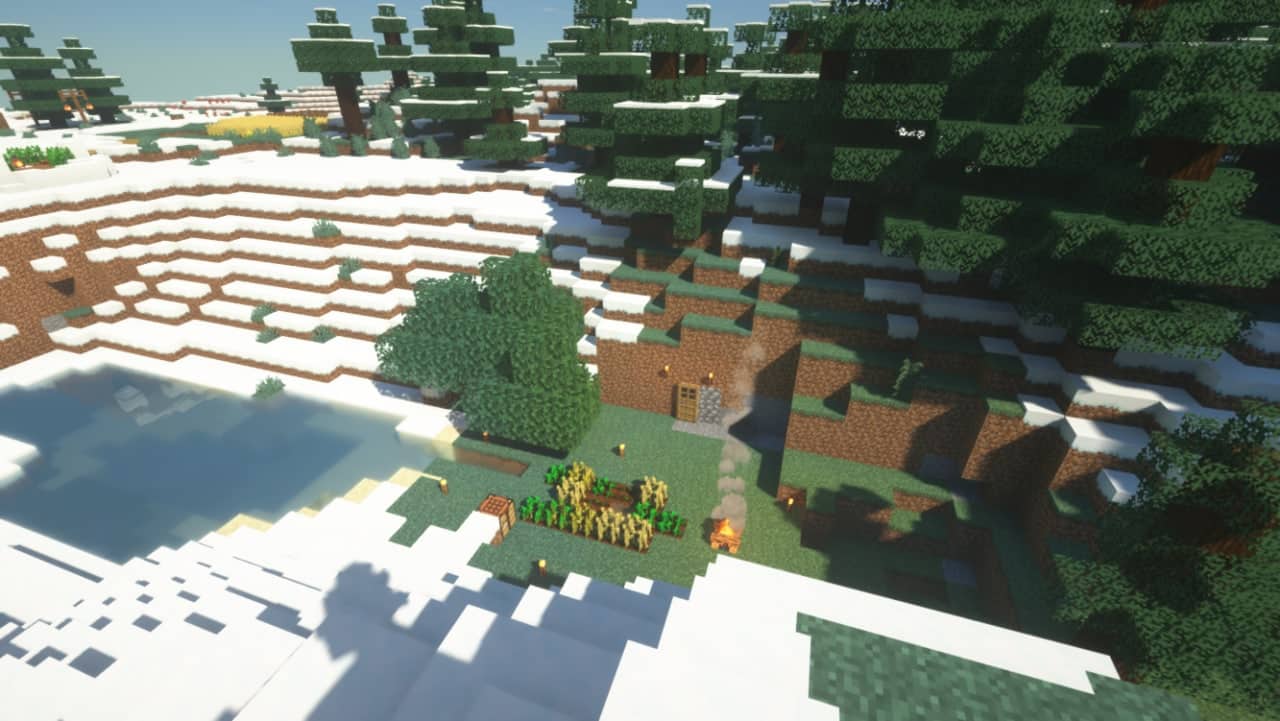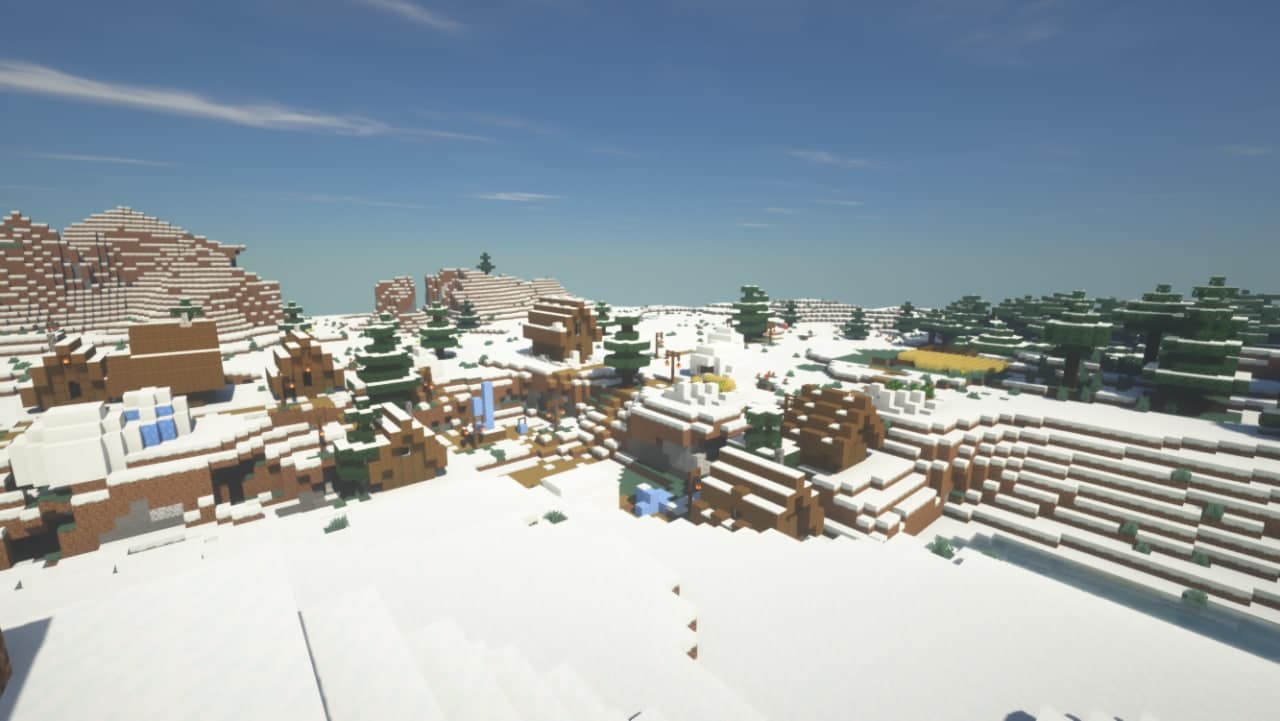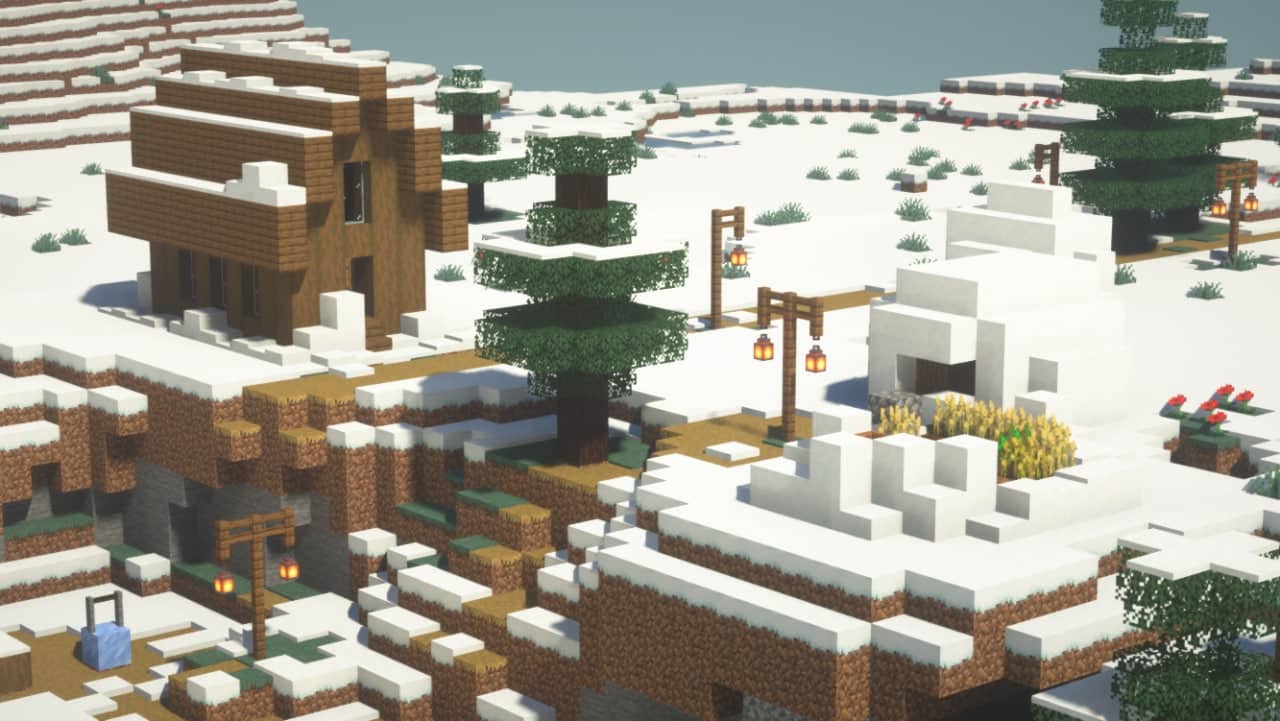 Although it may look quite remote, truth be told, we are especially excited to have a whole plethora of new neighbors after the recent Estate and Gratitude land sale.  This snowy enclave right in the center of the phase 1 sale just blew the number of people we can interact with up, which we absolutely love.  In fact, one of our favorite things in the metaverse is the interactions that we have with others.  It is amazing how much fun one can have just meeting others and 'horsing around'!
What are you looking forward to the most and planning next in regards to theUplift.World?
We are really excited to see all the ways WAX NFTs and EOSIO tokens can be integrated within the metaverse.  On a personal level,  we are looking forward to building more relationships and increased social networking with friends inside the Uplift.  In that respect, we are excited to do many more builds for the Bitcoin Babes characters as well as collaborate with some other Uplift people and projects along the way. Even in the short time we have been here, the people we have met and time we have had with them in the Uplift has been by far the best part.  Lots of interesting and humorous moments caught in the screenshot camera rolls for sure.  
Would you mind sharing some of your Uplift World 'family' albums with us here today?
Of course not.  As I mentioned, it has been a lot of fun interacting in the metaverse with our specialized skins both with our builds and alongside others.  Here are some of my favorite memories thus far.
Queen Aminuatu horsing around in front of the Western gate.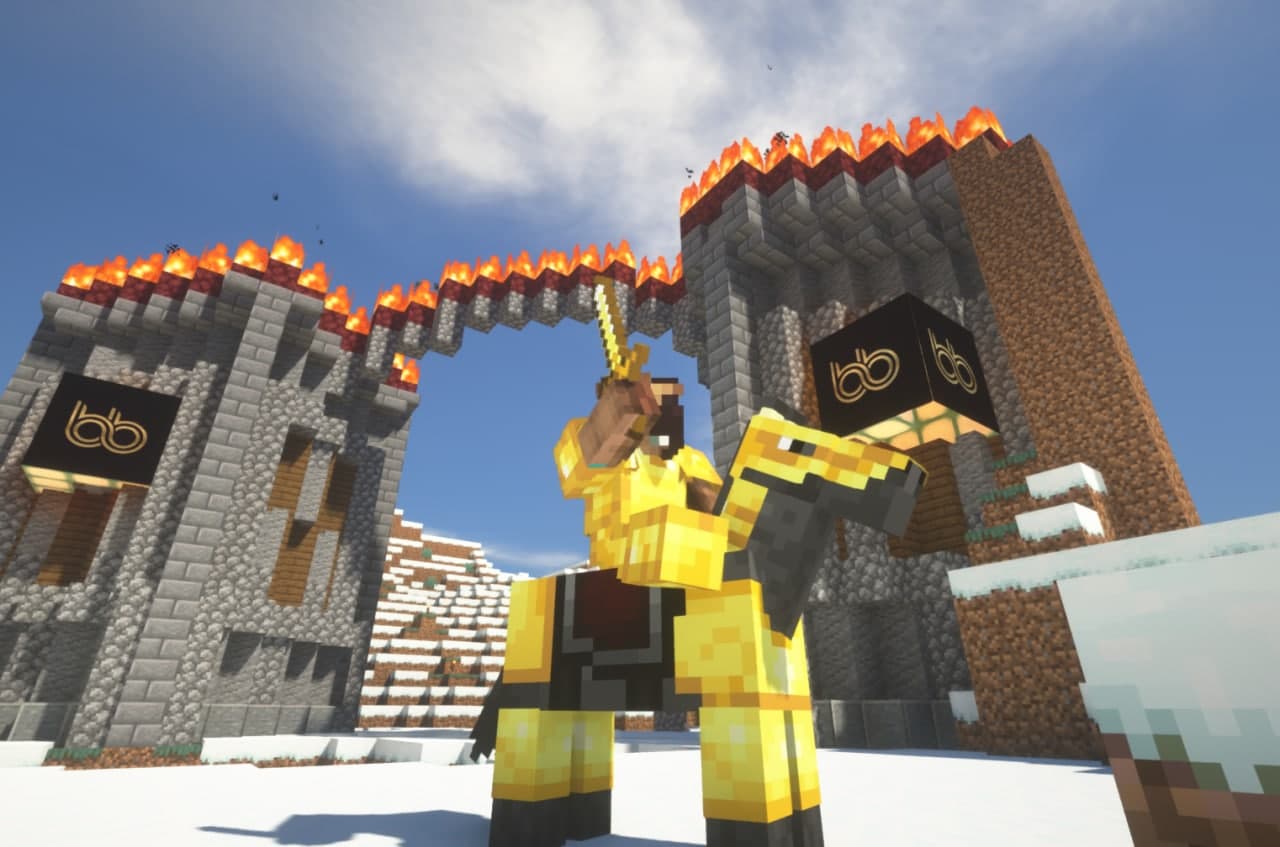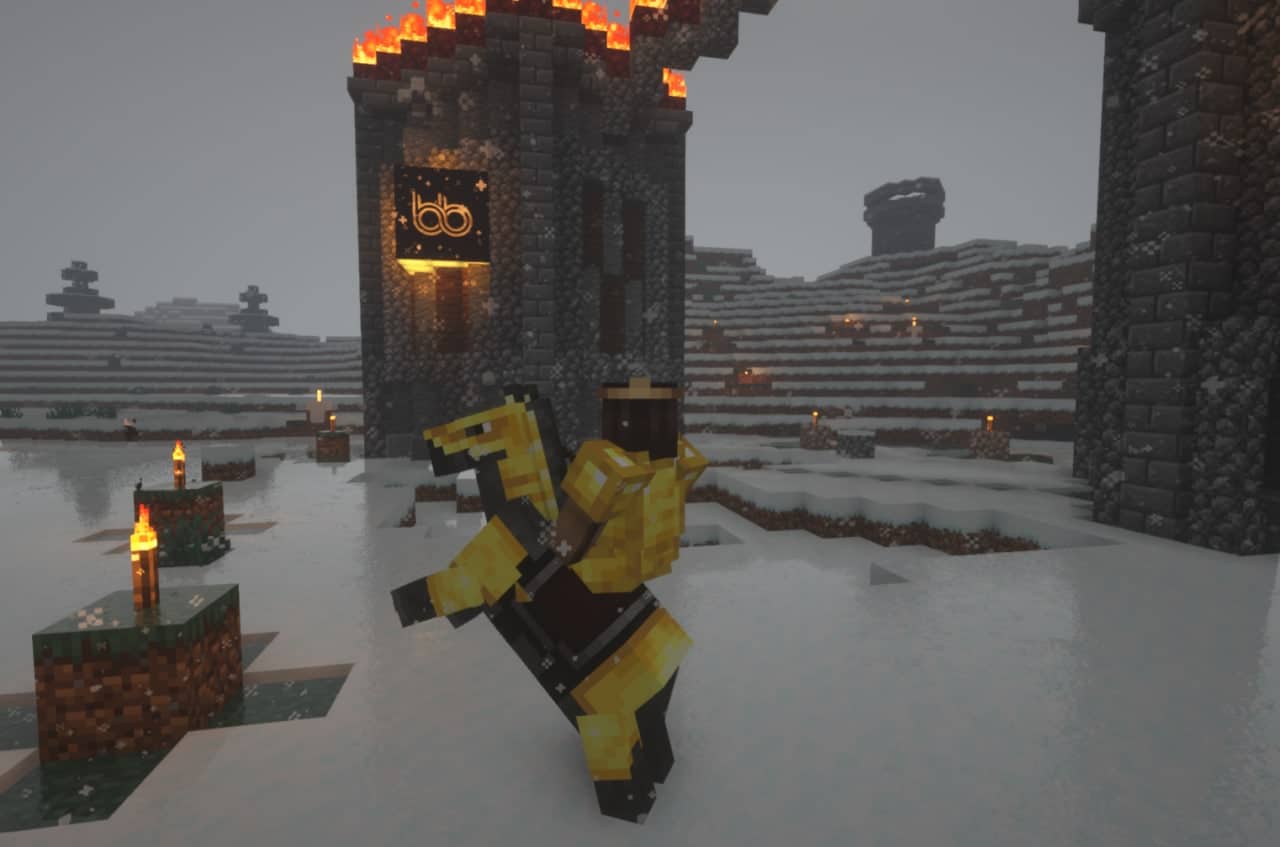 Queen Aminuatu sword posturing in Diamond Armor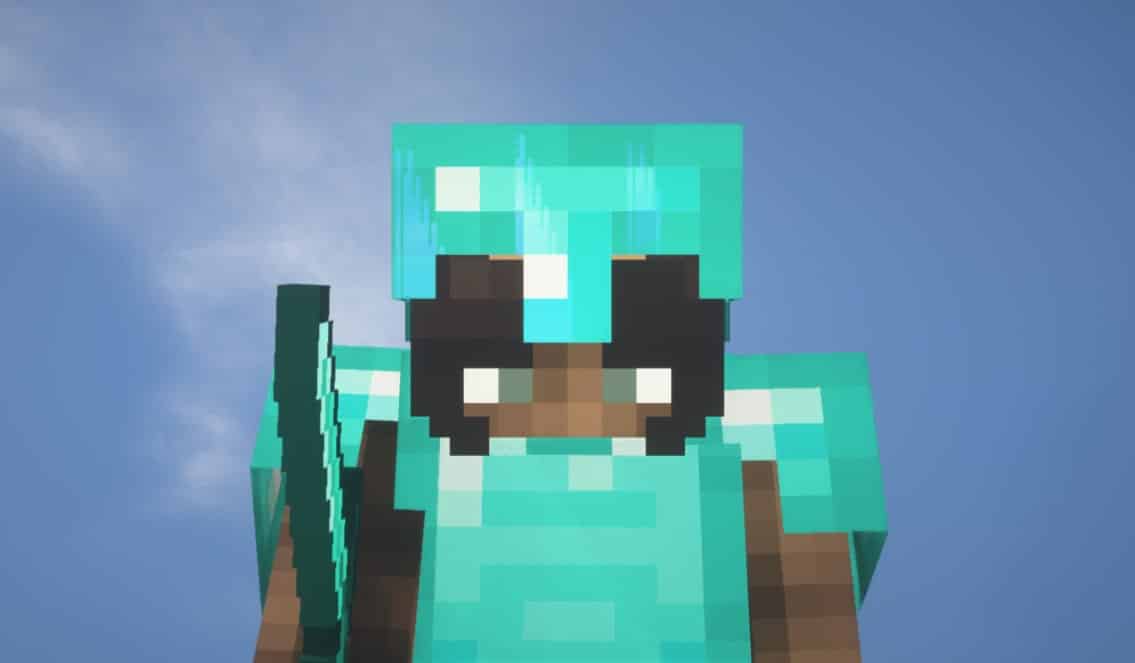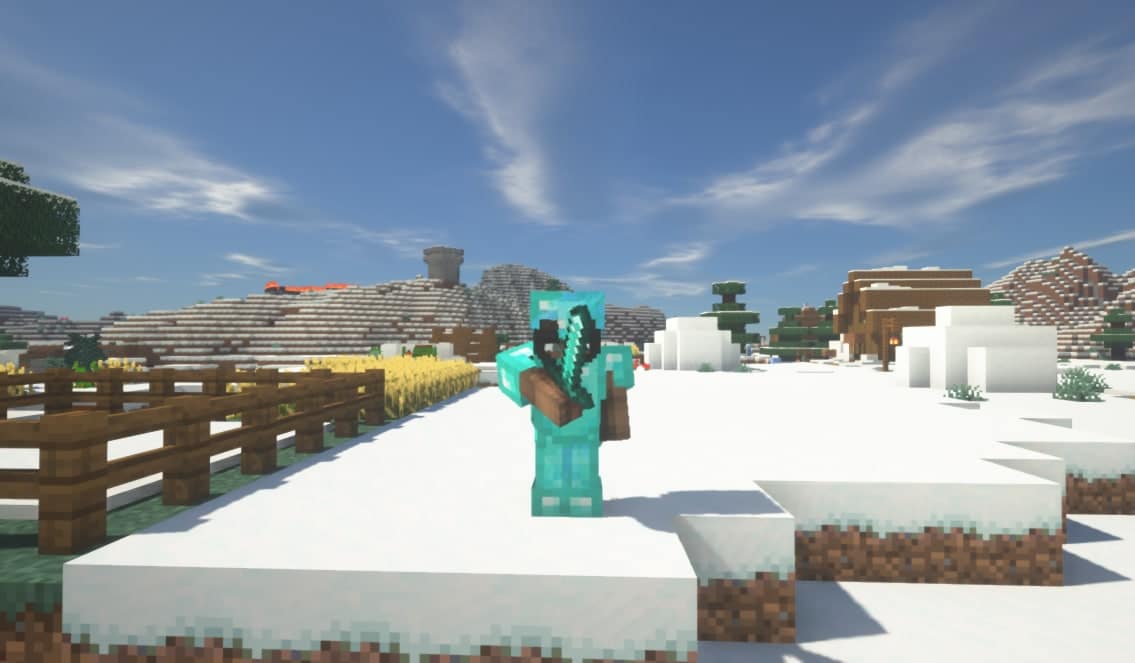 Queen Aminuatu in Gratitude when the rails first went in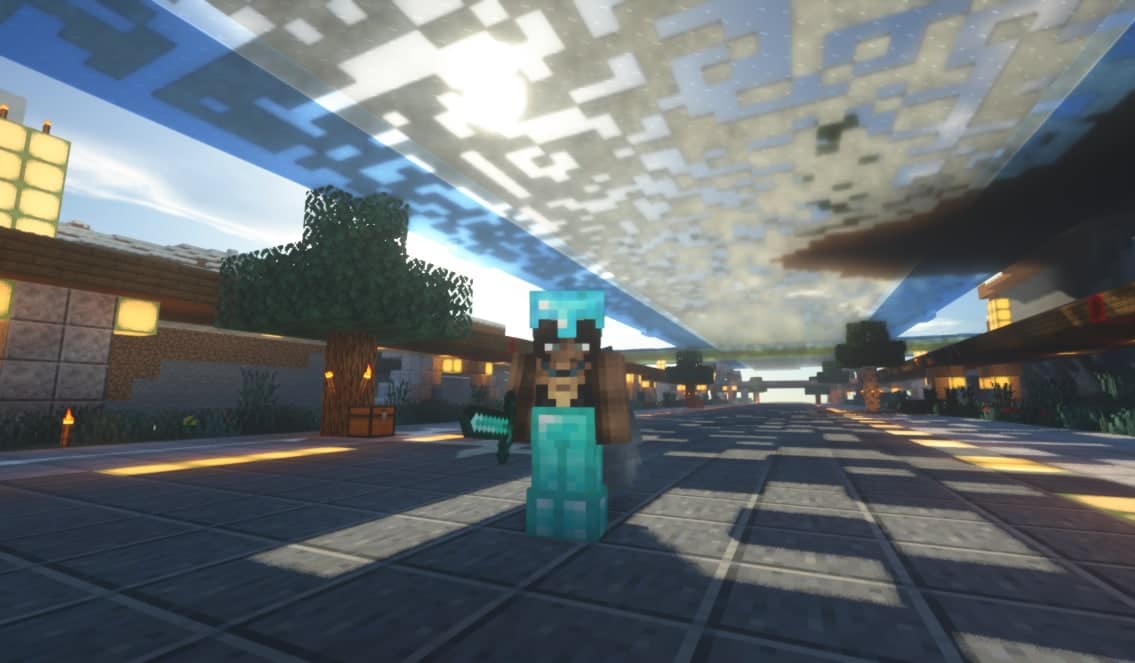 At the Londom Megastore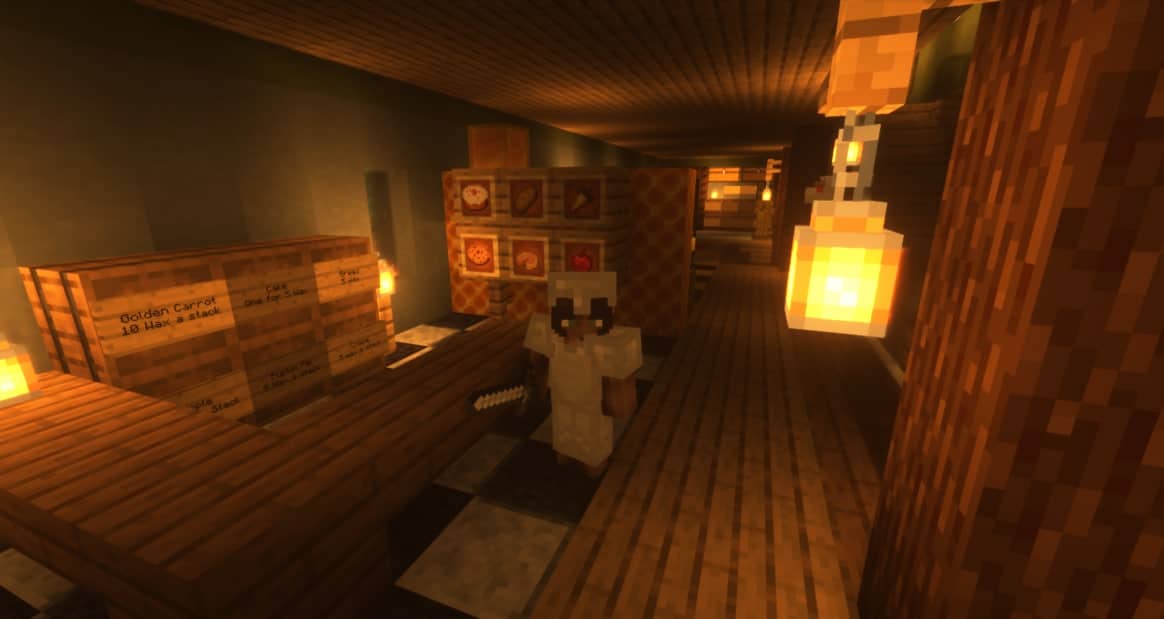 A-Dena the Hacker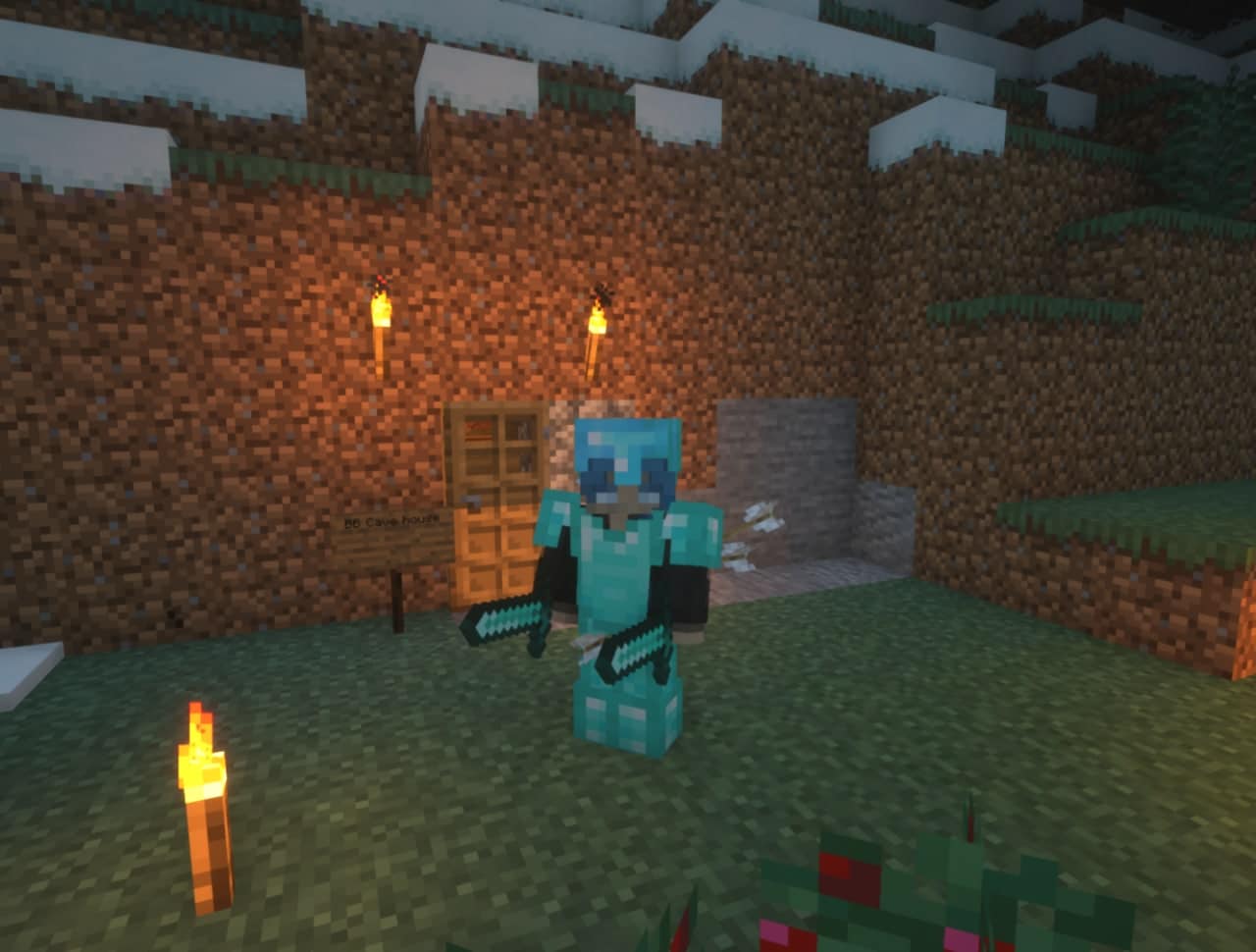 Lighting Netherrack on fire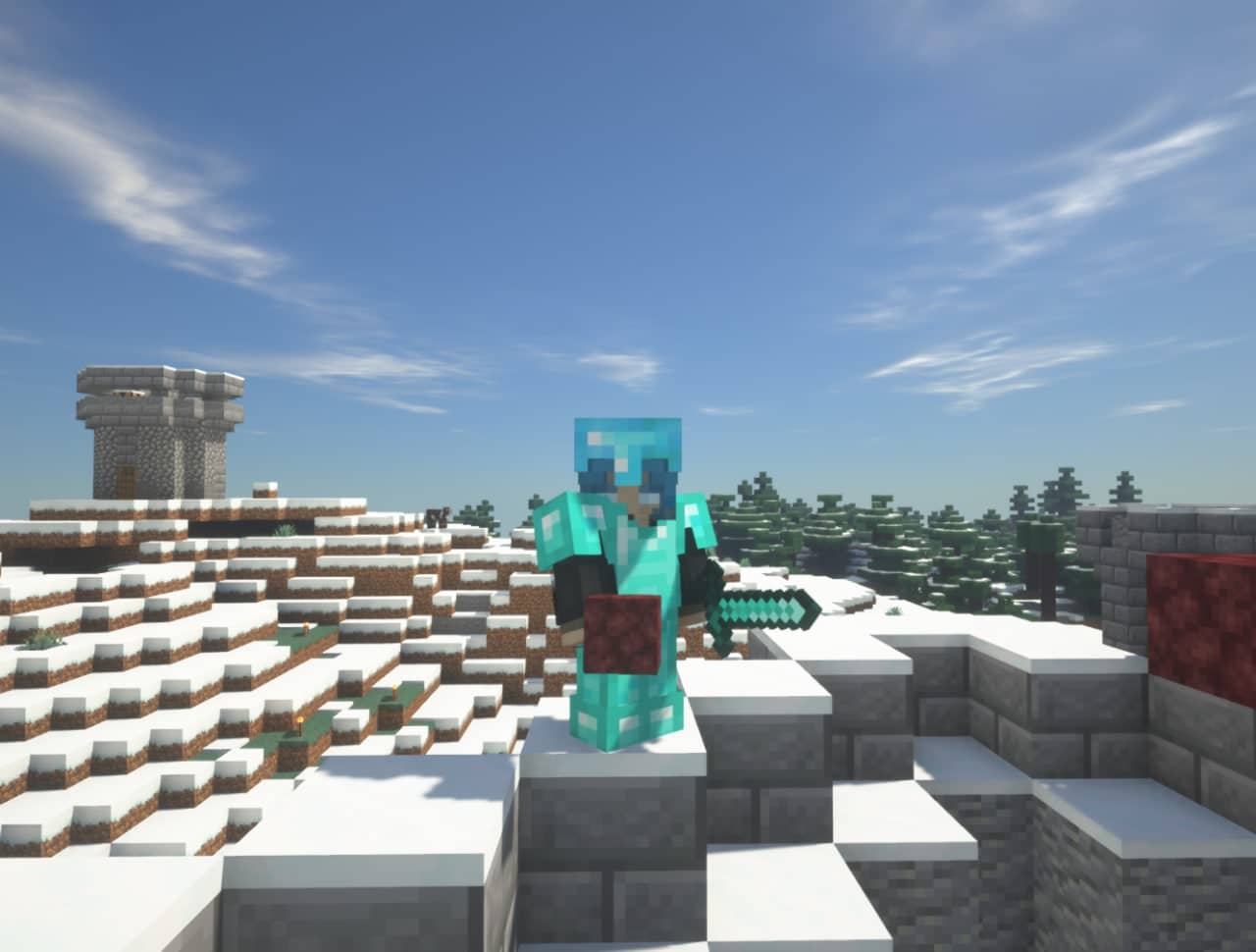 A-Dena and EOS Michael killing monsters at Gratitude spawn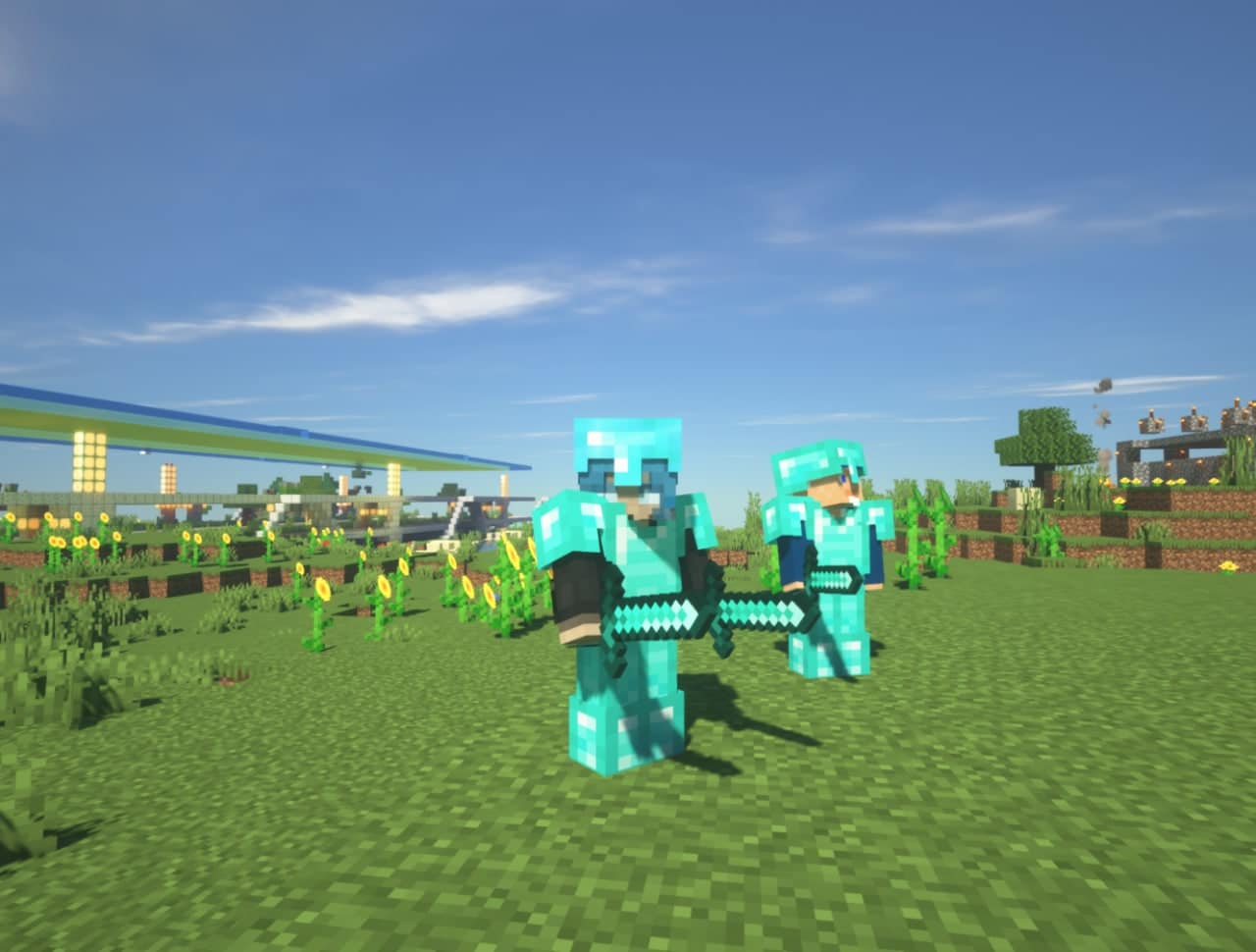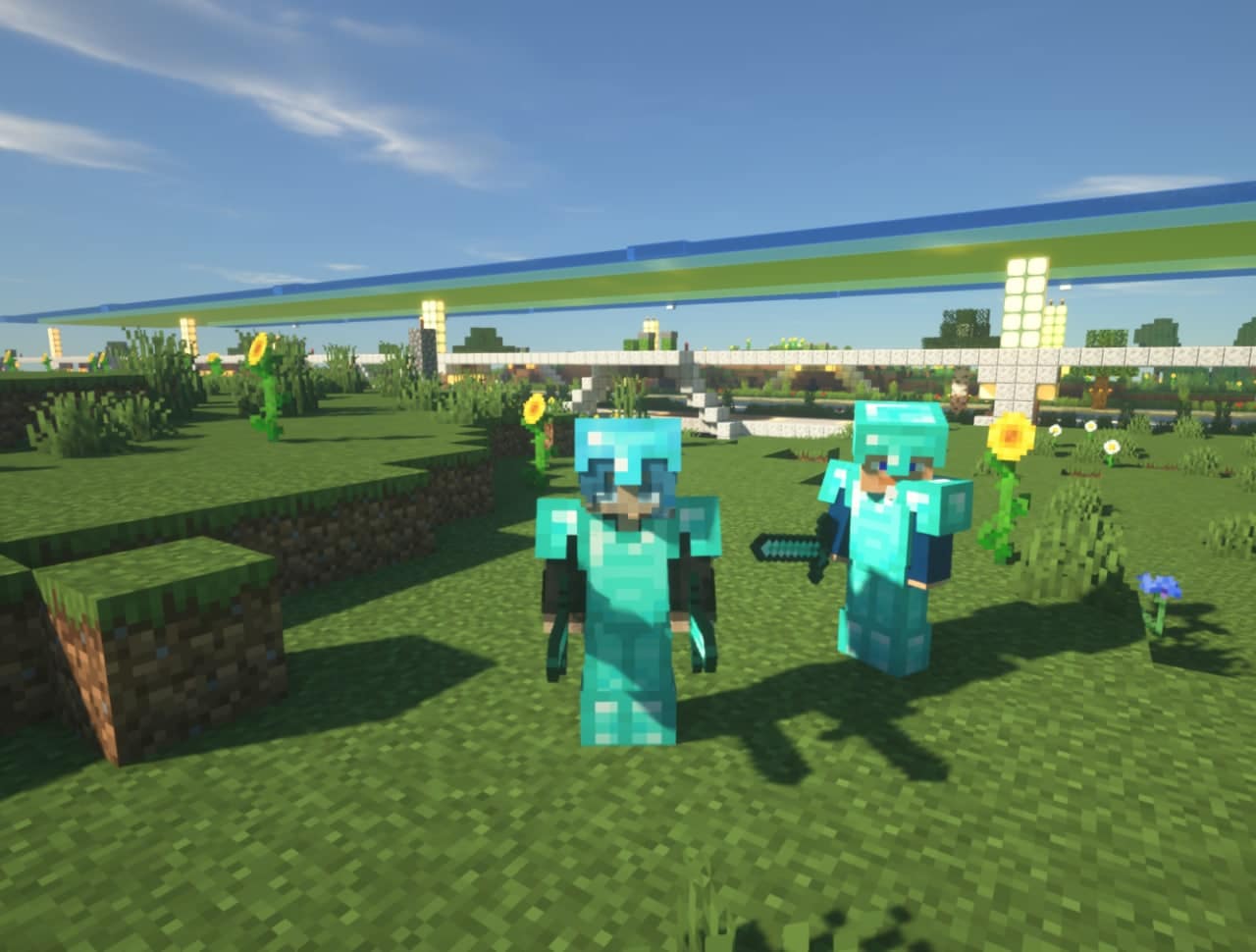 Jenn doing the Western gate picture installs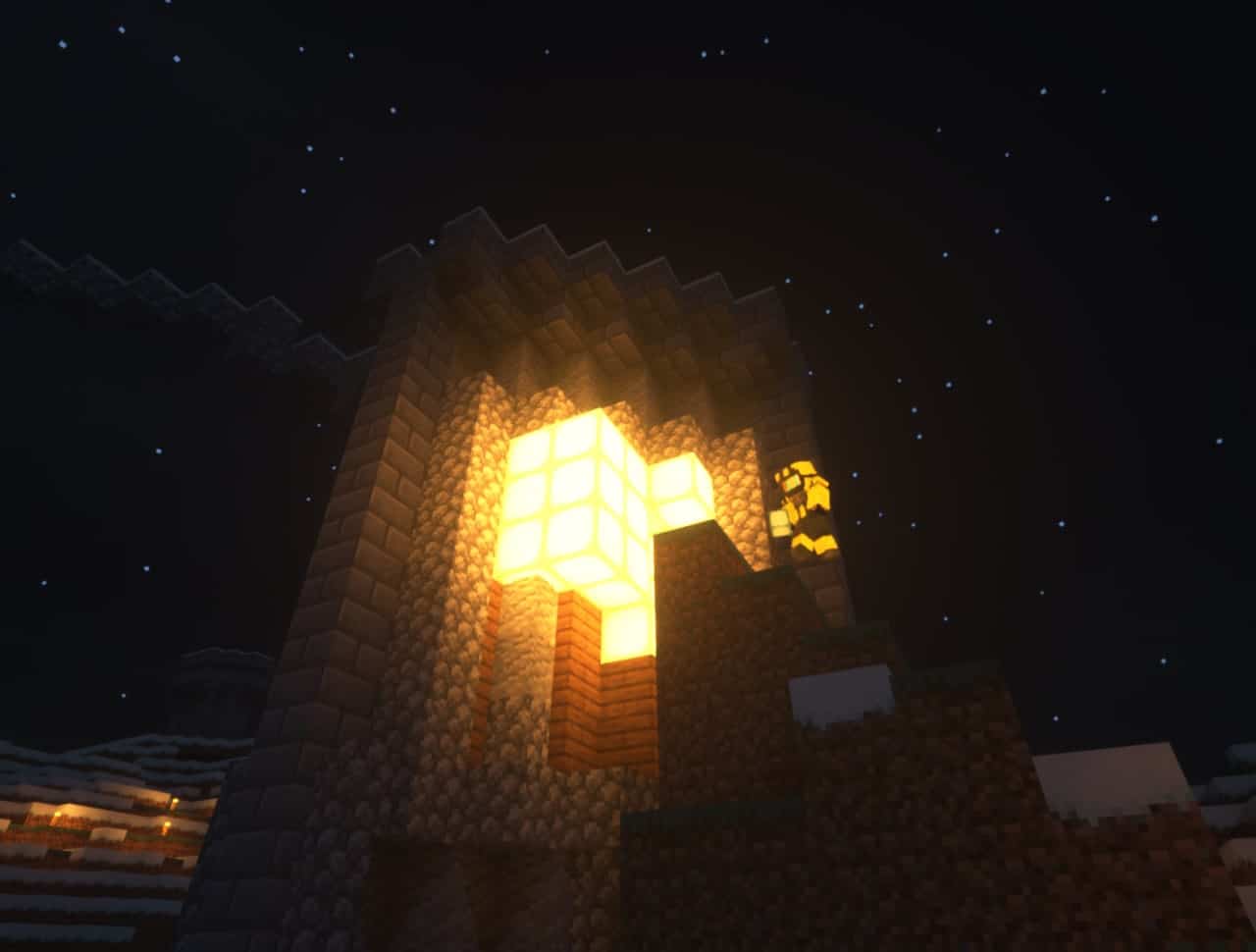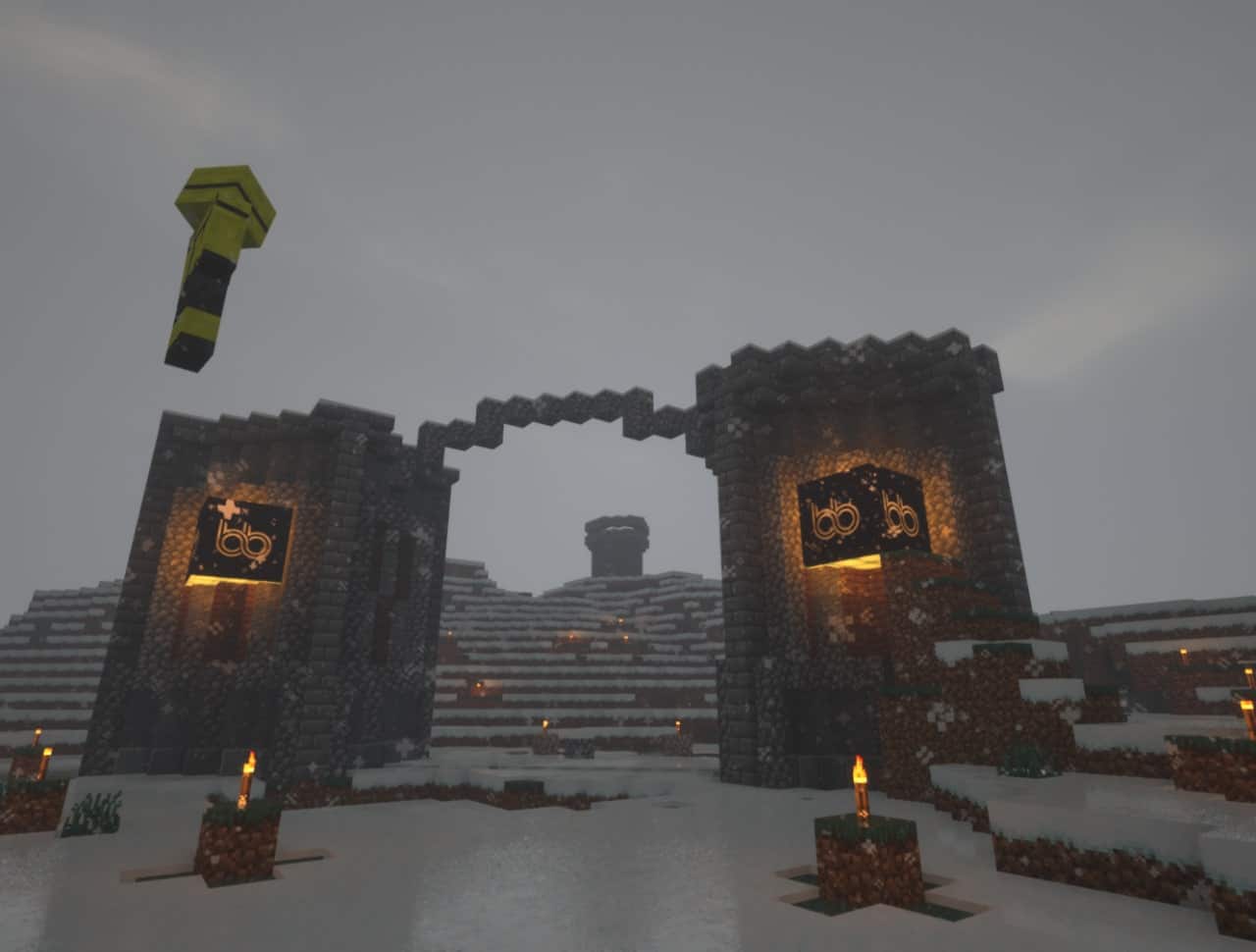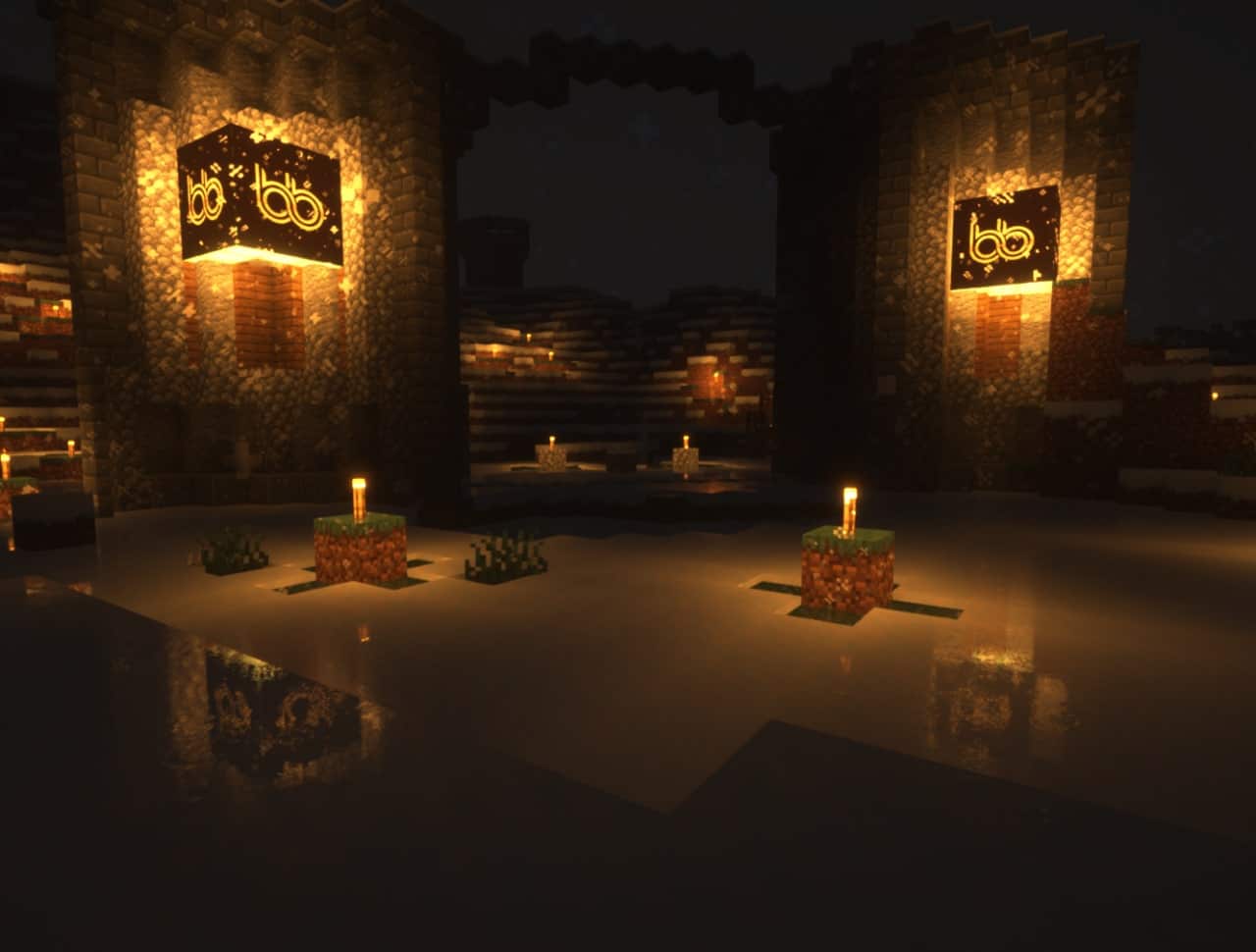 A-Dena and Jenn after the installation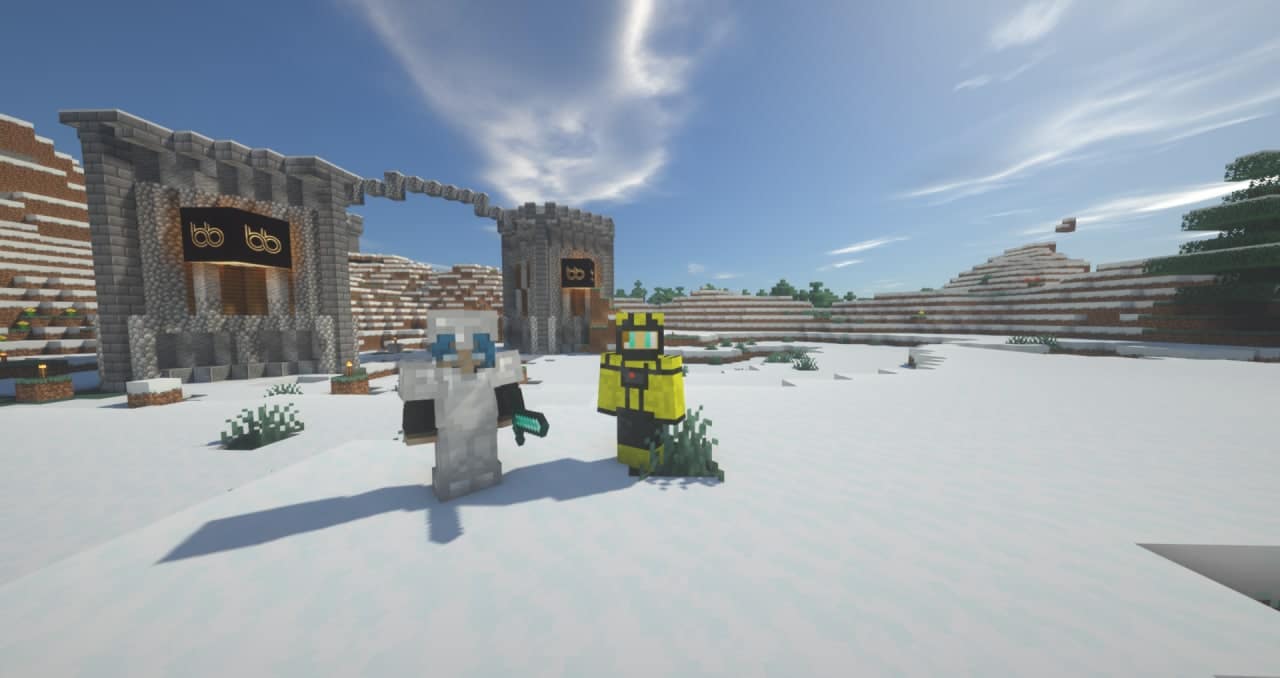 A-Dena at the Bitcoin Babes HQ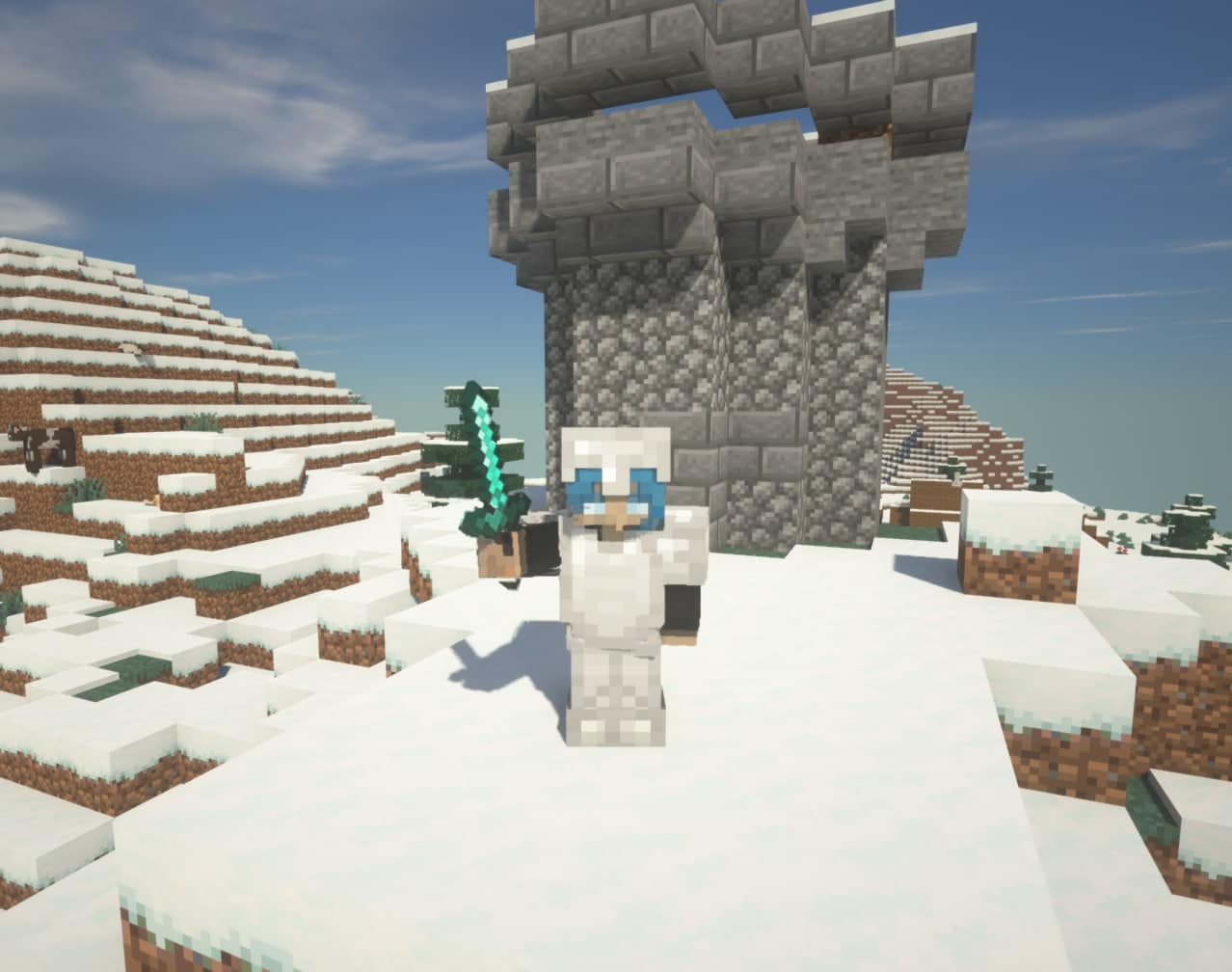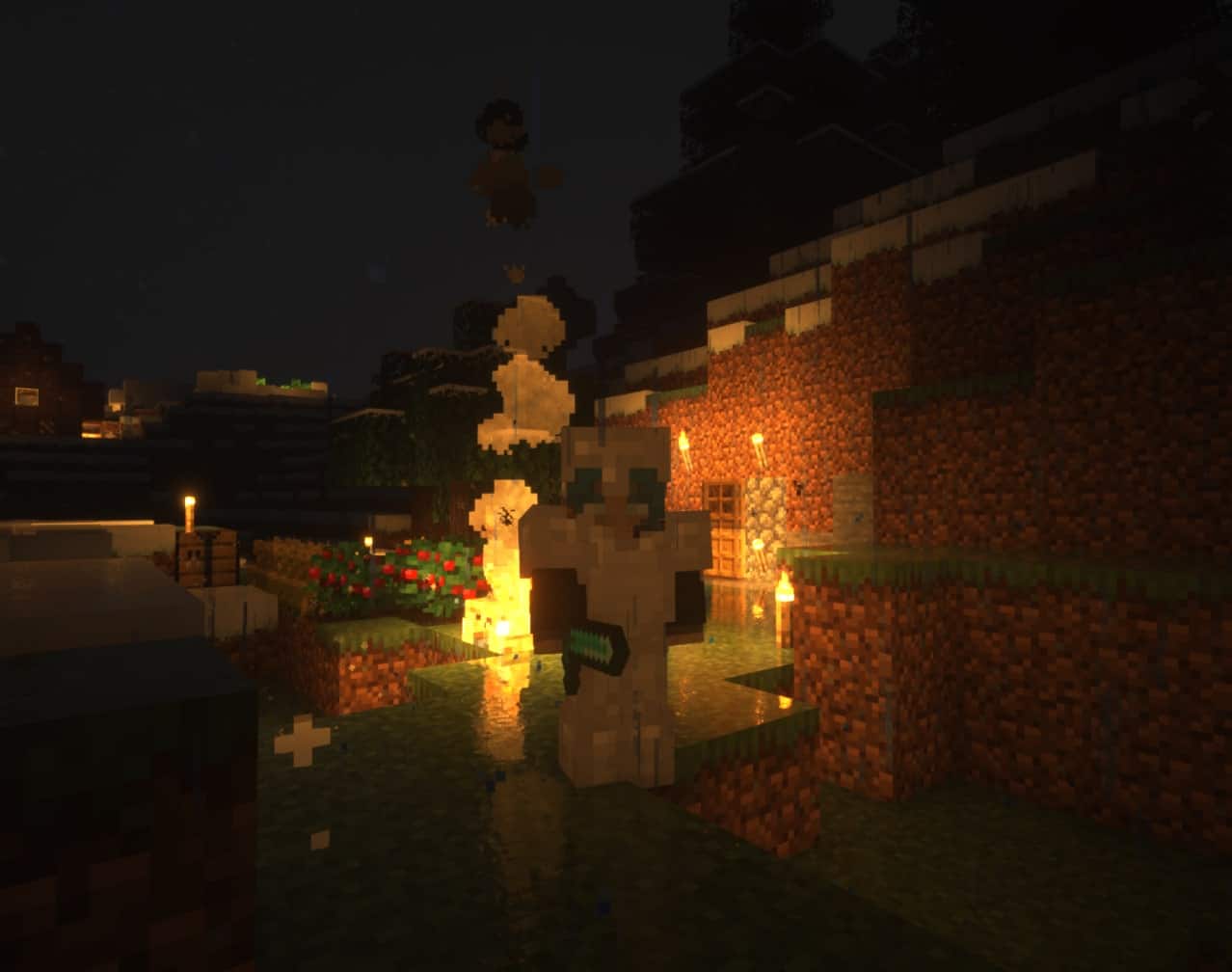 A-Dena horsing around. Horse doesn't want to swim 😂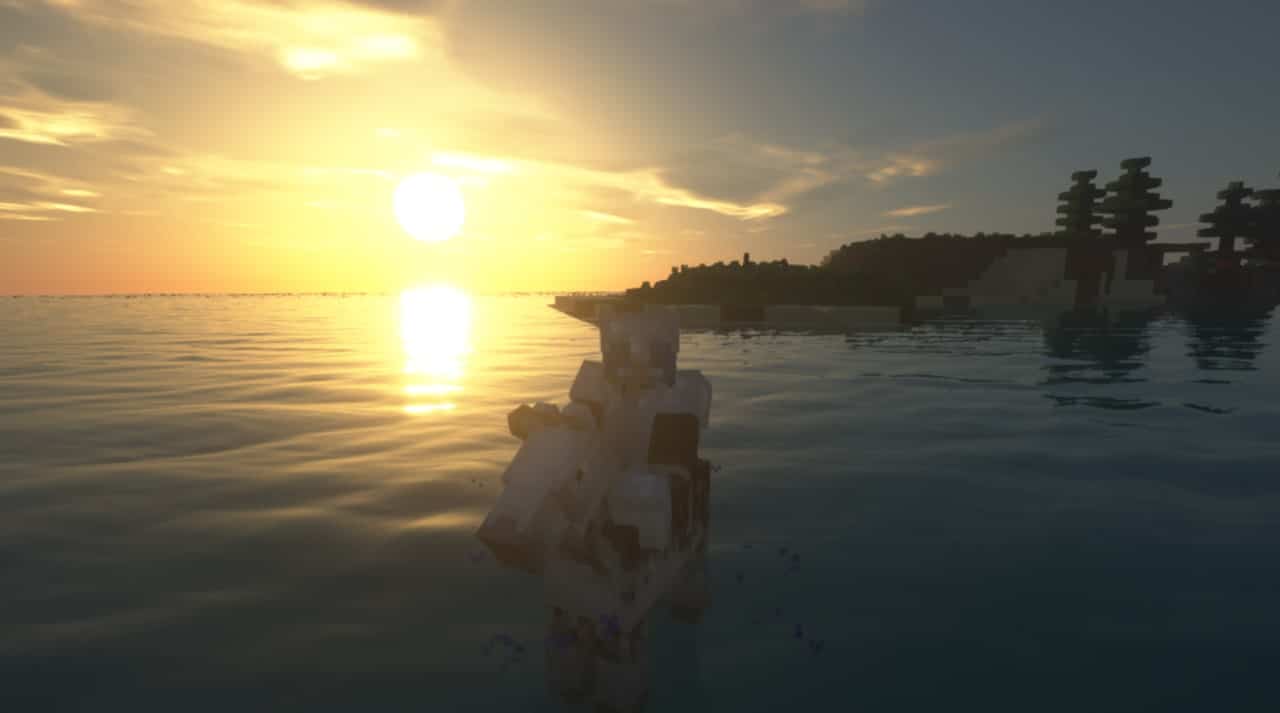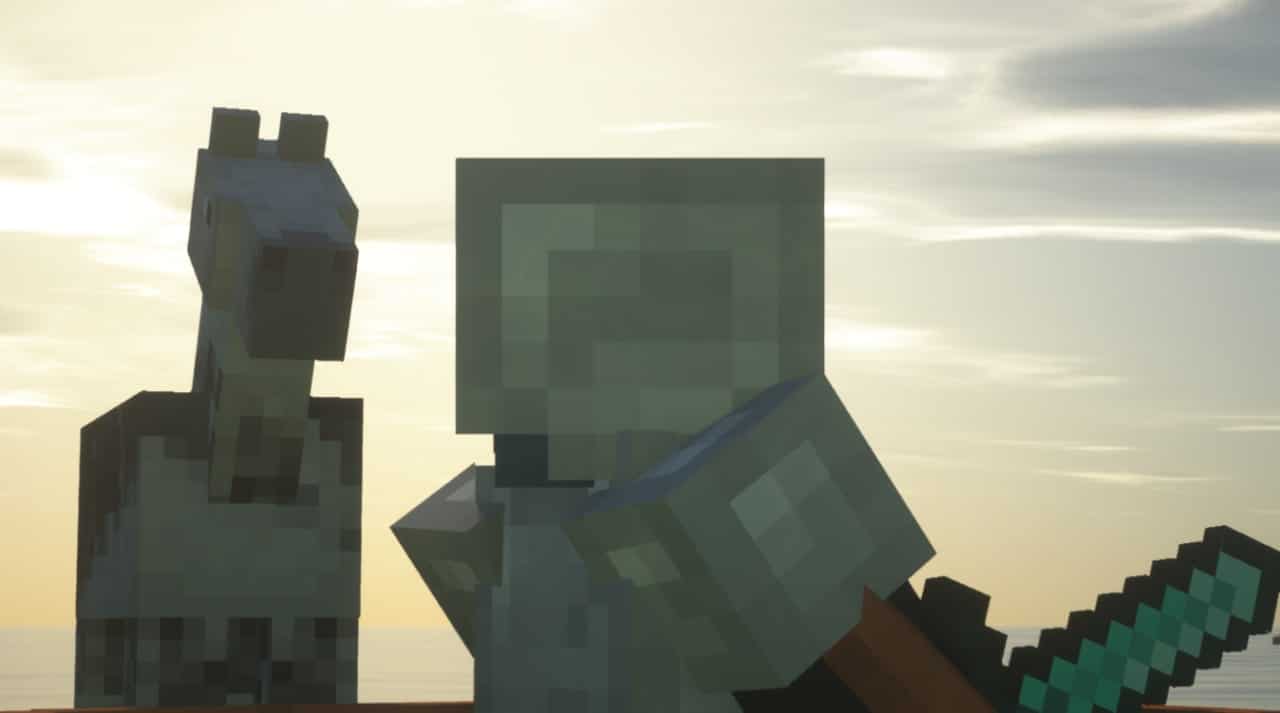 A-Dena and a stuck horse…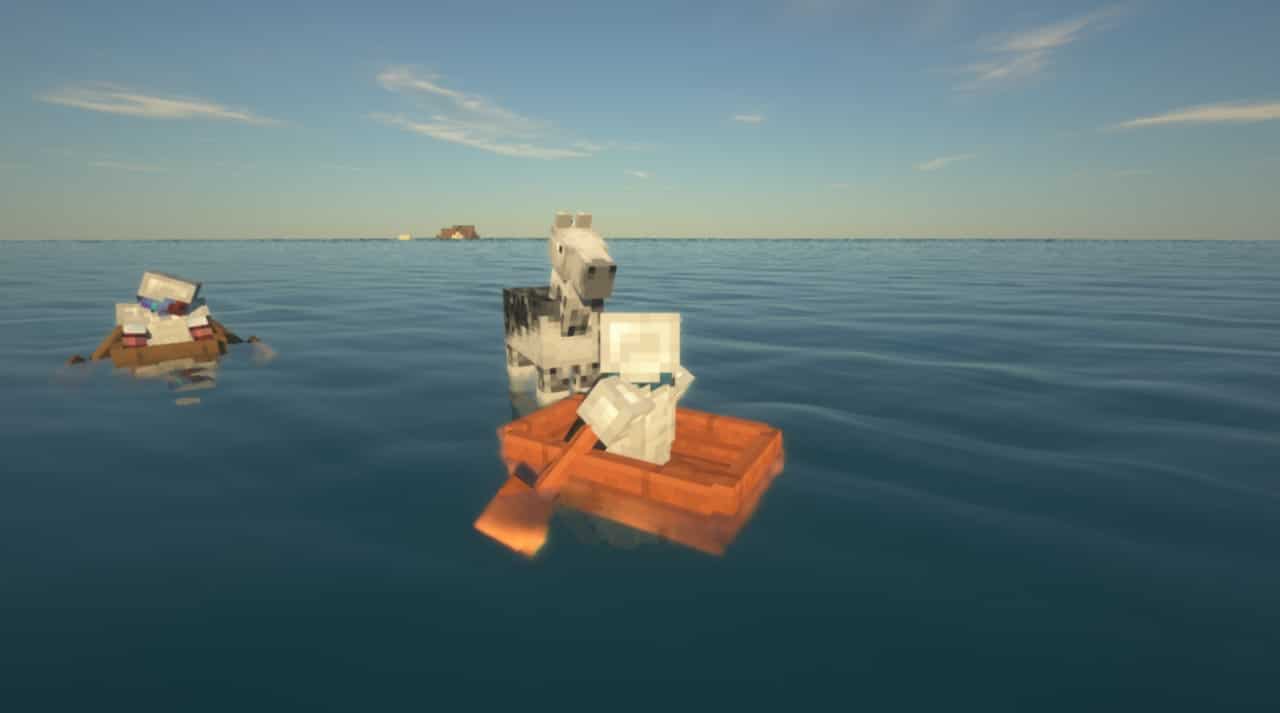 Common… Just get in the boat you silly horse?!?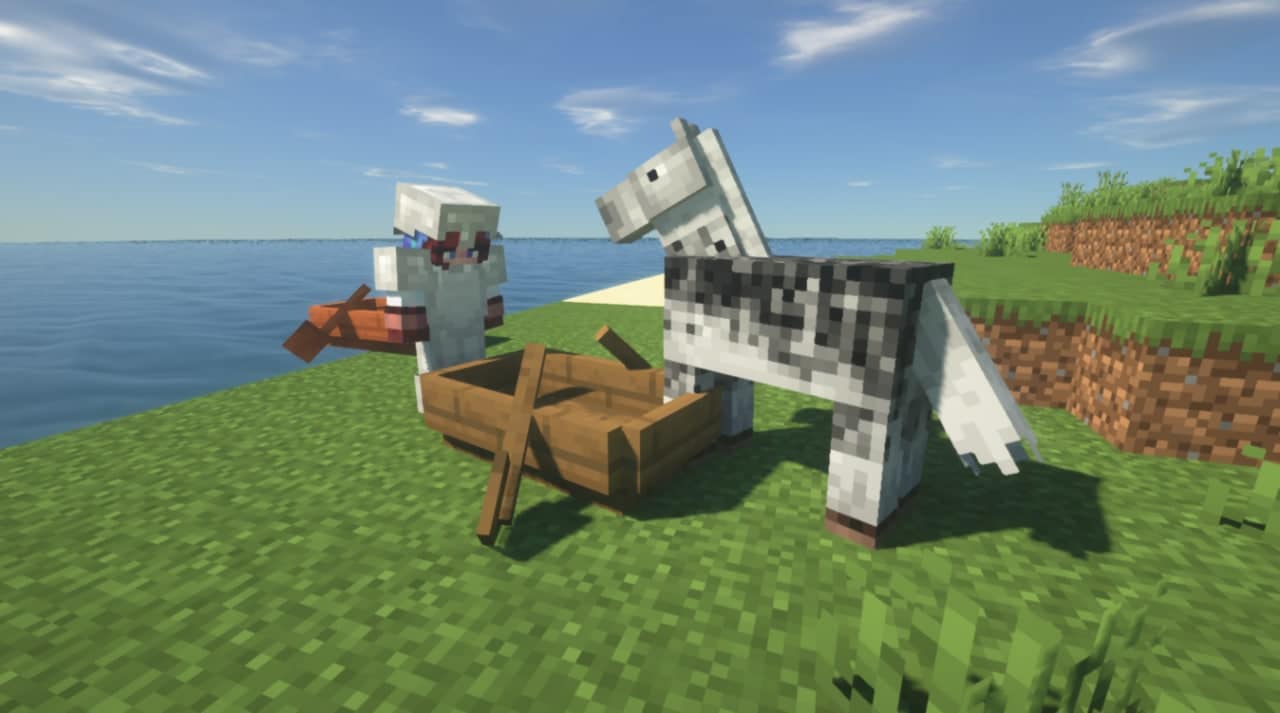 A-Dena at Kindcoin's Ice Castle in Genesis taking snaps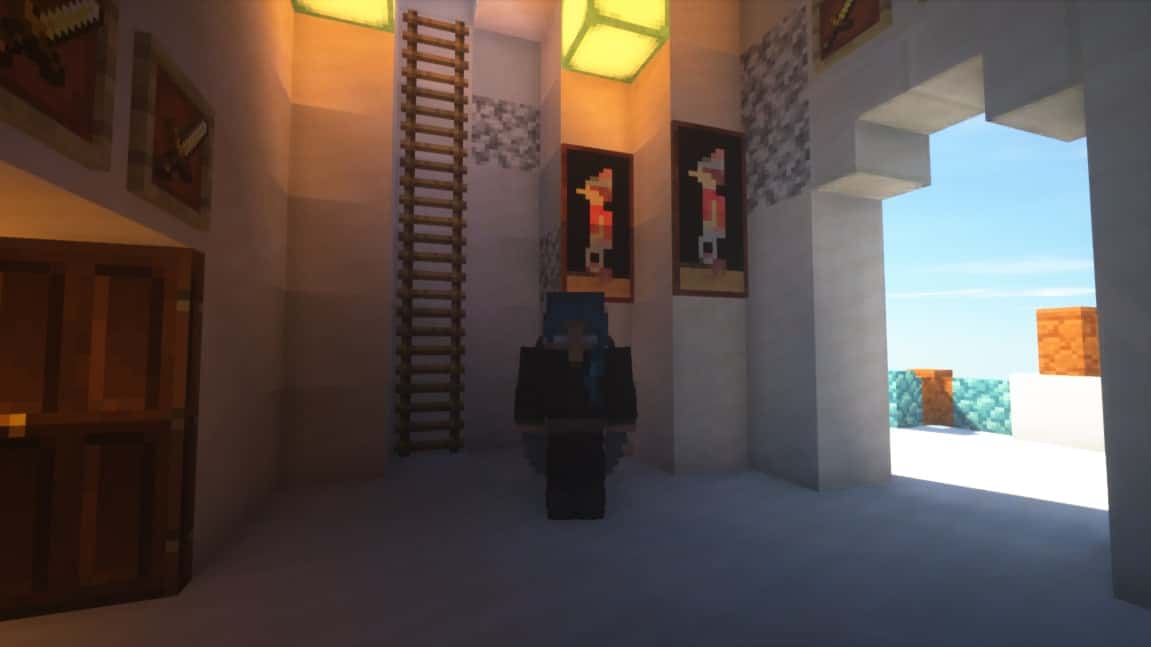 A-Dena getting stuck on the ice boat race track (Genesis 1550, 1650)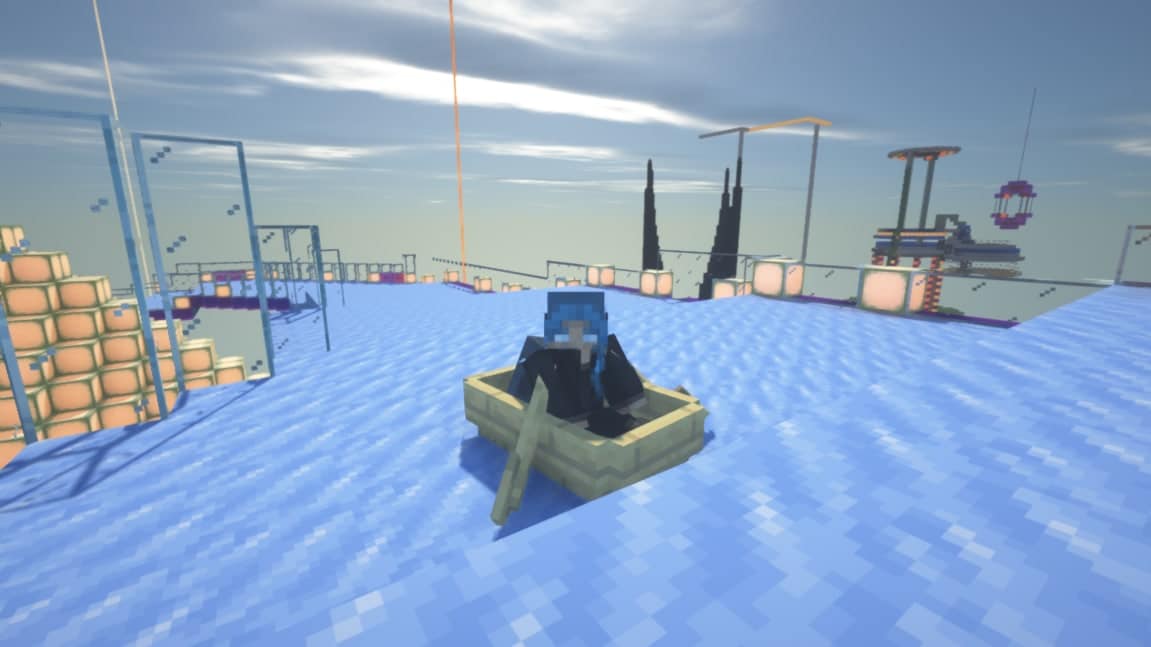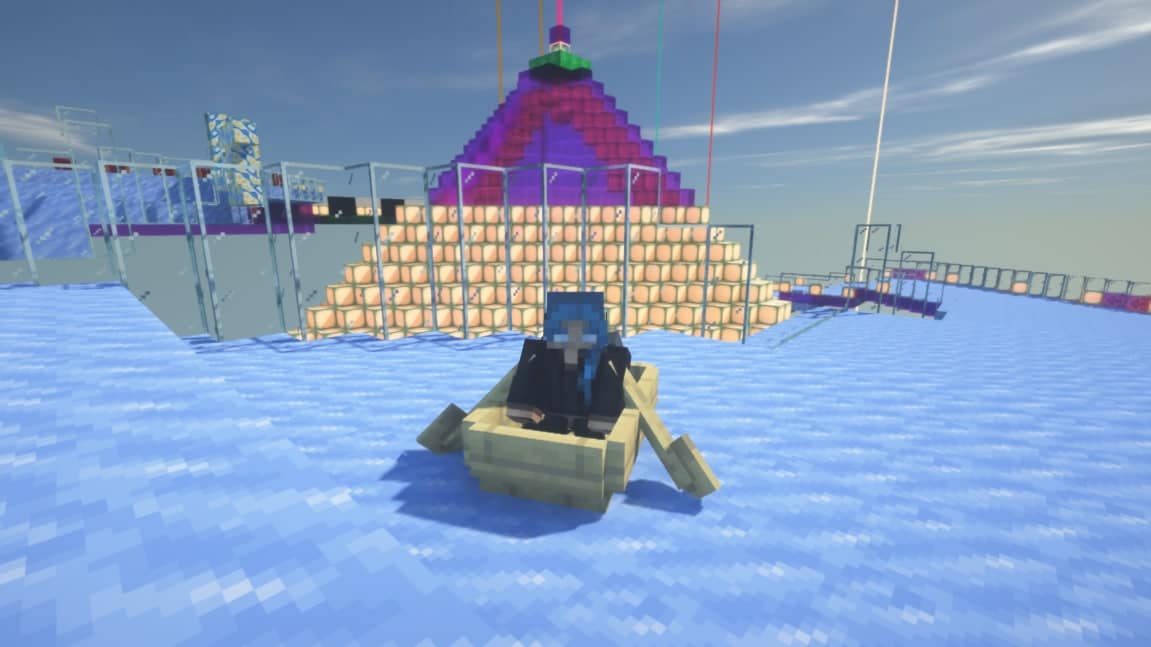 Sandra in Gratitude BB Land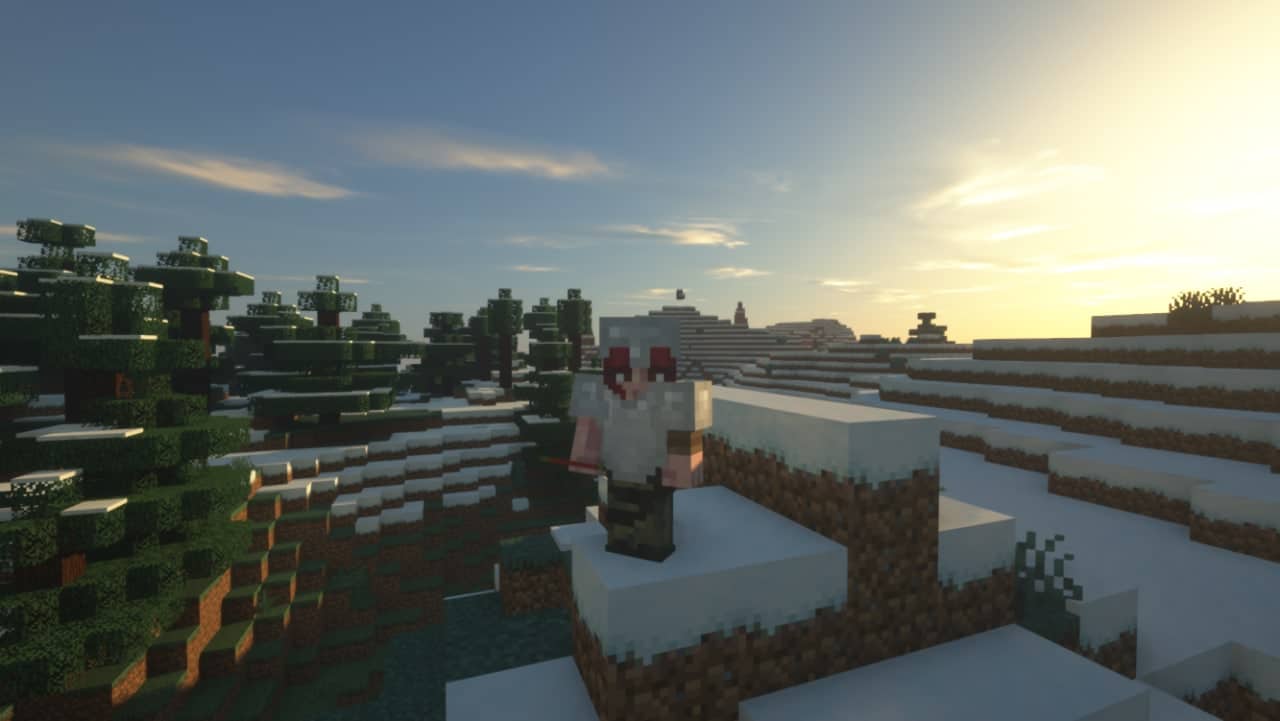 Watermelon anyone??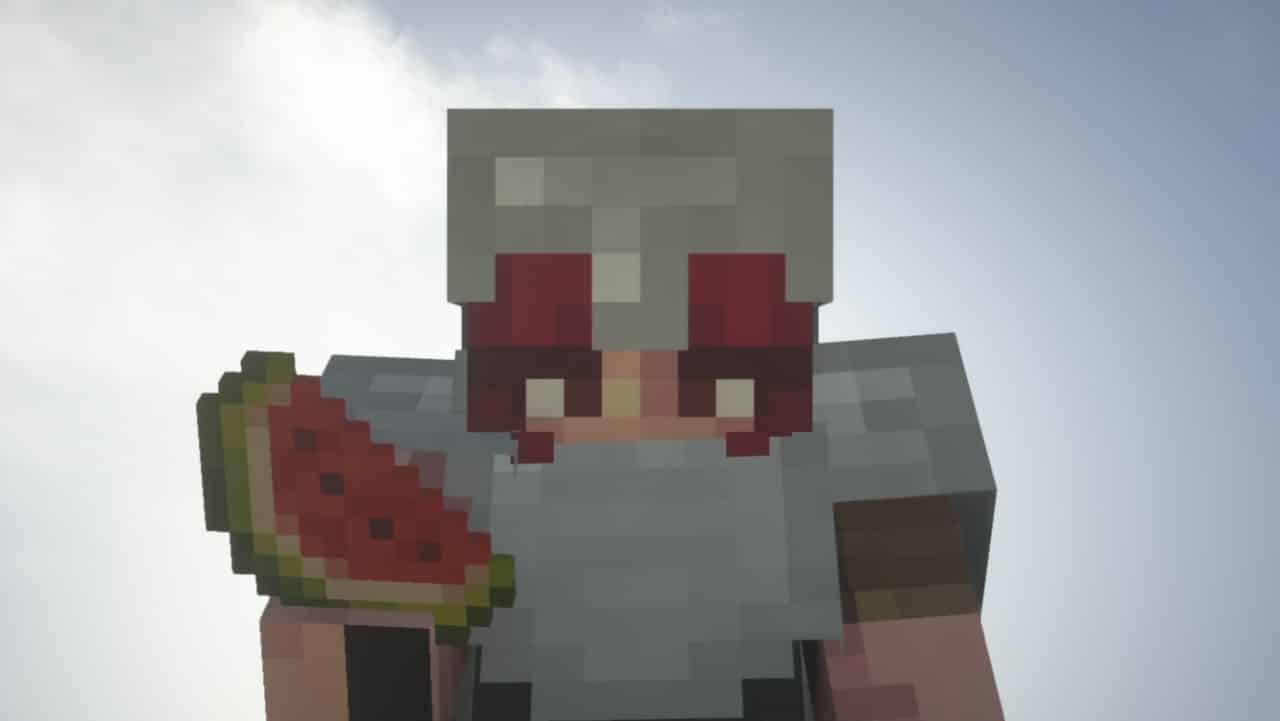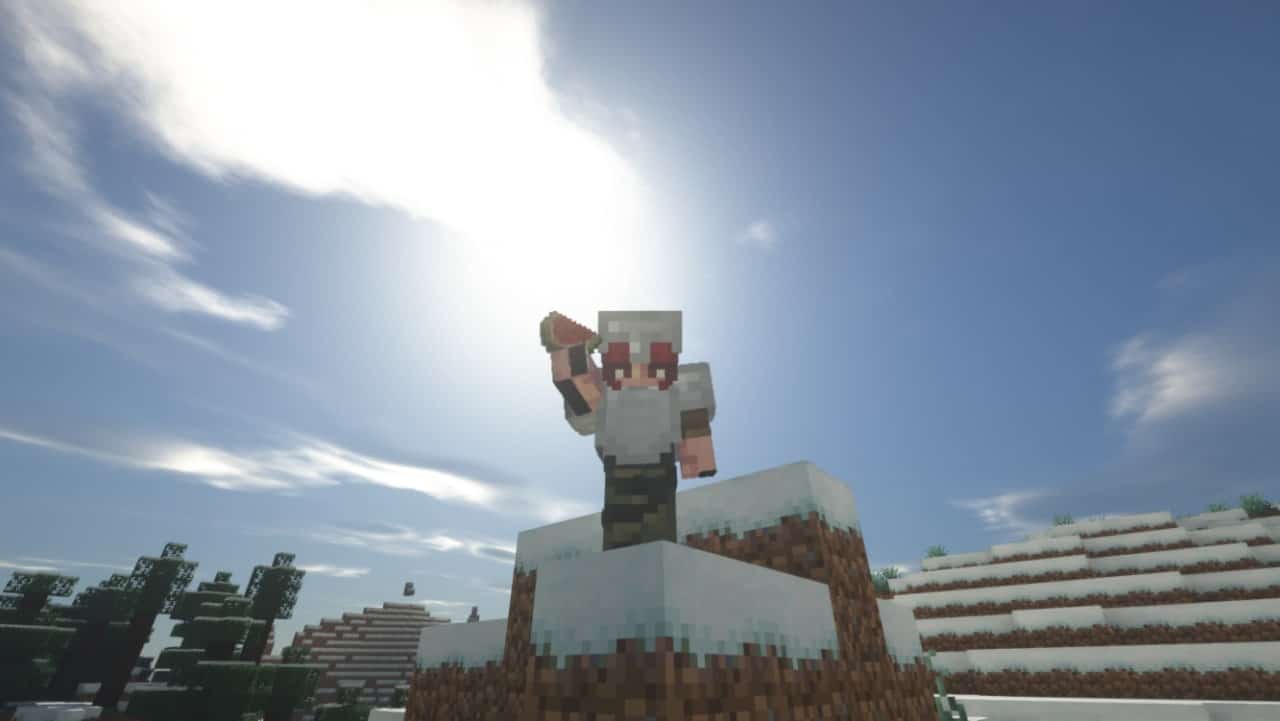 In the early days of survival, the watermelon is mightier than the sword!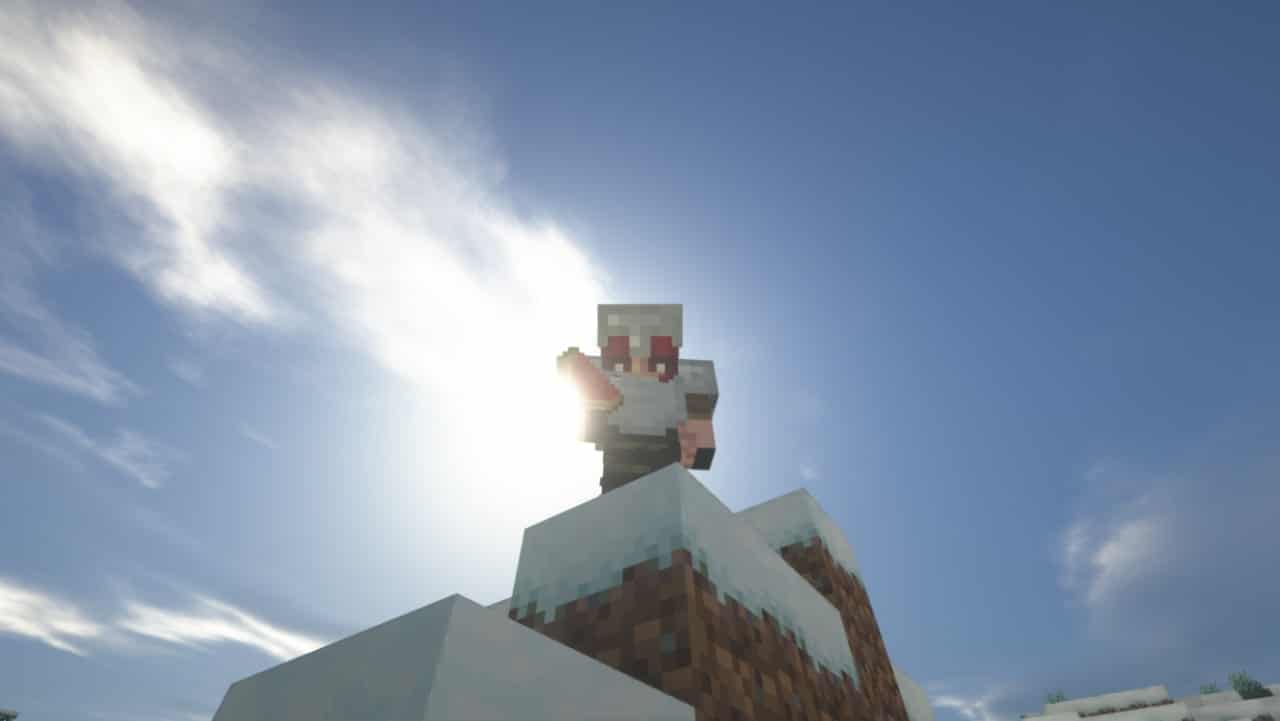 More Bitcoin Babes builds in The Uplift World
We also put up an ode to the Bitcoin Babes in Genesis 2400, 4800.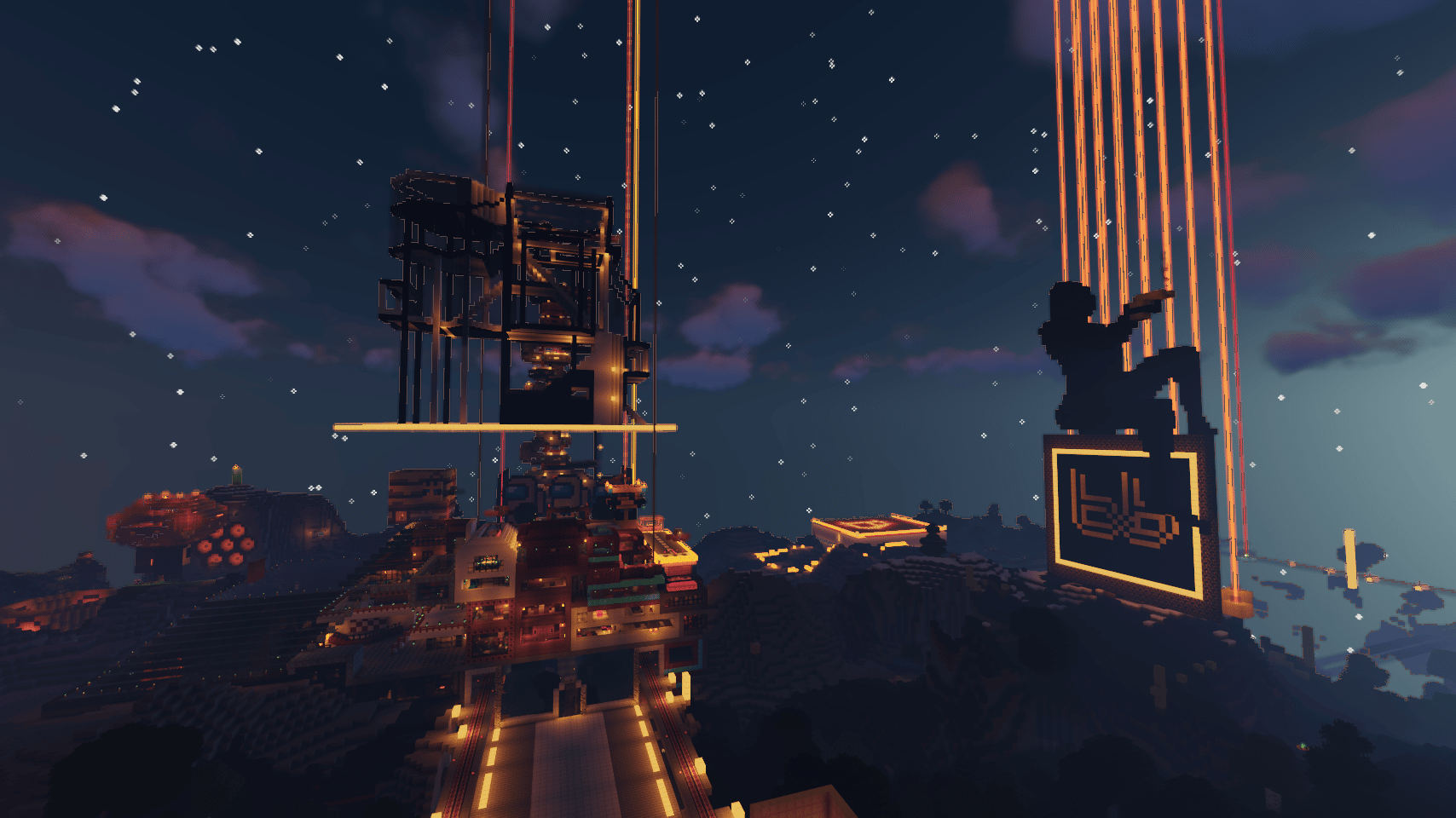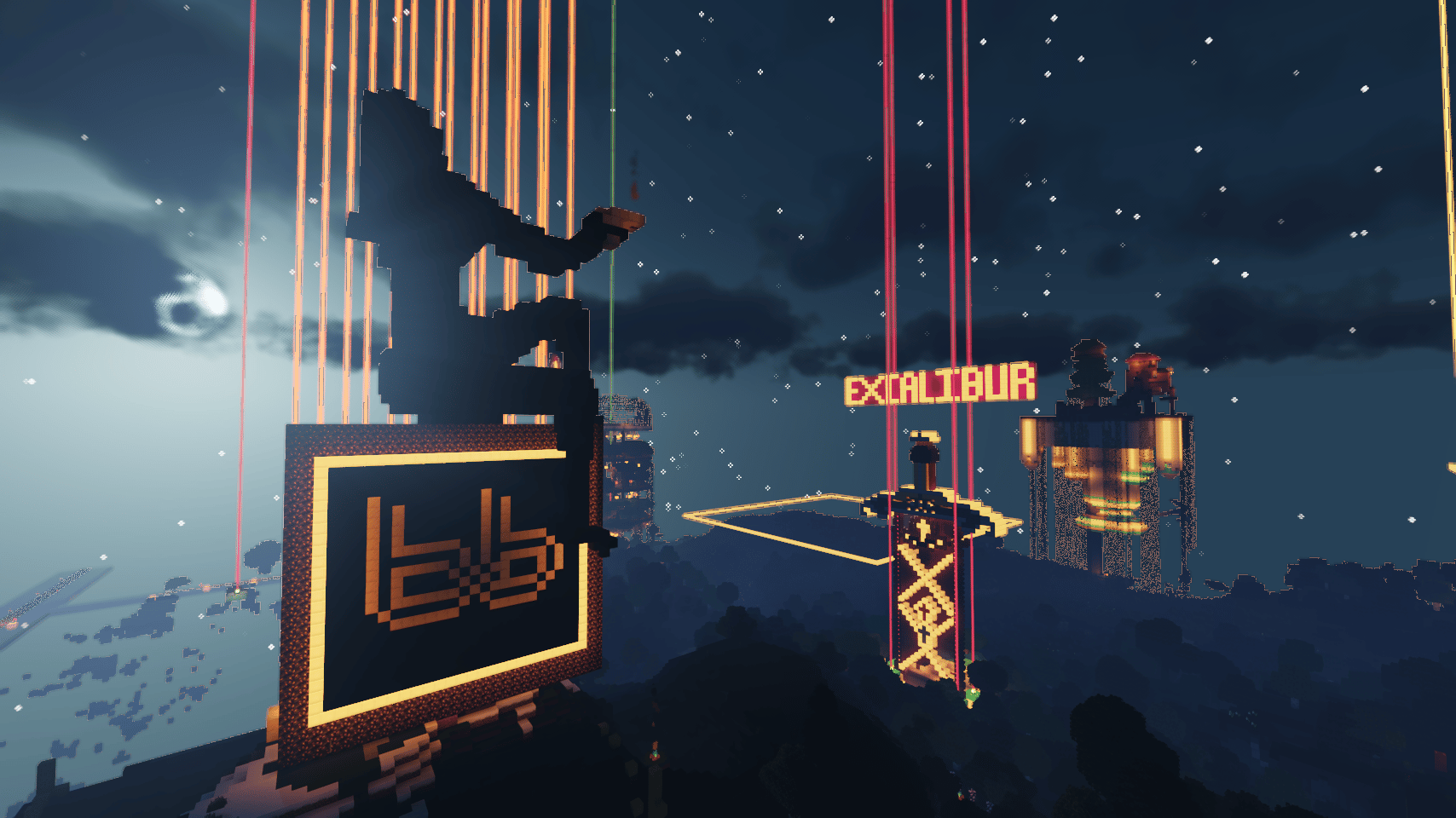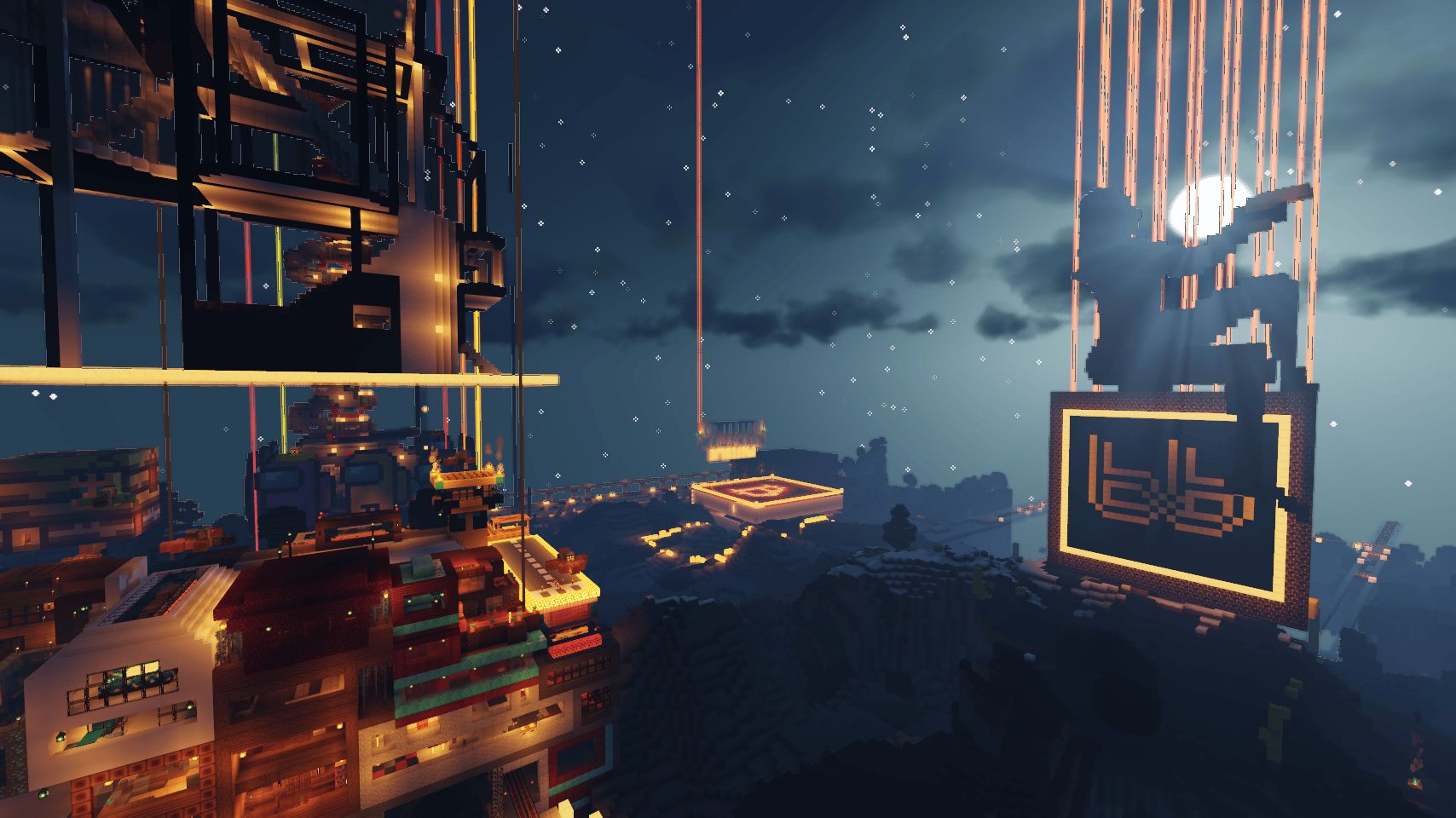 And in fact we ended up minting this NFT of Sandra in front of the Excalibur sign when @eduardvs24 was building it.  He had to go back and fix the typo ;D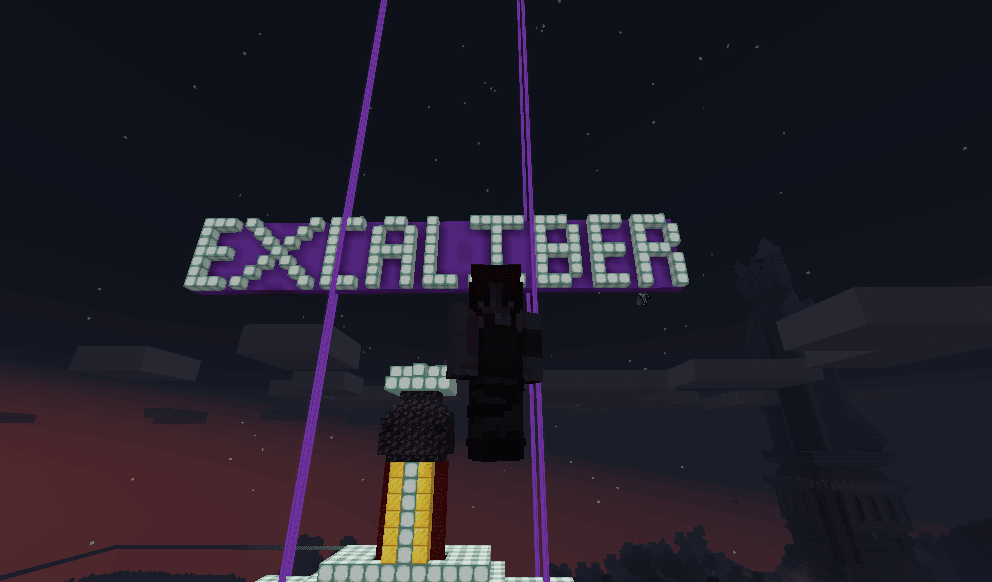 Are there any other interesting things you are doing or have plans for in the space?
I also have a whitelisted art collection on Atomic and Neftyblocks where I put up some of my art experiments occasionally. Quite a wide variety of random pieces and styles there, do please check it out if you have time.  
And if you wouldn't mind, what is it that you are grateful for on this fine day? 
I'm grateful for having a roof over my head and food on the table. I'm also grateful for the opportunity to be part of such a cool group of people here in The Uplift World. I'm also grateful for the Bitcoin Babes creative advisors past and present.  Years ago in the beginning it was just Benjamin and I.  And now the role has been taken over by Kindcoin, of course I am grateful for him also.  Not only is he a great human and amazing builder in his own right, but he is a very talented actor that did an amazing job with the voice of the dragon for the Bitcoin Babes Dragon Treasure Hunt NFT Clues here and here.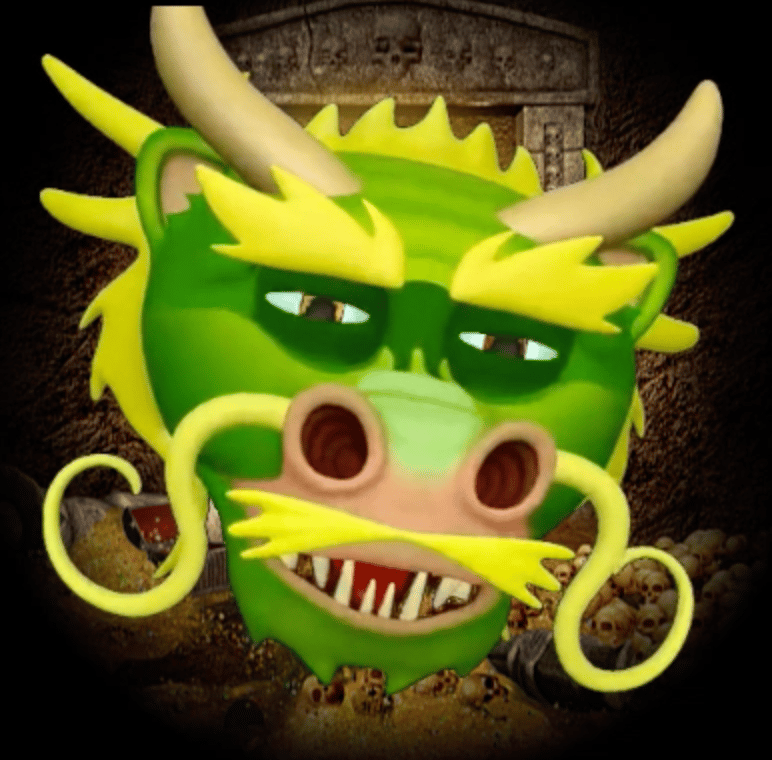 Finally, where can we learn more about the Bitcoin Babes and keep up to date with all that is going with the project both in and beyond The Uplift World Metaverse?
The best places to keep up with the most recent news from the project would be our official Telegram and Twitter channels.  You can also follow along with our NFT releases on our Atomic Hub and Neftyblocks market and drop pages.  Another great resource although slightly dated to learn more about the project in general and what is on the horizon is in the Journeys Into the Uplift World Communities spot we did with Jimmy D and Caue Motta on theUplifters network below.
*****
And for all you other Uplifters with a personal story to tell and an amazing build or ten to show off,  well it just so happens that we are in the business of making dreams of your build being seen would love to hear from and do a feature on you too.  All you need to do to be considered is to follow these instructions and dm Jimmy D a copy alongside a main channel alert tag when complete.  We look forward to hearing from you all, and of course, continuing to show off as many of the amazing Uplift BLDRZ we can.
.

.
The Uplift World Official Links