Welcome to theUplift.World Community BLDRZ blog, where we do our best to bring you all the goods and focus in on the people and projects that make the metaverse what it is today.  
For the second installment of this series, we have here with us today Jen, who you may very well recognize as a bit of a staple around these parts.  In addition to building in the Uplift World, Jen is also a part of the CK7 administrative order, the host of Jen's Awesome Show on theUpLifters network, and the one doing the picture installations across the Uplift World sectors.
The Jen and The Stacks at Apocalyptica
Genesis Sector, 1250,3500
How did you first get introduced to the blockchain and cryptocurrency?
"Through Corey and Shipple. I made a post with a picture of my Dong (Vietnamese currency) and became a Shillionaire overnight."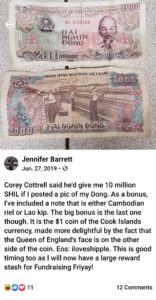 What is it about the future of blockchain and cryptocurrency that excites you the most?
"I still don't know what to think of cryptocurrency if I'm being honest. But the future of blockchain…. It could be very useful for keeping medical records across multiple service providers worldwide.  It seems very useful for tracking Wills and how executors handle them.  Government agencies could use blockchain to track document reviews so that I know whether or not my tax return is being assessed or not.  It could be used to track expenses of the Catholic churches in Canada to provide a transparent overview of how fundraising efforts are going for their Indian Residential Schools settlement that's been so poorly mis-handled. Tracking any government finances, campaign spending for politicians, and basically anything where transparency is needed seem all fine usecases for blockchain in my eyes."
What blockchain project are you affiliated with and what is it that they do? Or what other projects do you support and why?
"Shippletopia. I can't actually tell you much about it yet – it's super top secret until it opens – but if you can imagine an interactive place where you can have boatloads of fun with other Uplifters, you're on the right track." 
*To learn more about Shippletopia which all started with the Shipple token started on a dare as a joke and accidentally started a movement of having fun, doing good, taking naps…
 and

also memes head on over to the official Shipple.io Telegram. And as for spoilers, you can glean some sense of the magic on the horizon by revisiting Hendiana Bones & the Builders of the Lost Ka'ah.
How did you first find out about the theUplift.World?
"One day Corey invited me to a Sunday Gratitude Ceremony.  Then I built a Rainbow Village, and suddenly my Rainbow Village was Twitter-famous, or maybe it was Telegram.  Anyway, that introduction to the community was really my first understanding of the idea of The Uplift World."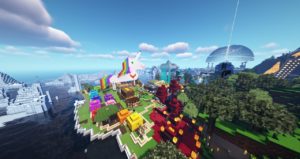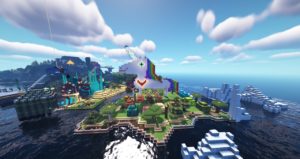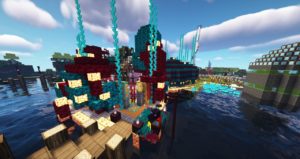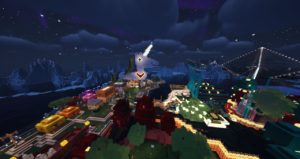 What was the overall design of Apocalyptica and why?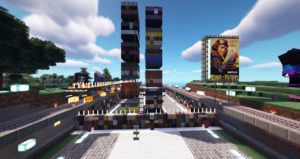 "Apocalyptica started as an idea. It was founded on anarchy and creepy visions. My goal was to have visitors feel like they were crossing through a zombie apocalypse zone. So far when giving tours, most people's first reaction is along the lines of "Oh heck no, I'm not going in there!" which is perfect. But the main entrance is also a surprise rainbow "murder" pit, so it's definitely not what you'd expect. I really like the contrast and surprise of it."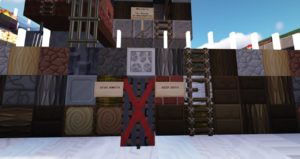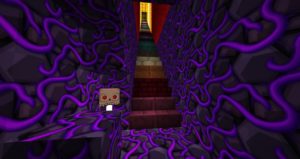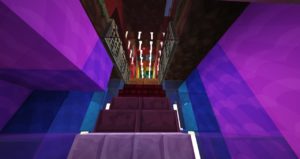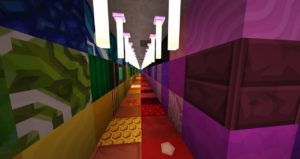 "Then I started reading RPO, and the description of The Stacks seemed to fit very nicely with the run-down atmosphere of Apocalyptica, so I've slowly started incorporating them. With the RPO tie-in, it seemed appropriate to put up my favourite Shipplememe as a rail billboard too, both because of the RPO influence on Shippletopia and potential low-key Shippletopia promotion, and the revitalization of the Shipple Fund for Charity (supporting local, under-the-radar charities, managed by the CK7, wax address for donations is Shippletopia)."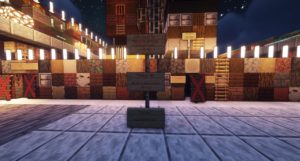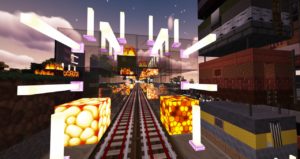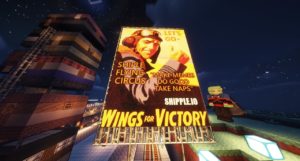 Obviously this is not your first rodeo so to speak.  If you wouldn't mind, maybe you could showcase some of your other builds in the Uplift World metaverse for us.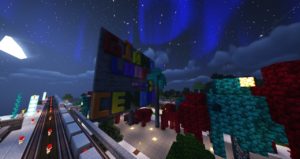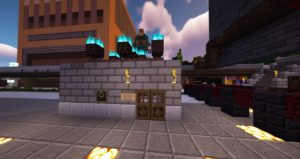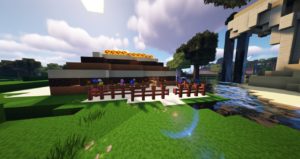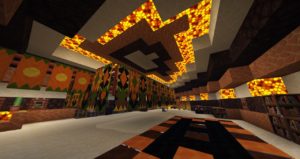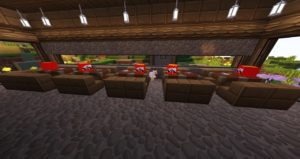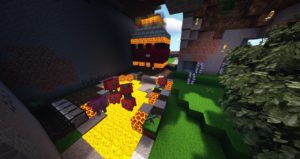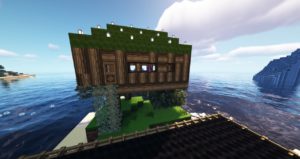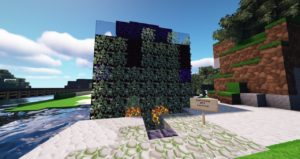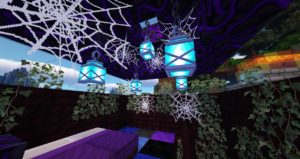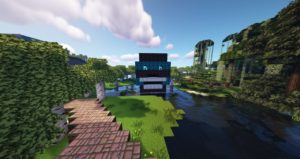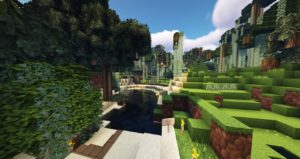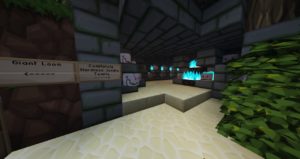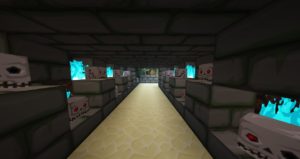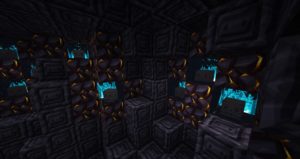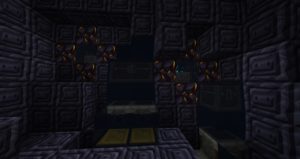 What are you looking forward to the most in regards to theUplift.World?
"I'm super excited about the integration of music and events. Last year I built myself a birthday party room in a super secret location and invited all my friends. It was livestreamed and very covid-friendly. Next year, there will be live music, a cover charge NFT to help pay the musicians, probably prizes of some sort, and ideally all aspects of the party will be integrated in-world so that it doesn't need to be livestreamed. That's do-able in 5 months, right?"
What are you planning next for theUplift.World? 
"I have a couple plots on CK that I'm working on. One is rail under a hill – I'm working on removing the hill so that mobs won't spawn under it during the day. It is very not exciting. I'm also going to have to work on my rail plot that's beside the entrance to Shippletopia – obviously once Shippletopia launches, it will be a high traffic spot. I'm still surprised no one outbid me on that plot in the auction. I'm also working on a sweet little place in Nemesis, but no, you can't have the co-ordinates for that. If I'm being honest, I don't even have the co-ordinates for it, but I know where it is."
Is there anything else you would like to note about your project, community, build, upcoming events.  "Shippletopia is coming thoon. Save your wax and be prepared for the experience of a lifetime."
********
Now considering how very amazingly humble Jen tends to be, it might just behove us to place a little context on who Jen really is and has become behind the scenes. According to friend and long time collaborator Martian Bullshiples of Shippletopia,
Jen is AWESOME!!!

I LOVE how adaptable and flexible she is in group project/meeting situations to participate however most helpful and she is a genius transcriptionist and minutes recorder… She is the glue that holds us all together and allows actual organized progress and action items once the ideas have flown about in a wild chaos of creative discovery.

She is committed, dependable and conscientious regarding her work and what she creates and is awesome to build with as her creative spirit and desire to color outside the lines of traditional conformity are inspirational and contagious to the rest of the team.
There certainly is a lot more to celebrate about Jen than her humble nature portrayed above, and like we do over here at The Uplift World, airing our gratitude for Jen seems like it will fit right in at home here.
The Banksy of the Uplift
Depending upon who you ask, it would not be such a stretch to say that first and foremost, in her heart of hearts when you boil it all down, Jen is an artist.  Having received the title 'Banksy of the Uplift' is no accident, as since early days, Jen has been tearing it up when it comes to wall art in the Uplift World.  If you wonder around The Uplift World metaverse for long enough you are sure to come by one of her great creative installations, only some of which can be seen below.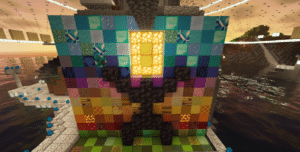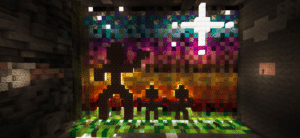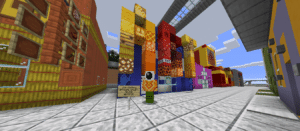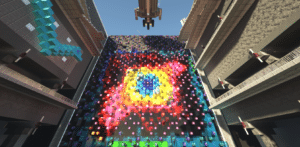 And as impressive as these all the above are, of the ones that really stand out the most is the interactive living Gratitude Mural inside the famed Blue Room, which due to it's sheer amazingness has now found itself upgraded in video retrospective form to a YoshiMiner.  The Silver Jensky YoshiMiner will actively mine $YOSHIBucks for use inside the soon to be released Yoshi App by YoshiDrops.com, an innovative way forward utilizing blockchain technology to empower musicians and artists while sinking carbon to improve the environment simultaneously.  Check out the details of this amazing piece and what it has come to represent below.
Jen's Uplift World Picture Installs
Besides being awesome, one of the things that Jen does over here in The Uplift World metaverse is picture installs as highlighted in the video above.  Basically, for those who would like pictures installed on their plots, the process is to procure 1 million Upliftium and then fill out the picture instillation form.  Jen will then organize a time to come in world and put whatever your heart desires up in your Uplift World plot.
As an aside, should you be wondering about Upliftium and how to procure such a vast amount, the basics are quite simple.  Head on over to enter.theUplift.World and click on the 'Upliftium' tab.  From here you will be able to see all of the NFT's that you have and the amount of Upliftium you are getting per hour.  At the top you can click the 'claim' button and refresh your total balance.  If you are new to Upliftum and need to know more please check out Upliftium FAQ's: The Basics and Upliftium Drips Q&A.
As for what Jen does with the installs, well, these are nothing short of amazing.  Just check out some of the awesome installs that have been nonchalantly beamed into existence across the far corners of the Uplift metaverse.
The Rocket Gallery: Genesis 3550,320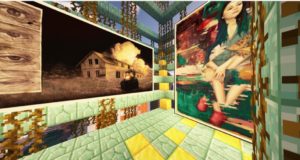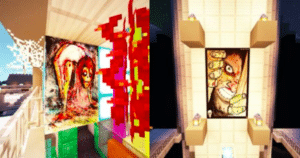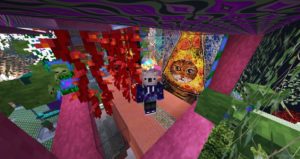 ArtVndngMchn: Gratitude 3320, 2362

Neon City Shop Signs: Genesis 2800,3100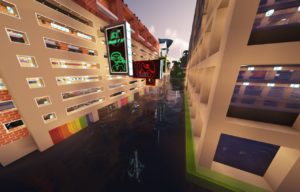 The Spirit of Free: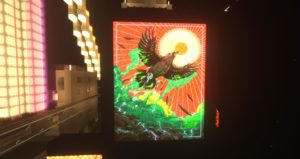 I AM's Unnamed Community Rail Gallery: Genesis 1750, 2000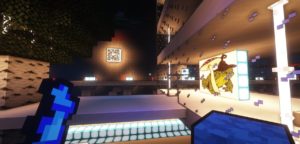 Classe Art Gallery: Genesis 2500,2500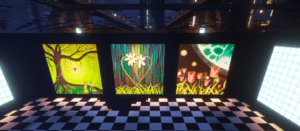 Jen's Awesome Show
Just when you think that there could not be anyone else to interview, Jen turns up the heat and welcomes another whole new series of guests on Jen's Awesome Show.  Overall it is a great show that goes deep underground with a variety of Uplift and affiliated team members, networkers, builders, and more.  Jen's mix of serious power hitting journalistic and light humored fun questions to her guests keep things fresh and bring about a real sense of understanding about who and what her guests are here for.  We here at the Uplift and on theUpLifters channel feel both privileged and happy to have such a wonderful addition and friend to our team.  Are you interested in knowing more behind the community that makes this metaverse we call home tick?  Well, hop on in with Jen on her awesome show and hear all the amazing responses by her guest to he 'so very many questions'.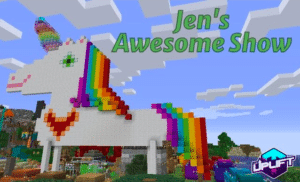 As for what the future of Jen holds, well, if the past is any precedent for the future, only the most amazing of things.  Don't forget to find, like, and subscribe to Jen on Twitter @20011981, and contact her directly on Telegram @jensawesomeshow should you have any deeper inquiries regarding the show or installs.  And of course, for any of you others out there interested in having your very own Uplift builds featured here on our official blog, simply follow these instructions and dm Jimmy D a copy alongside a main channel alert tag when complete.

The Uplift World Official Links