Recently The Uplift World has discovered the value in weekly happy hours combining the power of Twitter Spaces with the presence of the meatverse.  The premise is simple… Meet up in world at a pre-determined location and get first hand unabated updates from members of the founding team and community.  In fact, because of all the recent updates and momentum, this might be one of the most imperative times for community gathering to date.
As we all know, time goes by quite quickly when you are plugged into the whole blockchain and crypto sector.  It is ironically easy to parallel the sentiments of crypto time with distance travelled in the Nether in that it just doesn't equate to what seems apparent on the surface.  In Uplift terms, those in the know are well versed with all the rapid fire updates being unveiled to the world.  Expectations around such things as new Uplift DAO organization and proposals, the launch of new metaverse sectors on Ethereum, and weekly and special events although to be expected at this point are still exciting.  For those coming into what the community has created for the first time however, it is a whole other level of anticipation and amazement of what is to come for both themselves and those that have been patiently waiting.
Not so long ago The Uplift set out towards achievement of a goal to plug into 100 of the top Ethereum projects that we could find with yearnings to broaden this awesome metaverse that until now has been showcased built on the NFTs of WAX.  The official beginning of the DAO and choice to utilize Snapshot.org for its clear advantages over the competition kinda led to the necessity to explore The Uplift World via other blockchain sectors.  All things considered, Ethereum as the first foray when we set our bias aside really was a no brainer.
The time now has come where we are seeing a record speed some amazing embassy and HQ plots springing up in  both the creative and survival Ethereum NFT based land servers.  The goal of population lift off set at 50 top level projects each is well within reach in part due to all the amazing traction and community excitement these projects have brought with their decision to embark upon their metaversal journey here with the community of The Uplift World.  No better time like the present then to take this past weeks happy hour off the maps we all know and love and into the heart of the expansive energies surrounding multiple communities coming together and growing in new and exciting ways.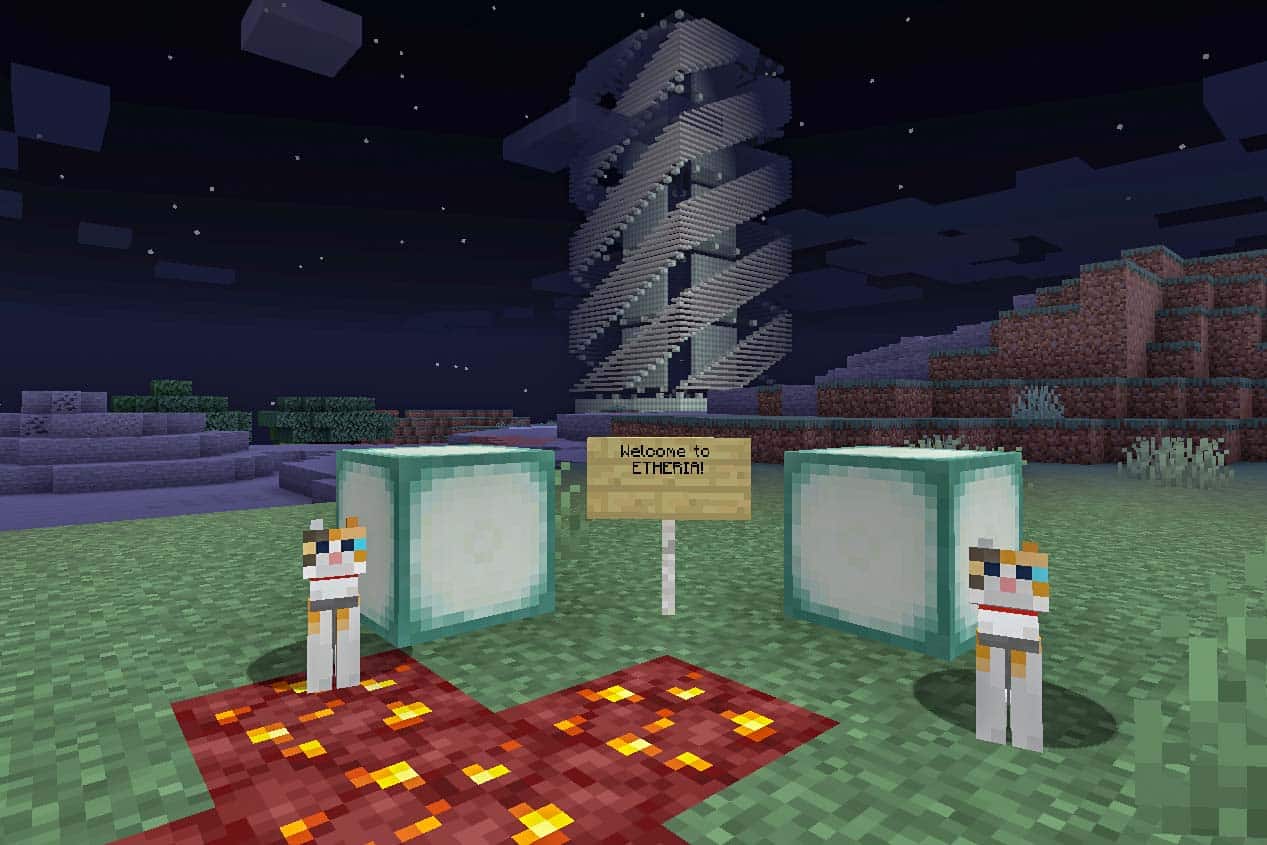 Being we are in the process of introducing so many new projects to our metaverse in the process of getting their embassies set up, one thing we have not really had the opportunity to do is spend much time exploring all that is being built in these new realms.  This past weeks happy hour presented the perfect opportunity to hop on into the new creative zone known as Etheria alongside some really exciting projects that will make this their new metaversal home.  A lot of great insight and updates well worth a listen from the Uplift, ApeSwap, The Meta Art Club, …. and a variety of project and community members that resonate within the fabric of metaversal ether of all we began with and are working towards.
HAPPY HOUR TIME!

— TheUplift (@theupliftworld) June 10, 2022
For those that may have been preoccupied in other ways, one of the best things about our joint in metaverse Happy Hour events is the comradery and sense of space felt being immersed in the world we all know, love, and routinely look forward to exploring more.  Although maybe not quite the same, lucky for us that with this many attendees there is usually a few that can snap those oh so sweet photos for the family album.
Shout out to Gkid not only for the image recap of the Etheria Happy Hour above, but all that he personally has been up to in heading up The Uplift World Building Committee imperative to onboarding new projects as well as working on some really exciting 3D renders that truly are next level.  If you happen to be a stellar builder and interested in joining Gkid on his buidl quest, be sure to get in touch via Twitter or Telegram.
A very special thanks to all who attended as well.  It was great to hear those that wish to chime in, and awesome to see just how much fun everyone was having in world while checking out this new and exciting land.  It really does stand as a testament to all that a metaverse can be when we see each and every attendee in the world doing their own thing on the path they have set out to be.
It is time for the Uplift to bring the heat, and from all we can gather, it appears the community and the DAO are ready!!
Come to Etheria they said.
It'll be fun they said.

(It is fun!)#Etheria @theupliftworld pic.twitter.com/qixmkwJma8

— LemonRivers (@LemonRivers0) June 10, 2022
The Uplift World
A multiplayer metaverse built on Minecraft consisting of 9 differing creative and survival worlds powered by blockchain based NFT's, community members of The Uplift World have the ability to explore, build, and shape various creative and survival sectors and be rewarded through the process.  Beyond all the amazing styles of builds, we are looking at hosting an increasing number of events such as PVP E-sports or open gallery showings designed to entice the living community that is our foundation for positive growth and change. Interested to learn more?  Check out the official project links bedlow and be sure to brush up on the more top notch features on every variety of build you could possibly imagine by skimming all that speaks to your personal bias and style right here on WhereWeHideAllTheAlpha.com.

One of the best things about The Uplift World just has to be the plethora of perspectives of everything involved.  Always so much to see and do in the metaverse it is actually quite unbelievable.  And even if one could keep with all the amazing new creations that are infinitely popping up, the beauty of the human race has to be how we all see the same thing but in different ways.  Each and every one of us has a bias in the way we view the world, and by default the metaverse in which we reside.  Sharing these is in a way like sharing part of ourselves.  What is it that resonates with you when you fly or rail through The Uplift World?!? Simply fill out The Uplift Tour Bus submission form and hit up Jimmy D on Twitter or Discord when complete so we can get that oh so special one of a kind perspective of your camera lenz up here on WhereWeHideAllTheAlpha.com for each and every one of our community and beyond to learn from and experience.
The Uplift World Official Links
*Article by Jimmy D with images from Gkid.