Together WECAN, the motto that has resonated across the space through so many projects this boundary pushing team of blockchain enthusiasts and developers have been working tirelessly to get out there into the world.
Whether it be taking one of the first ever leaps into the WAX ecosystem with their groundbreaking Prospectors.io blockchain move to soothe growing pains, defining new genres and concepts on how NFTs can be given external value through how gaming is done in the development of the R-Planet suite of projects, or collaborating with TheUplift.World for the groundbreaking release of the first ever upgrade of an NFT from one metaverse into another, what the WECAN team behind it all brings to the space truly is a value add that few other projects on few other blockchains can compete with.
Having had the pleasure to host various members on our network and work so closely with the team to bring about our collab Swineland and Boarvallis regions, we think of the WECAN team as not only friends and family to us personally, but understand the value add to the entire WAX.io community for all they have done in the space in general.  Still to this day, it truly does amaze us that in the face of all the mess that is happening right there in their backyard, the team still takes the time to assure the community that they are there for everyone who put their faith in their vision and believes in them.
My dear Crew. The team has prepared for these unfortunate events. We will keep working. All our services will remain functioning!
Together #WeCan! Please stand with us, stand with Ukraine 🇺🇦

— R-PLANET (@RPLANETio) February 24, 2022
As most of you are likely aware, things have escalated to the point of war and brought a very real struggle affecting the safety and literally threatening the lives of a great number of people unfortunate enough to call these regions under attack home.  It's important to WECAN because it is their home.  It's important to us because WECAN are not only a host of brilliant people we love and respect in the space we call home, but in a very real sense, family and friends in which we cannot help but worry for all their present real life stress, fear, and pain.
We would greatly appreciate it if you would take the time to learn more about the situation from the thoughts and feelings of the WECAN team by looking into the article below.  Understanding is half the battle, and we just know it would mean the world to this amazing team that has done so much for the space to know that all of you have taken the time to set thoughts of NFTs, the market, and profits aside long enough to touch base with the real problems of real people at the other end of the screen.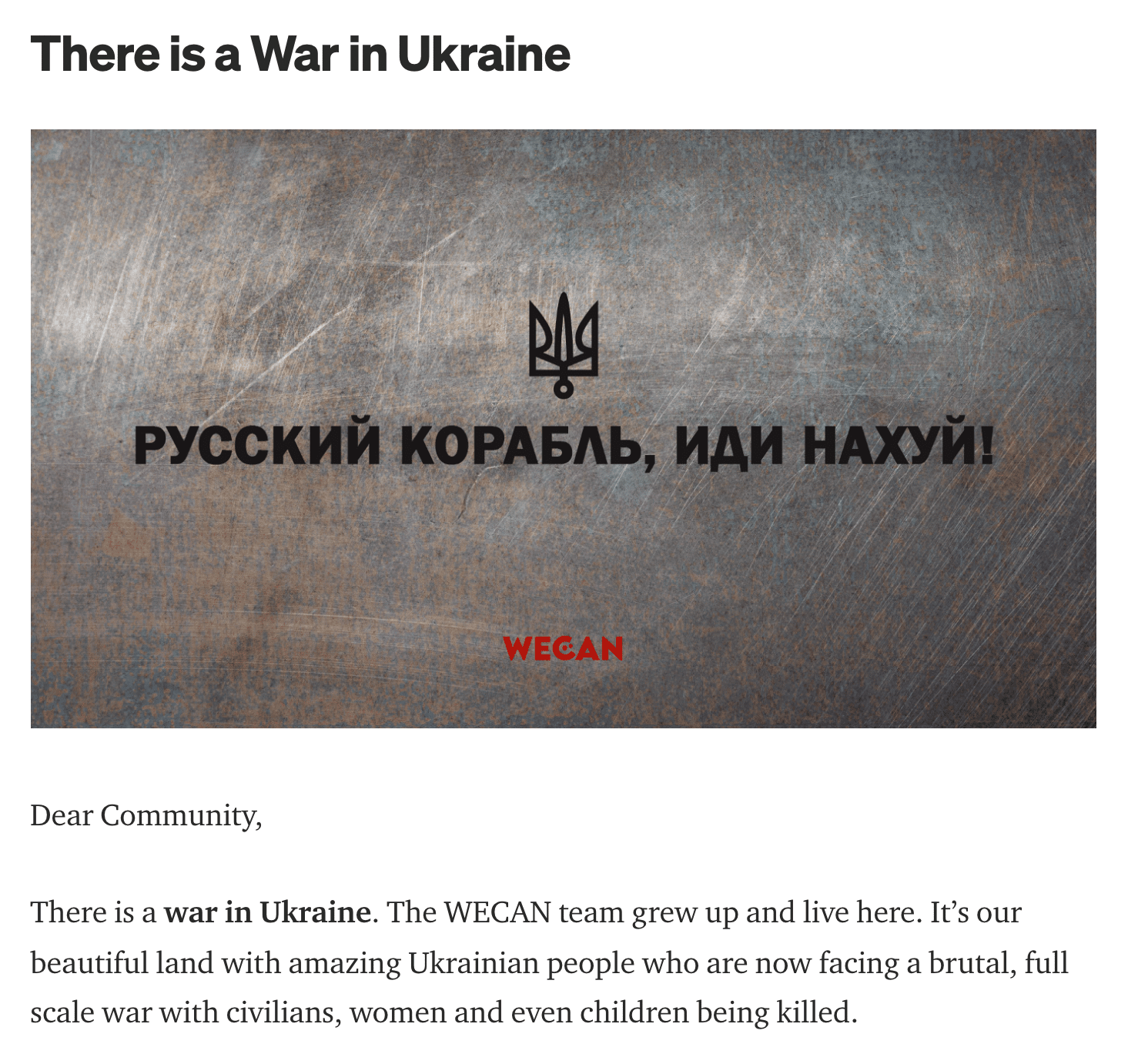 Of course it is a lot to take in, especially for many of us who have been lucky enough to never had to have experienced such a thing, but for many that are living it in the flesh, it truly is a life and death situation which no amount of thought can comprehend.  Regardless of anything else, the majority of us here in this space are likely to hold freedom and control of ones own destiny through action at the top of the mantle when it comes to our value structures – those likely foundational aspects that drew us to blockchain and crypto in the first place.  Tough choices accompany the ability to follow through on many things in the space, but the WECAN team is proving to hold strong in the face of adversity and continue to find ways to educate and bring about transparency.
It the end it is up to each individual and project to choose the path that speaks to our values the most, but as Edmond Burke once remarked, "the only thing necessary for the triumph of evil is for good men to do nothing." There are many levels of things that can be done, the first of which is to familiarize oneself with the plight of those that matter to us the most.  So get on in there and give the WECAN feature on Medium a read in full.  Keep up to date with the situation by subscribing to the social cited at the bottom of that piece.  And for those who might wanna do a little more, look into what you personally can do from valid trusted sources and friends of your personal network and the WECAN team.
Stand with Ukraine 🙏
For anyone interested in helping Ukraine 🇺🇦, this is a vetted charity with a Bitcoin address: https://t.co/16aJCMEbY0

*Other vetted charities:
The All-Ukrainian Union "Patriot" is a volunteer union supplying the Ukrainian Army.https://t.co/oLtg1lBqn2

— Crypto Lions (@EOS_CryptoLions) February 24, 2022
And if something more direct to the official team better fits in with your assistance process worldview, you can always show your support by casting a dedicated vote or through the proxies that support their WAX block production efforts presently dedicated towards the cause.
Hey, dear Crew. WECAN is one of the few WAX Block Producers now…
An official statement:
🇺🇦We are going to spend the whole block-producing reward to purchase needed life-saving equipment for Ukrainian soldiers.https://t.co/ebs93MQmwE#wax #Blockchain #StopRussianAggression

— WECAN-DEV (@DevWecan) March 2, 2022
On a final note, thank you all for taking the time to read this and a moment to care.  Sometimes we get so wrapped up in the little things that we forget that there are far bigger issues affecting a vast number of people that really are dire.  We here at The Uplift would like to extend a hand and help the best way we can, by getting this information out there so that people can become informed and support those that have supported all of us in this space with all that they have done.  If you care in the least about the actual people behind the projects that you are a part of, now is the time to tune in to what those on the front lines of an almost unfathomable situation are facing.
And of course, should you have any gratitudes in support for all the WECAN team has brought to the space, please do toss them up in world or get in touch so that we can get all the praise they so do deserve out there and bring a little light to their time of plight.
Thank you for helping us in our support.  Together WECAN!!