So with the Lift Off NFT Sale Event having come to a close last week, things have been heating up with new builds across The Uplift World regions.  Personally I have been keeping myself busy working diligently on The Gratitude SkyRail and facilitating a change over in a way to get more community content onto WhereWeHideAllTheAlpha.com as outlined in Alpha Article Features Calibrated for All (which I do hope all of you out there take the time brush up on and throw in submissions for wink wink).
In relation laying down the multi-plot track for the SkyRail, I have also been exploring Uplift World shops throughout various regions in an effort to pick up some needed materials.  Having come across a message in our Discord earlier today by The Banksy of the Uplift, Our Most Awesomest Jen, I knew that I just had to swing on by and check out The Art Supply Store adjacent to Gratitude Spawn for a look see at both the goods and artistry of what had been put together…
"It took a very long time to get the stuff and build the thing and then find an effing cat. And get the damn thing home. I'm advertising my art supply shop and crazy cat lady status."
I mean with a message and images like that, and of course knowing Jen and what she is capable of, how could I possibly resist jumping in first hand for a peek for yet another Round About Impressions in The Uplift World feature to check this and some of the other activity I had been hearing about over in the Gratitude Spawn area.
Gratitude Spawn: Far older than anything else around, the Gratitude Spawn welcome building has always been there to give you a fighting chance in this harsh survival area.  Welcome to this little gem of a safe haven allowing you to stock up on some necessary items from the donation chest and protect you from all those creatures out there in the complete darkness…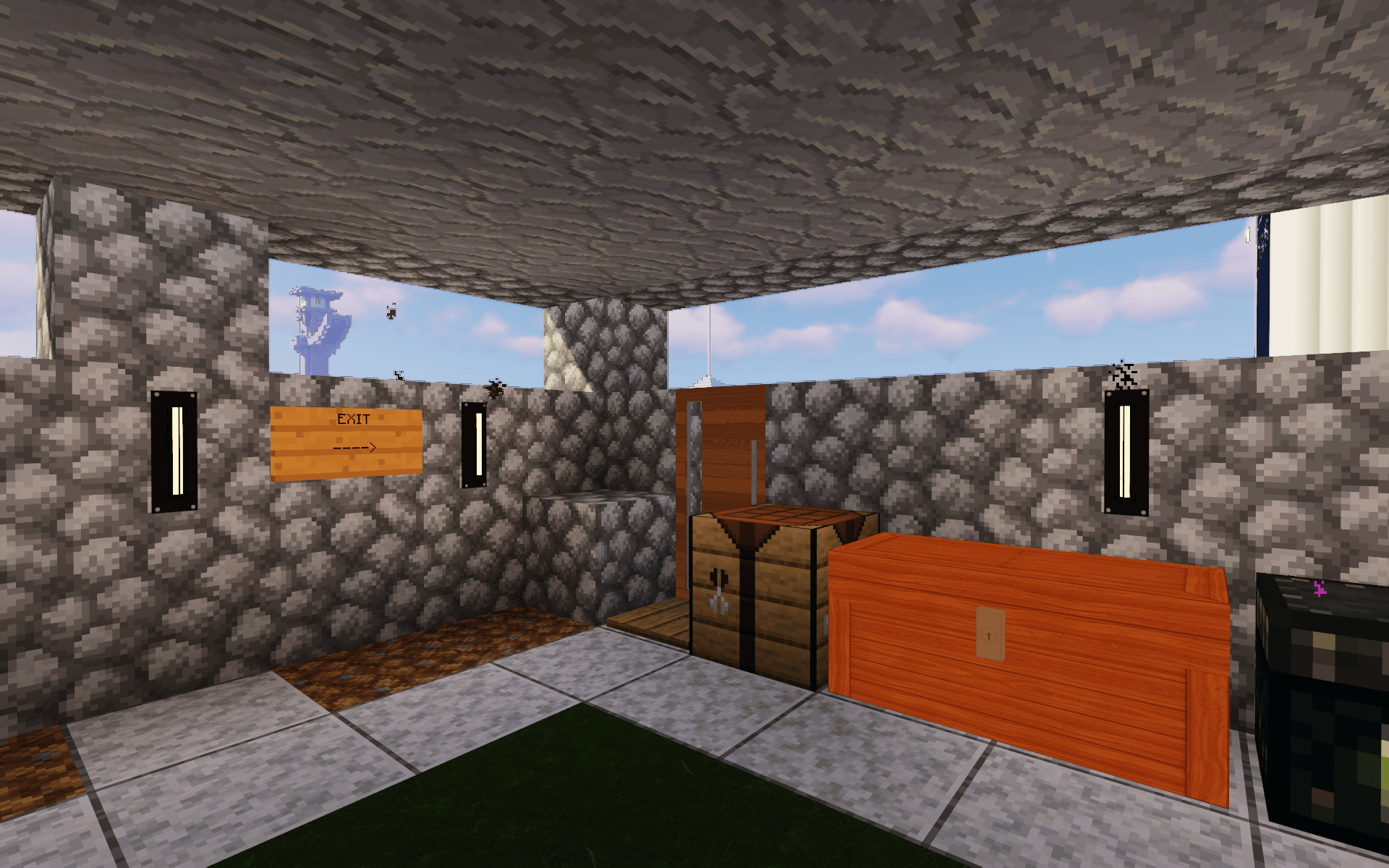 However, that was then and this is now.  Amazing what difference a week can make.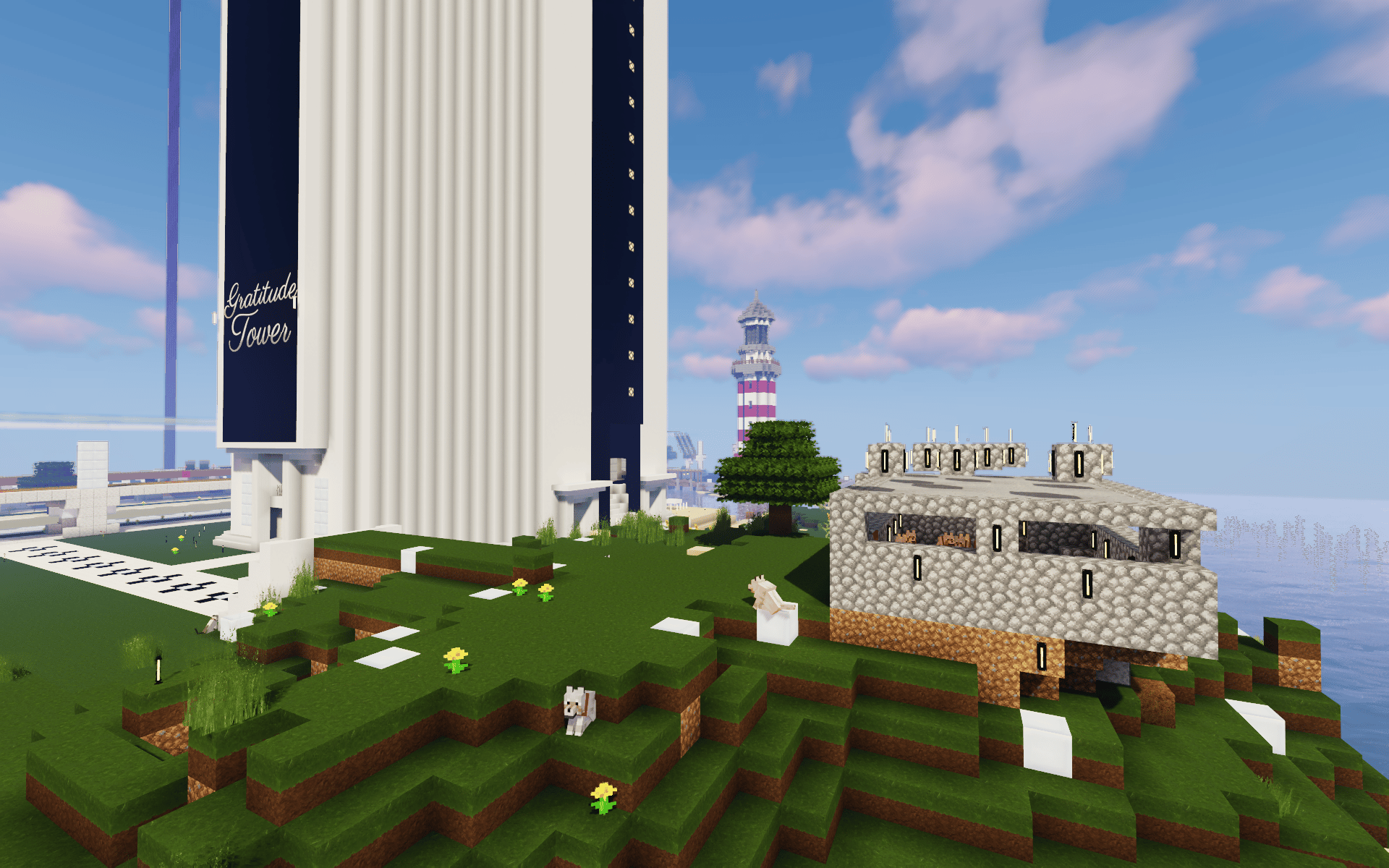 Things have certainly changed for those around previous with the construction of Gratitude Tower, the Lighthouse, and a number of other cool things to explore right next door.  An absolute mammoth, Gratitude Tower is host to a few portals already and it will be exciting to see what else is soon to be done.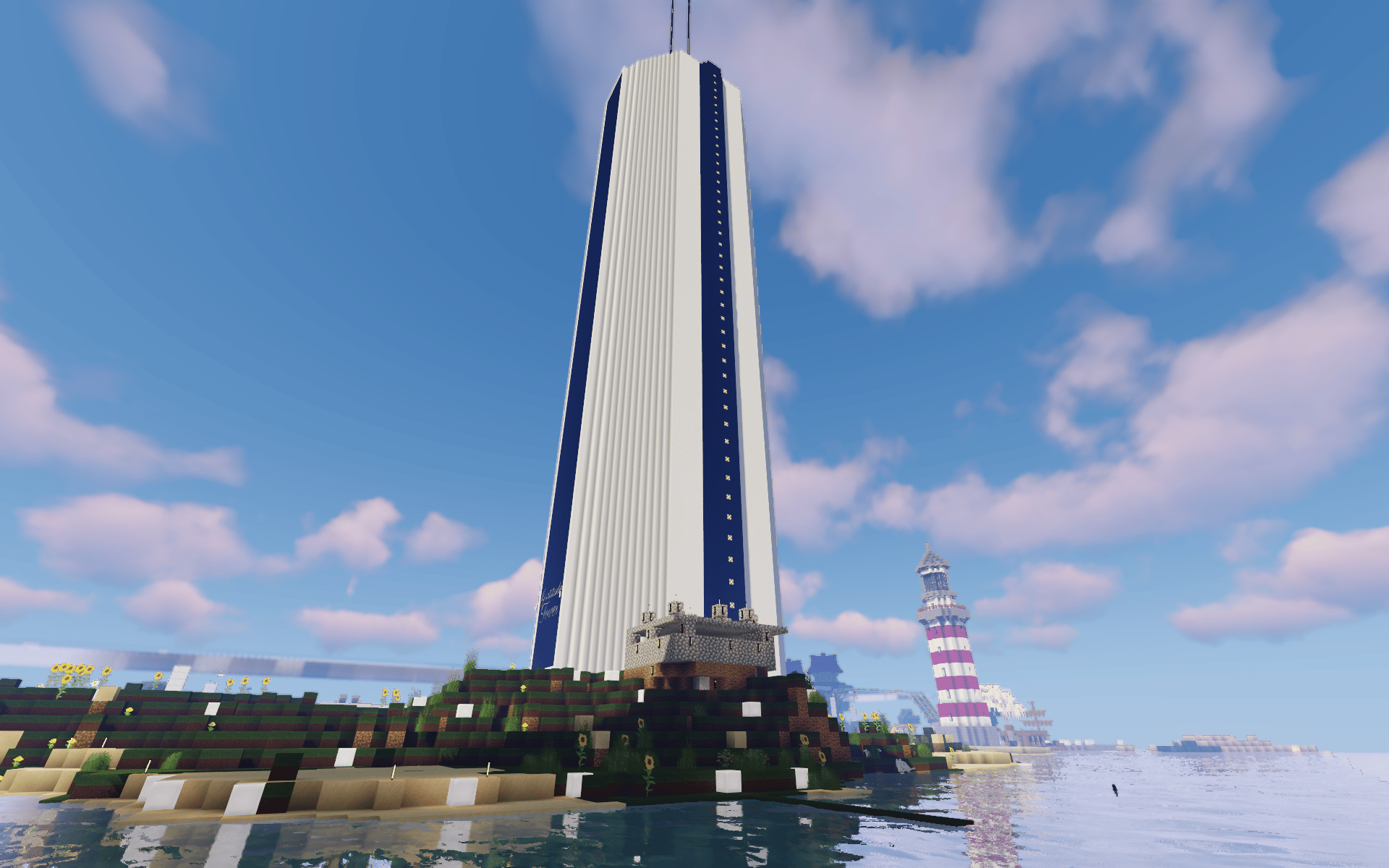 Personally I always like check out varying angles and perspectives, as that is where the golden lenzical moments seem to be.  Was quite surprised to see so many fish when going for the below surface shot.  Might wanna consider bringing a fishing rod before you jump through the portal.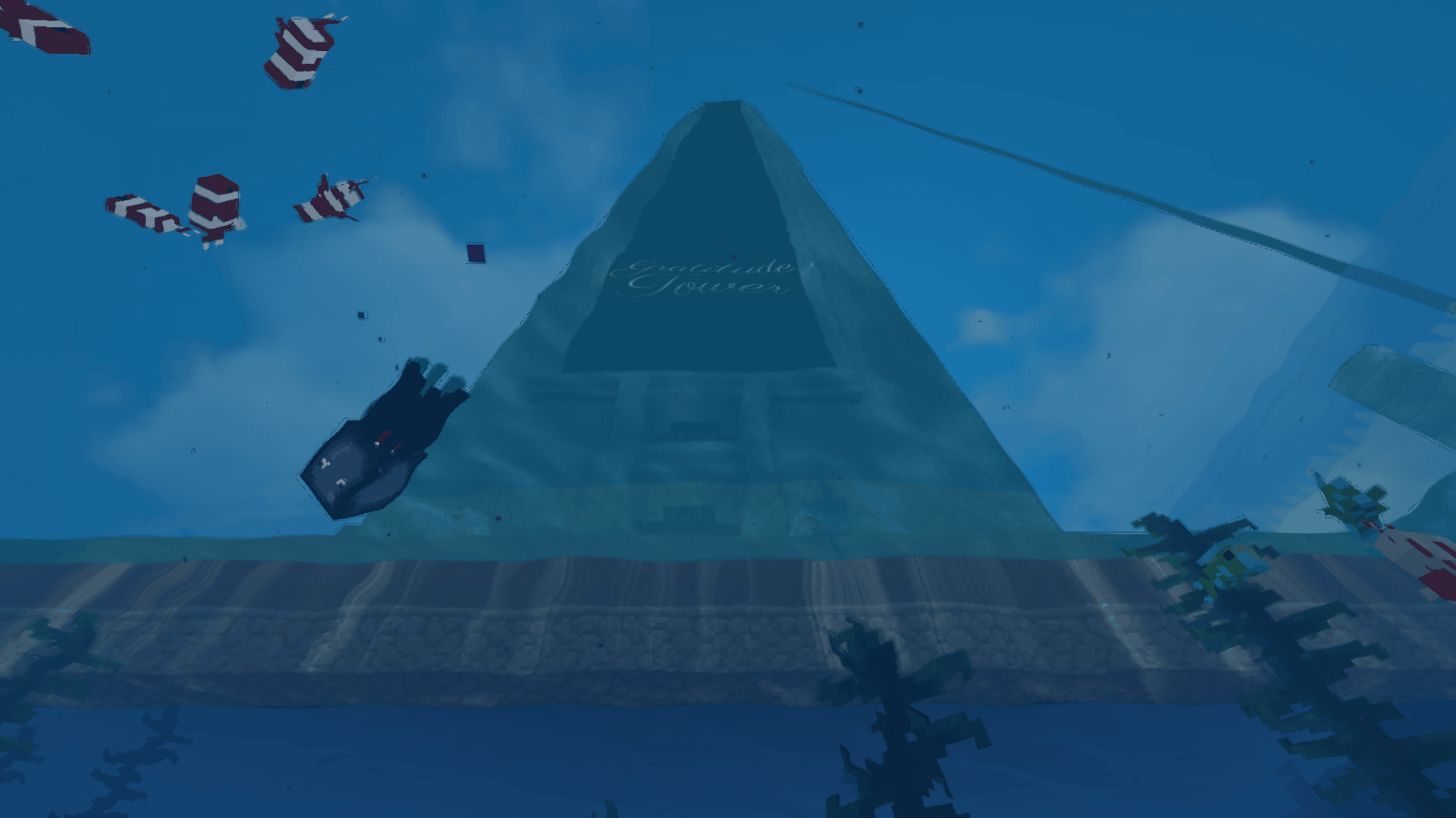 Right next door you can find this charming little light house and it's quaint little garden like surroundings.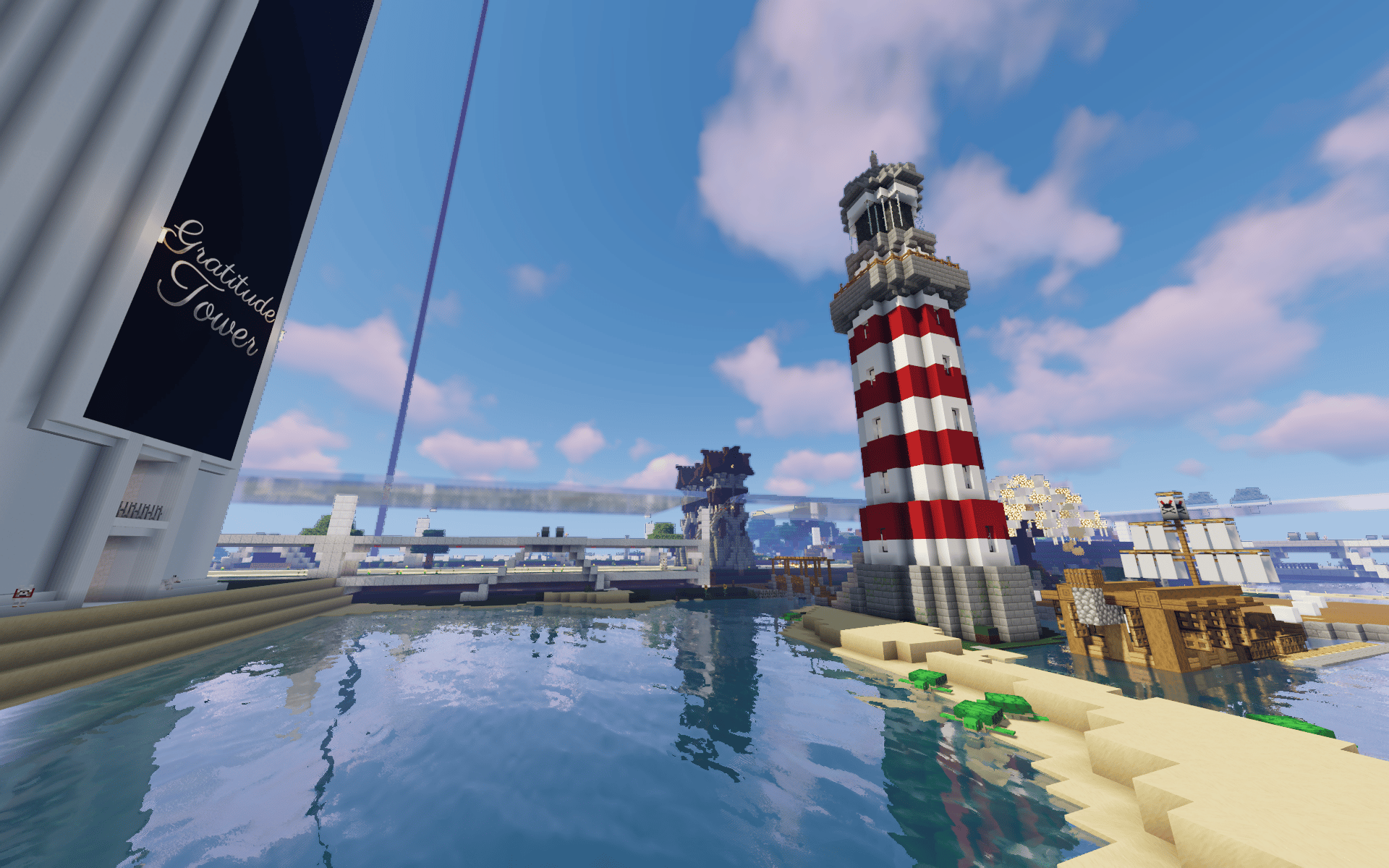 Some cool little details to wander about and check out.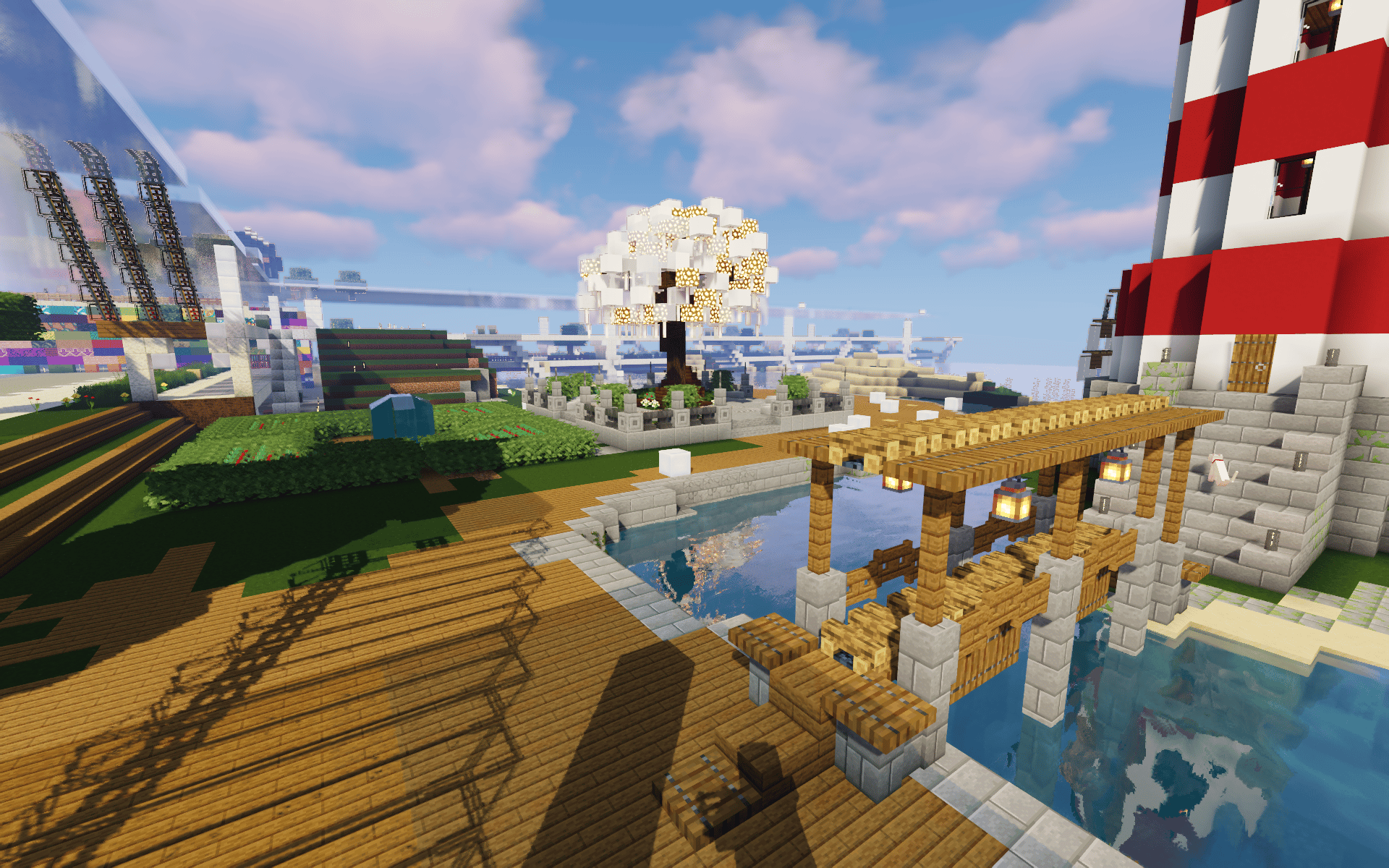 Just an all around nice little place to take some time to chill and slow down the pace.  I mean how could you now wanna take a jaunt in to admire the beauty of that oh so magical looking tree.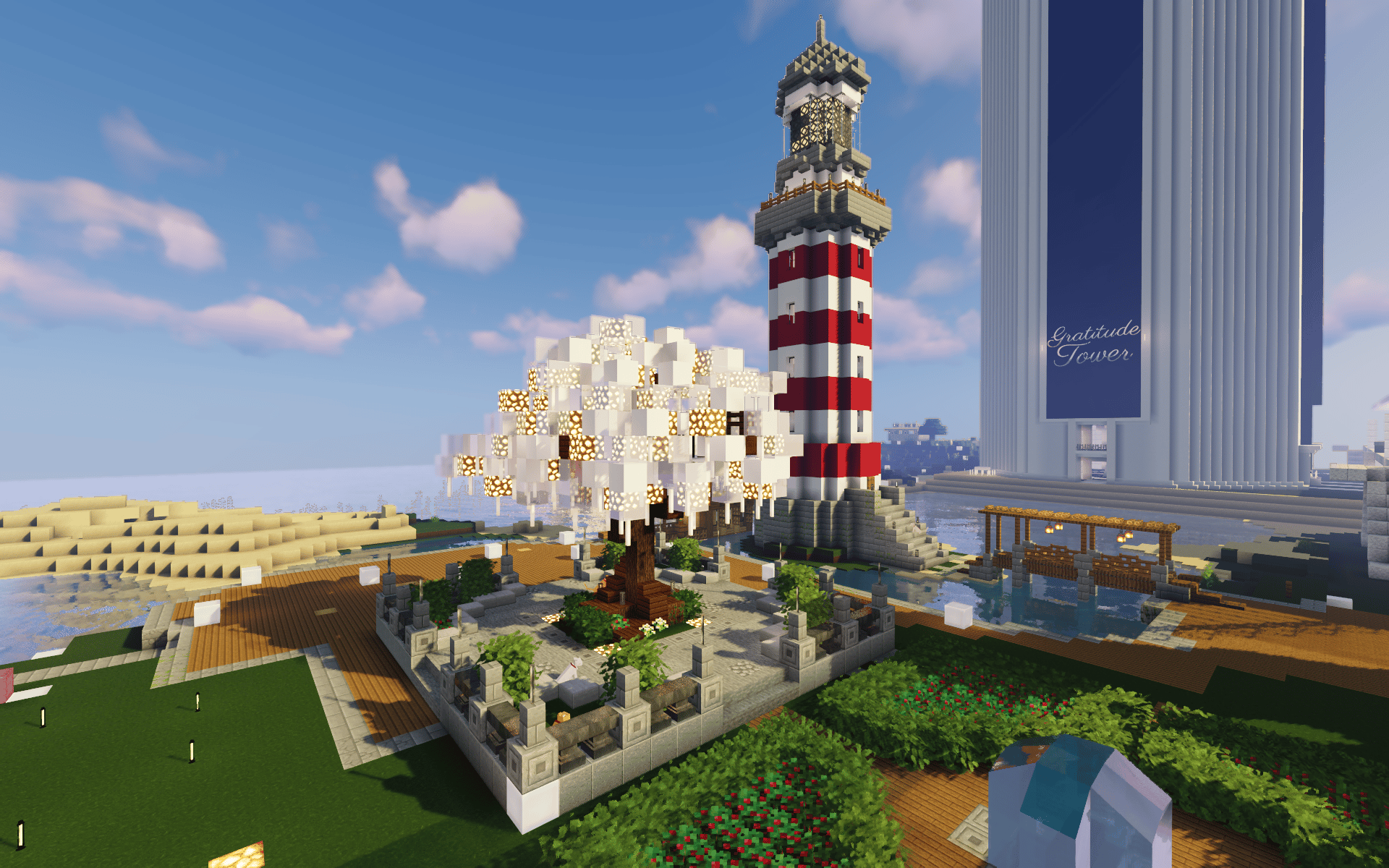 Back on out to the tracks, one cannot help but ponder the placement of this rail line twin tower gate and whether this is just the beginning or the intent of the end.  Either way, pretty cool little addition to the area.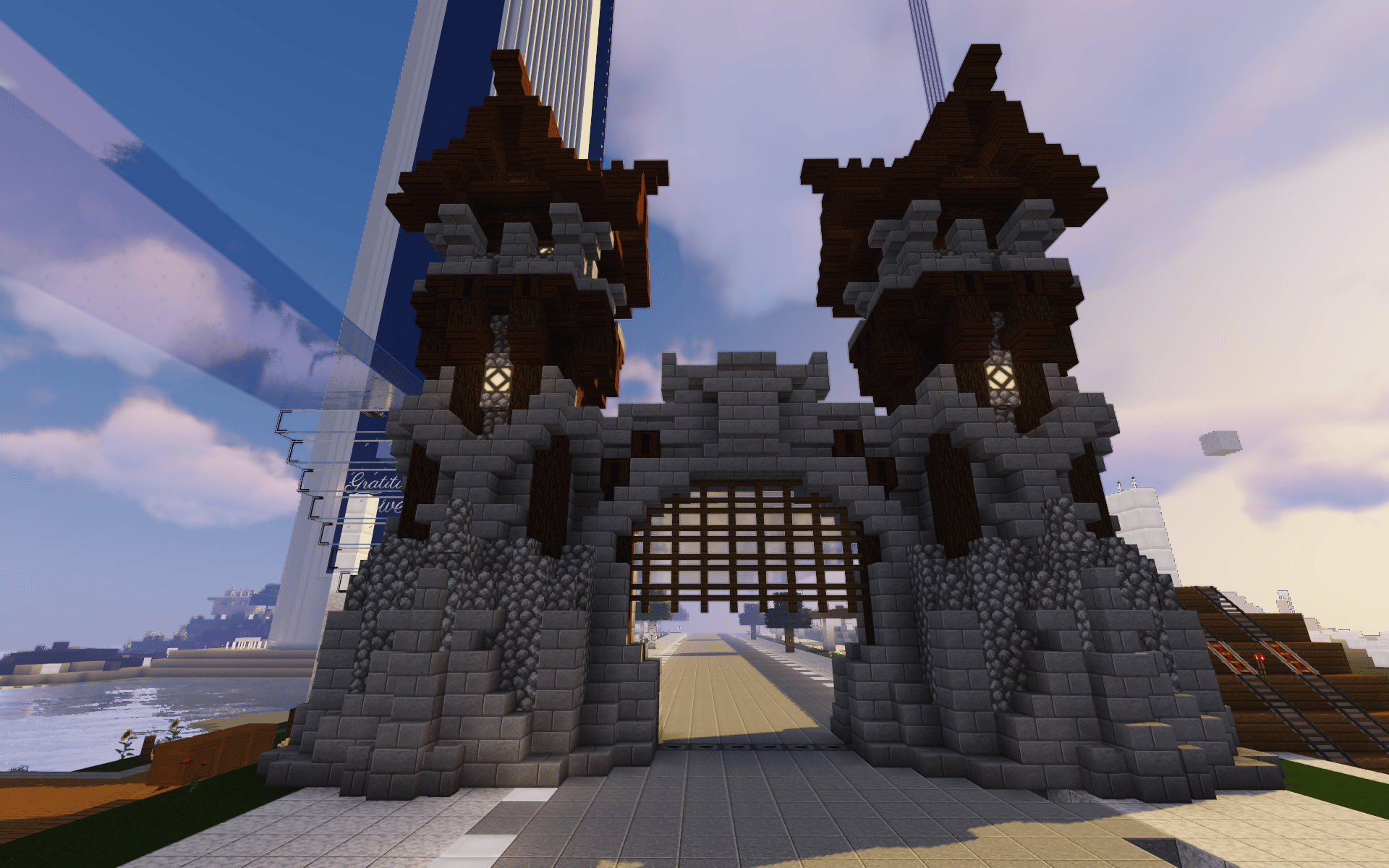 Continue on to the crossroads and you will come to The Art and Supply Store that originally was what enticed us here.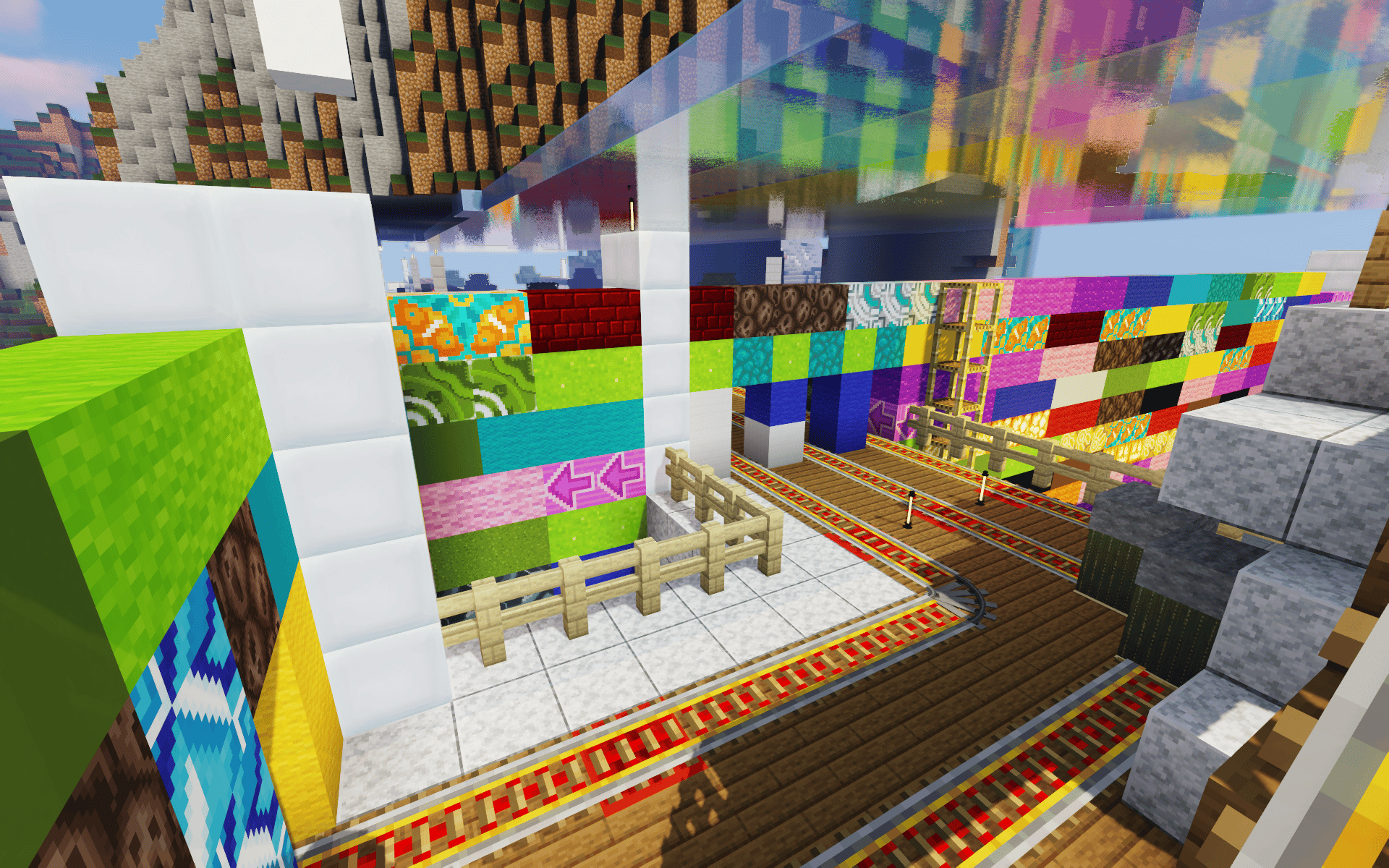 As you can see, not just a place for the shoppers, but a whole patchwork of art to experience in its own right.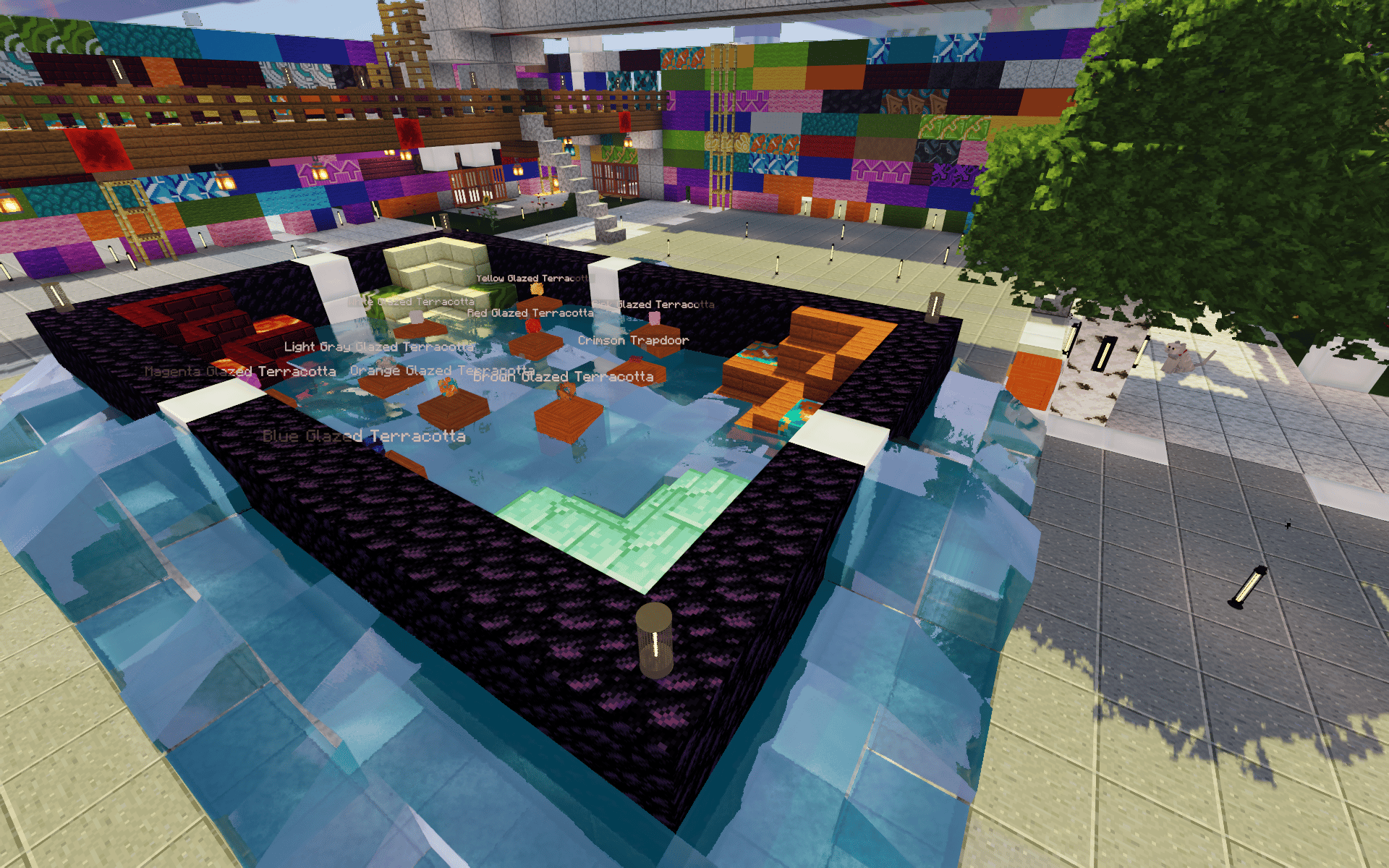 The water is a curious touch, and believe it or not actually goes beyond just an artistic aesthetical design appeal.  A hint for the practicality of the shop chests being in water has something to do with creeper explosions if I'm not mistaken!?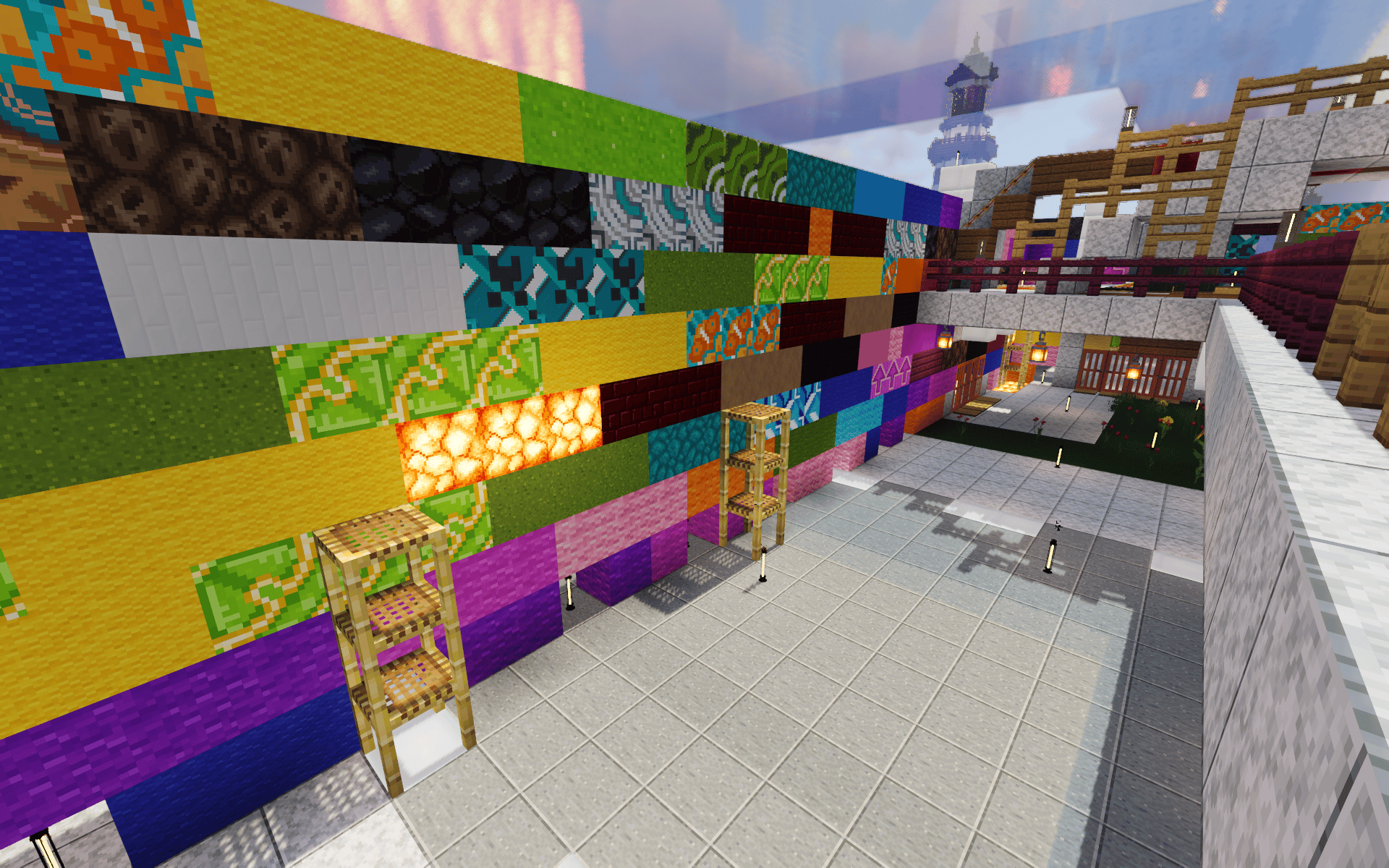 Really some pretty fascinating thought and construction into these patchwork mural designs that gets the senses going.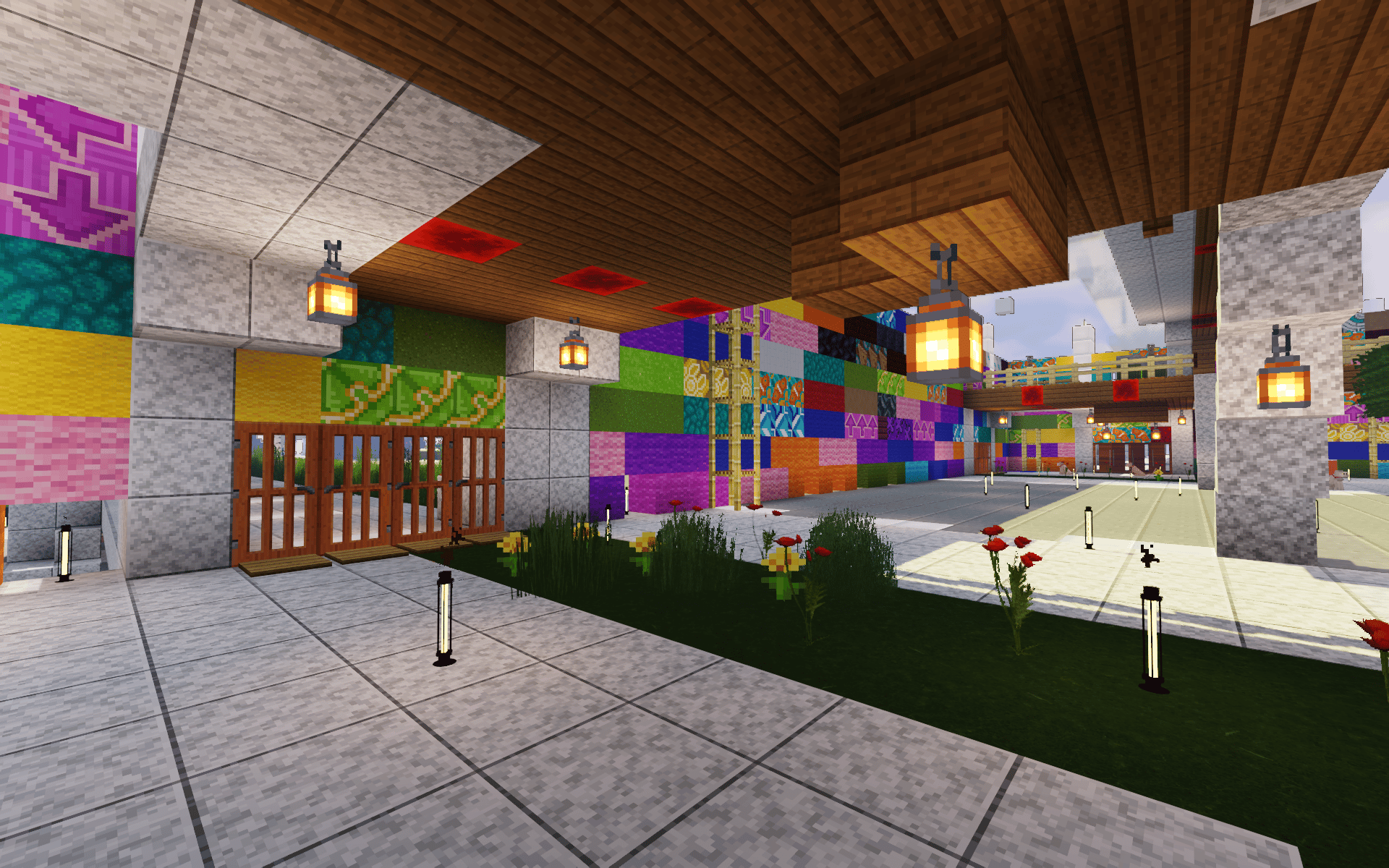 And the exploratory adventure doesn't stop with the diminishing light, for the shop and surrounding area are equally as spectacular at night.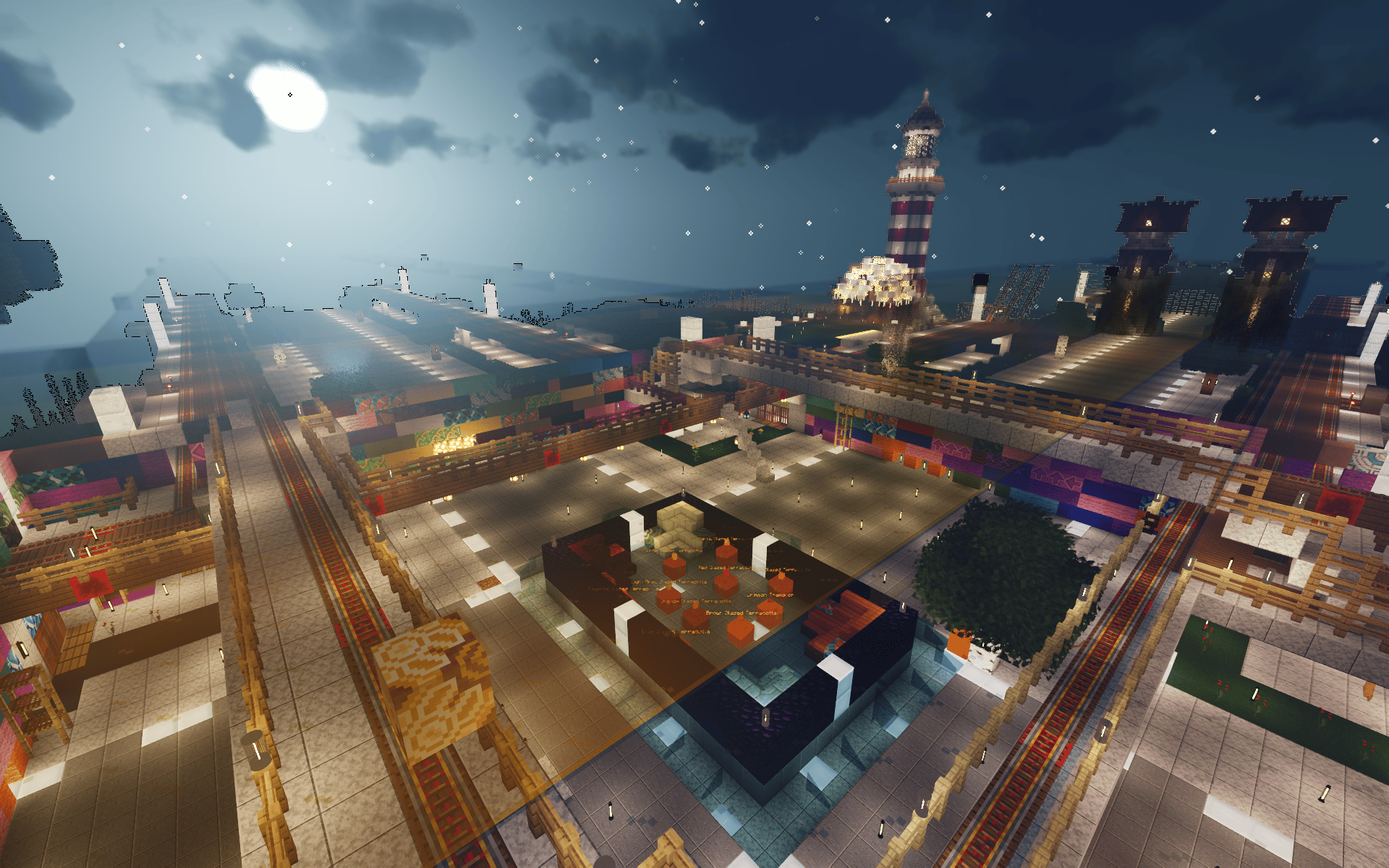 Going down the other side of the tracks, this quaint little seaside village is a welcome sight in the deep dark night.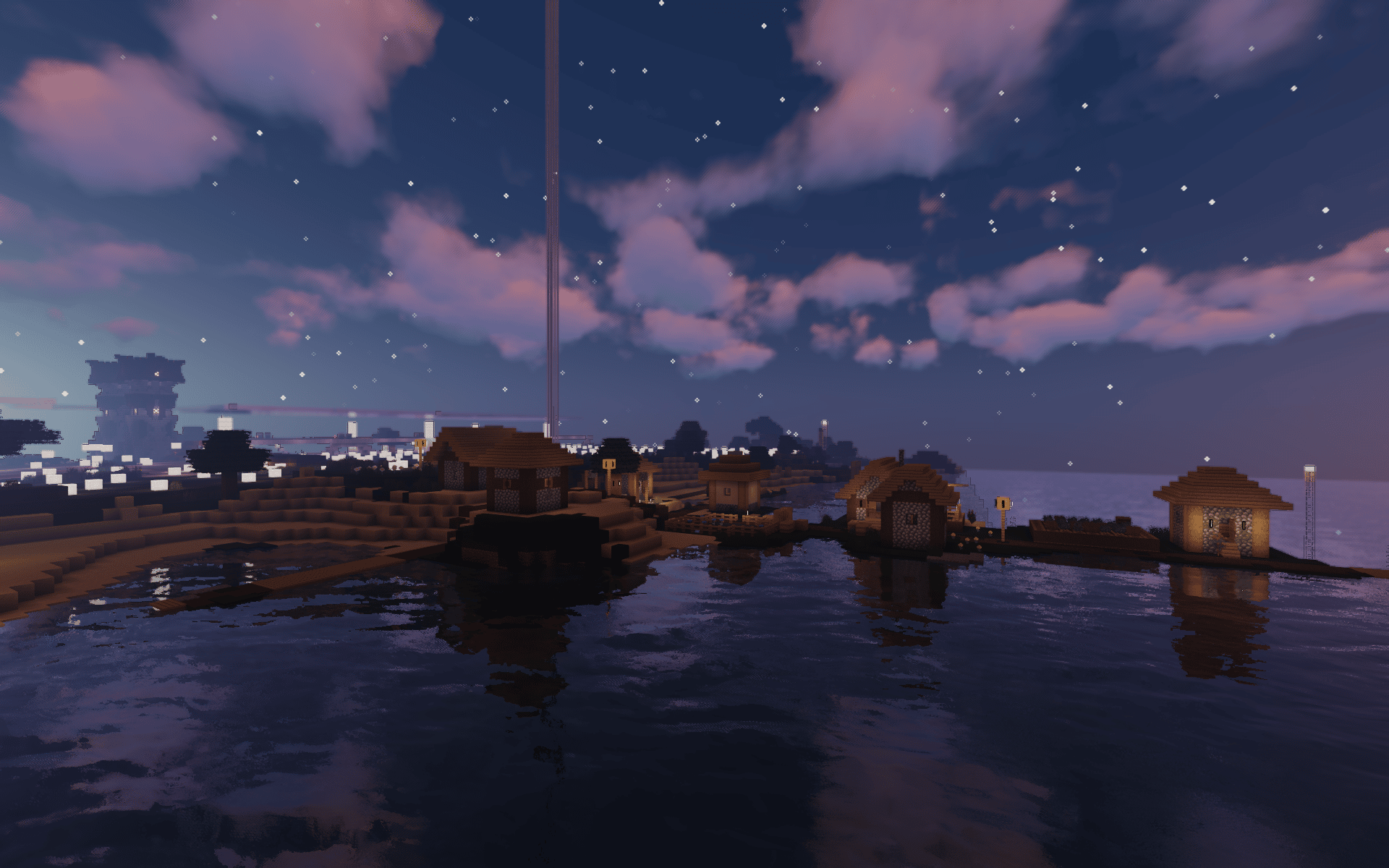 Quite the contrast really of buildings and residences in and around the Gratitude Spawn area, and one more to get the imagination to flow.  Curious to see where this one is headed to be sure…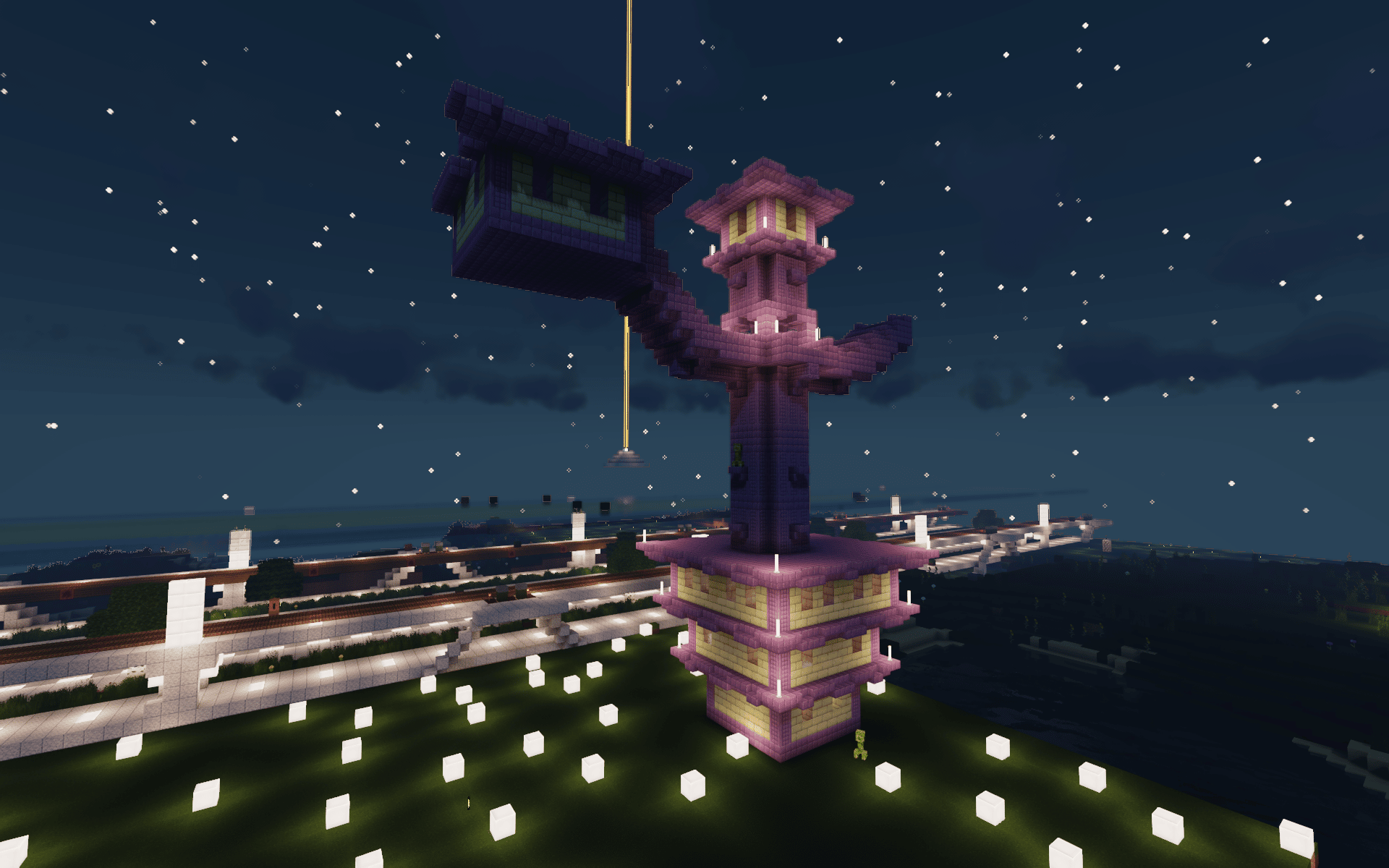 And despite all the cool stuff on the ground, do remember that just because it is survival that doesn't mean that there are not some brave souls throwing caution to the wind and building their legacy high above up in the sky.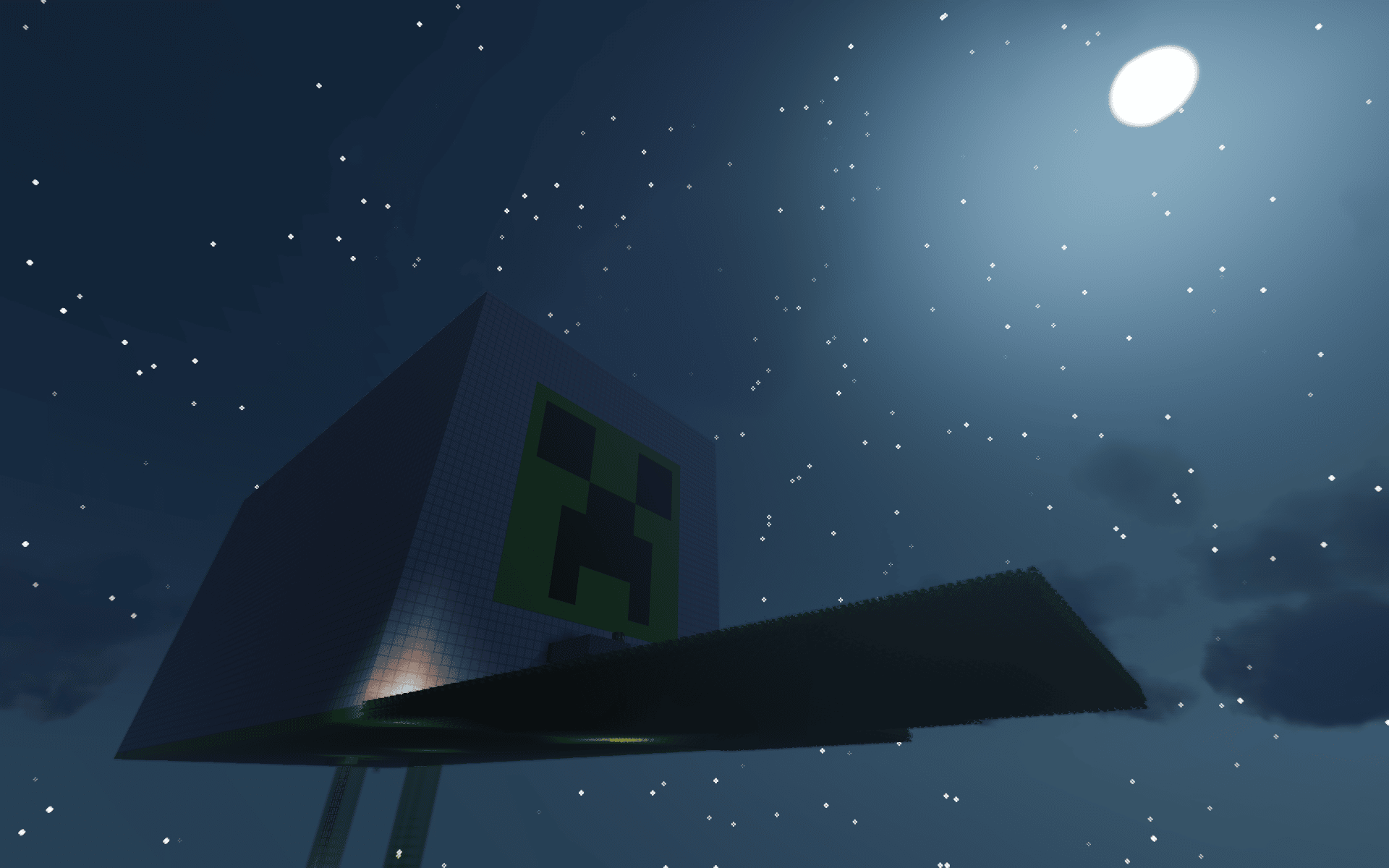 And a final view from the within Gratitude Tower of the oh so tranquil glow of the the lighthouse, tower gates, and brightly lit garden tree to remind you just how amazing with the right lights nighttime can truly be.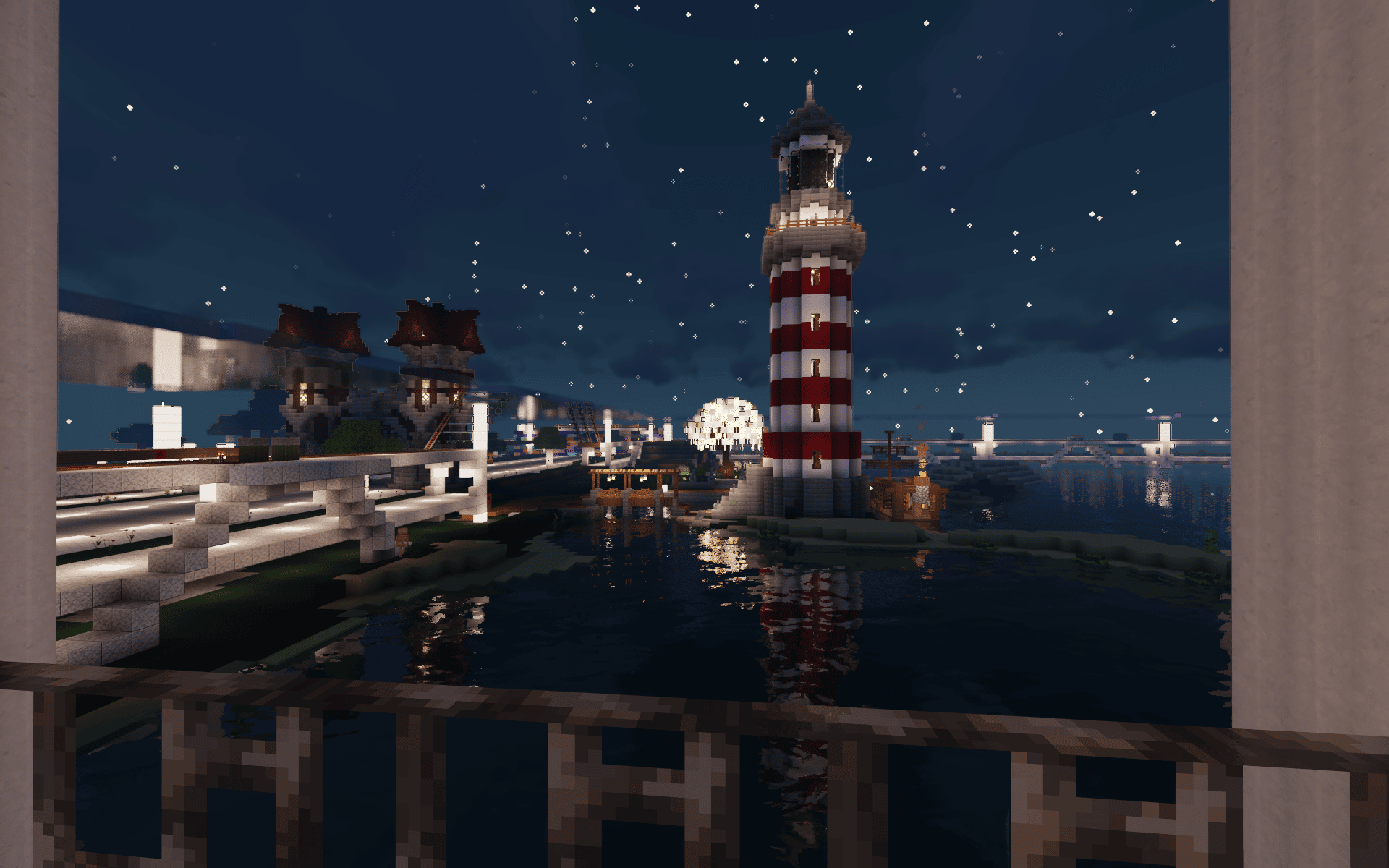 Literally a week at best, and already look at what amazing things have sprung up around Gratitude Spawn, one of the only ones in the metaverse that previously did not have a surrounding grouping of land developers.  Exciting times indeed, especially when we consider that this only accounts for a small fraction of plots recently under new ownership, and that doesn't even account for rumors of the Gratitude SkyRail making its way day by day up here to join the building parade!
The Uplift World
A multiplayer metaverse built on Minecraft consisting of 9 differing creative and survival worlds powered by blockchain based NFT's, community members of The Uplift World have the ability to explore, build, and shape various creative and survival sectors and be rewarded through the process.  Beyond all the amazing styles of builds, we are looking at hosting an increasing number of events such as PVP E-sports or open gallery showings designed to entice the living community that is our foundation for positive growth and change. Interested to learn more?  Check out the official project links below and be sure to brush up on the more top notch features on every variety of build you could possibly imagine by skimming all that speaks to your personal bias and style right here on WhereWeHideAllTheAlpha.com.

The Uplift World Official Links
*Article and images by Jimmy D